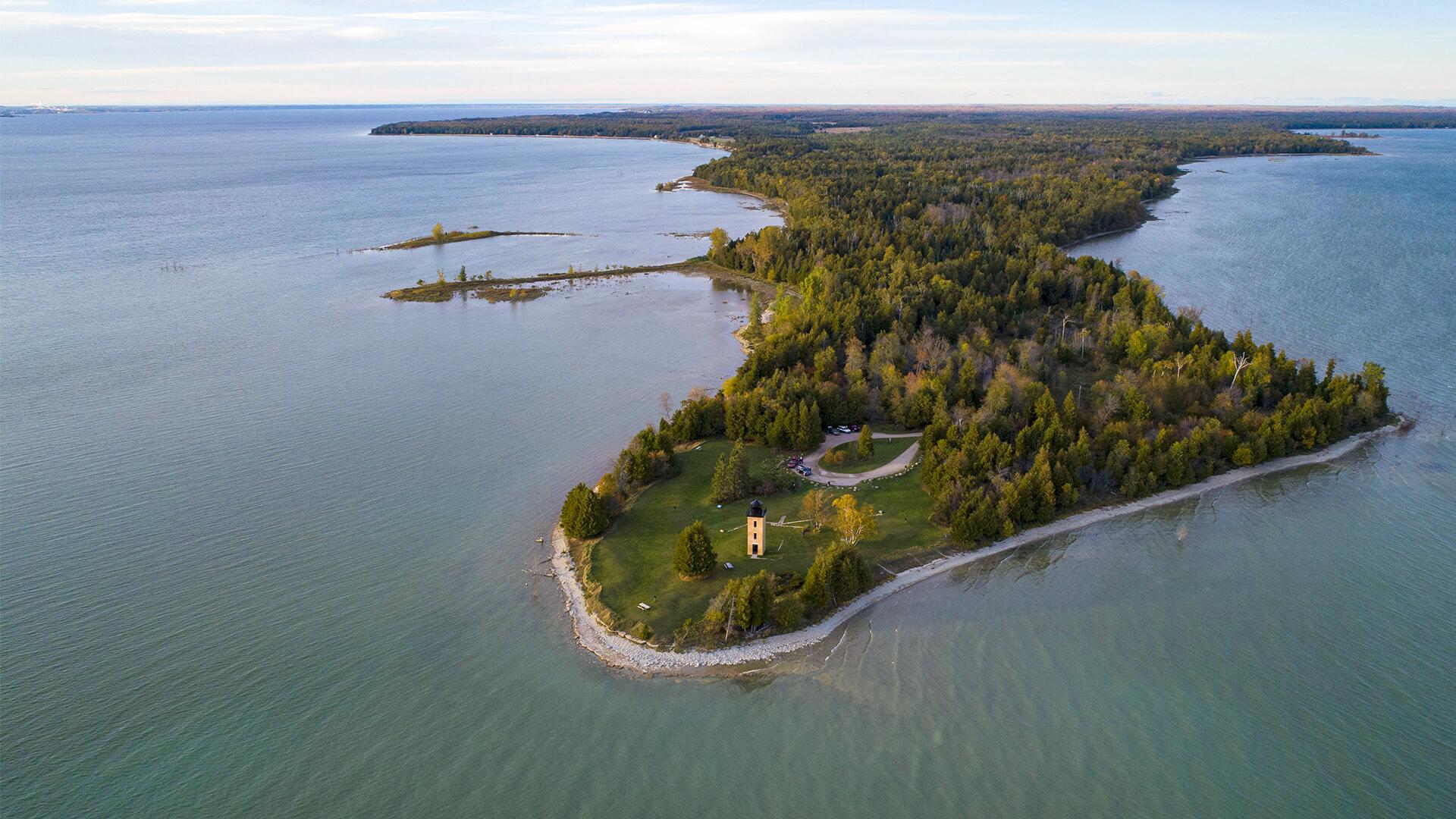 PEACEFUL RELAXATION OR VARIOUS ADVENTURES
Once you make it to the Escanaba area, you are a short drive from all types of experiences. You can relax on a beach by the bay or picnic next to a waterfall. If you are hoping for more excitement, you are only a short drive from the best whitewater rafting in the Midwest and an exotic zoo! History buffs and lighthouse lovers are also in luck, we have a rich history in a variety of industries and multiple lighthouses to climb.
HERE ARE A FEW SUGGESTIONS TO GET YOU GOING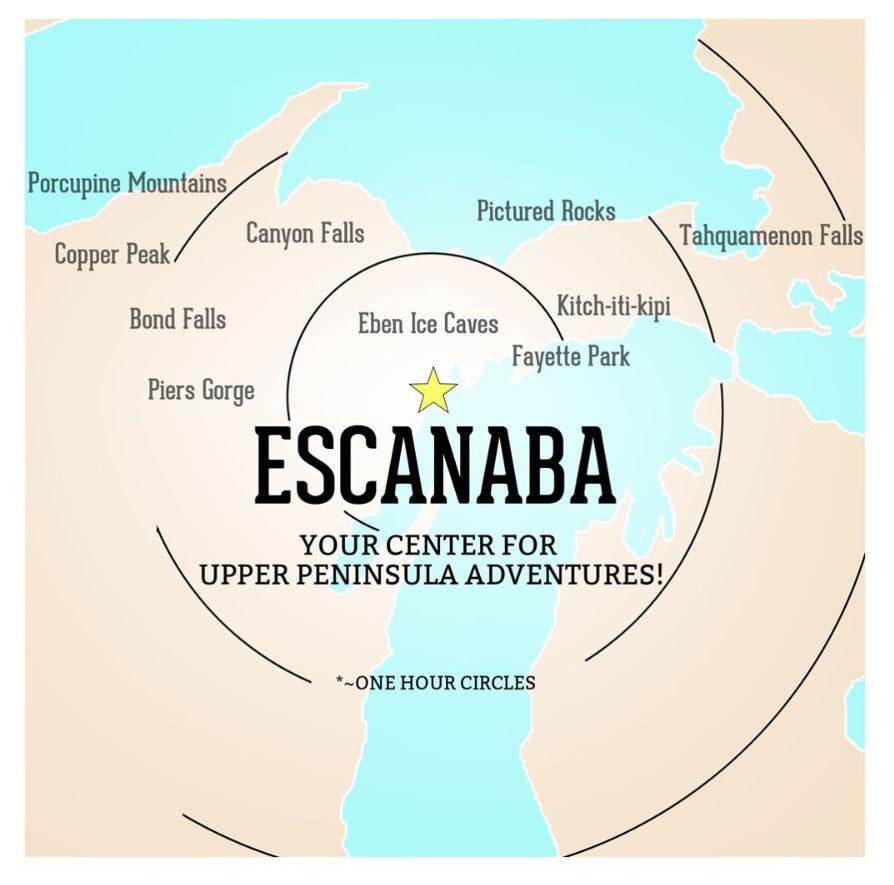 Escanaba 
Lighthouses, mystery, and waterfalls. Sand Point lighthouse and Ludington Park are the starting point for this adventure. Enjoy the cool breezes from Little Bay de Noc while you explore the lighthouse and browse through the historical museum. Logging implements and enormous ship rudders are yours to photograph and marvel at. From the lighthouse head east on Ludington Street driving through downtown Escanaba (the longest and largest downtown in the Upper Peninsula). Take the time to stop at the various restaurants and shops that dot Ludington Street.
Garden
Water, Woods, and a Ghost Town. Travel just 50 minutes east of Escanaba down the beautiful Garden Peninsula and stop at Fayette Historic State Park. There are events here year round and there are miles of trail to roam. Meander down the right trail and you might find 100 year old apple trees!
Gladstone
Visit the historic town of Gladstone, named after an English Prime Minister. Gladstone's Victorian style store fronts and restaurants invite you to walk and stay a while. While in Gladstone, take a free tour of the only pet casket manufacturer and model pet cemetery in the United States, and explore Van Cleve Park. Walk along the shores of Little Bay de Noc on an elevated board walk, visit hand carved wooden statues of Native Americans, or check out the full size locomotive on US 2.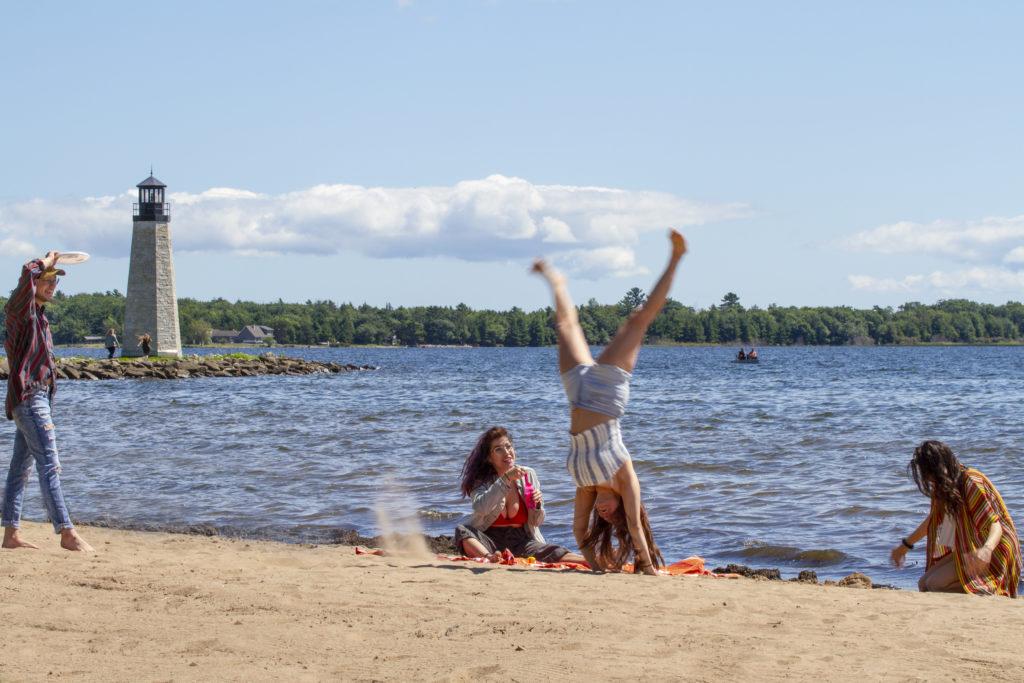 Rapid River
When you reach the corner of US 2, turn right or north on US 2 and continue until HWY 41 in Rapid River. At the blinking light turn left and drive 7 miles to the Rapid River Falls, at the sign turn left, and follow the road. This is the perfect spot for a picnic at the park, the falls are only about 200 feet from the parking lot. Rainfall will determine the strength of falls flow.
Leave the park following the same road that brought you to the park. Turn right on 41 following it back to Rapid River. At the stop light turn left and drive through Rapid River, if you have any questions stop at the Rapid River Ranger Station on the right hand side of US 2 about one mile outside of town. Continue through Rapid River up the hill about 3 miles, and turn right on 513. Follow the signs to the Bays de Noc Recreation area and the Peninsula Point Lighthouse.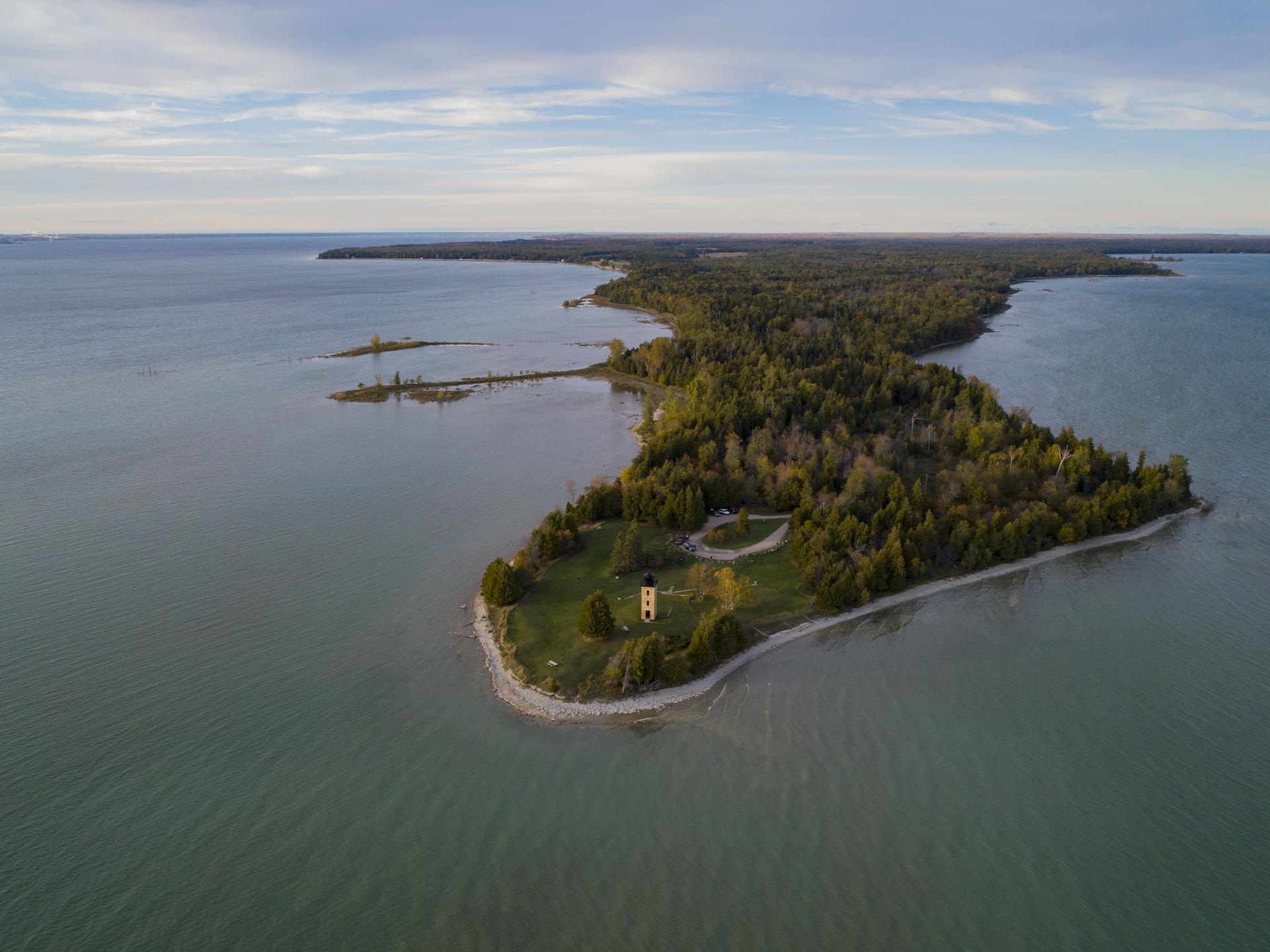 NEAR THE ESCANABA AREA
Largest Natural Spring
Just a few more miles east on US 2 near Thompson, visit Palms Book State Park and take a wonderful raft ride over a series of underground fed springs in Kitch-iti-kipi, just west of the Palms Book State Park, www.exploringthenorth.com.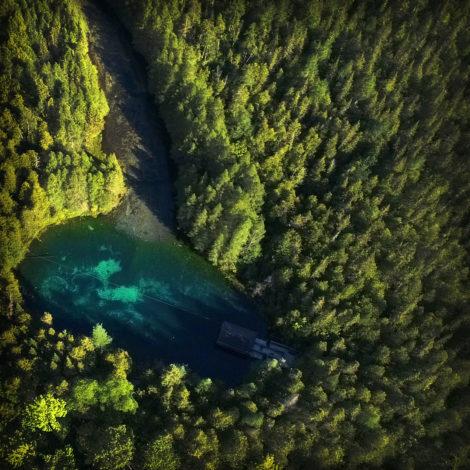 Lighthouse
Travel south from Escanaba to visit Menominee's unique historic waterfront and the Menominee North Pier Light.
Exotic Zoo
Head about an hour southwest from Escanaba using US 41 0r 35  to get to Wallace, MI to see the white Bengal tiger at the DeYoung Family Zoo.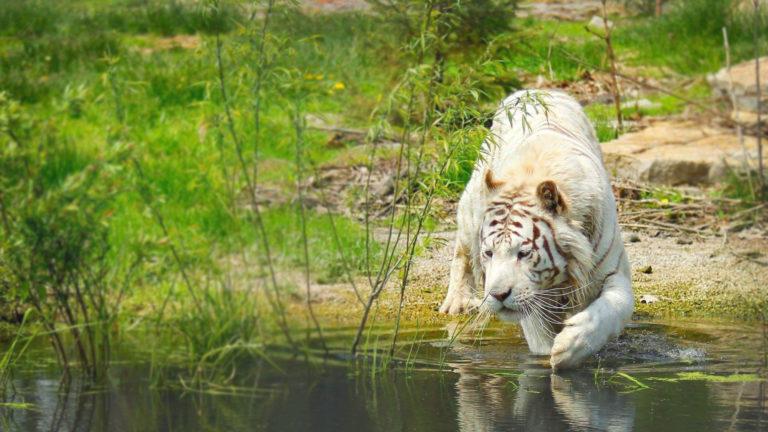 Photo: DeYoung Zoo
White Water Rafting
Norway is about 45 minutes from Escanaba. Take Hwy 8 towards Norway to experience Piers Gorge's White Water rafting on the Menominee River, Wildman Adventure Resort. These are the biggest rapids in the Midwest, which can sometimes reach level 5.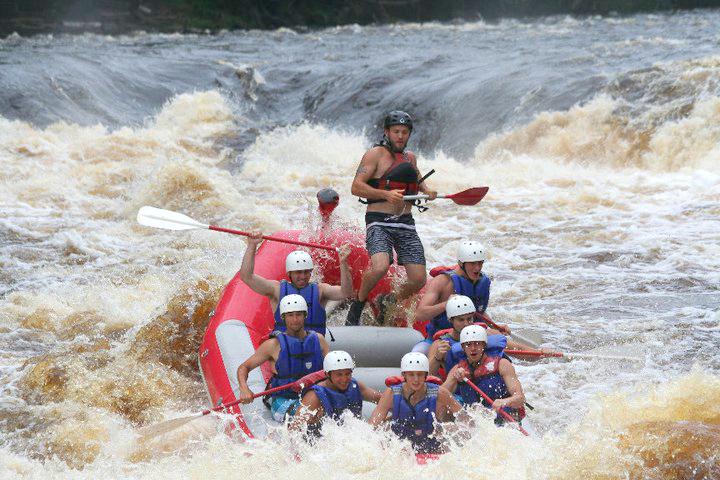 Museums, Waterfalls, and Downtowns
In Iron Mountain, visit the Cornish Pump Museum or visit one of the ski hills for a breathtaking view of the area, Norway Mountain. You can also take a guided trip into a preserved mine just off US 2 in Iron Mountain.
A "must see" is the Iron Mountain Iron Mine and Museum, Vulcan, MI.
Waterfalls. From Escanaba to Munising is about a 65-minute drive. Travel east along U.S. 2 to Federal Hwy 13. Head north through the Hiawatha National Forest to M-28. Take M-28 west 3 miles. Browse the quaint gift shops in downtown Munising.
Visit beautiful Munising Falls and Miners Castle, then take a boat trip to see Pictured Rocks or take the glass bottom boat ride to see a sunken ship – both in Munising.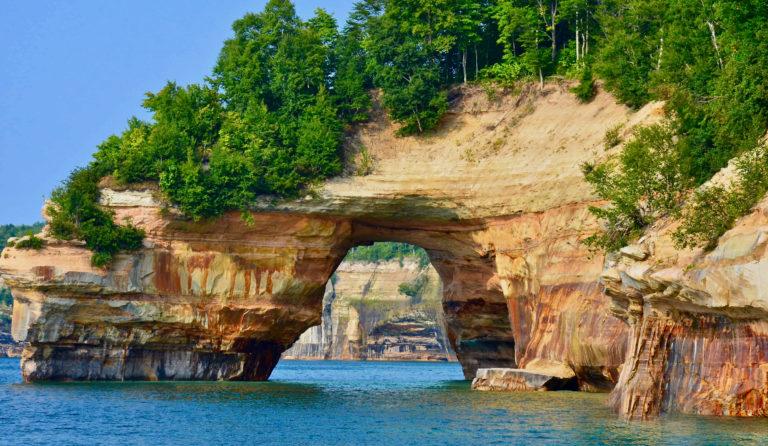 Return to Escanaba the same way you came or you can turn to go to Trenary on Hwy 94 and then take Hwy 2 & 41 back. You can also travel on M -28 from Munising to Autrain and take Hwy 67 to Trenary and US 2 & 41 back – all routes are scenic.
Community Support
We want to share the Bays de Noc area with people from around the world to give them a taste of what we enjoy here every day. Delta County is special to us and we bring new ideas to inspire development. We support local events and infrastructure projects to help our community grow!
BEACH PROJECT
Meet Melissa and Dennis from MIG. They visited Delta County in June of 2019 to work with local partners, citizens, and the cities of Gladstone and Escanaba on a visioning process to reimagine our waterfront parks and beaches.
MIG is a community of designers, planners, engineers, scientists and storytellers engaging, involving and acting with people in creative problem solving.
We really enjoyed getting to know them and participating in this exciting process that will stimulate activity in our parks and draw more people through our downtowns to enjoy this gorgeous waterfront community.
EVENT AWARENESS
There are so many fun and unique events year-round in Delta County. We help grow local events by listing them on our pages, filming/ photographing the event, and promoting events online. You can experience a wide range of events from a cardboard sledding competition to live music at a vineyard. Whether you visit with a crew or by yourself, you're sure to find an exciting experience!