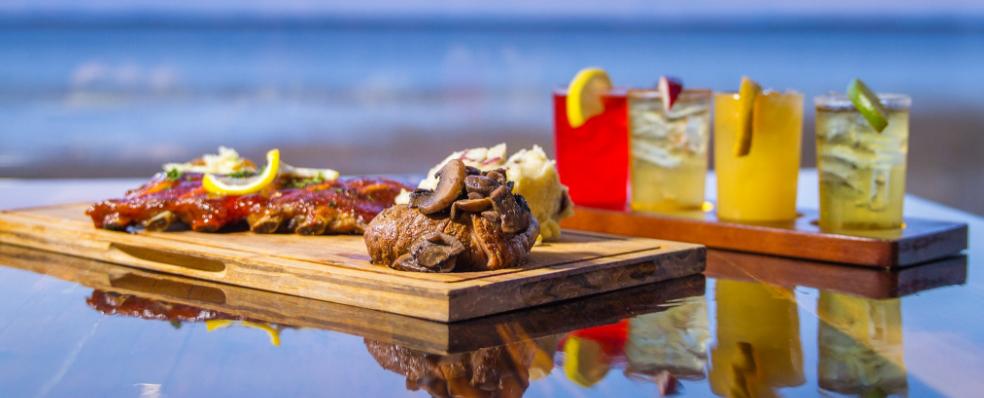 Restaurants
Here in the central Upper Peninsula, you can find some of the most unique and tasty bites. From our local Mom-and-Pop restaurants to our fine-dining fare and our exclusive regional cuisine, you'll be left craving more!
CLICK HERE FOR A FULL LIST OF RESTAURANTS!
Regional Cuisine
Several regional specialties put our area on the culinary map. For generations, these spots have followed family recipes and tweaked a few to leave their mark on these tasty U.P. traditions:
PASTIES (PASS-TEE)
This iconic U.P. food was the original fast-food of miners and lumberjacks. It was brought to the region from Cornwell, England, when Cornish miners arrived to make their livelihoods in the iron and copper mines. Legend says the miners' wives took everything leftover from Sunday dinner and wrapped it in pastry dough. Their husbands and sons would carry them into the mines and heat them on a shovel over their lantern candles.
A traditional Cornish pasty wraps beef, onion, potato, and swede (rutabaga) in a light, flaky pastry, crimped at the edge to form a half-moon. The Finnish version supplements carrots for swede. And the Irish, Scottish, Polish, Swedish, German, Italian, and French miners modified the Cornish recipe with their choice of ethnic spices and ethnic ingredients. Restaurants and specialty pasty shops throughout Delta County use family recipes, and some have added unique versions such as cheesy broccoli chicken, pizza, ham, and vegetable pasties. Both Dobber's Pasties and Gram's Pasties boast making the best. Check them out to make your vote!
SWEDISH INFLUENCE
The Swedish Pantry in Escanaba uses favorite recipes from our local Swedish settlers' kitchens. Here you will discover their famous homemade Swedish pancakes with imported lingonberries and a side of Swedish meatballs. Don't miss out on their traditional Swedish desserts or their bakery selections that include: fresh baked Cardamom Twist Bread, Limpa Rye Bread, Cinamon Rolls the size of your head, and much more!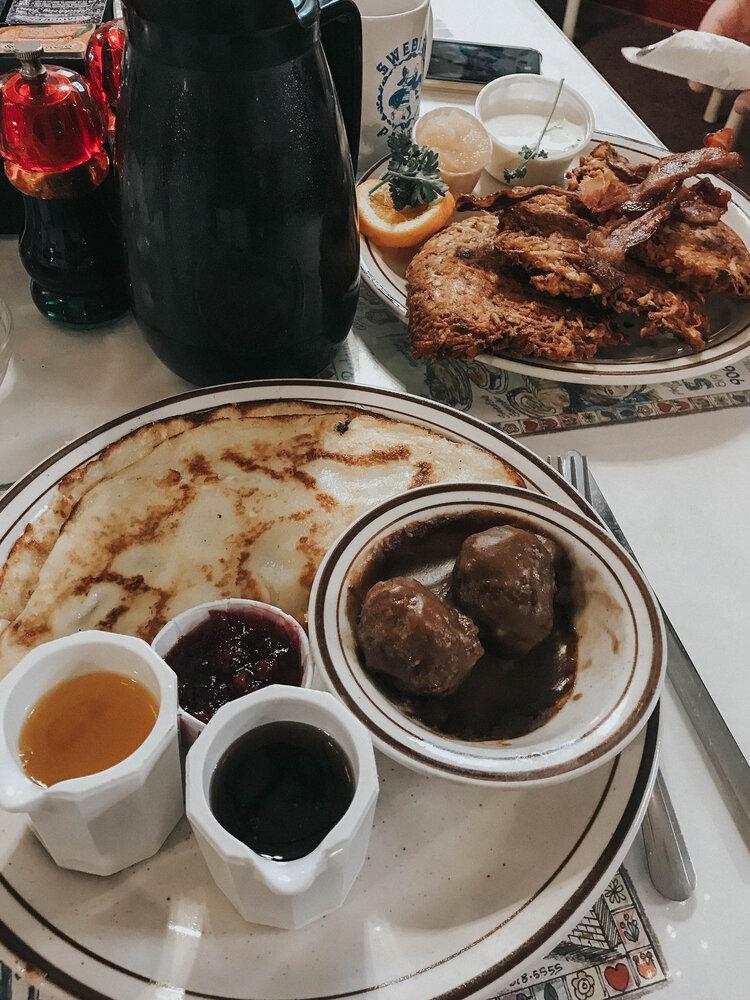 Photo by: Tieka Ellis
CANDIES
Visitors and locals alike are very happy that in 1906, a young Lebanese immigrant named Joseph Sayklly opened a candy shop in Escanaba. Together with his wife, Mary, and their nine children, Joe built Sayklly's into a thriving local landmark. Stop in to take home (if it makes it that far) their famous Yooper Bar, hand-dipped chocolates, peanut clusters, fudge, taffy, and peanut brittle made from carefully guarded recipes. You will be back for more.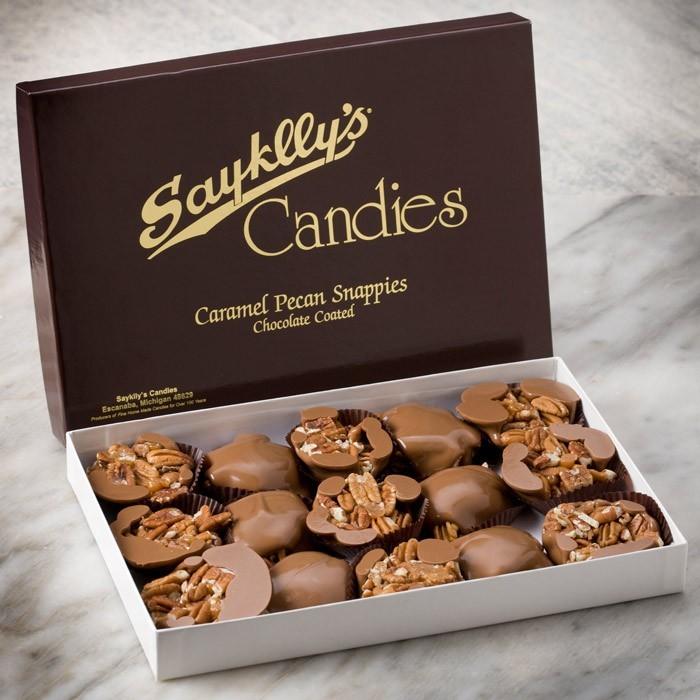 FRESH FISH
Our coastal towns serve-up some amazing fresh fish fare. From walleye to perch, our area does not disappoint when it comes to these delicious fish creations. The Stonehouse Restaurant has sixteen different options of specially prepared meals from the water! They have been voted the best restaurant in the area for 30 years.
Take me to Stonehouse Restaurant!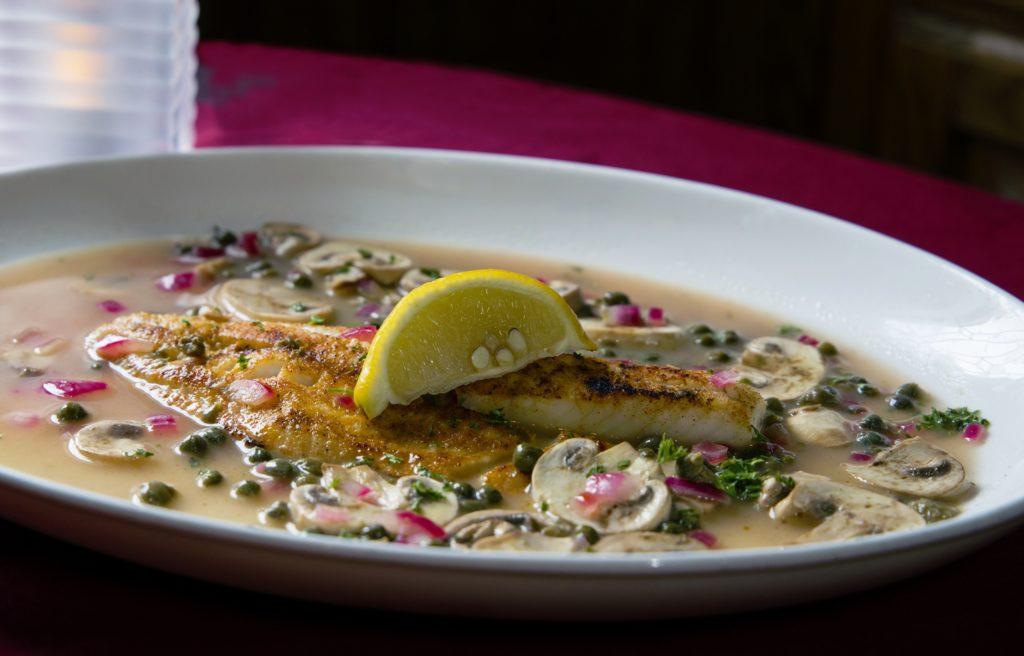 Photo: Stonehouse Restaurant
FRIDAY FISH FRY
Reeling in walleye, perch, or whitefish from the Big and Little Bays de Noc, then cooking it that day is an unsurpassed food pleasure. But you don't have to catch your dinner. Many local chefs prepare fresh fish with their seasonings and sauces that will leave you craving more. Our area's favorite tradition is to feast on lake perch, walleye, whitefish, salmon, and when available, bluegill at a Friday Fish Fry. Ask locals where they like to go. Chances are these restaurants will make their lists: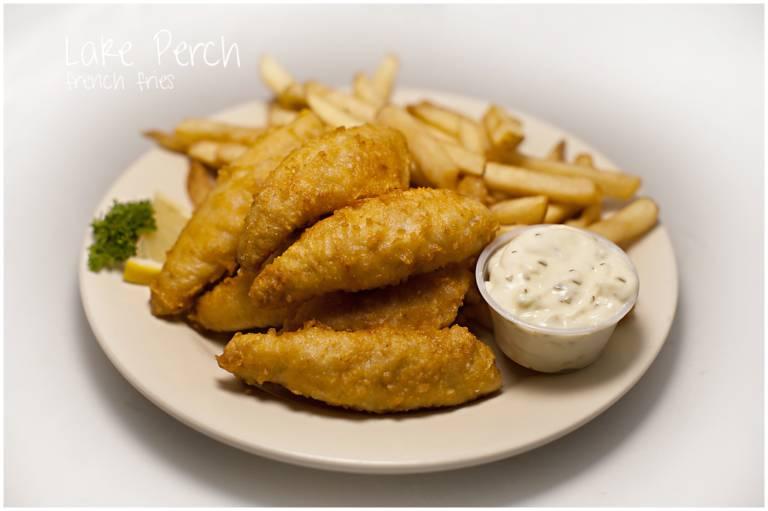 RESTAURANTS:
(Click on the links for directions.)
More Dining Options:
Join us below in our video as we check out Applewood Eatery, Bobaloons, and Stonehouse Restaurant.
Take me to Stonehouse Restaurant!
GRILL YOUR OWN STEAK
Are you hungry for a fresh-cut, juicy steak and house-brewed beer? Make your way to Hereford & Hops Steakhouse and Brewpub, where you can opt to cook your meat selection on an open pit. Vegans and vegetarians will gravitate to the fresh fruit, vegetable, and sauce selections they can use to customize their fajitas and stir fry at The Other Grill. Join us below for behind the scenes of Hereford and Hops!
THE BURGER CHALLENGE
Jacks Restaurant is popular for many things, like their huge homemade cinnamon rolls, their vintage style restaurant sign that has been there for over 75 yrs. and their great comfort food! Now it's their Burger Challenge! Check out our video below to learn more.
Restaurants with a view!

Photo: Freshwater Tavern
Our restaurants overlooking the bay make mealtime a highlight of your day. Here is a list of our waterfront restaurants:
Ice Cream
Get the inside scoop on some of the best ice cream creations in the area! Check out our video below to help you decide where to get your next dessert.
Bring a picnic
Take your food to go and eat at any one of our parks!
RESTAURANTS:
(Click on the links for directions.)
Similar Activities