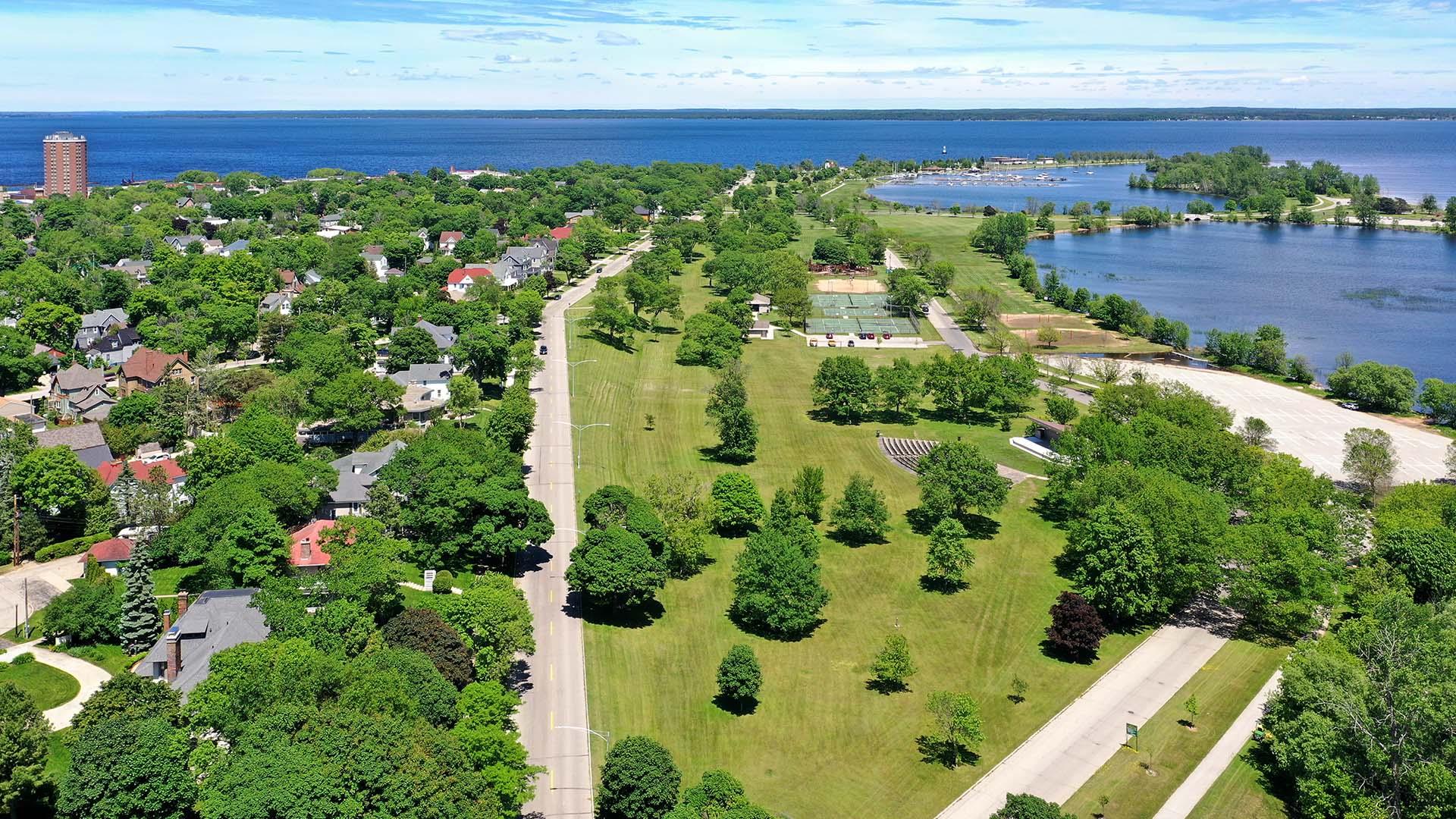 The top five free things to do in Escanaba
If you have been eyeing the gas prices and thinking you might have to shelve taking a much-needed vacation, pack up and come to the Escanaba area. You can easily curtail your spending when you visit this premier Upper Peninsula destination — many of our best things to do are FREE. That's right, there's no need to pull out your wallet or credit card! Here are five free ways to fill your vacation days!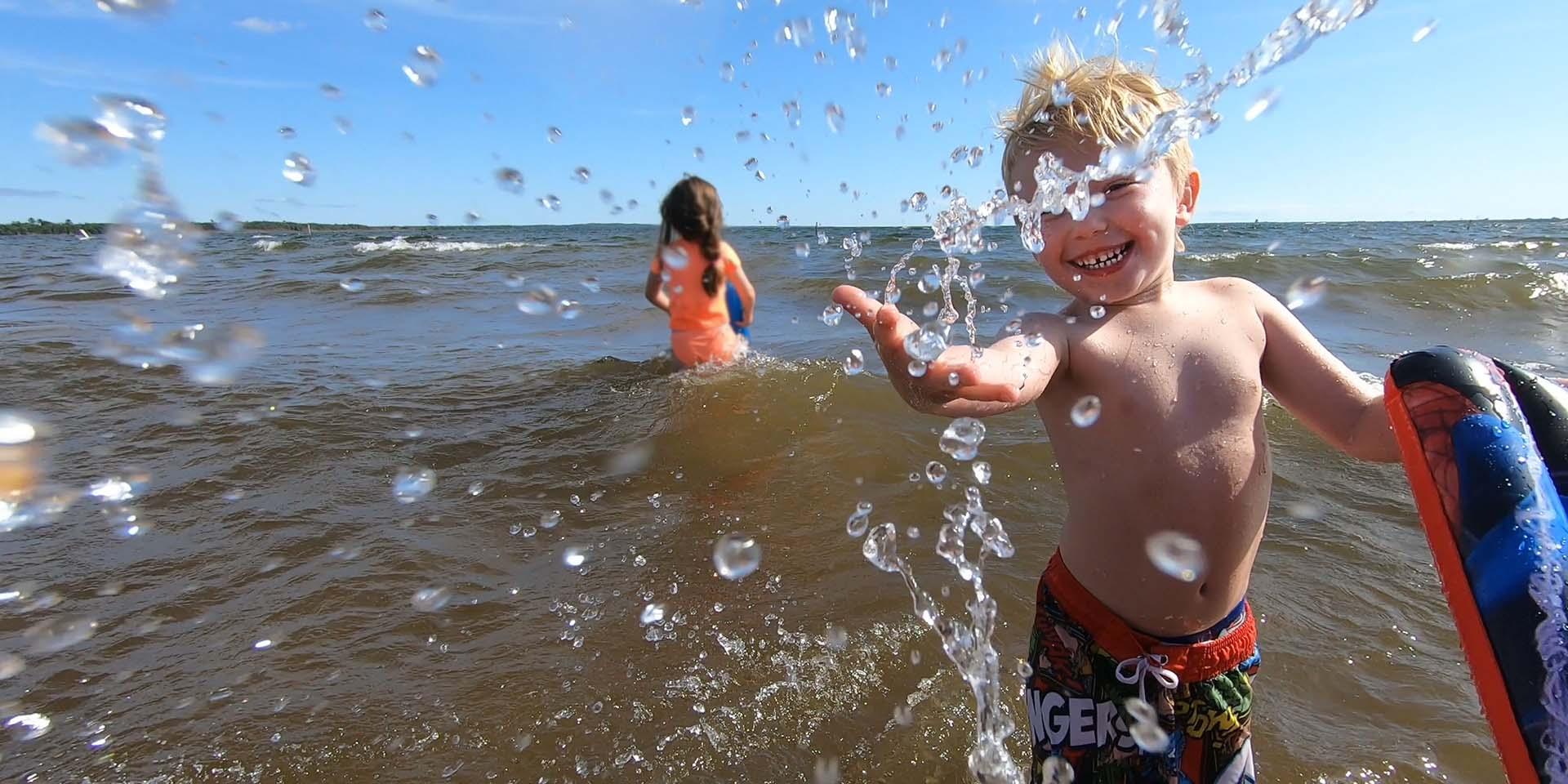 Hours of free beach and Lake Michigan parks fun in and around Escanaba
Delta County is home to the Big and Little Bays de Noc and the Garden and Stonington Peninsulas, giving it bragging rights as having more shoreline than any other county in the U.P. — 200 miles! You are never far from where you can put in your kayak, go swimming, boating, parasailing, water skiing or just soak up the sun on the white-sand beaches. Here are some free parks and beaches for you to enjoy! 
Escanaba Municipal Beach on Aronson Island in Ludington Park | Bath House Road, Escanaba | Park is open year-round, the beach is open from early June to mid-August | Open 24 hours; lifeguard, noon to 7 p.m. | Sandy beach, public restrooms/showers/changing rooms
In addition to the beach, Ludington Park, located along Lake Michigan on Lake Shore Dr., is a mile-long coastal park that is a top pick for families. Enjoy an 18-station self-guided fitness circuit, lighted tennis courts, sand volleyball court, picnic pavilion, Harbor Hideout playground, bike/walking path along the shore and out to the beach, barrier-free fishing pier, boat launch and lighthouse.
On Wednesdays, there are free summer concerts at 7:30 p.m.
Gladstone Beach and Van Cleve Park | 1224 Lake Shore Dr. | Open 7 days; park hours vary | Spacious sandy beach with shallow water that's ideal for small children, a water slide, Hawaiian umbrellas and public restrooms/showers/changing rooms
Van Cleve Park's amenities include a skate park, playground, volleyball court, baseball diamond and a basketball court. A fishing pier is located near the lighthouse where you can fish for trophy walleye, bass, and panfish in season. 
Secluded Beaches | Escanaba, Garden Peninsula and Nahma | Sunrise to sunset | No shower or changing facilities
If you want a private beach experience, bring your beach gear and picnic to Portage Point Beach, five minutes south of Escanaba; Sac Bay Park Beach, 15 minutes south of Fayette Historic State Park on the Garden Peninsula or Indian Point Beach 10 minutes from Nahma. All three offer beautiful scenery and tranquility!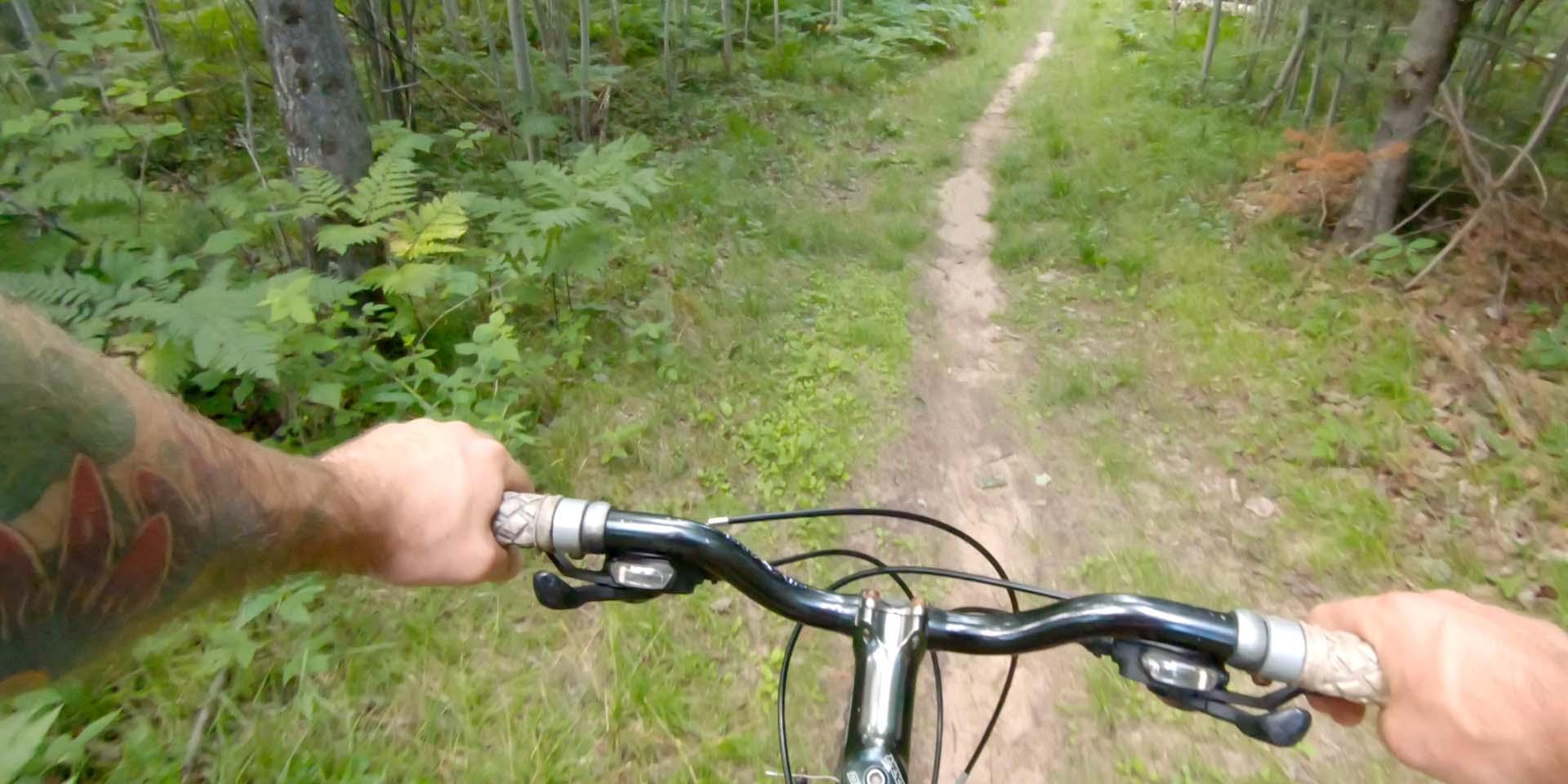 Ride your road or mountain bike for miles on free trails and routes
Around the Bays de Noc, you can find a variety of free biking experiences. They range from the easy, paved biking and hiking paths at Ludington Park in Escanaba and Van Cleve Park in Gladstone to a US-2 stretch of the Iron Belle Biking/Hiking Trail that extends 2,000 miles from the western tip of the Upper Peninsula to Belle Isle in Detroit.
Many bicyclists enjoy riding CR-513T and -511T to the tip of the Stonington Peninsula to see Peninsula Point Lighthouse. Come in late August/early September to see the thousands of migrating monarch butterflies that stop over there. 
If you like combining biking or hiking with kayaking, head to Gladstone. The Blue Water Trail is five miles total of Little Bay de Noc fun. Push off into the open water in your kayak from Terrace Bay Hotel, 7146 P Rd. Paddle to Van Cleve Park 2.5 miles south, then walk or bike back to the hotel. You can stage your bike at Van Cleve Park or borrow one at no cost when you arrive. 
Other popular multi-use trails include:
West Side Recreation Area | 2800 29th Ave. N., Escanaba | 6.6 miles of family-friendly biking and hiking trails; snowshoeing in the winter | 6 loops
Felch Grade Trail | Escanaba | This 38-mile ballast, dirt and gravel trail crosses Menominee, Delta and Dickinson Counties | Trails for biking, hiking and ORVing 
Escanaba to Hermansville Rail Trail | N. 48th Street, Escanaba | 25.5 miles of crushed gravel for biking, hiking and horseback riding; snowshoeing in the winter. This stretch is also part of the Iron Belle bike trail. | A heavily wooded ride with scenic overlooks from three bridges
Bluff's Edge Loop | 3rd Avenue W. Gladstone | 1.4 miles for biking and hiking | Outstanding view of Little Bay de Noc
Days River Pathway Trail and Nature Trail | 6310 Days River Road, Gladstone | 9 miles plus a shorter nature trail; popular for mountain biking, biking and hiking as well as snowshoeing in the winter | 2 kid-friendly loops; 3 challenging | Postcard-worthy scenery along the Days River with wildlife-spotting opportunities
The Highlands Loop | 900 N. Bluff Dr., Gladstone | 2.8 miles  for biking | Spectacular views of Gladstone and Little Bay de Noc
Kipling Nature Preserve | Lakeshore Drive N., Gladstone | 3.4 miles for biking | Blue herons, mallards and other wildlife are often seen as you cruise alongside Little Bay de Noc
Saunders Point Wilderness Loop | Van Cleve Park, Gladstone | 2.2 miles for biking and hiking; snowshoeing in the winter | Beautiful views of wetlands and wildlife
Rapid River Ski National Cross-Country Ski Trail | US-41, 6 miles north of Rapid River | 17.36 miles | This top-rated U.P. ski trail is open to biking and hiking in the summer | Ride or walk  through towering pine-covered ridges and drops into thick lowland swamps
Hike these free trails near Escanaba
In addition to the multi-use trails listed above, you can find some of the best U.P. hiking trails in and around Escanaba. Your only outlay of cash will likely be for the trail mix you carry in your pocket or backpack!
Ninga Aki Pathway | CR-483, Garden | 2.7 miles of a boreal forest ecosystem for hiking as well as snowshoeing in the winter | One loop takes you by Lake Michigan, the other by a bog. 
Delta Avenue Loop | 10th St., Gladstone | 1.75 miles through downtown, past shops, pocket parks and historic sites
Bay de Noc-Grand Island National Recreation Trail | Two trailheads on CR-509, Rapid River | 40 miles of sandy trail between Rapid River and Munising for hiking and horseback riding; snowshoeing in the winter | It parallels the Whitefish River and offers breathtaking bluff views. The terrain is fairly easy with flat and hilly stretches through the forests. 
Haymeadow Creek Falls Trail | CR-509, Rapid River | 1 mile and 0.5 mile trails | Traverses a heavily wooded area; offers a spur connection to the Bay de Noc-Grand Island National Recreation Trail. 
Maywood History Trail | CR-513, the trailhead is along the campground road | 0.9 miles, hard-packed, easily accessible interpretive trail | Walk (or snowshoe in the winter) through a 200-year-old hemlock forest on the shore of Little Bay de Noc, past historic Native American sites and the foundations of an old resort hotel complex. Abundant historic photographs and oral history quotations tell the area's story along the way.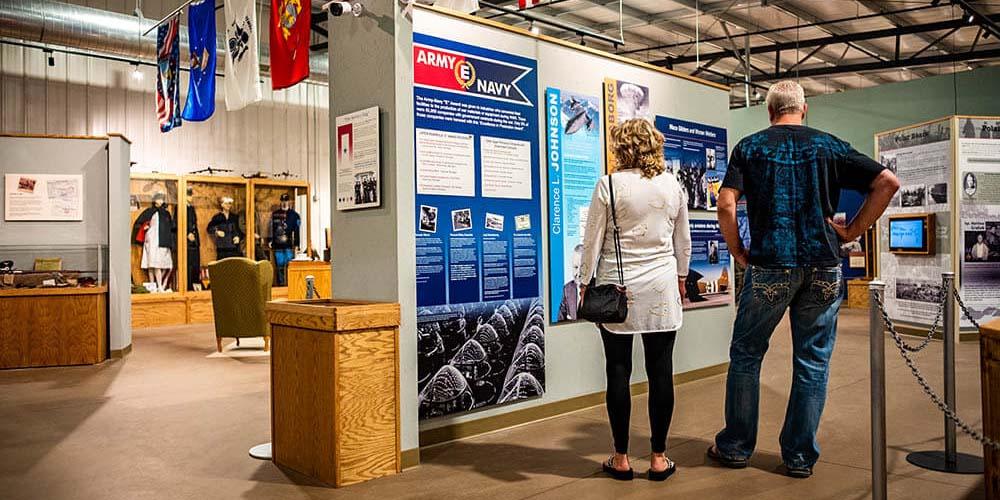 Discover Escanaba's rich story at these free art galleries and museums
Gaze at locally crafted fine art while walking through one of our galleries or spend an hour or two in our museums learning more about the fascinating people who made an impact on our area, the state and America. Add these free destinations to your itinerary (they are great rainy-day destinations). 
William Bonifas Art Center | 700 1st Avenue S., Escanaba | See a wide variety of art by local artists in the center's two galleries
Webster Marble: Inventing the Outdoors Museum | 1001 N. Lincoln Road, Escanaba
In this history museum, discover how Webster Marble and his colleagues set the standard for knives, axes and more for millions of outdoor enthusiasts. Renowned explorers from Robert Peary to Teddy Roosevelt and Charles Lindbergh depended on Marble products during their adventures. It's an inspiring story you will want to share with your children and grandchildren. 
U.P. Military Museum | 1001 N. Lincoln Road, Escanaba
One of the newest history museums in the Upper Peninsula (circa July 2021), this is the only space dedicated to recounting the stories of veterans from across the entire Upper Peninsula. As you explore this collection of artifacts dating back to the U.S. Civil War, the exhibits, memorabilia, letters home and diaries will stir your heart.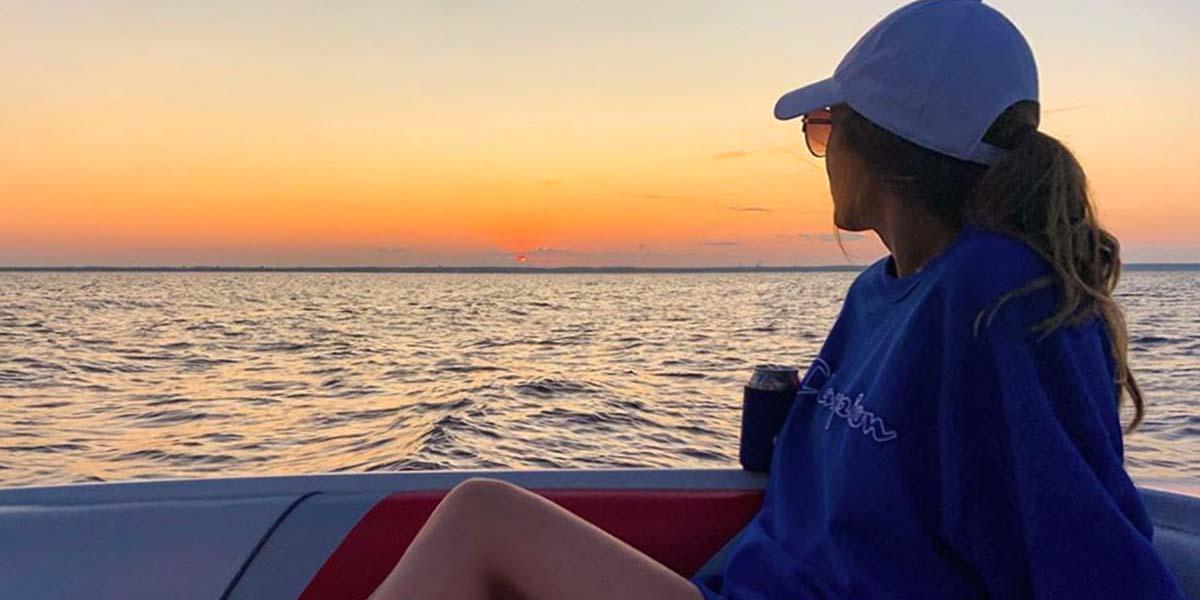 Catch a daily sunrise and sunset, then stargaze every clear night.
One of the best parts of visiting the Escanaba area is that you are never far from watching the sun come up in the east and set in the west. You won't stop clicking your camera as the fiery colors splash across the Little or Big Bay de Noc horizons. But our free sky shows don't stop there. Catch a spellbinding view of the universe from these favorite stargazing spots. The tranquility makes for a good night's sleep. 
Plan your low-cost Escanaba getaway now! 
You see, there are plenty of free things to do in and around Escanaba all-year-round! Start planning  a visit each of the four seasons!