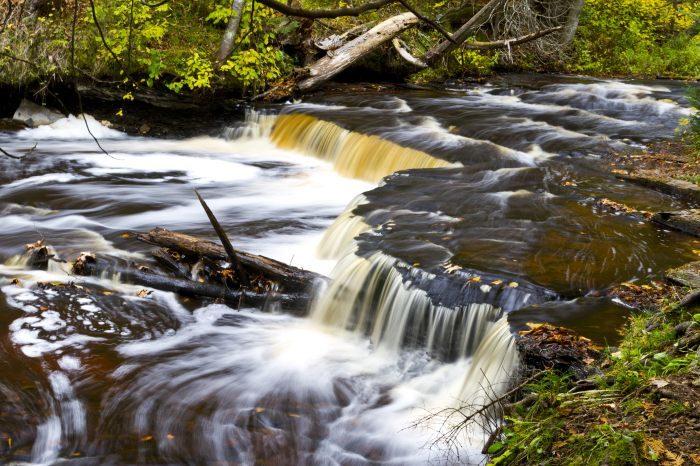 Haymeadow Creek Falls Trail & Recreation Area
Haymeadow Creek Campsite
Rapid River MI, 49878
Directions
Haymeadow Creek Campground is located approximately 11 miles from Rapid River. Take US-2 east from Rapid River 1.6 miles, turn left on Co. Road 509 and go north 9.4 miles to the entrance. The campground is near Haymeadow Creek and has direct access to two hiking trails.
Camping
There are 15 large campsites, all with tables and fire rings. Drinking water is available at a hand pump and there are toilet facilities. Please be sure to pack out what you pack in, as there are no trash receptacles.
Fishing
Haymeadow Creek is a high quality trout stream. Anglers will be challenged to catch the wary brook trout.
Hiking
There are two trailheads to the Haymeadow Falls Trail - one in the campground and another 1/4 mile north on Co. Road 509. The well-marked trail from the campground takes you along a winding path, across small bridges, through a heavily forested area lined with many varieties of ferns and wild plants. The trail of approximately 1 mile leads you along the creek to the footbridge at the Haymeadow Falls rapids. Continue on to the second trailhead and back along the road to the campground, or you can reverse this pattern by parking at the second trailhead, taking the trail to the rapids, and on to the campground and back to your car. There are blue markers along the entire length of the trail.
A short 1/2 mile spur near the north trailhead connects you to the 40 mile Bay de Noc Grand Island National Recreation Trail, which is used for hiking and horseback riding.
General Information
Groceries and gasoline are available in Rapid River. Haymeadow Creek Campground is a no-fee area.
Contact
Additional information about the Haymeadow Campground and Falls Trail is available from the Rapid River Ranger District or the Forest Supervisor's Office.
Visit Website