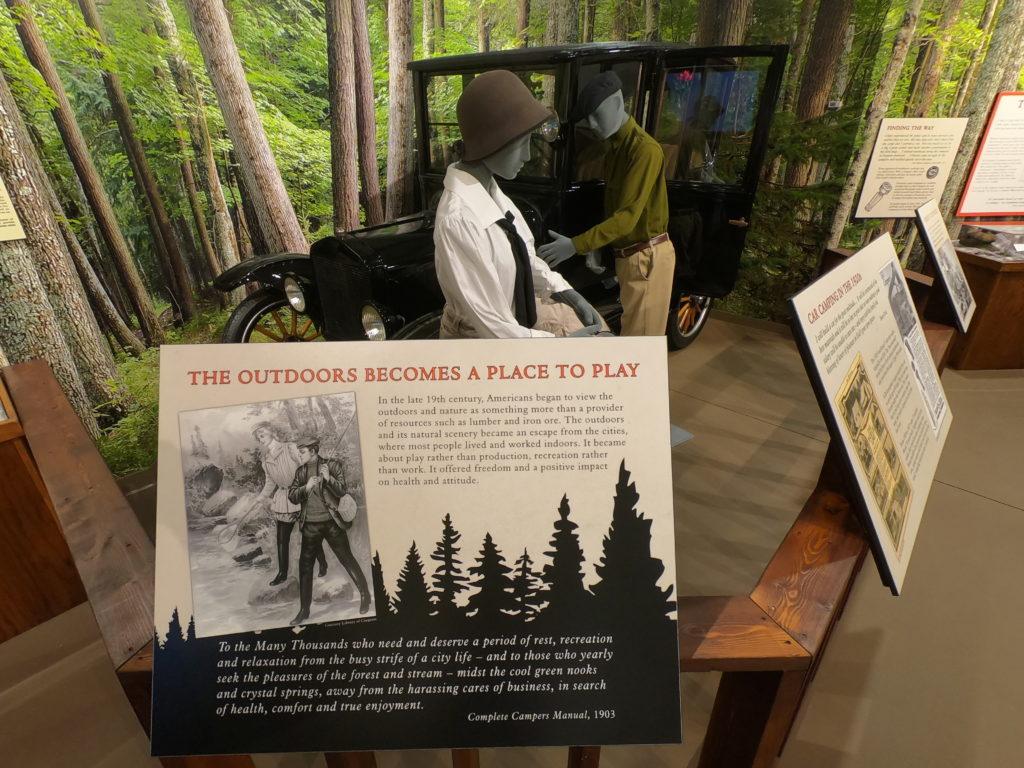 Webster Marble: Inventing the Outdoors Museum
1001 N. Lincoln Road
Escanaba MI, 49829
Directions
Hours and Admission
Monday-Friday, 8 a.m.-4 p.m. | FREE, donations welcome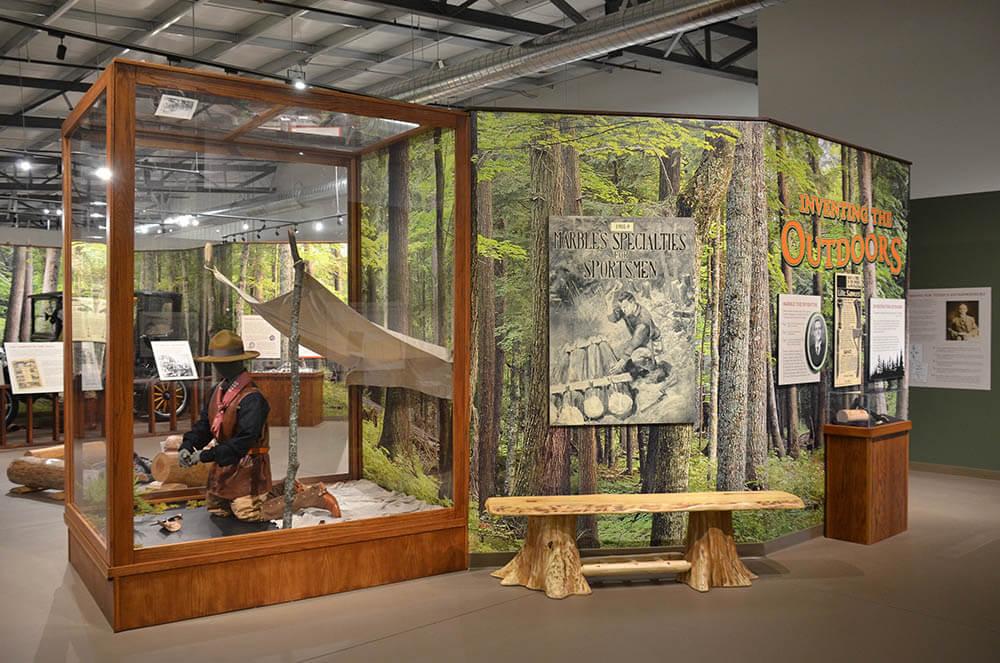 Webster Marble, one of the great entrepreneurs of the early 20th century
Many say Webster Marble put the Upper Peninsula on the map. Born in Frankfort, Michigan, he came to the U.P. in the late 1880s to be a timber cruiser and surveyor. His rare ability to size up specific forest acreage and tell logging companies how many board feet they could expect to yield made him popular when lumber was king in the U.P. But while other loggers were jawing around the campfire, Webster was sketching tools that would make his work in the woods safer and easier. 
In the early 1890s, Marble started designing and hand-making four core products in his Gladstone garage. The first was a safety ax that came with an attached blade guard that folded into the handle when using the ax. Marble had seen too many injuries caused by carrying uncovered, razor-sharp ax blades in the wilderness. With the invention of the safety ax, the Marble Ax Company began in 1892.
Marble also designed a match safe that kept matches dry, an invention inspired after falling into the Sturgeon River and soaking the matches he needed to light a fire to stay warm and cook his food. He created the Marble Ideal Knife for hunting and camping and a pin compass you could affix to a coat that let you easily see your direction without fumbling for a compass in your pocket.
Millions of outdoor enthusiasts have depended on the practicality and durability of Marble products
Marble's passion for the outdoors led to his owning over 60 patents and inventing a long list of products including gear for camping, hiking, hunting and fishing that were used around the globe. Explorers from Robert Peary and Teddy Roosevelt to Charles Lindbergh depended on Marble's products' absolute reliability. 
By the time Henry Ford rolled his first Model T off the assembly line, Marble was a household name, and his company was outfitting millions of outdoor enthusiasts because of his trailblazing entrepreneurism, business savvy and before-his-time marketing skills. He set the standard for outdoor gear practicality and quality in the early 20th century that still influences products today. 

The Michigan history museum's most-visited exhibit is here for you to explore
In 1915, the Michigan History Center in Lansing worked with Curator Dennis Pace to create the fascinating Webster Marble: Inventing the Outdoors exhibit. It became the most visited exhibit the center had ever had. The History Center then loaned the exhibit to the Negaunee Iron Museum and eventually put it into storage. After years of hard work and generous donations from the John and Melissa Besse Foundation and local citizens and businesses, they installed the exhibit in the Delta County Multi-Use Complex at the U.P. State Fairgrounds. This marks the first time the State Archives has permanently loaned one of its exhibits. 
Visit the exhibit today to see the most comprehensive collection of Marble artifacts, including unique hunting knives, axes, automatic fish gaffs, the famous Game Getter gun as well as a Ford Model T automobile. This is the premier exhibit for learning more about Webster Marble and the people who helped him make the gear that still shapes our love of being outdoors today. And, if you are ever in Washington, D.C., there are more Marble artifacts in the Smithsonian. 
Webster Marble's genius inspired two other Delta County knife manufacturers
Bark River Knives
In 2001, Mike Stewart and his wife Lesley founded Bark River Knives in their dairy barn. Stewart had been working in the knife business for many famous American companies when he realized that more and more knives were being made offshore and not to his quality standards. Soon after, the Stewarts moved their semi-production workshop to Escanaba, where this family-run business continuously introduces new designs and improves the quality of every cutting tool they make.  
Bark River Knives prides itself on making sure each knife delivers maximum performance by using a blend of modern and traditional manufacturing methods. With centuries of knife making as its foundation, Bark River Knives' produces exemplary cutting tools for today's outdoor enthusiasts that are worthy of its lifetime warranty.  
Rapid River Knifeworks
Established in the spring of 2002, Rapid River Knifeworks seems pre-destined to become the next great producer of high-quality custom knives. With a lot of skill, a few pieces of machinery, and some really big dreams, they developed a line of custom knives and axes that combine beauty with strength and practical usability. They have an ever-expanding base of sportsmen and women from around the world who insist on using these high-quality hunting and fishing knives and axes on their outdoor adventures. Rapid River Knifeworks products are so treasured, they are passed down to family members. 
Learn more about these 100% made-in-America, custom knives and axes. Or watch their knife artists at work in their 10,000-square-foot showroom and store at 10484 U.25 Road and US 2, Rapid River.
Visit Website