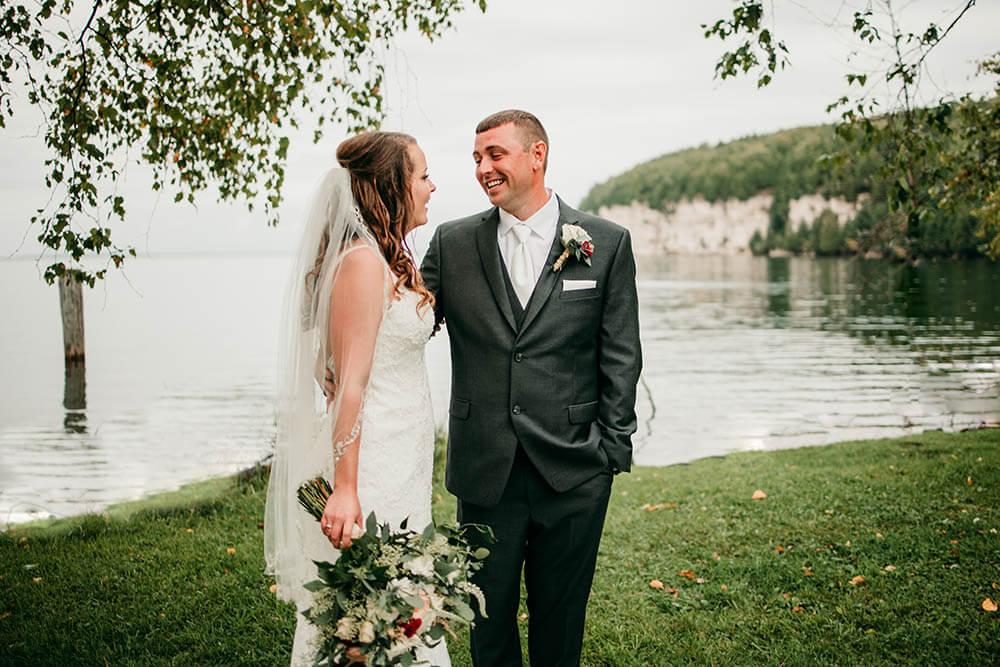 How to plan a wedding in Escanaba
Dream weddings come true by the Bays
You said "yes" to the love of your life! Now it's time to create the wedding day or honeymoon of your dreams. When it comes to being an anchor amid the waves of decisions and details you will have to make in the coming months, no one is more helpful than the wedding professionals in and around Escanaba. Whether it's for your engagement announcement party, bridal shower, bachelorette or bachelor gathering, wedding and reception or honeymoon — the Bays de Noc is your dream-come-true destination.
Here are some tips from locals who want to help you stay stress-free.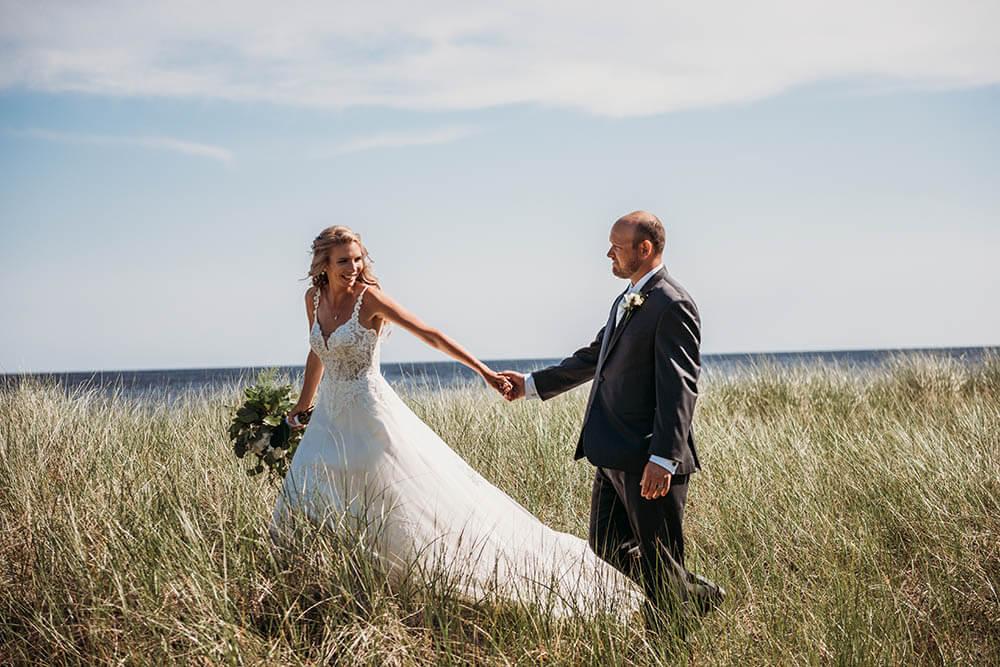 All photos on this page are by EverWild Photography
Start by choosing celebration dates
Securing dates for smaller gatherings such as your engagement or bridal showers is easier to do on shorter notice than for larger receptions. Rick Elrod, co-owner of the Terrace Bay Hotel in Gladstone, said many wedding venues and vendors in the Escanaba area are booking dates 12 to 24 months out. This is especially the timeline if you want to get married on a weekend during one of the popular summer or fall months.
"Fridays and weekdays give you more date options," advised Elrod. "And many venues, such as Terrace Bay Hotel, offer discounts and package incentives if you host your wedding between early November and April."
He added winter and early spring weddings offer theme and decorating options that will make your day stand out even more. You can either keep the seasonal savings or use the money to add more flair to your menu or decorating options, increase the number of guests or add extra sparkle to your honeymoon plans.
"If you are worried about entertaining your guests in the winter, don't be," Elrod added. "The Bays are a four-season outdoor playground so there's plenty to do. Make memories skiing, snowshoeing, ice fishing, hiking, pub crawling and more nearby."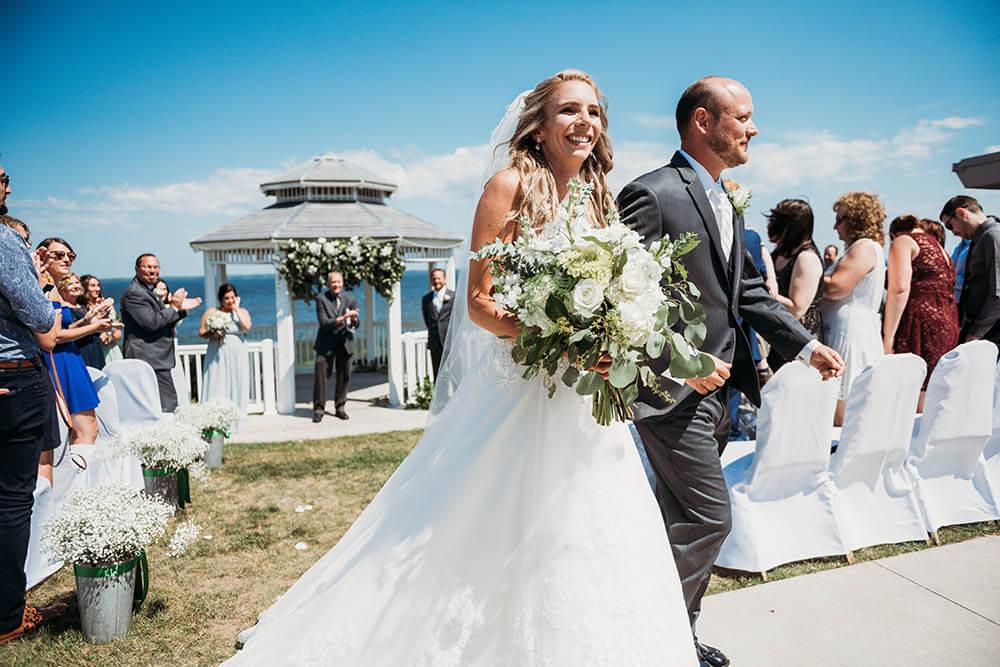 Find your perfect wedding venue in and around Escanaba.
Whether you want a church or chapel wedding, waterfront, vineyard, historic townsite or rustic barn setting, the possibilities are waiting for you in and around Escanaba. The same is true for your pre-wedding parties and receptions. Here are some places to consider:
John & Melissa
Besse Sports Complex | 900 N Bluff Drive, Gladstone |
Learn More
You can celebrate with family and friends in the charming Gladstone Ski Hill Chalet from April 1-Nov. 15. Limited rental options may also be available in December depending on ski conditions. Other rental spaces include the gazebo, perfect for wedding ceremonies, plus a complex full of fun places to create your personalized theme wedding — the beach house, the big pavilion by the Bayshore Ballfield, which is also available for rent, and the Kids Kingdom Pavilion.
Fayette Historic State Park | 4785 II Road, Garden |
Learn More
This preserved, historic smelting townsite on the Garden Peninsula has several options for hosting your wedding. The most popular location is Sawmill Point on the grassy area in front of the Furnace — with stunning views of the dolomite cliffs and Snail Shell Harbor. Also on site are a modern campground, harbor boat slips and the Furnace Hill Lodge which sleeps up to 10 people and is available for by-the-day or weekly rentals year-round.
Highland Golf Club | 3011 U.S. 2, Escanaba |
Learn More
This public golf course is one of the oldest golf courses in Delta County and is a lovely setting for your wedding reception or smaller parties. The Highland staff takes pride in being the "friendliest course around" so you and your guests will feel very welcome.
Island Resort & Casino | W 399 U.S. 2, Harris |
Learn More
Much more than an exceptional place to enjoy renowned headliner performances, play golf and experience the excitement of gaming with your family and friends, this is a beautiful place to hold your wedding, reception and bridal parties. Their professional staff will be by your side as you plan your dream day, then assist with everything from serving delicious food and drink to setting up your audio/video equipment for a seamless multimedia experience. There is an onsite spa and salon plus your rental includes a complimentary king suite.
Ludington Park | Lake Shore Drive, Escanaba |
Learn More
This scenic park along the Little Bay de Noc is a sunrise-to-sunset destination for pre-wedding fun and hosting your wedding or reception. In addition to the beach, disc golf, fishing and lighthouse for entertainment, you can rent their pavilion, gazebo and bandshell to create lifelong memories.
Northern Sun Winery | 983 10th Road, Bark River |
Learn More
Have you always dreamed of a fairytale wedding in the vineyards? We have just the place for you to make your dream come true in the spring, summer and fall — Northern Sun Winery. With Anthony Vineyard as your backdrop, you can choose your photo-perfect location from views of gorgeous rolling hills, fields of wildflowers, acres of grapevines, a quaint apple orchard, vine-covered pergola or vintage red barn. This is a top choice for vintage wedding celebrations as well as pre-wedding parties.
Old City Hall | 121 South 11th Street, Escanaba |
Learn More
The Firehall is a charming venue for weddings and small gatherings. It can comfortably host up to 100 guests. There is also a Bunkhouse available for overnight stays for up to three guests.
Terrace Bay Hotel | 7146 P Road, Gladstone |
Learn More
This waterfront hotel is one of our most popular year-round destinations. Seasonally, you can hold your wedding in the gazebo overlooking Lake Michigan and socialize on the lawn or deck. You can host your reception in the Grand Ballroom, decorating it to match your theme. It comfortably seats up to 350 guests with plenty of space for enjoying food and dancing. The Terrace Bay Hotel's highly experienced and regionally acclaimed chef and culinary team will prepare your food, which you can choose to have served either buffet or plated. You will find the staff's handling of details stress-free from your first planning meeting to saying goodbye to your guests.
Other spaces are also available for your bridal showers, rehearsal dinners and more. And for your honeymoon, it is tough to compete with the Terrace Bay Hotel's lake view and newly renovated rooms.
The Bonifas Art Center |
700 1st Avenue S, Escanaba |
Learn More
This is another quaint, historic site in the heart of downtown. Perfect for bridal showers, bachelorette parties and wedding receptions. ​​The studio space has a large functional kitchen for catering or supplying your own food. Plus, there is a large theater space and gallery for creating any event you can imagine.
U.P. State Fairgrounds: Antique Village Chapel, Ruth Butler Building, Barns & Multi-purpose Building | 2401 12th Avenue N, Escanaba |
Learn More
There are so many choices for holding your wedding and reception here! There is a quaint chapel in the Antique Village that is perfect for your wedding followed by a reception in the Ruth Butler Building (book early, especially if you are considering a weekend wedding in the summer) or you can also use the multi-purpose room in the beautiful new Commerce Center.
Looking for a more rustic, barn-themed wedding venue? You can rent the barns at the fairground, too. Pair it with one or more of the mobile food units listed below and no one will forget the fun they had starting your happily-ever-after together!
Van Cleve Park | 1224 Lake Shore Drive, Gladstone |
Learn More
This is simply a beautiful on-the-bay setting, replete with a picturesque gazebo situated on a peninsula. Rent the large pavilion for your reception and entertain your guests with everything from time on the beach, kayaking, volleyball, biking and walks to the historic lighthouse.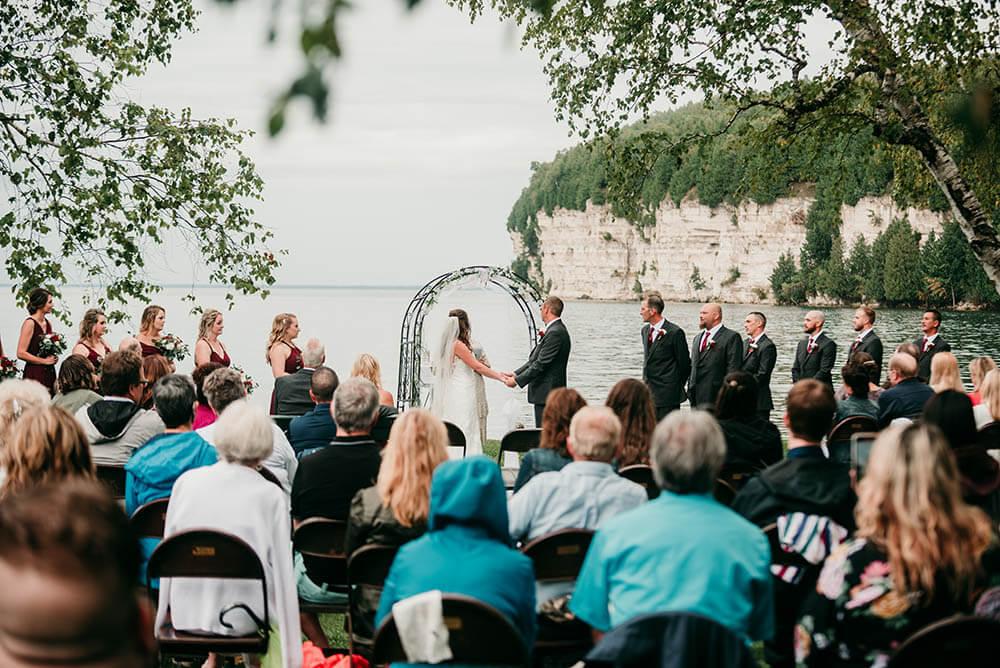 Work with the best Escanaba area wedding vendors
There are so many professionals and businesses in the Escanaba area that are ready to help make your dream day all that you imagined and more. Below is a list of some of the most common needs you will have, but there are more at deltami.org.
DJ/Planners
Taylored Weddings | Contact Mitch Taylor | 906-786-6967
Decorators
Ever After Decorating | 906-420-0226
JessEvents | 906-241-7559
Final Touches Design | 906-420-4571
Florists
Wickert Floral Company | 906-786-1922
Trotter's Floral | 906-428-3130
Caterers/Food Trucks
Brisket Barn | 906-399-1748
Chuckwagon Pulled Pork | 906-280-7148
For the Love of Cupcakes | Contact Kelly | 906-399-3004 | Rave Reviews
Rollin' Smoke Barbeque | 906-446-3708
The Little Red Caboose/Rose Petal Catering | 906-280-2865
Wiles Food Service | Gourmet Fare | Contact Matt Wiles | 906-428-3185 | Rave Reviews
Equipment/Party Rentals
Bosk Equipment and Party Rentals | Contact Sue | 906-789-2675
Stenberg Rentals | Contact Wayne | 906-466-9908 | Rave Reviews
Horse-Drawn Carriage
VanElsacker Farms Carriage & Sleigh Rides | 906-361-3390
Lodgings
Photographers
BEL Photography | 906-280-7875
Black Iris Studio/MDH Photography | 906-553-5199
Everwild Photography | 906-202-0890
Holly Selden Photography | 906-221-5936
Memories Studio | 906-352-4014
Molly Jo Photography | 906-231-9588
Photos by Ciera | photosbyciera@gmail.com
Rachel Moreau Photography | 920-819-7307
Yellow Dandelion Photography | yellowdandelionphotography@gmail.com
Videographers
Portage Point Productions |portagepointproductions@gmail.com
Vantage Video Solutions | 906-280-2453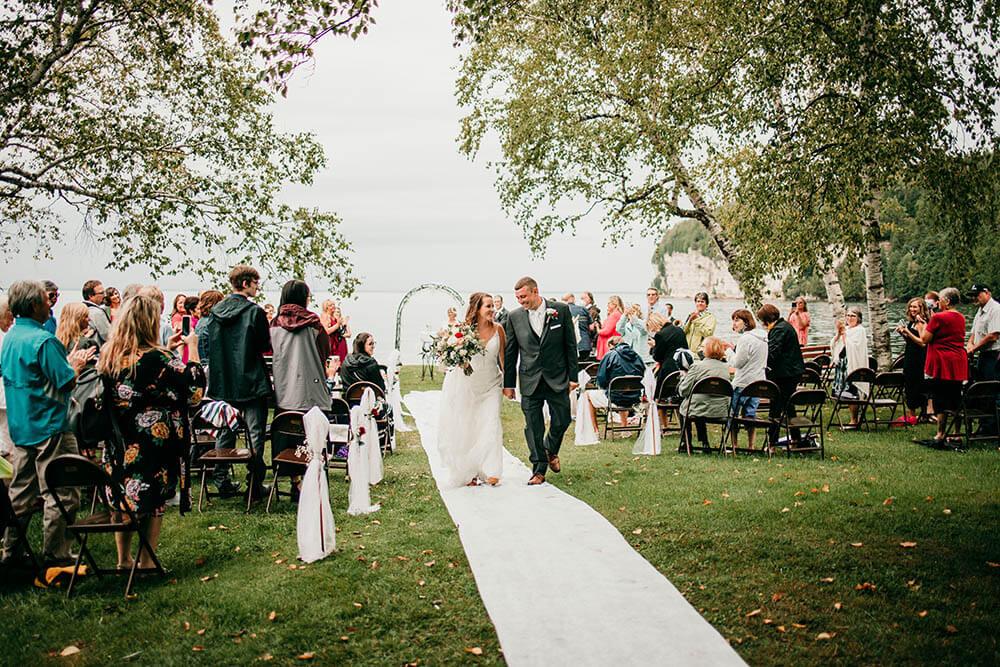 Escanaba is a premier honeymoon destination, too.
You will have fun starting your marriage by the Bays. Wake up to a beautiful waterfront sunrise, then fill your day with four-season adventures from hiking, paddling, exploring museums and art galleries, golfing, fishing, parasailing to stargazing. Discover new places to dine and sip your favorite beverages, shop for special gifts for each other or just have fun together. It's also a peaceful place to sit by the water and enjoy each other's company..
But one of the best reasons to honeymoon here is you are within an hour or two of most of the U.P.'s top attractions including Pictured Rocks National Lakeshore, Kitch-iti-kipi, hundreds of waterfalls, lighthouses, islands and more. See how close you are on this map!
Not only is Escanaba a central place to honeymoon, the Bays are also perfect for celebrating each anniversary.
Need help planning your wedding?
If you have questions about how to celebrate your wedding in Escanaba, please call us at 906-789-7862. Start making plans at visitescanaba.com.