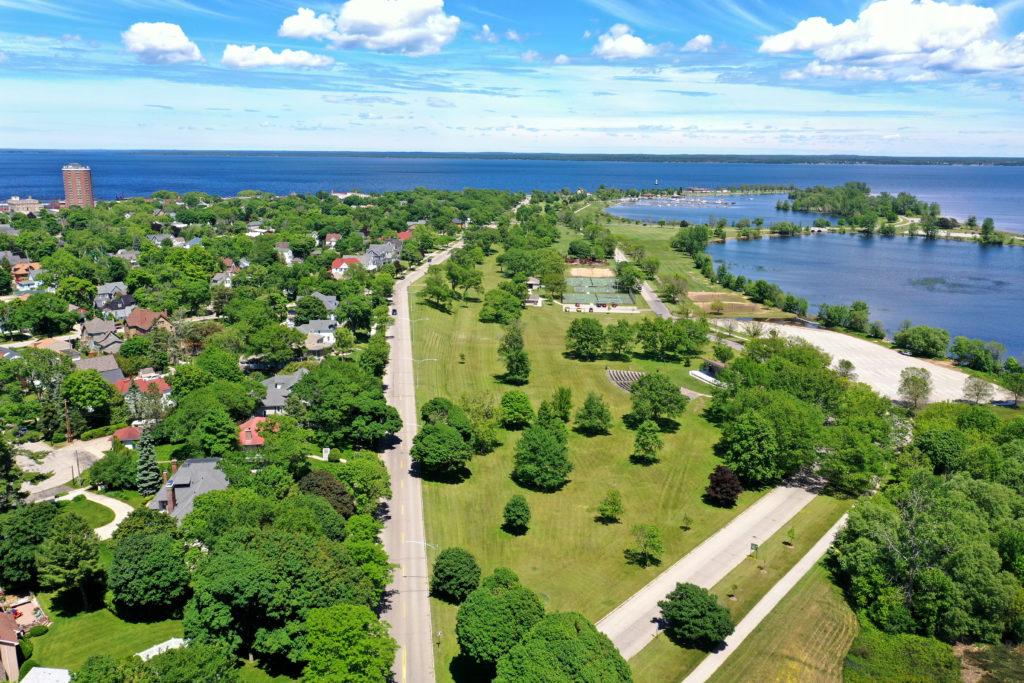 Spend a day along a shoreline of activities at Ludington Park 
If you're looking for a lot of activity in one spot, Ludington Park in Escanaba can keep you itinerary hopping for hours. The mile-long park is located along Lake Shore Drive on Lake Michigan's Little Bay de Noc. It falls at the end of downtown Escanaba. 
Whether you're coming for a stroll, to run around with your four-legged friends, swim, learn about area history or enjoy some outdoor music or movies, you won't be bored. With so much fun packed in this spacious area by the Bay, it's a good thing you can come back! Here are some of Ludington Park's amenities: 
Aronson Island: Walk along the little brick bridge in Escanaba Marina's harbor and you'll connect to an Island offering much to explore, including a beach, walking trail and boat launch. Many kayakers and boaters frequent this area while anglers take advantage of its barrier-free fishing pier. 
Disc golf: Rattle some chains for free on Ludington Park's disc golf course. Designed by Joe Harris, from the Professional Disc Golf Association, this nine-hole course follows Little Bay de Noc's shoreline. 
Marina: If you're bringing your boat in, the marina has transient boat slips! They also check out bikes at no charge here. 
Sand Point Lighthouse: Built in 1989, this lighthouse is open for public tours as the inside is completely restored. Learn more about Escanaba's history and heyday at the Delta County Historical Society Museum located behind the lighthouse. 
Movies and music: Each week, visitors and locals alike can enjoy free entertainment events at Ludington Park. Music Mondays at the Karas Memorial Band Shell (south end of the park) bring in talent for others to enjoy while outside. Weekly summer band concerts are held each Wednesday at 7:30 p.m. in the same place. Moviegoers can enjoy a flick and some snacks in the park on Saturdays once a month. All of these are free to the public! Learn more about specific dates on our events page. 
More family fun: Some other spots visitors may enjoy include the bicycle path on the way to Aronson Island. If you follow this, you'll end up at the swimming beach and bathhouse. Ludington Park also has an 18-station, self-guided fitness circuit, lighted tennis courts, eight sand volleyball courts, picnic pavilion, gazebo and Harbor Hideout Playground (which is barrier-free and designed to be enjoyed by anyone with mobility challenges).
The park is open from 7:30 a.m. to 11 p.m. daily. Both on-street parking and parking lots are available throughout. 
There's something for everyone at Ludington Park. Swing by next time you're in the neighborhood and see for yourself!