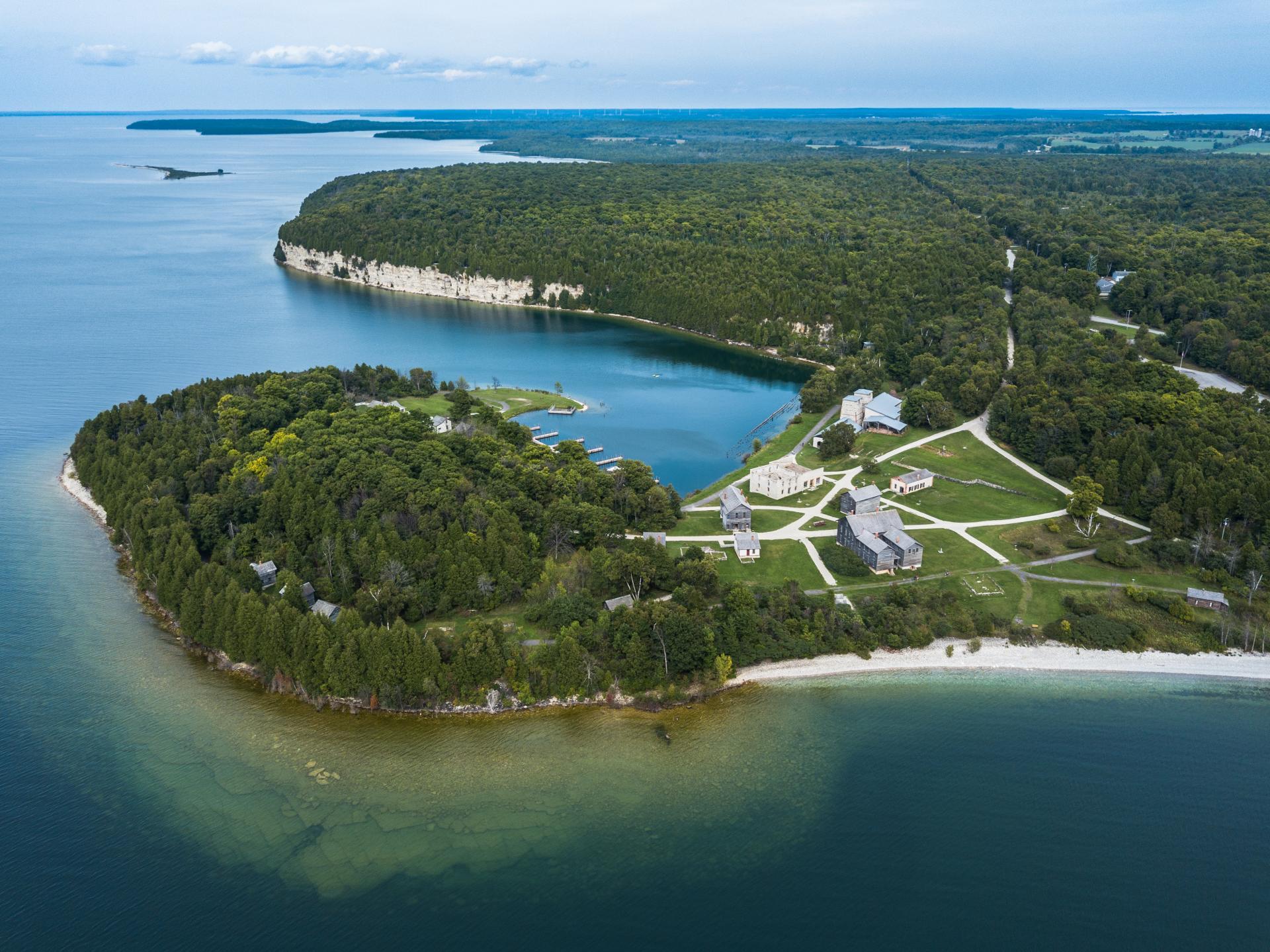 Fayette Historic State Park & Townsite
You don't have to travel far in Michigan's Upper Peninsula to see how proudly we preserve and share our amazing history with generation after generation. One of the nation's premier historic company townsites is found at the Garden Peninsula's tip in Fayette Historic State Park.
Plan to spend a minimum of two hours (you can easily fill a day) exploring the townsite's visitor center and 20 buildings to learn how this little iron smelting town helped transform America between 1867 and 1891. If history isn't your motivation to stop, then the recreational fun will be in this 711-acre park that wraps around Snail Shell Harbor off Lake Michigan's Big Bay de Noc. Be sure to check out our Fayette blog, too!
HOW TO GET HERE AND ENTRANCE FEES:
The park is located at 4785 II Road, Garden, MI. From US-2, take M-183 17 miles south through the Garden Peninsula.
Take me to Fayette Historic State Park!
Park number: 906-644-2603.
Hours: 9 am-8 pm
The park is open year-round, from 8 am to 10 pm; however, the historic townsite and campsites are only open mid-May to mid-October, and the boat slips from early May to early November.
To access the park, visitors and campers will need a current Michigan Recreational Passport. Non-residents can purchase passes when they arrive. Day passes are $9, and annual passes are $34. These passes are good at all Michigan State Parks.
History
The peaceful townsite overlooking Snail Shell Harbor with its weathered buildings and stone furnaces is a far cry from Fayette's booming days when noise and billowing smoke filled the soot-blackened air. The town's founder, Fayette Brown, general manager of the Jackson Iron Company in Cleveland, Ohio, strategically chose this site for an iron smelting operation in 1867.
Fayette used limestone to purify the molten iron and trees to make the charcoal needed to fire the furnaces. In its heyday, the pig iron from Fayette was considered some of the best in the country. But with the stripping of the forests and new methods for making iron and steel, this company town closed down in 1891.
Learn the story of this town's rise and fall and share it with your children. Take a free guided tour in the summer or a self-guided tour from mid-May to mid-October.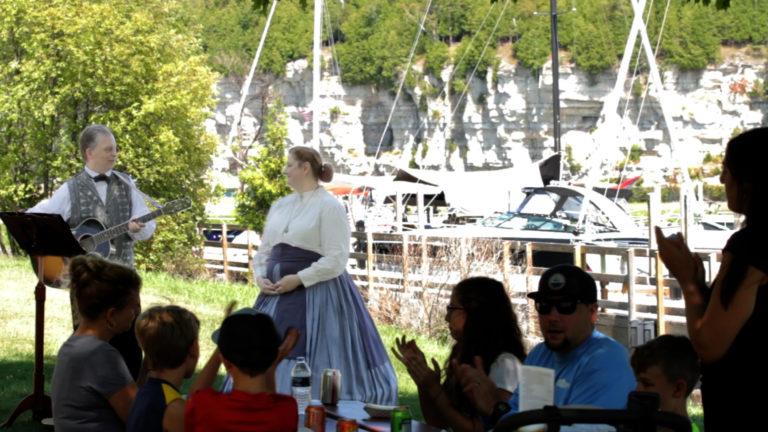 Explore
For an even more amazing encounter with history, look down at the cedars growing on the park's limestone bluffs. Some are 800, 900, even 1,400 years old, making them the oldest trees in any Michigan state park!
Hike, bike, snowshoe, or ski overlooking limestone cliffs. Three-and-a-half miles of scenic trails take you through hardwood forests, along the bluff, and through the townsite. In winter, the park grooms a single track for traditional cross-country skiing. Hard-packed trails are open to snowshoers and hikers.
Paddle or cruise past stunning scenery. Fayette is a gorgeous place to kayak, canoe, stand-up paddleboard, or boat. The Snail Shell Harbor's white limestone cliffs rival the beauty of the Pictured Rocks National Lakeshore on Lake Superior. You can easily navigate your pleasure craft or larger yacht in the harbor waters.
Reel in the big ones. Big Bay de Noc is rated as one of the best fishing areas in the Midwest. Experience the thrill of catching walleye, northern pike, perch, and smallmouth bass.
Scuba dive or snorkel in search of artifacts and aquatic life. Some of Fayette's story can be found below the harbor's surface. Scuba diving and snorkeling are only permitted at certain times; stop by the camp office to purchase the required permit. The slag beach just off the townsite is a popular exploration point, but please leave any discoveries in the water.
Join Michigan Playground below as they adventure around Fayette!
Events
LANTERN-LIT CROSS-COUNTRY SKI, SNOWSHOE & HIKE:
Last Saturday in January 6-8 pm. The park illuminates the 1.5-mile Bluff Trail with the soft glow of kerosene lanterns. A bonfire, hot cocoa, and marshmallows add to the fun.
CHRISTMAS IN JUNE
Third Saturday in June: 11 am-2 pm. Campers decorate their campsites and join day visitors in family activities. The only thing missing is the snow!
HERITAGE DAY
Second Saturday in August: 11 am-4 pm. This popular event recaptures the glory days of living in the townsite. See 19th-century cooking and blacksmithing demonstrations, listen to period music and watch (you're also invited to play) an 1860s-style baseball game.
PARANORMAL EVENT
Third Weekend of September: 9 pm-3 am. Have you ever wondered what a ghost hunter does? Here's your chance to participate in two nights of paranormal investigation on our eerie-at-night grounds, for ages 10 years or older.
FALL FEST
First Weekend of October: 11 am-3 pm. Hayrides, kids' activities plus Halloween decorations and trick-or-treating in the campground.
Stay updated on event changes by following their Facebook page!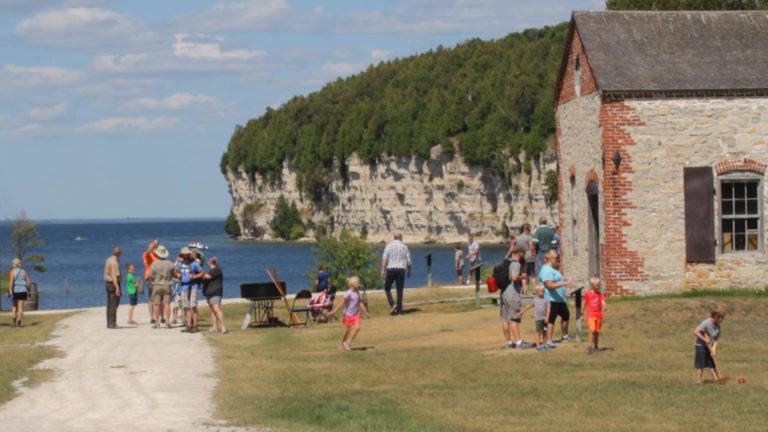 Stay over
Seasonal modern campsites, boat slips, and a year-round lodge are available at Fayette Historic State Park. Campsite and marina reservations can be made up to six months in advance online at www.midnrreservations.com or Mon-Fri: 8 am–8 pm, or Sat-Sun: 9 am–5 pm by calling 800-447-2757.
Campsites: 61 sites; 50 with 20/30-amp electricity hookup; 11 pull-through with 20/30 & 50-amp hookup; individual fire circle and picnic table; shower and restroom facilities; you'll be near the beach and townsite.
Boat camping: 15 transient slips for 1'-38', 20-45' and 46'-'60' pleasure craft and yachts, day or overnight dockage; 30/ 50-amp electrical pedestals; water and restrooms; you're within walking distance of park amenities.
Hammock camping or just relaxing. This is a great park to set up your hammock at your site or string between two trees within the park and hang out for the day.
Year-round getaway lodge. The Furnace Hill Lodge sleeps up to 10 people and is available for by-the-day or weekly rentals year-round. It's a serene, edge-of-the-woods getaway near the townsite, beach, and trails, fully furnished and equipped with linens and kitchen utensils. Call for availability and reservations: 906-644-2603.
Pets are welcome. Campers and day visitors may bring their pets to the park as long as they are quiet and are kept on a 6-foot leash. For your pet's and visitor safety, no pets are allowed in the historic buildings or on the swimming beaches. For more information, click here or call 906-644-2603.
Additional lodging is available in the Bays de Noc area. Look here for other places to stay.
OTHER NEARBY PLACES TO ADD TO YOUR ITINERARY
Sac Bay County Park. Located five miles south of the state park on M-183, it offers an uncrowded swimming beach, picnic area, and wide-open view of the islands between Garden and Door Peninsulas. Another place to kayak and canoe.
Garden Peninsula Historical Museum. Housed in a one-room schoolhouse, it features stories about logging, fishing, and going to school on the peninsula.
Sand Point Lighthouse. Circa 1867, this Escanaba landmark, was operated for 18 years by Mary Terry, one of the first women lighthouse keepers on the Great Lakes.
Kitch-iti-kipi, Palms Book State Park. A hand-crank ferry takes you across the crystal clear pond where the "Big Spring" gushes 10,000 gallons of water per minute.  
Hiawatha National Forest. This national forest is home to acres of hardwoods, inland lakes, motorized trails, and non-motorized trails.
Similar Activities