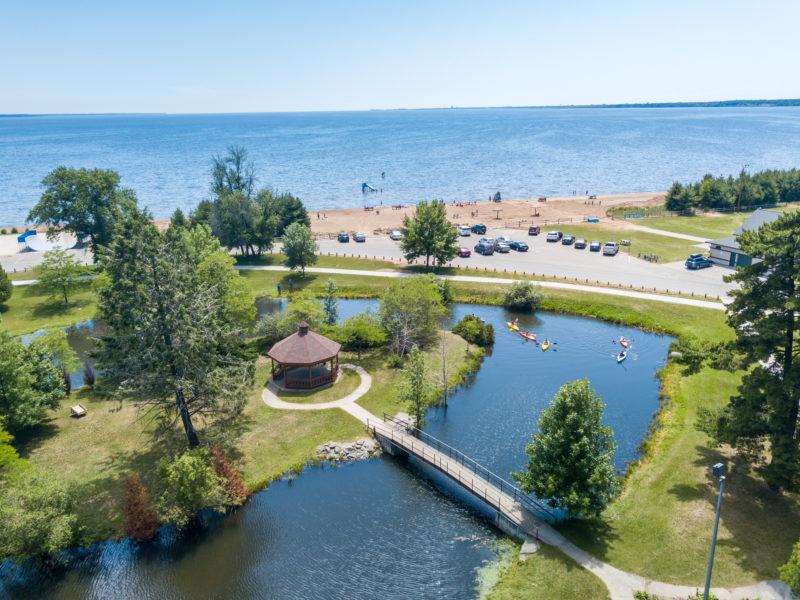 Van Cleve Park
1224 Lake Shore Dr
Gladstone MI, 49837
Directions
Simply beautiful. You'll see wetlands and wildlife as you walk along the boardwalk that follows Little Bay de Noc. Stage from Van Cleve Park on Lake Shore Dr. Angle northwest to Minneapolis Ave., then walk or ride east along the bay. At end of Minneapolis Ave., turn left to Oak St. and take another quick left onto Delta Ave. Jog left onto Michigan Ave. and follow back to 10th St. Turn left and return to Van Cleve Park.
This 65.85 acre community park in the southern portion of the Garden Peninsula. It is accessed by County Road 438, and is fronted by Big Bay de Noc on Lake Michigan. Primarily used during the summer months, local residents use the park for day picnics and gatherings. Visit this area to find your own beach to relax on!
Cool off during hot summer months at the Gladstone Beach on the south side of Van Cleve Park. Shallow water makes this a perfect stop for the kids. Public showers and restrooms for changing into your swimming gear are available at the Gladstone Beach House.
Recreation amenities at the park include a skate park, volleyball court, baseball diamond, and a basketball court. A fishing pier is located near the lighthouse where you can fish for trophy walleye, bass, and pan fish.
If you are looking for a unique sea/land experience, try the 3 Mile Bike & 3 Mile Paddle loop available through MISH that takes you from Van Cleve Park along the shore of Lake Michigan and back via bike & kayak. You can bring your own bike or borrow one when you get there.
Van Cleve Park also has a large pavilion and picnic shelter near a huge playscape with climbing areas and wooden towers for the kids. It is a perfect spot for reunions and large gatherings.
Stop in Gladstone on your next Upper Peninsula adventure and take a scenic walk across the bridge to relax in the gazebo and enjoy the picturesque views at Van Cleve Park.