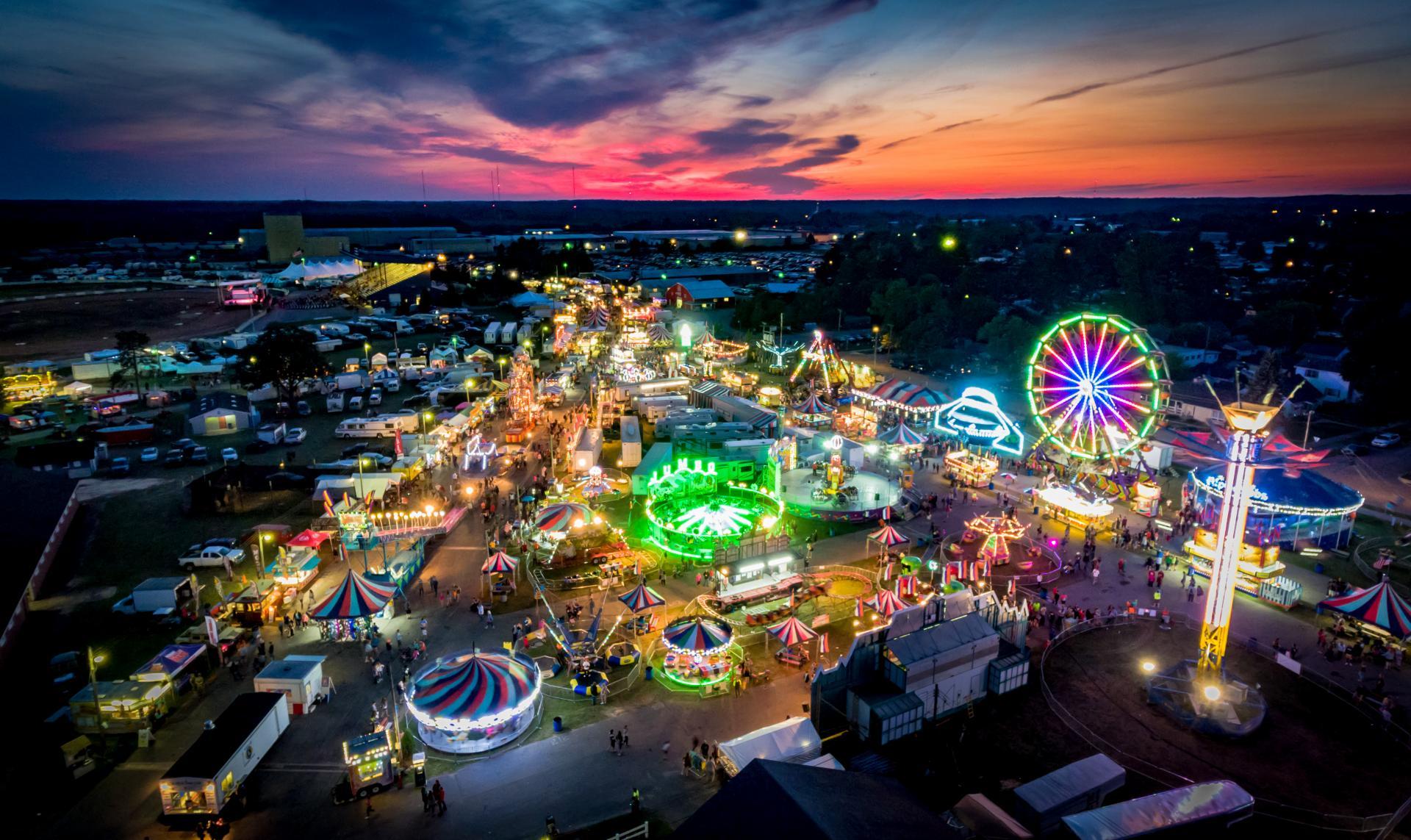 Upper Peninsula State Fair Grounds
Michigan's Upper Peninsula definitely fosters rugged individualism. But we do know how to have fun with family, friends and anyone else that loves to visit one of the most beautiful places on earth! So when we need a place to gather on a grander scale than our backyards or community halls can hold, there's no better place than the Upper Peninsula State Fairgrounds.
Located on 144 acres on North Lincoln Road (US 2 & 41 and M35) in Escanaba, the Fairgrounds are just minutes from places to stay, dine and shop. But it's what takes place right on the grounds that brings 100,000+ people through our gates throughout the year. We hope we'll see you soon, too.
Home of the largest fair in the Upper Peninsula 
Escanaba has been the site of the Upper Peninsula State Fair ever since the first opening day on Sept. 17, 1928. That fair week, adult tickets were only 50 cents until 6 p.m., then the price dropped to 25 cents! The fair's wholesome family entertainment and agricultural showcase were threatened to end on Oct. 30, 2009, when state funding was eliminated for it and the State Fair held in Detroit. 
The decision closed the downstate fair in 2010, but that August the Upper Peninsula State Fair came back stronger than ever. The 15 U.P. counties, plus the Hannahville Indian Community, rallied their resources and volunteers. Every year since Escanaba has hosted what for many years was the only State Fair in Michigan. (In August 2019, the Lower Peninsula will once again hold a state fair in Novi). 
Held the third week of August, it's seven days of midway thrills, grandstand entertainment and mouthwatering fair foods that entice 80,000+ through its gates! So bring the kids and watch blue ribbon winners at the horse and livestock shows. See newborn lambs wobble to their feet in the Miracle of Life exhibit. Enter a raffle for a beautiful, handmade quilt. Look at your reflection in the highly polished antique cars. Feel the rush of adrenaline as the UPIR (UP International Raceway) cars roar around the track. And oooh and ahh during the brilliant fireworks finale on Sunday. You'll take home happy memories year after year.
MORE FUN THROUGHOUT THE YEAR 
The Upper Peninsula State Fair isn't the only good time you'll find at the fairgrounds. Here is a sampling of other events and activities that will bring you back again and again. Check our events page or Facebook for updates.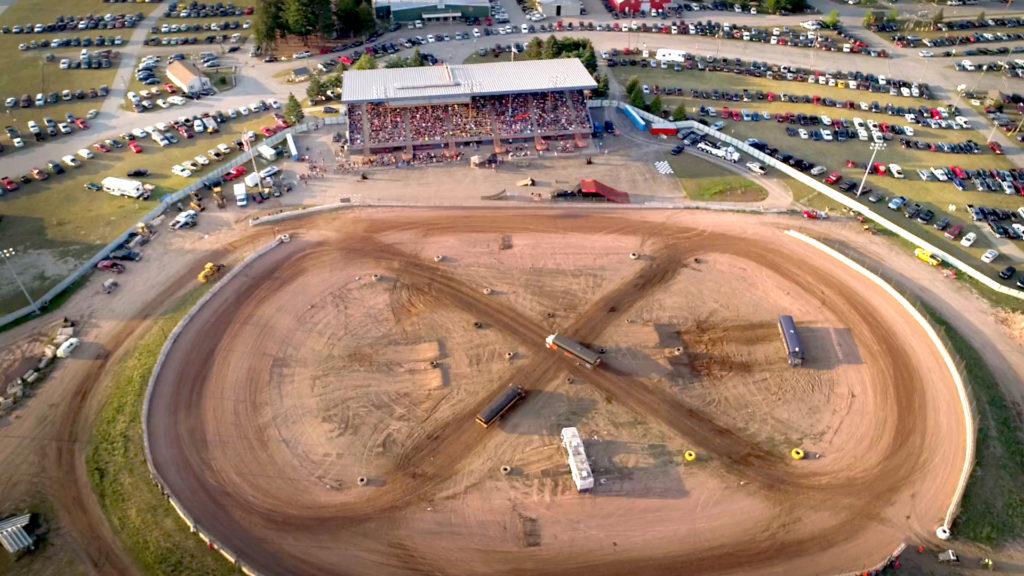 February 
 -Hilltop RV Superstore Annual Show 
 March 
-TV6 Spring Craft Show 
 May 
-Craft Beer Festival
-Bays de Noc Kennel Club Dog Spring Agility Trials 
Late May-Late August 
-U.P. Steam and Gas Engine Association Agricultural Museum: Visit this free park noon to 4 p.m., every Thursday, May 23 to August 29. See an eclectic collection of antique farm equipment and artifacts that help tell the story of the hardy men and women who used them. The Antique Village is open for special events. It features two acres of shops and displays, including a blacksmith shop, granary, general store, ice cream parlor, schoolhouse, an 80-ton Fairbanks diesel engine and much more. 
-Memorial Weekend-Labor Day Weekend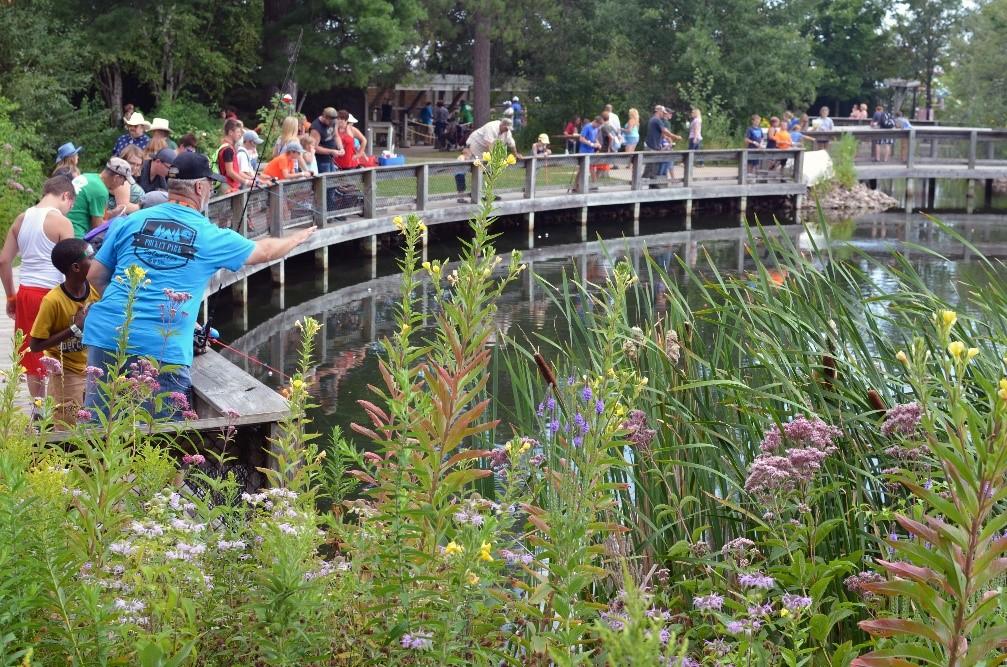 -DNR Pocket Park: This free park is open Memorial Day through Labor Day Weekend (call 906-789-0714 for current days and hours). During fair week there are extended hours At the park you can enjoy a fishing pond, archery and pellet gun range, fire tower and a waterfall. It is a great place for family gatherings, picnics, youth organizations, school groups, sports associations and public events. Fishing poles, pellet guns and archery equipment are available; all you'll need to bring is bait (except during fair week when it's supplied).
June-September 
-UP International Raceway (UPIR) races 
July 
-UPHA Horse Show 
August 
-Upper Peninsula State Fair 
September 
-UP Steam and Gas Engine Annual Show 
October 
-Escanaba Gun & Knife ShowNovember 
-TV6 Thanksgiving Craft Show 
December 
-Christmas in the Antique Village
READY TO HOST YOUR EVENT OR SPECIAL CELEBRATION 
Our fairgrounds are known throughout the U.P. and beyond as the friendliest, go-to place for:
Agricultural clinics, events and expos
Art, craft, home and garden or special interest shows
Auto shows, events and races
Camping and RV shows
Community celebrations
Concerts and festivals
Corporate and association meetings, clinics, expos, trade shows and parties 
Food shows
Fundraising dinners and events
Equestrian or livestock shows and clinics
Family reunions, anniversary and retirement celebrations
Healthcare expos
Logging clinics and equipment expos 
Motorcoach and motorcycle rallies and expos
Sports, hunting and outdoor recreation shows
Wedding ceremonies and receptions; there's a chapel in the UP Steam and Gas Engine Village
For more information or to make facility reservations contact:
Upper Peninsula State Fairgrounds
2401 12th Avenue North, Escanaba, MI 49829
Phone: 906-786-4011 – Email: info@upstatefair.org
Facility reservation guidelines, fees and forms 
Winter Office: 
Delta County Commerce Center
1001 North Lincoln Road, Escanaba, MI  49829
Phone: 906-786-2192 – FAX: 906-786-8830 – Email: info@deltami.org 
QUICK FACTS
At the Upper Peninsula State Fairgrounds you'll find:
20 buildings on 144 acres (Map)
Main exhibition building is 26,400 square feet with 120 feet x 220 feet of exhibit space
Grandstand has 5,500 seating capacity and 1/4-mile dirt track
Michigan Department of Natural Resources Pocket Park & Customer Service Center
UP Steam and Gas Engine Association Agricultural Museum and Antique Village
Campground: 765 modern and rustic campsites for tent and RV; reservations
Winter storage available
Similar Activities