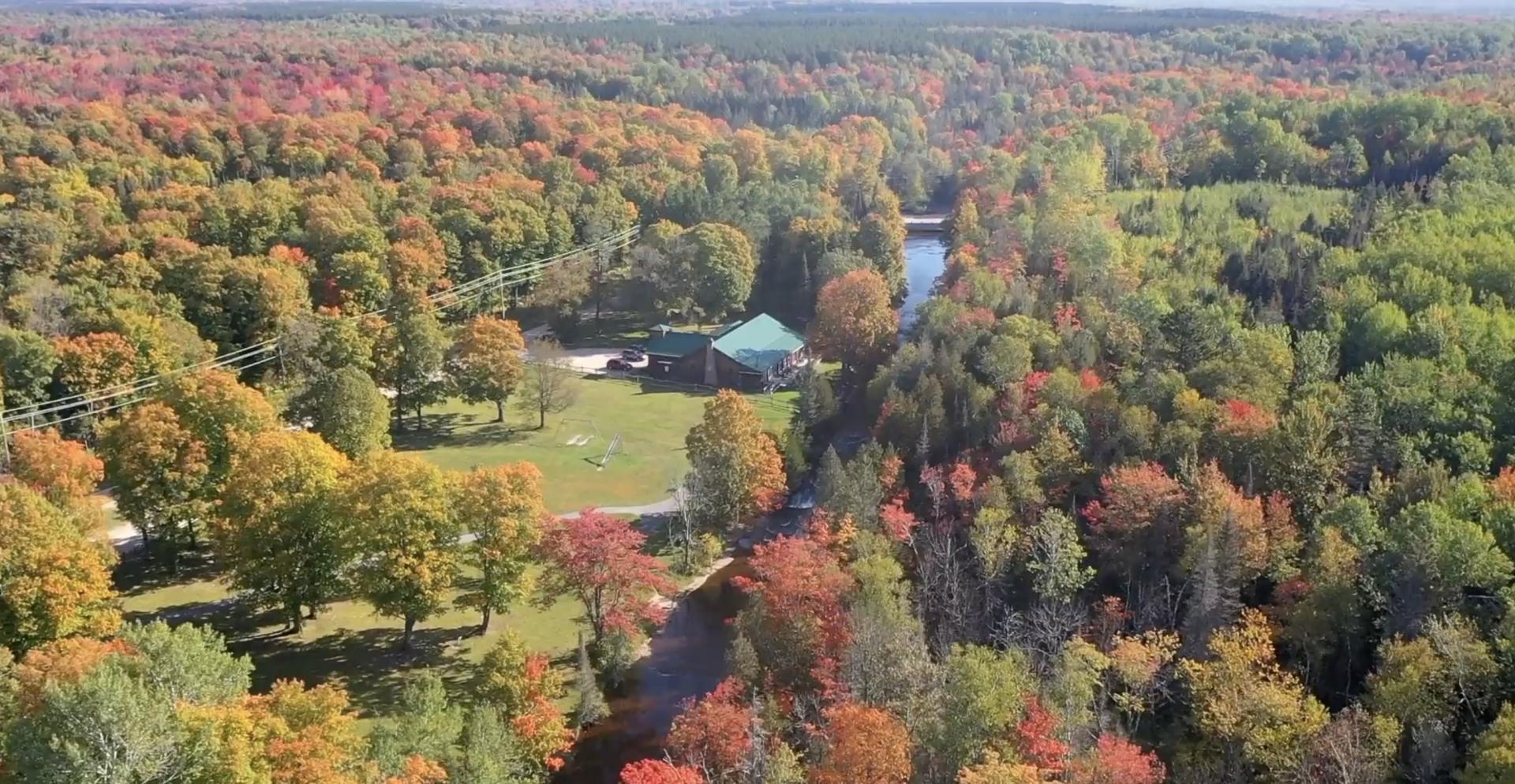 Your guide to fall family fun in the Bays
Autumn has a special place in our hearts in the Bays de Noc area — the pleasantly warm days and cooler nights drench our hardwood forests in spectacular sunny oranges, reds and coppery browns. Our Bays roar with crashing waves. Streams mirror the colorful tree canopies above. Sunrises and sunsets splash autumn hues across our skies. The crisp, clear nights fill with twinkling stars, and this is one of the best times to watch the Northern Lights swirl above the horizon.
However, there are only a few weeks to soak up this season before snow coats our grounds and a whole new winter playground emerges. To save you time so you can start playing in the leaves, we've compiled this bucket list of fall family fun activities in and around the Bays de Noc. Put on your layers, and get started today!
Spectacular fall color tours
No matter what road you take, you'll see why Michigan's Upper Peninsula is repeatedly named a top 10 fall color destination. This year's foliage hues are at their peak now through mid-October, and wrap up their show in late October, early November. Four local favorite routes are listed here. Pile into the car and watch out the window at the show before you!
Does your family prefer getting up close to the color? Then visit our stunning autumn landscape on our non-motorized trails. If you love fall, this is where you'll want to be. You can find the perfect trail for you and your family using informational icons on the trail page.
Produce, pumpkins and corn mazes — oh my!
Is it really fall if you aren't grabbing fresh produce of some kind on a crisp autumn day? We have three community farmers markets full of the harvest season's crop. Fresh-picked vegetables and fruits, pumpkins and gourds, jams and salsas, just-baked bread and desserts, GMO-free meats, eggs and fresh-caught fish offer a cornucopia of flavors and hues. For updated hours at the Escanaba Farmers Market, Gladstone Farmers Market and Rapid River Farmers Market, visit our Farmers Market page.
For your fall decorating or jack-o-lantern carving, you can grab pumpkins at Porath Family Pumpkin Patch, Bower Family Corn Maze, Hall Farms, Hayes Farm, Rappette's Farm or Getzloff Farm. They welcome you to bring the kids out to find the best pumpkin in their patch or yard. Each farm has unique features such as petting zoos, apple launches, fresh donuts, sunflower fields and hayrides.
Test your map skills or your luck with their corn mazes, too! Some may even be haunted.
Bower Family Corn Maze, Bark River
Getzloff Corn Maze, Wilson
Hayes Corn Maze, Rock
Rappette's Corn Maze, Cornell
Ghost Story Haunts
Speaking of spooky, in addition to the abandoned townsite at Fayette State Historic Park, Nahma Inn in Rapid River and the House of Ludington in Escanaba have their own eerie tales.
Research them before visiting the destinations to find out if those stories are fact or fiction.
Fall flight paths
Humans aren't the only ones that gravitate toward this region of the U.P. For centuries, migrating birds and monarch butterflies have stopped in the Bays de Noc area as they wing their ways south to warmer climates. Their migration is a rite of fall that you won't want to miss. This time of year, you will mostly see the birds as the Monarch migration happens from late August to September in the Stonington Peninsula.
Fall is an excellent time to see many of the 311 bird species that have been documented in Delta and neighboring Menominee Counties. From Kipling Point near U.S. 2 to O.B. Fuller Park 15 miles south of Escanaba, you can observe bald eagles, snow geese, piping plovers, American bitterns, long-billed dowitchers, sandhill cranes, and many more in Delta County this time of year. And here's a bonus tip: Fuller Park is also one of the better places to see the U.P.'s only lizard species, the five-lined skink before it hibernates. Learn more here.
Spooktacular events
If you dare, we can help you make spooktacular memories along the Bays. Mark these upcoming events on your calendar!
Night of Magic and Wizardry | Oct. 27 & 28 | 6-9 p.m. | Bonifas Arts Center, 700 First Ave. S., Escanaba | $35 for adults, $25 for students
Visit the Wolfsbane School of Witchcraft and Wizardry and be transported to a wonderful wizarding world. Stop by the wand shop, candy store and potions class! You will enjoy dinner, games and magical activities, meeting characters, learning magic spells, tasting chocolate frogs and butter beer, and so much more! Costumes are welcomed.
Harvest Moon 5K | Oct. 27 | 8 p.m. | The Northern Lights YMCA - Delta Center, 2000 N. 30th St., Escanaba | $25
Calling all night owls! This 5K run/walk happens under a harvest moon. Participants will receive glow accessories, a long-sleeve shirt and goodie bags.