Fall Color Tours
Peninsula Point Lighthouse | Monarchs | Tunnel of Trees | Garden & Ghost Towns | Hiawatha National Forest | Escanaba River | Laughing Whitefish
ENJOY THE SPECTACULAR HUES
Some of the best tours are self-guided. Take your time and immerse yourself in the limitless hues of orange and yellow. The following tours give you directions to get the best out of your road-trip and a chance to see some local hot spots in their glory season. Better yet only pay for the gas in your tank, but you can't put a price-tag on the beauty you're about to see. Also make sure to read our blog on the best fall photo spots in the Bays!

PENINSULA POINT LIGHTHOUSE
The Peninsula Point Lighthouse Tour takes you around Little Bay de Noc. Climb the steps of the 40-foot lighthouse and gaze at the panoramic view of Lake Michigan. This historic lighthouse was built in 1865 to help guide the wooden sailing vessels into both Little and Big Bays de Noc. Enjoy a picnic by the lapping water of the bay. On the way back, take County Road 511 T-15th Road through the farm country of the peninsula back to US 2.
Directions: From US 2, take County Road 513 T down the Stonington Peninsula.

MONARCHS OF THE NORTH
Stonington Peninsula is also home to a breathtaking monarch butterfly migration. The cedar trees and lands surrounding the Peninsula Point Lighthouse is a resting place for thousands of monarchs in late summer and early fall. You read that right, thousands of butterflies gather at the peninsula for their annual flights across the open waters of Lake Michigan and Green Bay on their way to Mexico. To reach the end of the Stonington Peninsula, turn off of US 2 onto County Road 513 T and follow it south to the very end of the peninsula.The best time to see the monarch butterfly arrival is in August, however, the migration continues throughout September. The combination of the peninsula's hardwoods changing colors along with these beautiful butterflies makes this one of the U.P.'s favorite color shows.
TUNNEL OF TREES
The Haymeadow Creek Tour takes you through the Hiawatha National Forest. Start at Haymeadow Creek Campground located about 11 miles from Rapid River on County Road 509. Follow the 0.9-mile loop trail along Haymeadow Creek. It's so peaceful to walk through the forest, crossing several small bridges and stopping to watch the Haymeadow Creek Falls rapids rushing below. When you leave Haymeadow Creek Campground, be sure to turn left onto Forest Road 2236-38th Road to US 41 to see one of the most spectacular views of the Whitefish Basin. On the way back, stop to picnic at the Rapid River Falls Park and relax to the soothing sound of tumbling water. Please note that some parts of the Haymeadow Trail are not maintained, it is recommended that hikers adhere to the trail signage.
Directions: Take US 2 east of the US 41 turnoff in Rapid River then make a left on 509. The campground and recreation area will be on your right about 9 miles down the road.

GARDEN & GHOST TOWNS
The Fayette tour takes you down the Garden Peninsula to the abandoned townsite of Fayette Historic State Park. You can walk among many of the restored buildings to get a sense of what life was like in this 19th-century iron smelting town. A hiking trail along the limestone cliffs of Snail Shell Harbor provides a breathtaking view of this Ghost Town among the fall colors.
Directions: On US 2, turn onto M-183 at Garden Corners and follow it to Garden. Then continue south on M-183 to LL Road. Turn left onto LL Road and then right onto 13.25 Road to reach Fayette Historic State Park.

THE HIAWATHA NATIONAL FOREST COLOR TOUR
One of our favorite color tours in Delta County, this tour puts you in the middle of The Hiawatha Forest home to millions of hardwoods and beautiful inland lakes. At its peak, you will understand why Michigan is voted the #1 destination in Fall Foliage. Click here to download our map.
Directions: From US 2 take FH13 then take a right on 445. Take this road until you reach 437 then turn right. Take 437 until you reach 442, turn right and drive until you reach FH13.

THE ESCANABA RIVER TOUR
Start your fall color tour upstream from Dam 3 on County Road 420. A nearby access area provides a view of the impounded water. Then follow County Road 426 through farming country to Cornell. Watch for whitetail deer in the fields and bald eagles soaring over the river. After passing through Cornell, County Road 519 again crosses the flat limestone bed of the Escanaba River. Turn right onto St. Nicholas 31st Road and go through Perkins and into Gladstone to look out from the bluff at the sparkling waters of Little Bay de Noc.
Directions: Head west on County Road 420 from Oak Bluff Grocery. Then make a right on Co. Rd. 426. Take a slight right onto Boney Falls H Road then a right onto "I" Road, also known as 519. Make a left when the road makes a "T" and follow it north until it makes another "T". Turn right onto St. Nicholas 31st Road and then a right onto 35 to take you all the way to Gladstone, where you started.

LAUGHING WHITEFISH FALLS
Laughing Whitefish Falls, a jewel among the Upper Peninsula's remarkable waterfalls, offers a breathtaking encounter with nature's splendor. Approximately one hour north of Escanaba, Laughing Whitefish gracefully descends through a serene gorge adorned with ancient white pine and hemlock trees, casting a picturesque scene that comes alive during the fall. Embarking on a half-mile hike through the forest, visitors are rewarded with three observation platforms, each offering a unique perspective of the cascades. While the upper platform requires no stairs, a wooden staircase leads to the middle and lower platforms, allowing for an immersive experience. Whether in winter, accessed by snowshoe or cross-country ski trails, or in milder seasons, Laughing Whitefish Falls promises an unforgettable communion with Michigan's natural beauty.
Directions: Head north on Highway 41 from Rapid River. Then make a right on M-67 N (Trenary). Turn left onto E, this road will terminate onto M-94 W where you will make a left. Take the M-94 approximately 2.3 miles and turn right on Co HWY 327 where the road will take you to the park.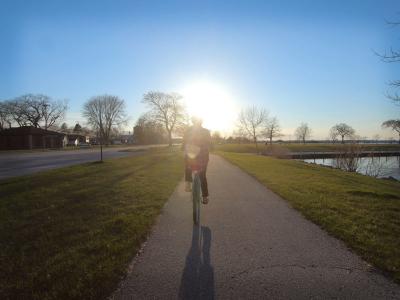 City of Escanaba Bike Path
4.54 miles
Similar Activities