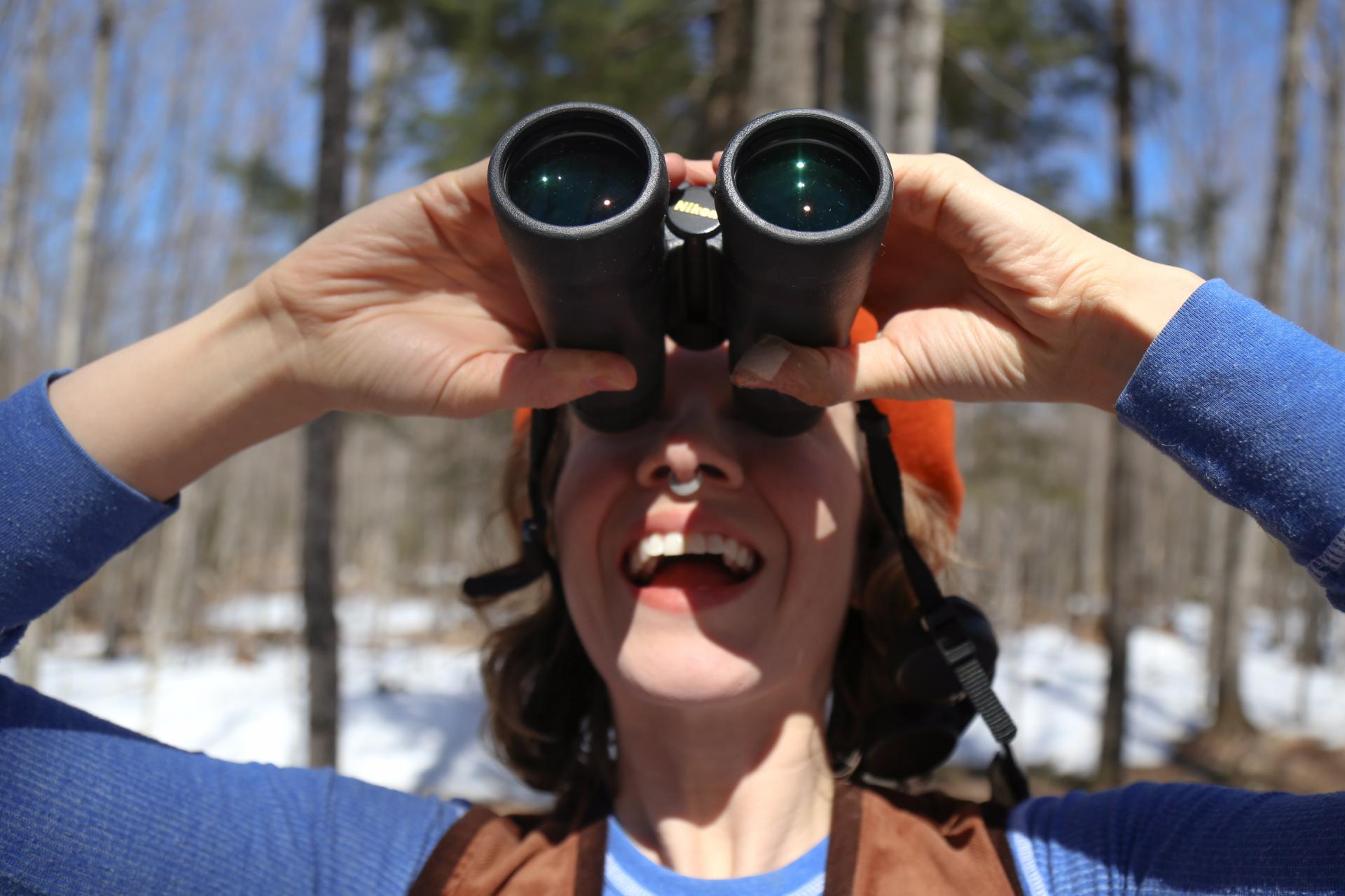 Birdwatch
FINE FEATHERED FRIENDS 
Grab your binoculars and pick one of several popular bird-viewing locations in the Escanaba area. Our bays provide ample opportunity to catch a glimpse of a broad diversity of birds. Over 200 species of birds have been identified at Peninsula Point Lighthouse alone. 
 Click here to check off these birds during your trip!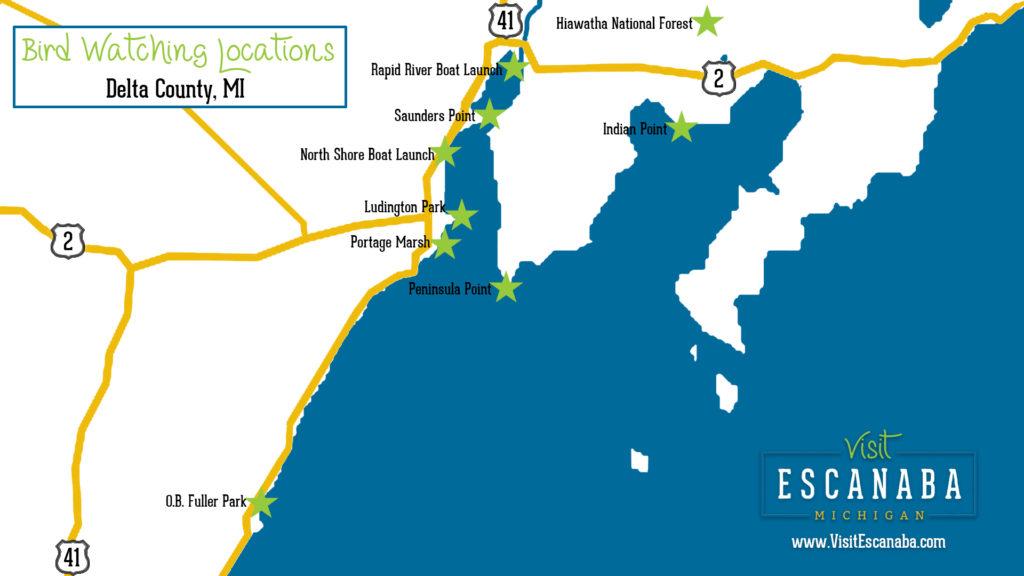 Bark River
O.B. Fuller Park
Drive south of Escanaba towards the mouth of the Bark River to reach this 82-acre wooded park on the bay. You have high odds of seeing migrant birds in this dune-swale ecosystem along the shores of Little Bay de Noc. Whether it's spring or fall, you'll see a large number of Sandhill Cranes migrating along the shoreline. During the fall, catch a glimpse of Broad-winged Hawks migrating. After you've had your fill of bird observing, you can move around the park to find the UP's only lizard; the Five-lined Skink!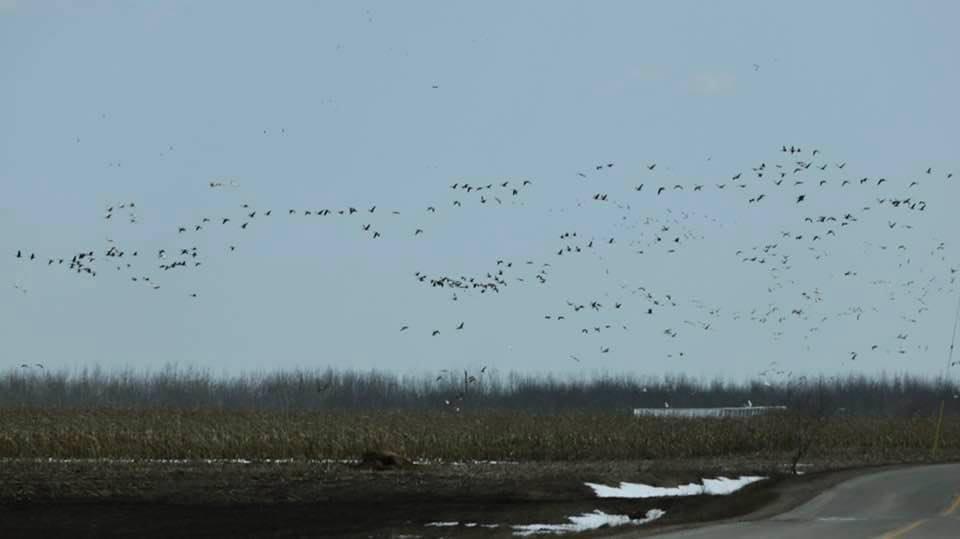 Photo by: John Mcdonough
ESCANABA
Ludington Park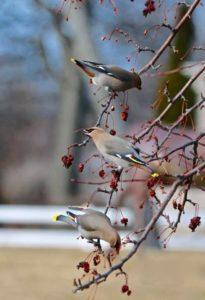 Ludington Park, located on Escanaba's waterfront, has habitat enhancements in place to help migratory birds. There is a nesting box on Sand Point, past the lighthouse, that is home to the only remaining Purple Martin Colony in the Upper Peninsula. Visit this park in April and May to see migrant birds like Wallows, Sparrows, Ducks, Warblers, Vireos, Orioles, and shorebirds. Walk south of the Escanaba Municipal Beach during a low water year, and you could see the Common Tern and the federally endangered Piping Plover nesting on the sand island. Keep a lookout for the following birds: The American and Least Bittern, Marsh Wren, Ring-necked Pheasant, Bohemian Waxwing, Thayer's Gull, Yellow-rumped (Myrtle) Warbler, Yellow-rumped (Audubon's) Warbler, Palm Warbler, Common Tern, and the Bufflehead Duck. 

North Shore Boat Launch 
The Escanaba River is a great spot to catch birds in action! During the spring and fall, this river provides a great habitat for the Snow Goose. Year-round you can see Duck, Bald Eagle, Osprey, and the Broad-winged Hawk. Keep your eyes out for Warblers, Sparrows, and the Winter Finch. Due to the current of the river, there is open water in the winter which makes a natural terrain for out-of-season species like the Northern Pintail, the Belted Kingfisher, and the Ruddy Duck. 
Take me to North Shore Boat Launch!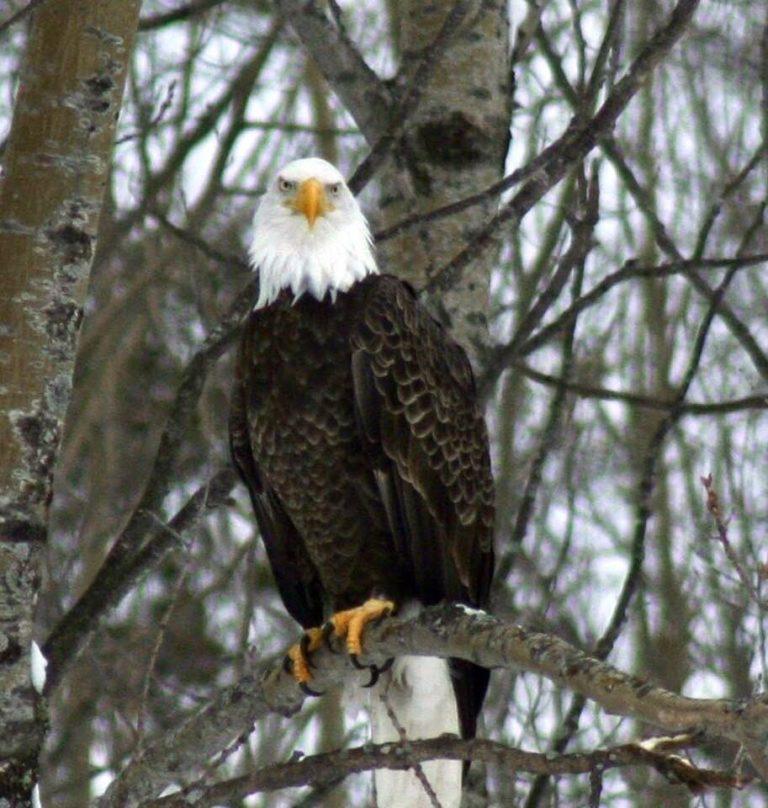 Photo by: John Mcdonough
Bonus Spot: 
Located behind the Escanaba Meijer is a pond that receives sporadic visitors from a wide range of bird species. Check to see who is visiting today! These visitors include the Great Blue Heron, the Belted Kingfisher, Duck Egret, Lesser Yellowlegs, Green Heron, Merlin, Cedar Waxwing, and even Bald Eagle.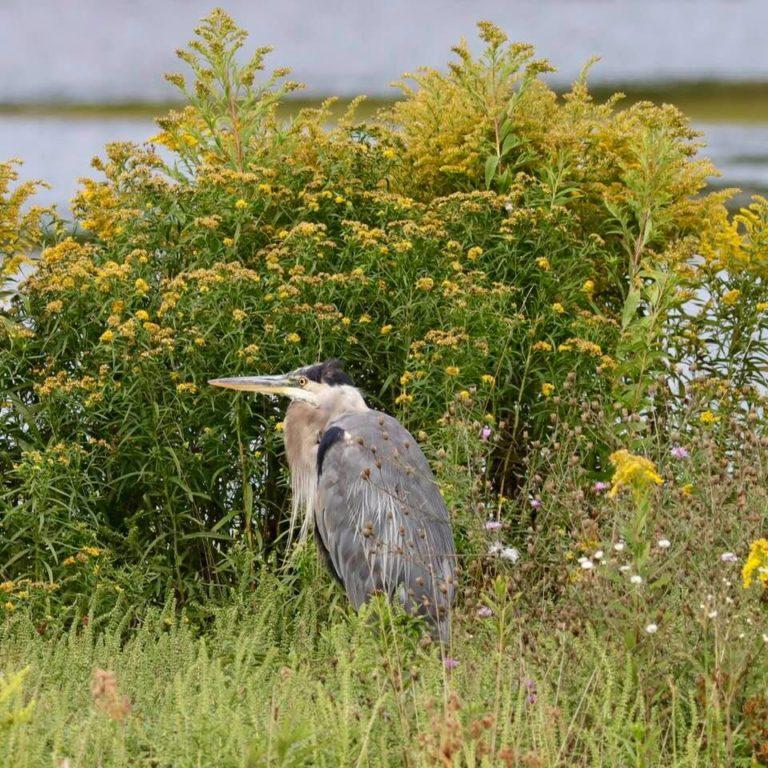 Photo by: John Mcdonough
Portage Marsh State Wildlife Management Area 
This 600-acre coastal marsh is a breeding site for many rare birds. Just south of Escanaba, this is one of the best locations in the U.P. to see birds such as the Willow Flycatcher, Marsh Wren, American and Least Bittern, Sora, and Virginia Rails. During Lake Michigan's lower water-level seasons, there is a lagoon that you can get to from the parking lot that is known for its shorebirds. There you can see Hudsonian and Marbled Godwit, Willet, and Long-billed Dowitcher in the fall. Northeast of the parking lot is where the migrant warblers hang out in the willows next to the far point and at the sometimes visible island. If you're lucky, during the spring, you can observe the show of thousands of Tree Swallows roosting. More groups of birds to look out for at this location are Broad-winged Hawks and Sandhill Cranes in the fall. Also, Common Nighthawks in August, and Common Goldeneyes off the south beach in early spring.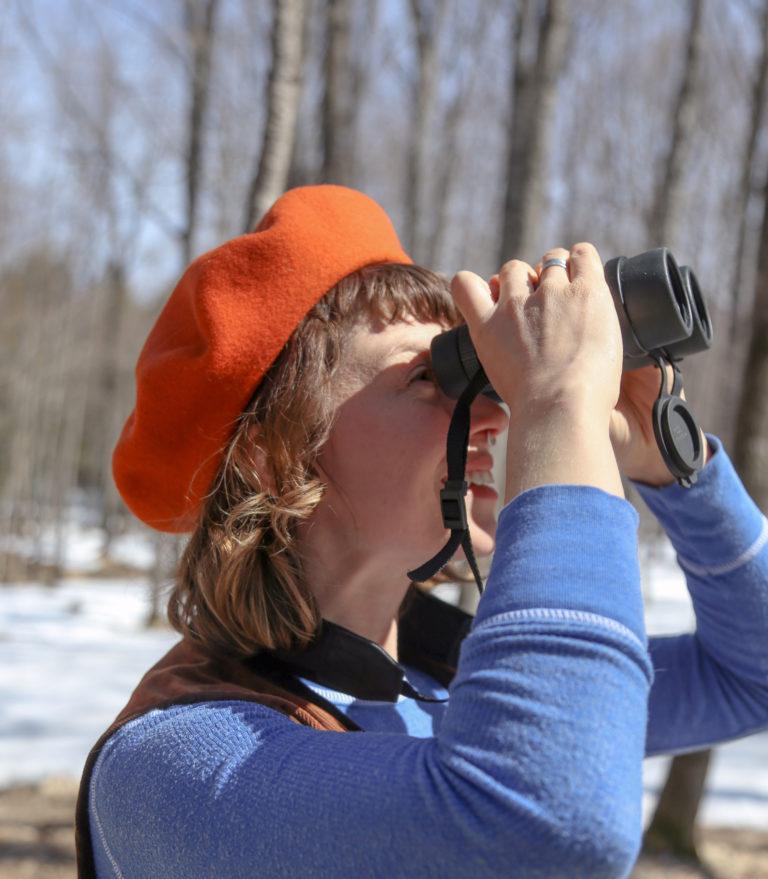 Photo by: www.zacharyschneiderstudio.com
GLADSTONE
Saunders Point
Located northeast of Van Cleve Park in Gladstone, this is a great place to see waterbirds and land birds during the spring and fall migrations. Head southwest along the shoreline towards Van Cleve Park to find more bird observing areas. The park and marina in Gladstone have perfect spots for watching Bald Eagle, Red-bellied Woodpecker, and Yellow-rumped (Myrtle) Warbler. Red-headed Woodpeckers and Pine Warblers find places to breed within the towering White Pines and Red Oaks of this city park. 
Photo by: John Mcdonough
NAHMA
Hiawatha National Forest
Try to find one of the smallest native owl species in North America while in the forest, the Northern Saw-whet Owl. Take US 2 east from Escanaba then make a left on NF-13. Drive down this road and you will find multiple spots to pull over and walk around dense thickets of shrubs and conifers, remember to look for them at eye level and about 20 feet up in trees. 
Take me to Hiawatha National Forest!
Indian Point 
Just west of Nahma along the shoreline is a beautiful turnaround parking lot that has a trail leading you through landscapes perfect for Sand Hill Crane, Black-bellied Plover, Common Moorhen, Hudsonian Godwit, Marbled Godwit, Semipalmated Sandpiper, and Buff-breasted Sandpiper. Bring your muck boots so you can adventure even further during high water on Lake Michigan. 
RAPID RIVER
Rapid River Boat Launch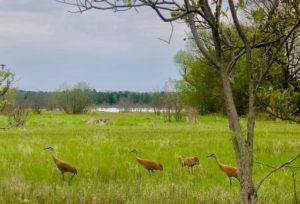 Whether you want to see the largest and fastest North American bird, the Golden Eagle, or the heaviest living North American native bird, the Trumpeter Swan, this is the spot. Drive south down Main Street to the tip of the peninsula where both these magnificent birds have been seen. You also have a chance to see Bald Eagles, Eastern Bluebirds, Ring-necked Ducks, and Sandhill Cranes. The prehistoric caw of the Sandhill Crane often echoes through the open plains during the day. 
Take me to Rapid River Boat Launch!
Peninsula Point 
This is one of the most well-known bird-watching places in the Upper Peninsula. The tip of the Stonington Peninsula is a phenomenal place to catch a peek at birds during their spring migration. This peninsula has a ton of food for birds, making it their first option for a place to rest after a long flight. Some recent rarities that have been seen here include the Western Tanager, Gyrfalcon, Lark Sparrow, and Hooded Warbler. There are many exciting and unique birds to see in this area. Several springs in a row Rapid River was visited by an Albino Robin! Other common birds in the area include the following: Northern Pintail, Redhead Ducks, Common Merganser, Great Egret, Broad-winged Hawk, Sandhill Crane, Greater Yellowlegs, Whimbrel, Red-bellied Woodpecker, Eastern Wood-Pewee, Blue-headed Vireo, Red-eyed Vireo, Black-capped Chickadee, House Wren, Winter Wren, Golden-crowned Kinglet, Ruby-crowned Kinglet, American Pipit, Orange-crowned Warbler, Vesper Sparrow, White-crowned Sparrow, Eastern Meadowlark, Rusty Blackbird, and White-winged Crossbill.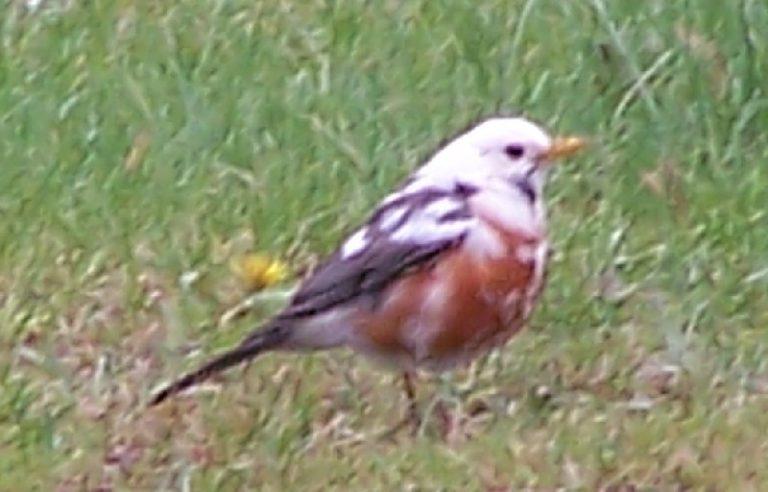 Photo: www.Seed-Solutions.com 
The Golden-winged Warbler is an uncommon and declining summer resident, most numerous in the Northern Lower Peninsula and parts of the Upper Peninsula. They arrive in May and depart by mid-September. It is more local than the blue-winged warbler, and its range retracts northward as the blue-winged expands and hybridizes with it.
Read more about birding in the Escanaba area here.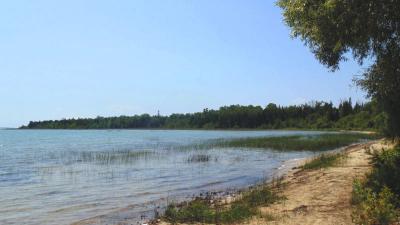 Sac Bay Park Trail
1 mile
Similar Activities