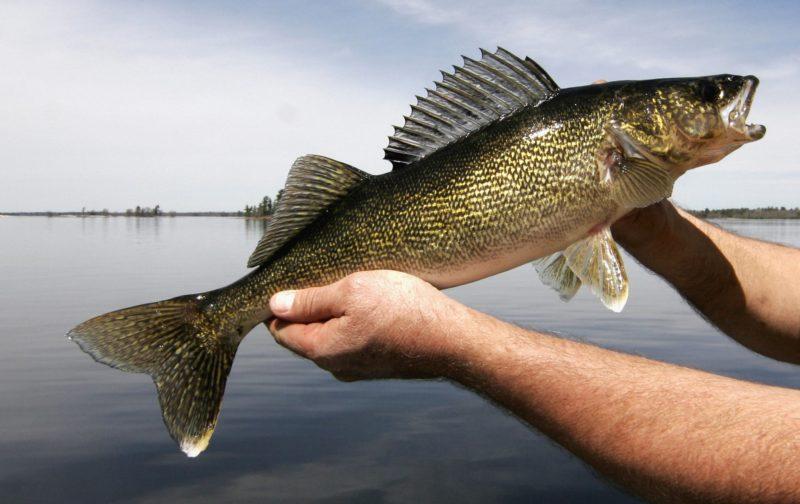 Walleye Fishing
WALLEYE FISHING
Many places claim to be the Walleye Capital of the world but when it comes down to it ask any local and they will tell you both Big and Little Bay de Noc is nothing short of spectacular. These fisheries have historically experienced changes, but the fish have remained abundant and healthy.
 Little Bay de Noc, with its 30,000 acres of water, can best be described as a fish factory, with a D.N.R. estimated population of walleye around 400,000. Thousands of these fish spawn in the Escanaba River, Rapid River, Tacoosh River, and the Whitefish River from mid-to-late April. Each year the Michigan D.N.R. conducts an egg take at the north end of the bay near Rapid River. These eggs are used for stocking both bays on an alternating year basis and for planting inland lakes throughout the state. While it used to take a few days to get all the eggs needed, over the last few years D.N.R. personnel have been able to reach their quota in one day, ensuring that the bays are bursting at the seams with walleye.
How to fish our bays:
Fishing Little Bay de Noc has changed throughout the years, mostly due to the introduction of exotic species in the Great Lakes from foreign vessels. The zebra mussel is likely the number one culprit. Each one of these thumbnail-sized foreign invaders filters the algae from the water, disrupting walleye habitat. Fishing is best where walleyes seek cover in the weeds and deeper water as they are a skittish species. 
As the environment has changed, so must angler's techniques. Planer boards are great for fishing walleye as they put space between the bait and the boat to attract these spooked fish. Fishing in muddy water is another tactic that has been employed as well as fishing into the dark of night. Walleyes are very light-sensitive fish, but in murky water, they feed without fear.
What to fish with:
Best lures:#18 Rapala, Thundersticks AJ series, Thunderstick DJ series, Rapala Deep Husky Jerk, and Smithwick Rattlin Rogue. The most popular colors include fire-tiger, blue/orange, silvers, and anything with purple on it!
Where to fish Little Bay de Noc:
THE NORTH END OF THE BAY FROM GLADSTONE TO RAPID RIVER
This area holds tons of fish year-round. Some of the most popular areas are Center Reef at the north end, the first, second, and third Reef out from Kipling. The deepwater along the east bank from the Vagabond Resort south to Hunter's Point is another excellent location. Early in the season, trolling or drifting night crawler harnesses is probably the most preferred and effective method. Walleyes Choice harnesses are made locally and are a favorite among Bay de Noc anglers. This method works throughout the summer and into the fall when larger fish start to migrate back into the bay. At this time, many anglers switch over to trolling crankbaits.
THE OUTER BAY, FROM GLADSTONE TO ESCANABA
This location consists of a deeper water basin surrounded by shallow sand/gravel flats. Early in the season, a good location is just out from the Gladstone public beach. Here you'll find a nice weed-lined drop-off. Drifting or trolling crawler harnesses works best until weed cover gets too thick, then pitching jigs tipped with nightcrawler halves or leeches is a good bet. Another area to try is south of Gladstone called the "Black Bottom." Here there is a large weed flat in 8-14 feet of water that drops off sharply to depths of 30-36 feet. This is a good spot year-round but starts turning out fish in mid-summer. From July through September, thousands of fish head to this area. Walleyes can also be caught in the Escanaba River throughout the year. However, once the water temperature gets above 70 degrees, usually around the end of June, the average size of the fish is smaller, with many of the fish being sub-legal. If you don't have a boat, this is one location you can count on catching fish. There are new fishing platforms just downstream of the new North Shore Boat Launch located near one of the best stretches of the Escanaba River.
LITTLE BAY DE NOC BOAT ACCESS: 
RAPID RIVER:
Take me to Rapid River Boat Launch
GLADSTONE/KIPLING: 
Take me to Gladstone Harbor Boat Launch
Take me to Kipling Boat Launch
ESCANABA:
Take me to Ludington Park Boat Launch
Take me to North Shore Boat Launch
FORD RIVER:
Take me to Ford River Boat Launch
Where to fish Big Bay de Noc:
This body of water can be feast or famine, but when it is a feast, this is some of the best fishing you'll ever see. The quantity of fish in Big Bay de Noc is less than Little Bay de Noc, but the quality is, well, larger! Many days the average size fish runs from 24-30 inches, with many fish topping 12 pounds. The fishing on Big Bay takes off most years around mid-June and lasts right through the fall. Starting at the north end of the bay near the Fish Dam River, this area yields some nice fish when the water is dirty and when the weeds begin to emerge. Another great location is Ogontz Bay in the northwest corner of Big Bay. Heading further south, we have Big Bay de Noc Shoal and Round Island. A couple of areas that heat up during the "dog days" of late July and August. Many tournament anglers were near these areas when they caught their trophy-winner. Trolling crawler harnesses or crankbaits puts fish in the boat on Big Bay, with the crankbait bite being better in late summer through the fall period. Bigger blades tend to work better for the fish of Big Bay, with large 5,6, and 7 sized blades the norm. The water can be extremely clear on Big Bay, making it almost an absolute necessity to get lures far from the boat. The fish tend to suspend high up in the water column on Big Bay also, meaning that many times you won't mark fish on your electronics because they are spooked by the boat. Put lures at different depths throughout the water column to search for these "Marble eyes" of Big Bay. Pretty soon, you'll be hollering "fish-on" and reaching for the net. 
BIG BAY DE NOC BOAT ACCESS:
GARDEN:
See you on the water!
There you have it, a brief overview of walleye fishing in both Little and Big Bay de Noc. If you've never fished these bodies of water, it is imperative that you get a hydrographic map showing the depths and structures throughout the bays. There are many shallow sandbars and rock piles in the bays, and you can find them on most maps. For up to date fishing information, call one of the many local bait and tackle shops, and they'll be happy to point you in the right direction. Check out this blog if you're planning a fall walleye fishing trip. Good luck from all of us in the Bay de Noc area. We'll see you on the water! Good luck from all of us in the Bay de Noc area. We'll see you on the water!!!
Before you head out on your adventure, check out the current weather.