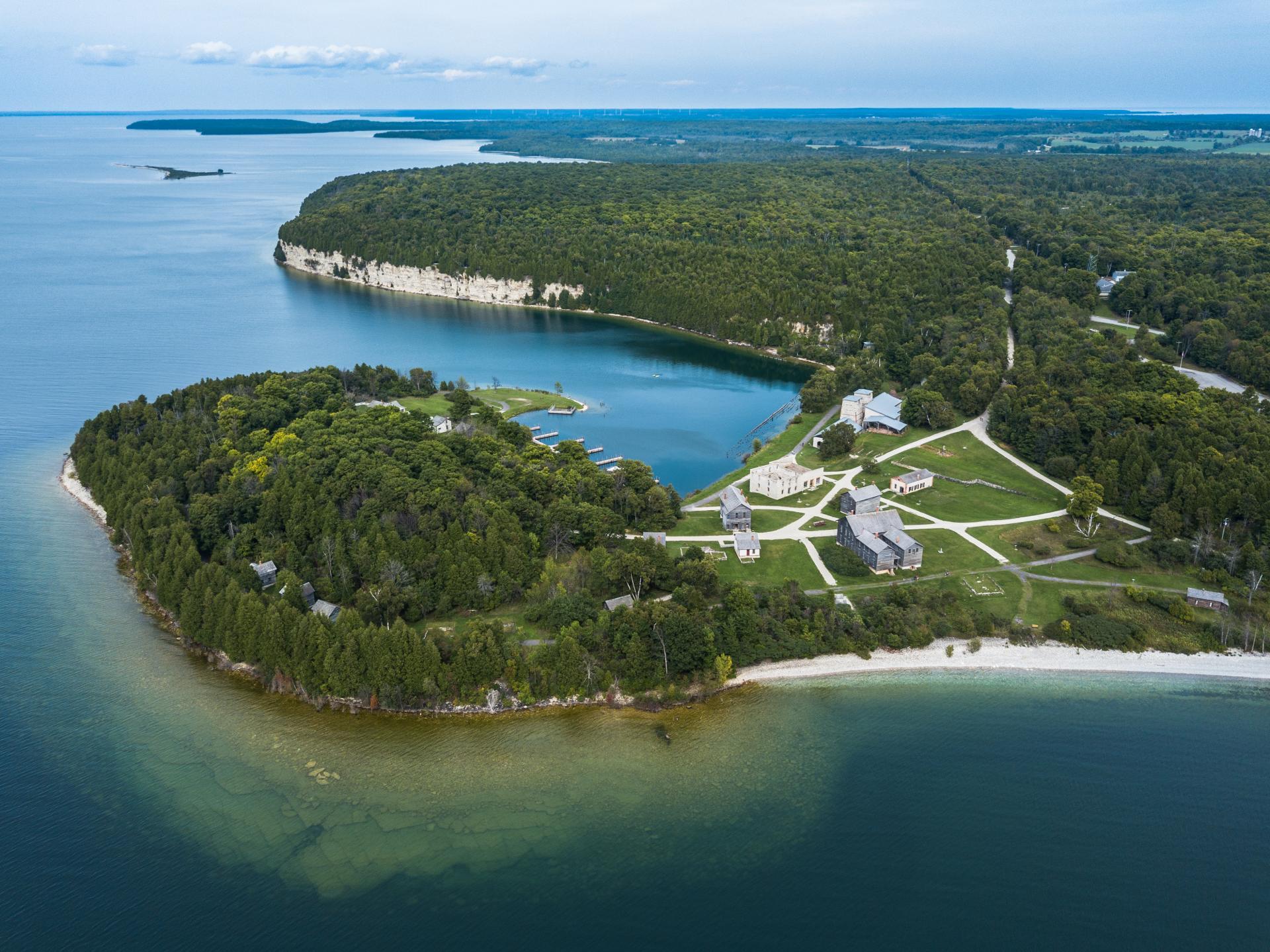 Explore this time capsule of limestone cliffs, millennium-old trees and iron smelting history
Tucked into Snail Shell Harbor on the east coast of Big Bay de Noc, visitors will find the entrance to Fayette Historic State Park. It doubles as a time machine. 
Here, you can explore 20 buildings blasting you to the past of a boomtown gone bust. As you walk through Fayette, imagine a town once bustling with hardy people whose grit and determination helped to transform America.
Town founder Fayette Brown, general manager of the Jackson Iron Company in Cleveland, Ohio, strategically chose this site. Between 1867 and 1891, this smelting town manufactured some of the country's best pig iron using nearby limestone to purify the molten iron and local trees to make charcoal for firing furnaces. Unfortunately, forest stripping and new iron methods caused the company town to close. 
In 1959, Fayette became a Michigan State Park. Today, you can visit the town hall, machine shop, company store, furnace complex, townsite visitor center and learn about its storied past.
Plan to spend at least two hours in this historical park at a minimum. While visiting, check out the cedars on the park's limestone bluffs. Some of the trees you're looking at are between 800 and 1,400 years old — the oldest in any Michigan State Park! Speaking of the limestone cliffs on the north shore of Lake Michigan, their beauty rivals the Pictured Rocks cliffs on Lake Superior! 
Visitors can extend their itinerary by cross country skiing, hiking, biking, scuba diving, enjoying Heritage Day, embarking on a two-night paranormal adventure, fishing, paddling and so much more depending on when they visit. 
Learn more to plan your visit on our Fayette Historic State Park page! 
The park is open from 8 a.m. to 10 p.m. year-round, but the historic townsite and campsites are only open from mid-May to mid-October. 
To access the park, visitors and campers will need a current Michigan Recreational Passport. Non-residents can purchase passes when they arrive. Day passes are $9, and annual passes are $34. These passes are good at all Michigan State Parks.
Make sure to take photos and tag us with #visitescanaba for a chance to be featured on our Instagram!