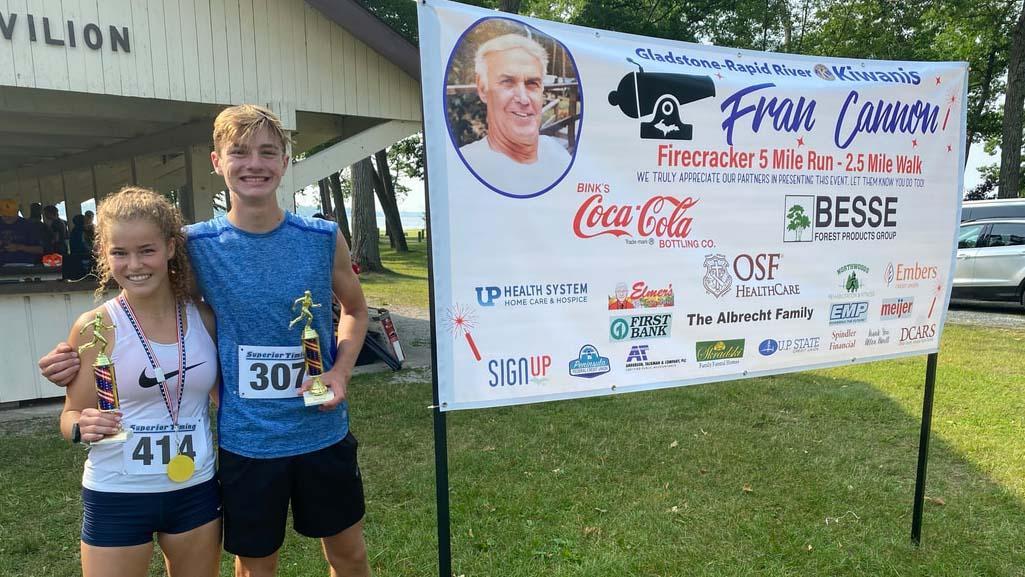 Annual 4th of July Fran Cannon Firecracker Run/Walk
Monday July 4th 2022
Starts 8:00am
Gladstone Pavillion
9th Street & Minneapolis Ave Gladstone, MI
Directions
Cost: $25 (Adult - 5 mile run) | $20 (Age 12 & under - 5 mile run) | $20 (2.5 mile walk) | $15 (1 mile kids fun run)
Web: click/tap
This year's race is in memory of Dave Lahtinen.
5 Mile Run ~ 2.5 Mile Walk ~ Kid's 1 Mile Fun Run
Registration materials available online at:
www.gladstonekiwanis.weebly.com & www.gladstonemi.org 
Or Register at Runsignup.com (go to find a race & search Gladstone)
All age groups are encouraged to enter.
Race fee includes a T-Shirt for all runners and walkers while supplies last.  
Trophies will be awarded to the overall female and male runners with medals going to 1st, 2nd, and 3rd place finishers in the various age categories.
Pre-registers may pick up race material on July 3rd, between 1pm and 4pm (EST) at the large pavilion located across from the Gladstone State Police Post on 9th Street and Minneapolis Ave.  
OSF Kid's Fun Run will start at 8:00am followed by the 5 mile run and the 2.5 mile walk.