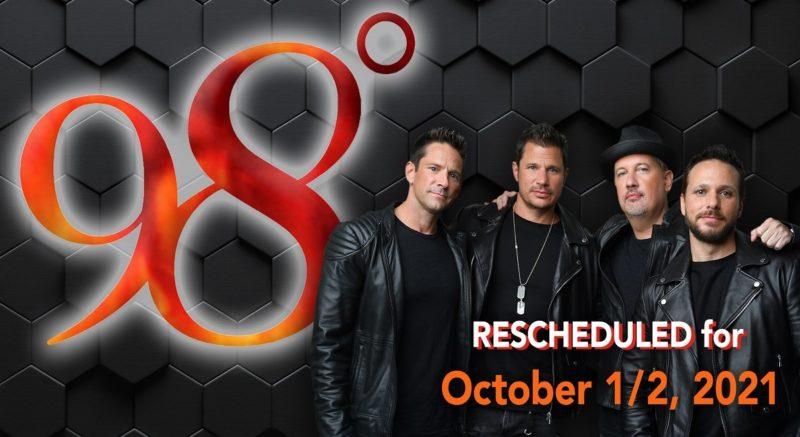 98º
Friday October 1st 2021 - Saturday October 2nd 2021
8:00pm - 9:30pm
Island Resort & Casino
Bark River, MI
Directions
Cost: $38
Tel: (800) 682-6040
98° has been rescheduled to October 1st & 2nd, 2021!
Please be assured that your ticket will be valid for the rescheduled date. Please call 800-682-6040 ext. 2118 if you need a ticket refund due to the rescheduled date.
Hotel Rooms will not be automatically transferred or cancelled. To transfer or cancel hotel reservations please call 877-475-7375.
Shows start at 8 PM EASTERN.
We do not condone reselling of tickets on our event pages. Any reselling posts will be deleted. Thanks for your compliance.
98 Degrees has always done things their way. The road to 10 million records was paved with an earnest love of R&B music and a commitment to creating a sound true to their own vision and the artists that inspired them.
Dropping out of school and working odd jobs, the boys wrote and refined the songs that would become their heartfelt blend of Motown and soft ballads. They cultivated their sound, look and presentation until that fateful Boyz II Men concert when they were discovered during a live radio broadcast. They soon toured with Janet Jackson and released their first hit, "Invisible Man."
The band went on to record six albums and have eight number one hits, including:
Thank God I Found You (with Mariah Cary and Joe)
True to Your Heart (with Stevie Wonder)
Because of You
I Do (Cherish You)
The Hardest Thing
Give Me Just One Night (Una Noche)