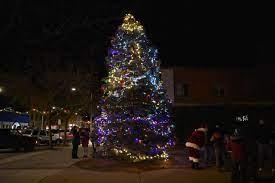 Gladstone Old Fashioned Christmas & Tree Lighting
Friday November 25th 2022
6:00pm - 8:00pm
Downtown
Gladstone, MI
Cost: Free
Web: click/tap
Join us for the annual DDA Sponsored Old Fashioned Christmas!
This event is put on by local businesses on (but not limited to) Delta Avenue.
There will be numerous activities for community members of all ages such as hot chocolate, treats, games, and much more!
Please take advantage of wagon ride transportation to each activity.
Event begins with Tree Lighting at 6:00 PM
Event concludes at 8:00 PM
Kids Craft & Hot Dogs (Iversons)
Cookies & Cider (Brampton Bike & Ski)
Letters to Santa (Dance it Up!)
Face Painting (D & D Dog Dynamics)
Kids Games (Evangelical Covenant Church)
Warm Peanuts (Main Street Pizza)
Ice Cream (Dairy Flo)
Chocolate Treats (Frame Farm)
Hot Chocolate (Great Lake Credit Union)
Reindeer Chow & Hot Cocoa (The Dew Drop)
Football Toss Game (Xcellerate Gym)
Kids Craft (Trotters Floral)
Christmas Treat Game (Grace & Clare Boutique)
Hot Cocoa, Treat, & Photo Booth
(Happy Rock Boutique)
Cookies, Egg Nog, & Hot Cocoa (Waters Edge Chiropractic)
Adult & Kids Beverages and LIVE Music (Wally's Bar)
Burning Barrels with S'mores (Delta Avenue)
Meet Santa (Farmers Market)
LIVE Nativity Scene (Electrical Garage ~ near City Hall)