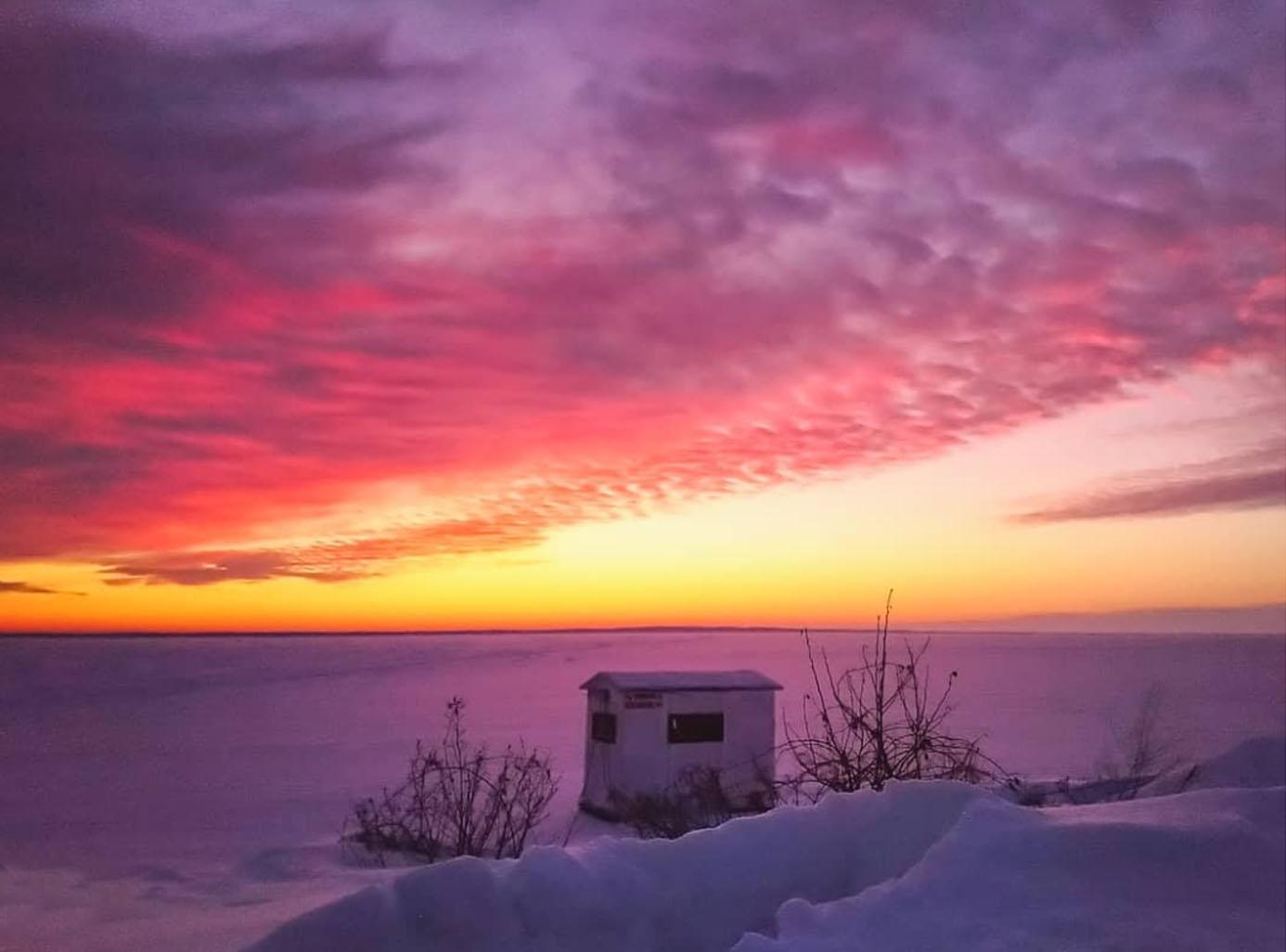 Ice Fishing
Delta County has the longest freshwater shoreline of any county in the entire USA. So it's no surprise that "villages" of ice fishing shanties spring up on both Little and Big Bays de Noc. This area is for trophy walleye fishing, where you can reel in a 30 to 32-inch keeper, tipping the scales at 14-pounds. Catch northern pike or a mess of yellow perch. Or try to beat the 54-inch and 43-pound sturgeon hefted through the ice of Stonington Peninsula in mid-January 1996.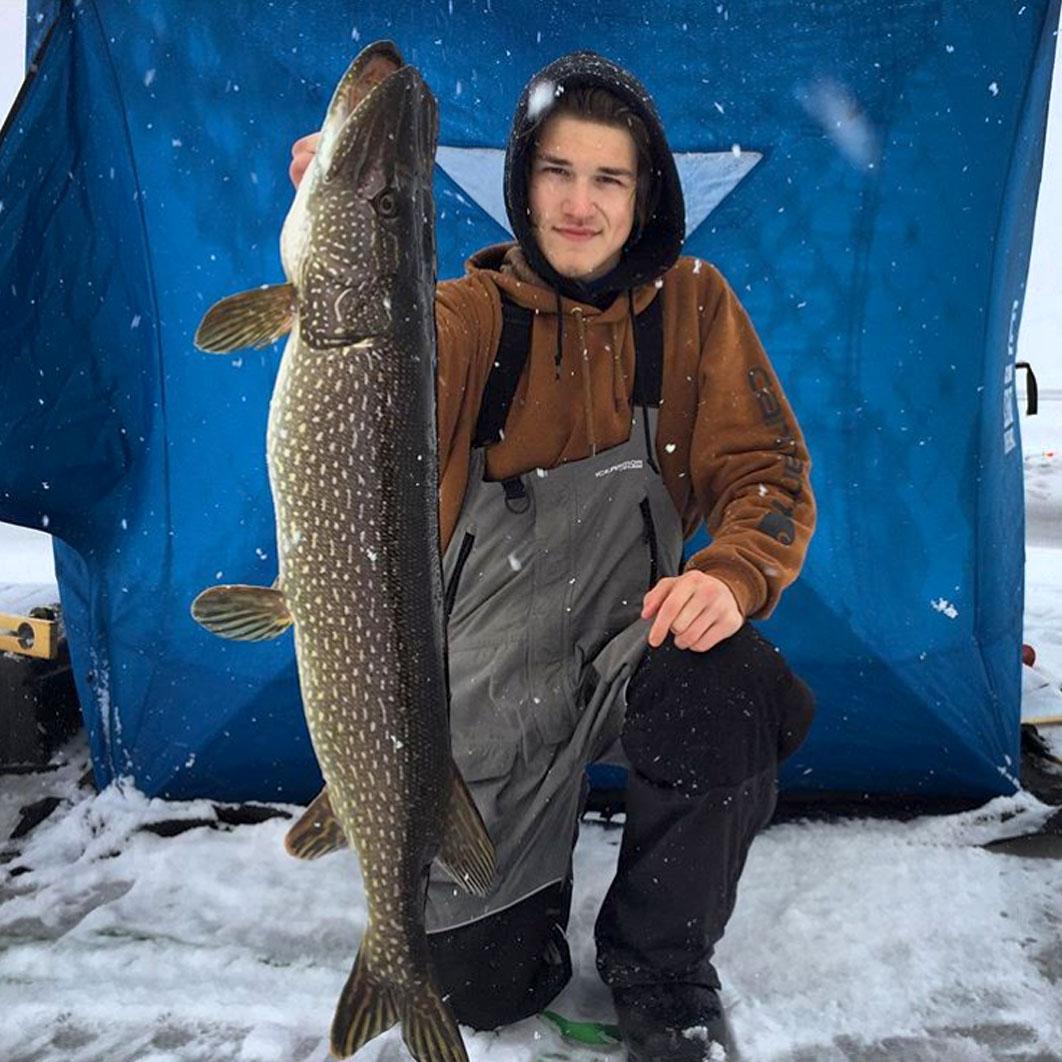 Photo: @tyler.flynn_
BEST TIME AND PLACE TO ICE FISH
The first and last light of the day is the best for fishing. Head out early in the morning before sunrise or hours before sunset. Experts say that good ice fishing is present at the same place that you would find success in the spring, summer, and fall. Plan to start your winter fishing in the northernmost waters of the two bays. That's where the ice first forms.
ICE FISHING TIP:
The boat landing at Kipling has an extensive weed bed that attracts walleye. The "black bottom" area to the south is well-known for being a good fishing spot. Check your depth charts and fish the edges.
ICE FISHING ACCESS POINTS:
Little Bay de Noc
Escanaba Municipal Marina, Escanaba
No See-Um Creek, South of Escanaba on M-35
Gladstone Marina, Gladstone
Terrace Bay Resort, south of Gladstone; offers fish-cleaning facilities
Days River, North & South (DNR), North of Gladstone
Kipling, 1 mile north of Gladstone
Twin Springs, 8 miles south of Rapid River, on the Stonington Peninsula
Boon-Dockers Store (private), Stonington Peninsula
Big Bay de Noc
Fayette State Park, on the Garden Peninsula
Little Fishdam River, 2 miles east of Isabella on US 2
Nahma, 4 miles south of US 2
Ogontz Bay, South of US 2 on County 503
Lake Michigan
Portage Bay State Forest Campground, 6 miles east of Fayette on the Garden Peninsula
HOW TO ICE FISH SAFELY
Never fish alone. Also, tell someone on land where you are going and when you expect to return.

Take appropriate emergency gear. Bring your cell phone, a lifejacket, flashlight or battery-powered lantern, and ice picks.

Dress in your warmest winter clothes. Warm socks and thick boots are a must. Bring a thermos with hot coffee, chocolate, or tea. Snacks. And an empty bucket, stool, or lawn chair to sit on.

Check ice constantly. As you cross the frozen Bays, use an ice spud and tape measurer to check the ice thickness every 150 feet. Clear ice needs to be a minimum of 4 inches to 5 inches thick (8 inches to 10 inches if the ice is white or snow-covered) to safely fish on. It needs to be 5 inches to 7 inches thick to drive a snowmobile or ATV to reach your spot.

NO ICE IS EVER 100% safe.

Avoid river mouths

, heavy current, and unstable ice are often found there.

STAY OFF thin, slushy, dark, or discolored ice. Every year, someone goes through thin ice or drives onto an ice flow which breaks loose and floats into the Bay. Use common sense and check the ice thickness with a spud bar. Watch for pressure ridges. And always heed warnings, especially late in the season when ore shipping resumes. The arrival of the first ore boat is often preceded by Coast Guard icebreakers.

Contact the Delta County Sheriff Marine Patrol Office at 906-786-3633 with any questions.
ICE SHANTIES
As soon as ice forms on the Big and Little Bays de Noc, hard shacks, and portable shanty "villages" begin to appear. The Michigan Department of Natural Resources (DNR) has the following requirements:
A person placing a shanty on the ice for fishing shall permanently affix their name and address on ALL SIDES of the shanty in legible letters at least 2 inches in height. The name and address must be on the shanty and may not be placed on a board or other material which is then attached to the shanty. Tents and other temporary shelters which are removed each day and not left on the ice do not require identification.
Persons placing a shanty on waters of the Upper Peninsula shall remove the shanty by midnight March 31 of any year.
A shanty must be removed if ice conditions become unsafe, regardless of the date. After March 31, a shanty must be removed at the end of each day's fishing activity.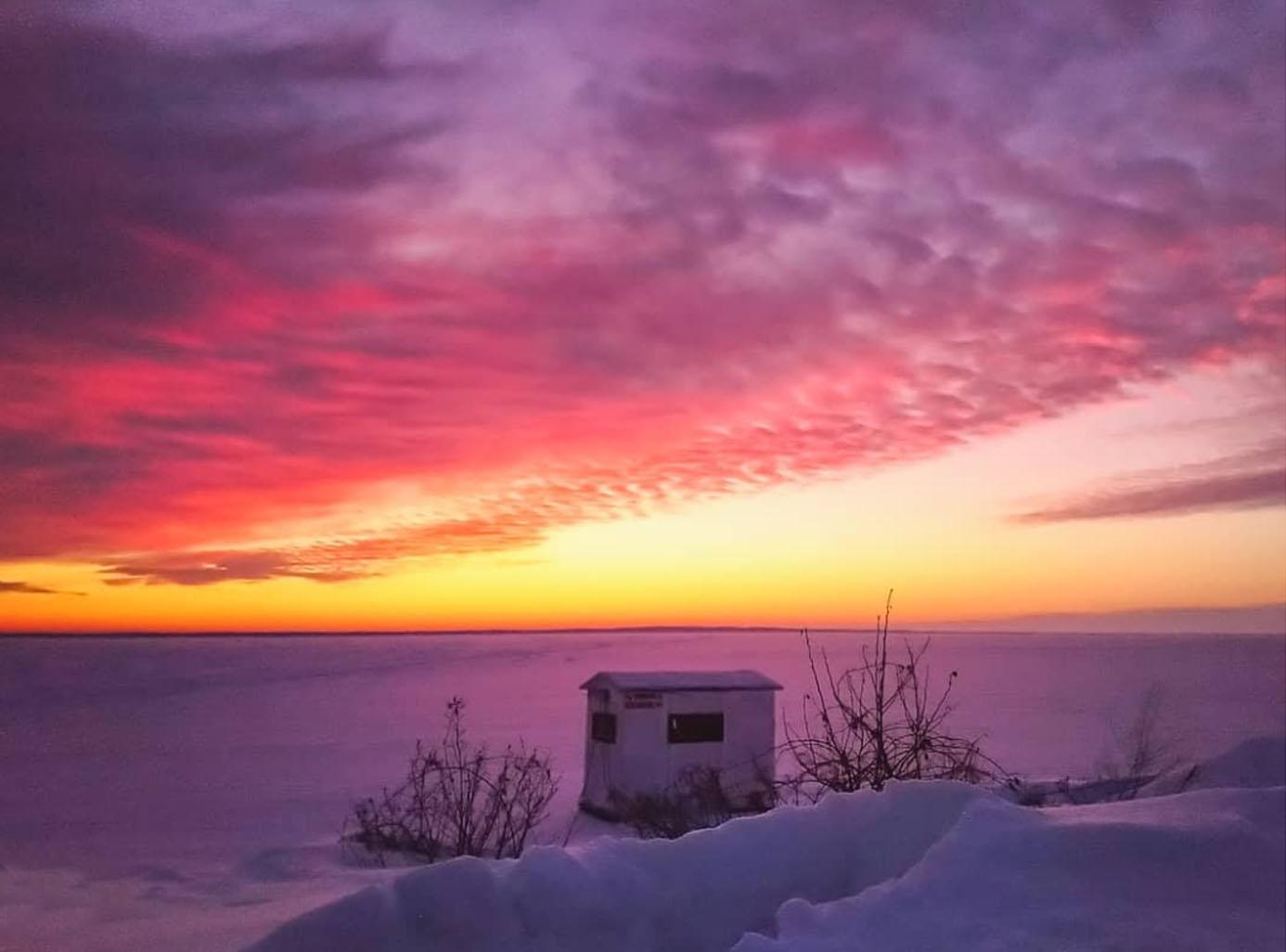 Photo: @kelli929kelli
EQUIPMENT NEEDED FOR ICE FISHING
In addition to the safety gear and shanty listed above, avid ice anglers recommend that you bring an ice spud or auger to cut an 8 inch to 10-inch hole, jigging rod(s), tip-up(s), heater, fish sonar or finder, and live bait or artificial lures or both. Be sure to carry your ID and Michigan fishing license (details below).
LOCAL FISHING SUPPLIES
-Dunham's Sports, 301 N Lincoln Rd, Escanaba; 906-789-4007
-Bay View Bait & Tackle, 7110 US Highway 2 41 M35, Gladstone; (906) 786-1488
-Bayshore Bait & Tackle, 1323 N Lake Shore Dr, Gladstone, MI 49837; (906) 428-9687
-Blade's Bait & Tackle, 8923 Bay Shore Dr., Gladstone; (906) 420-8494
-Beaver's Lures, 914 Ludington St., Escanaba; (906) 399-1578
ICE FISHING GUIDES
Blade's Bait & Tackle offers a shuttle to and from your fishing spot on Little Bay de Noc as well as an overnight shack that sleeps up to 4 anglers and includes your bait in the cost. They're open from Dec. 1 to March 15. Call (906) 420-8494. The sooner the better — these shacks book fast!
Hook Set Fishing offers half or full-day packages; gear available for up to three people; will fillet and ice pack catches; call 906-399-5407 (requests one-week notice).
RTH Fishing is a USCG Licensed Capt. on Little Bay de Noc and the surrounding waters of Lake Michigan. Offering guided fishing tours all year long! Call (906) 241-2664
Interested in growing your guide business? If you offer ice fishing guide services in the Escanaba area, please contact Robert at 800-533-4386 or robert@visitescanaba.com. We will add your contact information to our list.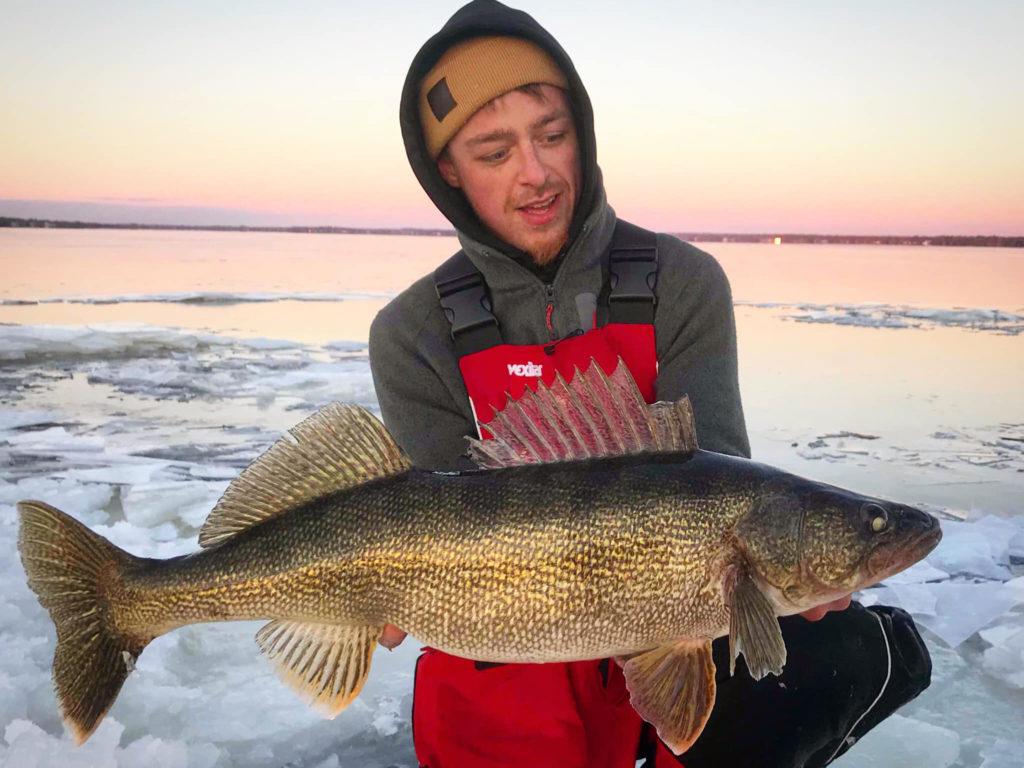 Read more Michigan fishing regulations information here
Before you head out on your adventure, check out the current weather.