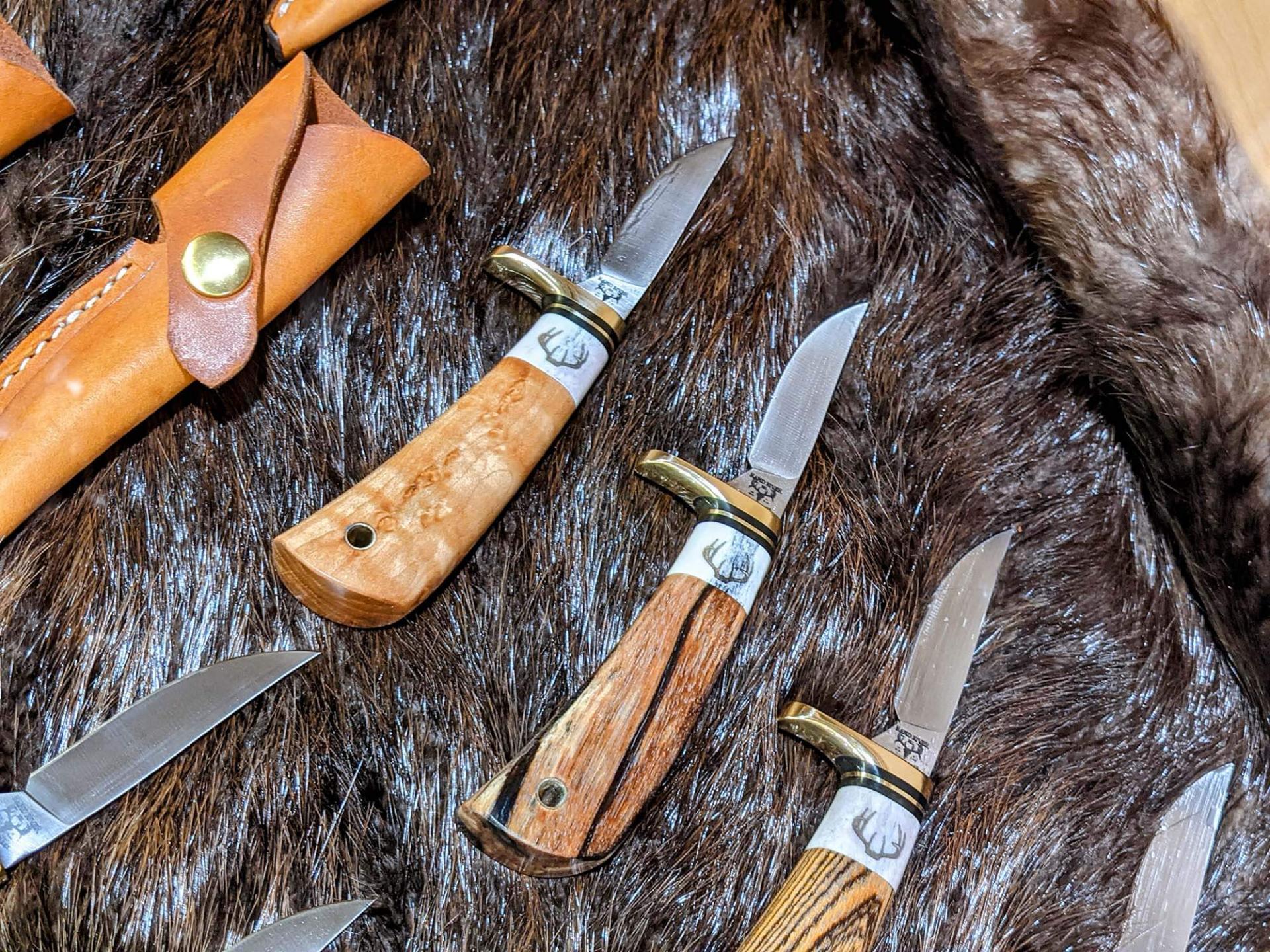 Rapid River Knifeworks: 100% made-in-America, custom knives and axes
Here's where hunters, anglers, campers and chefs create knives and axes that last for generations

.

Every single Rapid River Knifeworks (RRK) knife and axe is 100% made in America, right here in the Upper Peninsula using 100% made-in-the-USA materials. That includes the forged carbon and Damascus steel that make RRK blades tough enough for bone-hard jobs, yet precision sharp for finer cuts. Each knife and axe is a testament to American individualism and ingenuity. RRK's skilled artisans custom-design and handcraft each one to its owner's specifications at their location on U.S. 2 in Rapid River, Michigan. These are beautiful, heirloom pieces of purely practical art that will be passed down for generations. 
Founded by a U.S. Army veteran and his son.
Veteran Rick Duerson and his son Kris started RRK in 2002 with a few pieces of machinery, the finest quality materials, a creative spirit and big dreams. They knew sportsmen and women were more than ready for knives they could use confidently in the field. The Duersons were right. Within six months, the demand was so high they had to move to a bigger place. Now they are shipping one-of-a-kind knives and axes anywhere in the United States. They offer a special line of knives available at top-tier sporting good dealers and boast one of the most amazing showrooms in the country. Visit them in Rapid River or call or order their products online, and you will experience a rare level of customer service that will bring you back again and again.

Knives and axes that perform for a lifetime, guaranteed.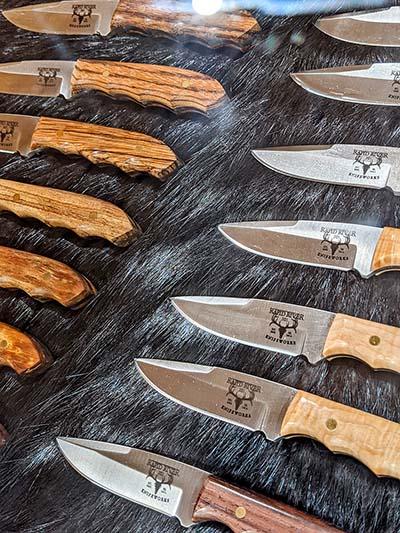 RRK offers a full range of knives for just about every outdoor use you have. There are traditional pocket knives, folding knives, fin and feather, Bowie and fillet knives. RRK makes knives with cocobolo wood handles that defy wet and dry conditions as well as insects and anything else the wilderness throws their way. This is also your source for fixed blade drop point knives that get their name from a simple drop at the tip of the blade. It's an effective design that prevents you from cutting things not meant to be cut. Then there is RRK's line of kitchen cutlery including Santoku and double-edge fillet designs that are must-haves for professional chefs and home cooks who value a well-made knife. 
In addition to knives, RRK's pack-axes are some of the most durable, sharpest tools available. The RRK Redi-AxeⓇ chops firewood as easily as it splits the pelvis of a giant Yukon moose. You will want one handy whenever you go into the wild. 
Of course, it's one thing to say that your knives and axes are genuinely among the best of the best, it's another to stand by your word. Every RRK knife and axe is backed by a lifetime warranty. So, in those rare instances when something goes wrong with your knife or axe, let customer service know. They will take care of it for you. What's more, you get free sharpening and polishing for life, too.  
Every knife has a one-of-a-kind story from the tip of its blade to the butt of the handle.
Most of the people who come to RRK do so because they want a knife that will be part of their life stories that they pass on. Matt Seawright, RRK's general manager, says those stories go well beyond handles crafted from hardwoods or epoxy resin. Custom handles incorporate the antlers of the buck a brother shot, the fossilized wooly mammoth bone great-grandma found on the farm, the leather from the belt of a dad with terminal cancer or even grandpa's ashes.
RRK artisans will further personalize each knife with free laser engraving of the blade and handle. Add the knife owner's name, date, favorite saying, your congratulations or good wishes, artistic flourishes or a company logo. No one else will have a knife with your design.
Watch the knife artists at work in the 10,000-square-foot showroom.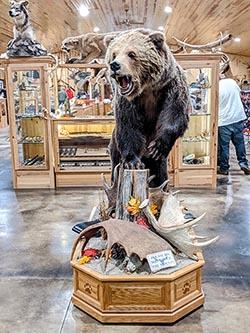 Ordering your custom knife online is certainly easy, but visiting Rapid River Knifeworks and walking into the showroom is an experience you won't want to miss. Look through a glass window to see knives being carefully crafted and engraved. Be awed by the taxidermy craftsmanship of 60 head- and full-mount animals ranging from a swordfish to a leopard, grizzly bear, zebra, whitetail deer, mountain lions and more. 
While RRK knives make treasured gifts for the holidays, birthdays, anniversaries, retirement parties, Scouts BSA members, weddings and more, the showroom's gift shop carries hundreds of other American-made gift ideas. Choose from clothing, candles, maple syrup, BBQ sauces, jewelry, artwork, sheaths and Redi-EdgeⓇ knife sharpeners that are incredibly simple to use — you will have no excuse for having a dangerously dull knife or axe again! 
Trusted for two decades to carry on hundreds of families' legacies.
Matt says 2022 is the company's 20th year of taking exceptionally good care of their customers and making knives and axes that become part of each owner's legacy. 
"No one works harder than RRK employees to make their customers happy," said Matt. 
He added that plans are underway to mark their two-decade milestone, so keep an eye on the RRK website and Facebook page for celebration plans. Until then, come rediscover the art of custom, 100% made-in-America quality. You will see why customers rarely purchase just one RRK knife.