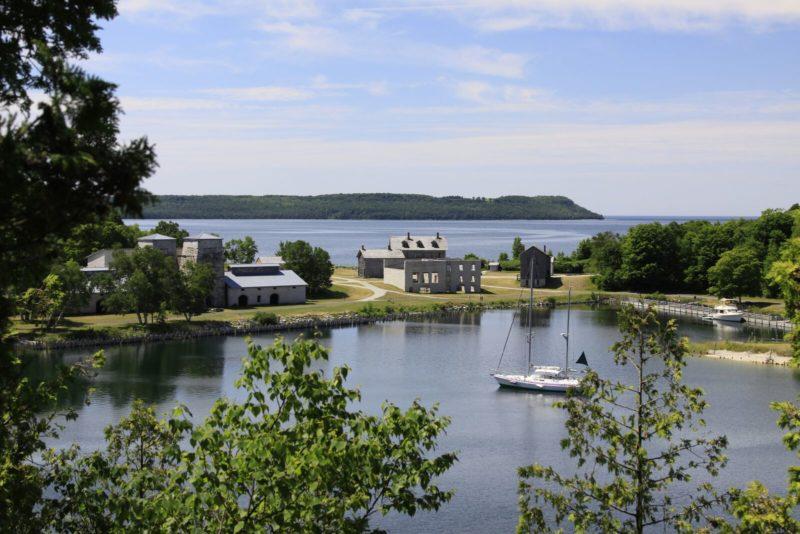 Fayette Historic Townsite
4785 II Road
Garden MI, 49835
Directions
Once a bustling industrial community that manufactured iron ore between 1867 and 1891, this well preserved museum village recalls what life was like in the 19th century. Costumed interpreters portray former residents to give visitors an idea of what it was like to live in this rural, wilderness town.
When the woodlands to make the charcoal gave out, Fayette became a ghost town, which became the state park. Today, representations of more than 20 original buildings and kilns and a great interactive visitor center tell Fayette's story.
Daily attractions include a modern visitor center, exhibits, scheduled guided tours, 20 historic buildings, camping, picnicking, and swimming. Five miles of hiking trails wind through beech and maple hardwood forests and throughout the historic town site. The trails are groomed for cross-country skiing which circle throughout the historic town site. 
Scuba diving is allowed in Snail Shell Harbor during certain times of the day. A fee and use permit is required for this activity so all divers may participate. All submerged artifacts are to remain in place and nothing is to be removed from the harbor bottom. 
Fayette Historic Townsite is located between Escanaba and Manistique, 17 miles south of U.S. 2 in Fayette Historic State Park. A Michigan State Parks Vehicle Permit is required for entrance to the park. Please allow two to three hours for your visit. 
Visit Website