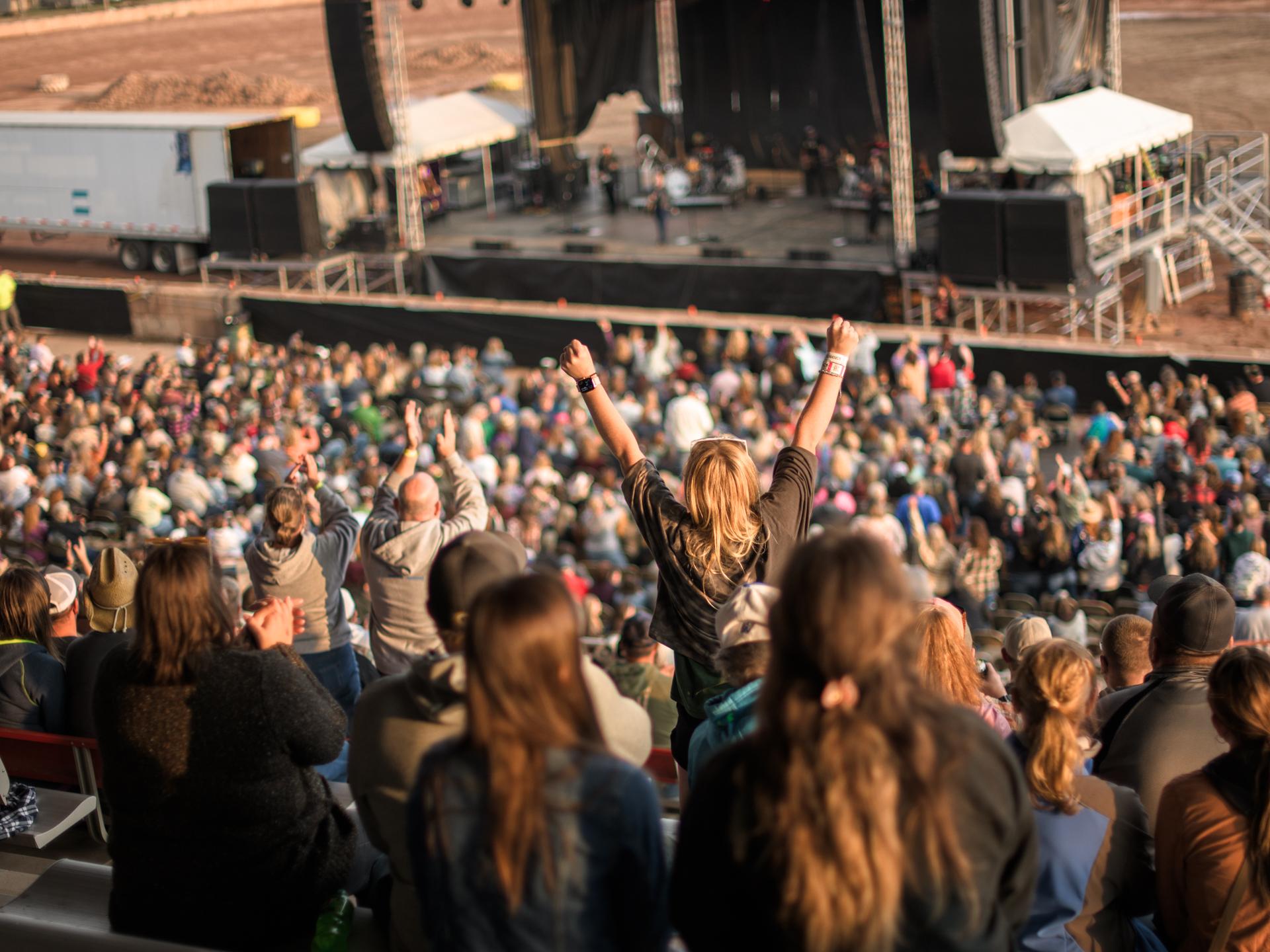 Arts & Culture
Gaze at locally crafted art while walking through one of our galleries, stroll through time at one of our museums, or take a class and make your own art! Plan your trip around seeing some live music at one of our many events. We have some of the best venues for catching a live show!
ART
AdHocWORKshop
Visit this museum of work created by found material artist, Ritch Branstrom. His Rapid River location is covered from floor to ceiling with unique art pieces that he has created over the years. Most of his pieces are inspired by a single found item that resembles something else. There are large scale outdoor pieces that he has created throughout Delta County. Take a peek into the gallery through the windows or contact him on Facebook to arrange a commission art piece. To get the full feel of his art, you need to see them in person.

Bay College
The local college has three different galleries to view the art created by students and locals.
The Besse Center South Gallery
Located at the Learning Resource Center entrance, this gallery houses the college's permanent art collection and exhibits of local and national artists. Each semester a student exhibit features a wide variety of drawing, painting, ceramics, photography, and mixed media.
The Hartwig Art Gallery
Opened in January 2000, in conjunction with the new art wing, which houses the college's art studios for ceramics, painting, and drawing. This gallery shows feature the best artists from the upper Midwest region and changes throughout the year.
The Bay College West Gallery
Located in the Upper Commons. For more information, contact Email Kristine Granger or call 906-217-4252.

William Bonifas Fine Arts Center
The William Bonifas Fine Arts Center is a regional center that focuses on art, music, theater, and art classes in Michigan's Upper Peninsula. They are located close to downtown Escanaba inside, what used to be, a church. You can take fun classes here, catch live music, or just take a free stroll through the art gallery. There are always new exhibits on display from all ages and abilities.
Take me to William Bonifas Fine Arts Center!
East Ludington Gallery
Whether your taste is eccentric or functional, the East Ludington Gallery of Upper Michigan will surely have a piece to enhance the beauty of your home, office, or cabin. The East Ludington Gallery is in a large historic building in downtown Escanaba. With many rooms throughout the establishment, there is a wide variety of art displayed here. You will truly enjoy walking through the facility and meeting some of our Working Artists. Our Upper Peninsula Artists offer the collector works of creativity on both a small or large scale, but always immense in quality and value.
Take me to East Ludington Gallery!
Ten Mile Creek Forge & Gift Shop
Located in Bark River, this art gallery has an outstanding array of beautiful art and unusual items. You will be amazed by this wonderful collection of artwork, mostly created by residents of the beautiful Upper Peninsula of Michigan. Visitors can sometimes see George at work in his forge! These demonstrations are free of charge. George also demonstrates his blacksmith techniques at many events throughout the year. He heads up the U. P. Steam and Gas Engine Antique Village Blacksmith Shop located on the State Fairgrounds at Escanaba.
Village Artisans of Garden
This quaint art gallery lets you take a peek into the lives of locals living in rural places. In 1983, a group of people interested in promoting arts and crafts in the Upper Peninsula of Michigan purchased a 100-year-old building to serve as a center for meeting and displaying artwork created by those living in and around the village Garden. In 1985, Village Artisans of Garden opened the Garden Gallery.
MUSIC
Nahma Inn/ General Store
Open year-round; the Inn is a great place for those looking to unwind and relax in the quaint town of Nahma, MI. The town is situated on Lake Michigan's Big Bay de Noc and is a playground for various recreation activities. The General Store has live music multiple times throughout the year. It is rigged with top-notch audio equipment and is decorated with antiques of all kinds. Check out their Facebook to learn more!

Leigh's Garden Winery
Indulge in a symphony of flavors and melodies at Leigh's Winery every Friday night. Sip on the finest local wines handcrafted with passion, while the enchanting notes of live music fill the air, creating an unforgettable ambiance. Whether you're a wine connoisseur or simply seeking a magical evening, these Friday night music sessions are your gateway to a harmonious fusion of taste and sound. Join Leigh's Winery every Friday and let the music of the vines sing to your soul in this picturesque winery.
Ludington Park Band Shell
These open-air concerts are one of the dreamiest scenes during the summertime. The bandshell lets music ring far and near for those wanting to just listen or take part in some dancing. It's hard to miss any live music here because you're sure to see it as you drive past during your Ludington Park drive.
Take me to Karas Memorial Bandshell!

Northern Sun Winery
Relax with some scenic views of vineyards and a perfect charcuterie plate paired with a wine that is grown on-site. Northern Sun Winery holds a couple of live music events each year to help local non-profits raise funds. Lush green vines frame every view you have, and the spirits are always high. Check their Facebook page for upcoming events!
Take me to Northern Sun Winery!
U.P. State Fairgrounds
Travel to see some of your favorite bands on the big stage. One of the best nights to watch music from the grandstands is during the U.P. State Fair, the most attended event in the Upper Peninsula. This is a great music venue for those hoping to sit with a great view or shake a leg on the main floor. Check our events page for more information on upcoming music events.

Terrace Bay Hotel
Rock out with plenty of room to dance! The huge ballroom at Terrace Bay Hotel is a great place to catch live music. If you are traveling to the area for music, you can hunker down at the Terrace Bay with a cozy room after watching music all night. Check their Facebook page to see what events are happening!
William Bonifas Fine Arts Center
The William Bonifas Fine Arts Center is a regional center that also holds music events! Check out their Facebook to see what events they have going on currently!
Take me to William Bonifas Fine Arts Center!

Fayette Historic State Park
This abandoned smelting community has some beautiful architecture with a gorgeous limestone bluff in the background. They host live music here a couple of times a year, along with other seasonal events. Listen or dance to music as it echos through this amazing State Park. Check out their Facebook to see what upcoming music events they have lined up!
Take me to Fayette Historic State Park!
Upper Hand Brewery
With a couple of different locations on-site to host live music, you can tour the brewing facility while listening to fresh tunes. They host many music events each year, along with other non-music related events. Their taproom makes you feel like you're truly up north in someone's cabin or cottage. Check out their Facebook page to see what events are happening now!
Take me to Upper Hand Brewery!
MUSEUMS
Explore Delta County's rich arts and culture scene by delving into its captivating museums. Whether you're intrigued by history, fascinated by art, or eager to learn about the region's cultural evolution, you'll find yourself immersed the stories, heritage, and creativity that define the Upper Peninsula. For more information and details about each museum, please visit our dedicated Museums page.
Embark on a cultural adventure that promises to leave you inspired and enlightened.
Similar Activities