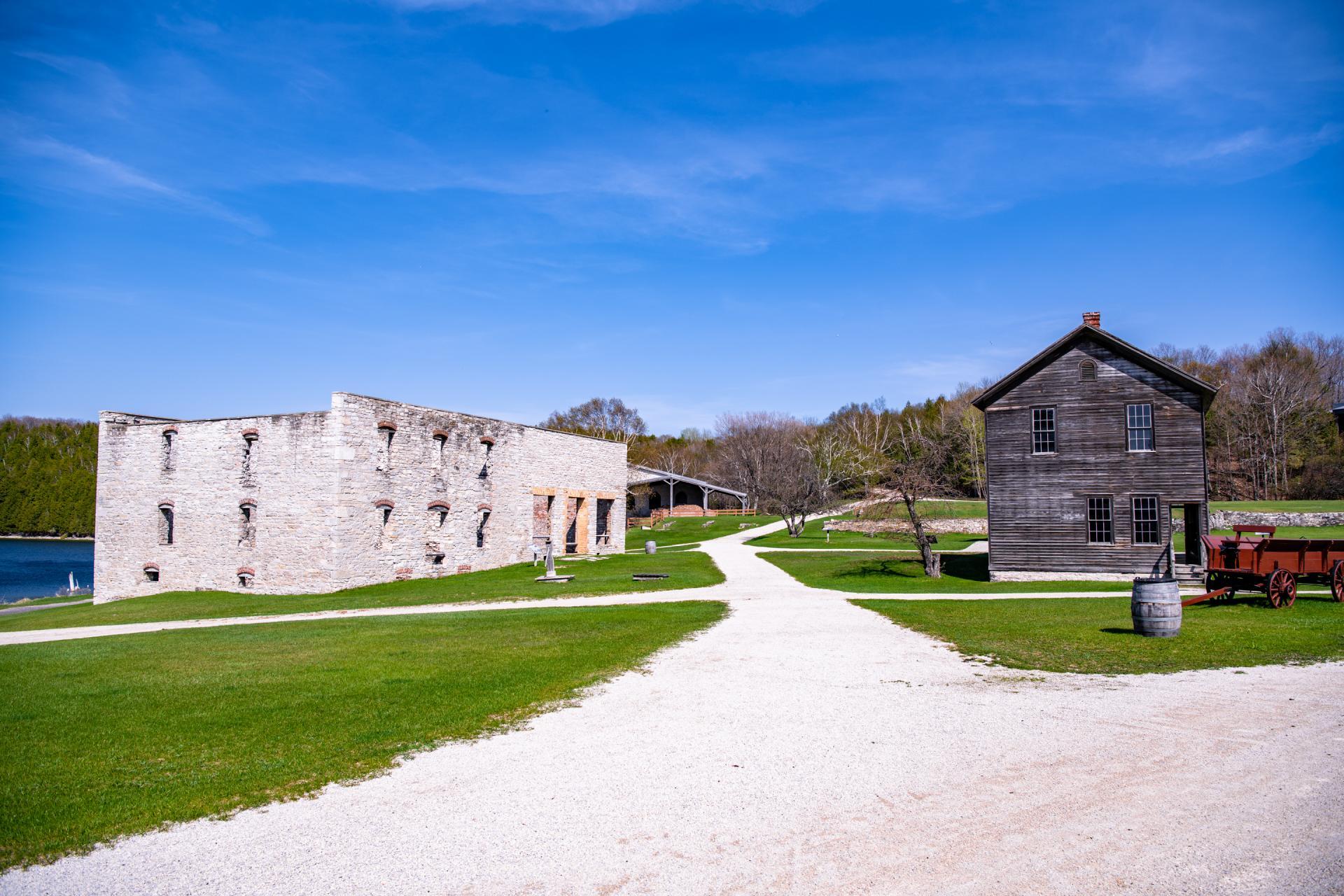 Fayette Historic State Park: Take a time-travel summer vacation
Tour the townsite | Hike, bike, scuba dive and more | Fun 2022 events | Where to stay
See what it was like to live in this 1800s, iron-smelting boom town
Michigan's Upper Peninsula takes a lot of pride in preserving its history. One of the top time-travel destinations for your summer vacation is right near Escanaba — Fayette Historic State Park. It's south of U.S. 2 on the Garden Peninsula, along Snail Shell Harbor.
Here's why all ages will want to return year after year.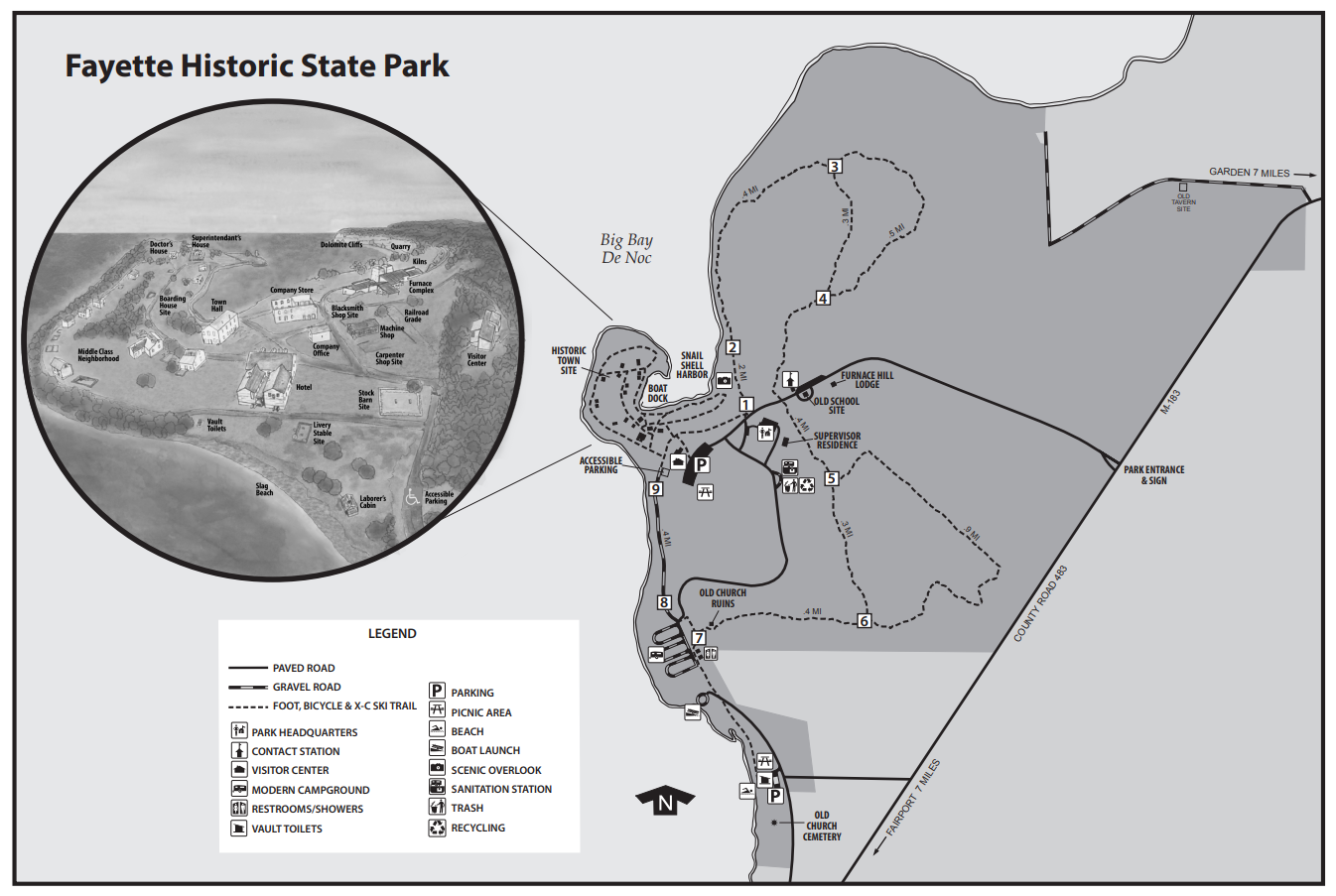 Learn why this once-thriving company town went bust
As you walk through Fayette's historic townsite, it's hard to imagine that these ghostly buildings were part of a wildly bustling company town owned by the Jackson Iron Company. From 1867 to 1891, Fayette's furnaces produced high-quality charcoal iron for the American steel industry. Steel that our fast-growing country used to build buildings, railroads and more.
Today, 20 structures still stand, filled with stories of the 500 residents that once called this home. Take a scheduled guided tour from June to mid-August, 9 a.m. to 4 p.m., or a self-guided tour any time during the townsite's hours, 9 a.m, to 5 p.m., June 1-16, and 9 a.m. to dusk, June 17 to Labor Day. You will learn more about these gutsy men and women and how the declining demand for charcoal iron eventually sent them packing for more prosperous towns.
Much more than a history lesson, Fayette is your summer playground
Some things you will want to do:
Be awed by the limestone cliffs as you paddle in Snail Shell Harbor or hike or bike the overlook trail. The white cliffs rival Pictured Rocks National Lakeshore for their beauty and some cedars growing on the cliffs have been around for more than a thousand years! Eight kayaks are available to rent for up to 24 hours. Or bring your kayak, canoe, SUP board or boat.

Relax, swim, read a book, picnic and play on the beaches.

Scuba dive or snorkel in search of artifacts and marine life in the harbor. This is a look, but don't take experience. Stop by the camp office to purchase the required permit.

Experience the thrill of reeling in walleye, northern pike, perch, and smallmouth bass from the harbor or the nearby Bays de Noc. Grills are ready for your delicious fish fry!

Go geocaching.

Stargaze. Our dark skies make it easy to see so many more constellations and planets than you can spot looking up in urban and suburban settings.
Admission and parking are free, but you will need a Recreation Passport for vehicle entry to the grounds.
Fayette Historic State Park's 2022 events will entertain your whole family
June 18 | Christmas in June | 11 a.m.-2 p.m. | Campers deck their sites with Ho! Ho! Holiday decorations.
August 13 | Fayette Heritage Day | 11 a.m.-3 p.m. | Get a flavor for the days when this was a bustling iron-smelting company town. Enjoy period displays, food, music and an 1860s-style "baseball" game that, yes, you get to play!
September 16 & 17 | A Paranormal Event | 7-11 p.m. | This historic site is a favorite haunt for ghost hunters. Learn how to become a member of a paranormal team and then take part in an investigation. It's chilling, it's intriguing and an experience you will talk about for weeks. Pre-registration is required - if you dare!
October 1 | 17th Annual Fall Fest | 11 a.m.-2 p.m. | Autumn-themed activities, plus hayrides through the townsite. Campers decorate their site for Halloween — and strolls under the waxing crescent moon will jangle your nerves.
Where to stay at or near Fayette Historic State Park
Summer camping at 61 modern sites
Sites are for tent and RV camping; hammock camping is allowed, too. There are electric hookups, restrooms, hot showers and trail access to the Lake Michigan beach and picnic pavilion. Wi-Fi is now available for anyone who wants to stay plugged in. Reserve your site for up to 14 nights all year-round.
Arrive by boat and stay for up to 14 nights
Ease your home on the water into Snail Shell Harbor and dock at one of the park's 15 transient slips, ranging in size from 1 to 38 ft, 20 to 45 ft and 46 to 60 ft. Each comes with access to 30/50AMP electrical pedestals and water stations. Boaters can use nearby vault restrooms or modern restrooms/showers at the campground.
Modern Furnace Lodge sleeps up to 10 guests
Nestled in the woods, close to the entrance road, this comfortable, fully furnished home is within walking distance of the historic townsite. Yet, it has all the privacy you want for your getaway. You can make reservations up to six months in advance at 906-644-2603. Summer and fall dates fill quickly, but camp staff say winter availability is more open, and staying at the park is beautiful all year round.
Hotels with the amenities you want are only minutes away in and around Escanaba
Summer is a popular time to visit, but there are plenty of lodgings in the Bays de Noc area to get a good night's sleep. Book your stay, now!