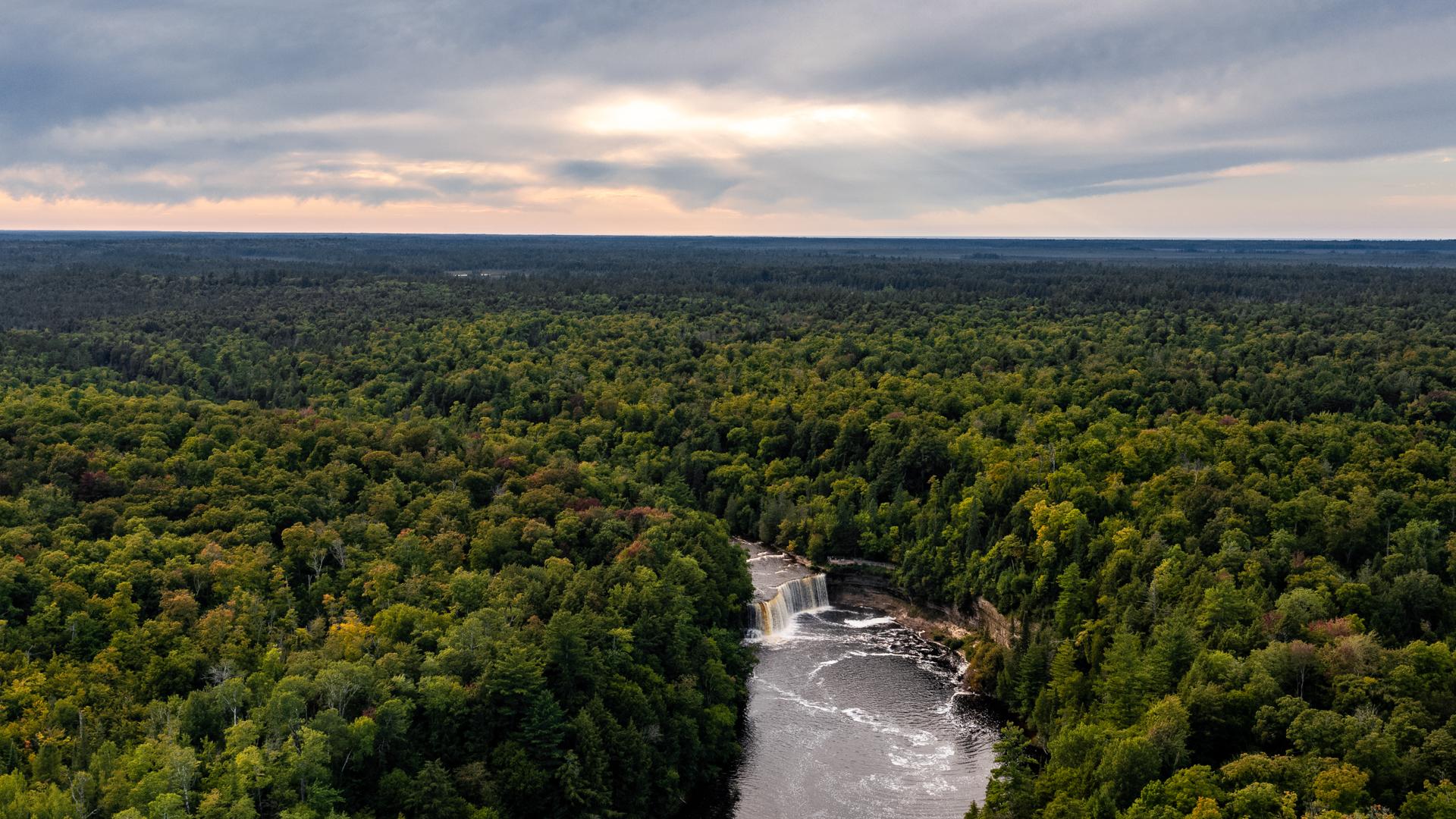 Waterfalls near Escanaba, Michigan
Heading to the Upper Peninsula for a waterfall roadtrip? Make the Bays de Noc your hub for the trip! Some of the most popular waterfalls are within a 2-3 hour drive, and when you return, you can explore our local history and scenic Great Lakes shoreline. Here are some of the popular waterfalls near Escanaba.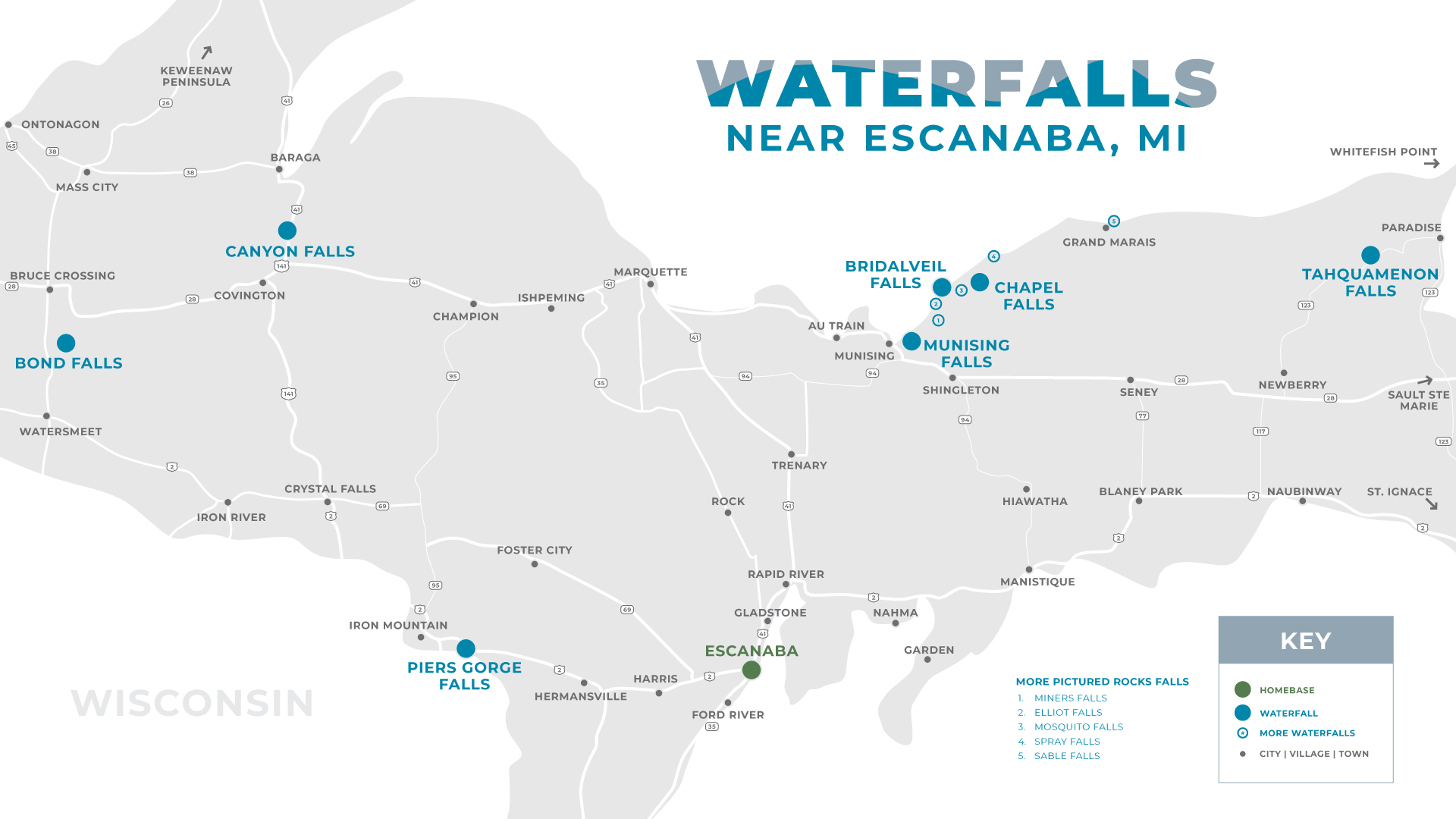 Bond Falls
Located in southern Ontonagon County, Bond Falls is created as the middle branch of the Ontonagon river tumbles over a thick belt of fractured rock, dividing it into numerous small cascades. The total drop of the falls is around 50 feet. When you arrive, there is parking at the top of the falls with about 15 minutes of walking to see the falls close up. If you bring along a picnic, there are also tables at the top to enjoy a scenic lunch. The accessible boardwalk has six viewing locations. Try each of them out!
Drive time from Escanaba: Approximately 2.5 hours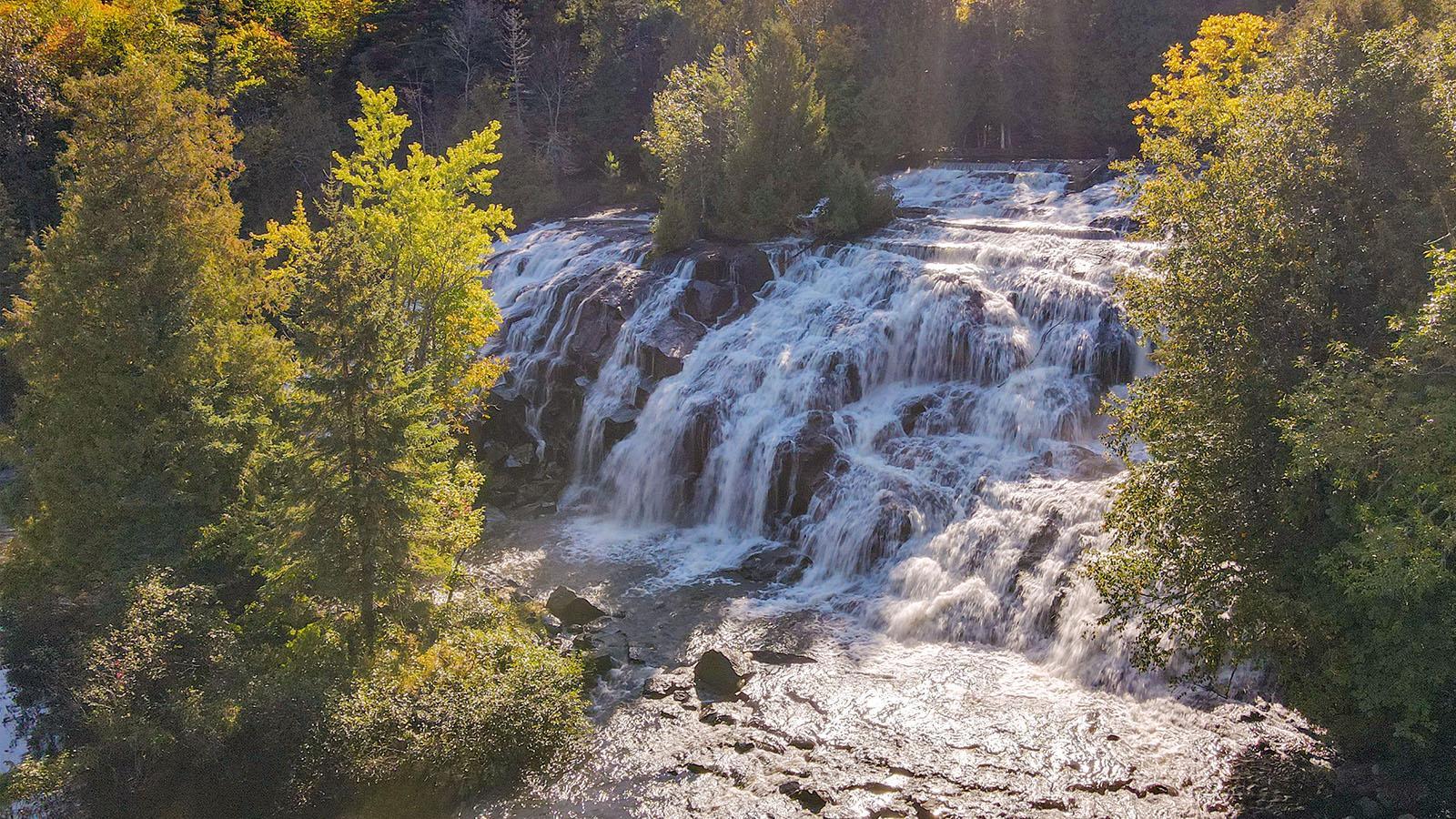 Photo Credit: Upper Peninsula Travel & Recreation Association
Piers Gorge Falls
Tucked into the Menominee River State Recreation Area are 17 miles of undeveloped river. Along that corridor, you'll find rocky gorges and wide open stretches perfect for wildlife viewing, fishing, sightseeing, and, if you are brave enough, whitewater rafting and kayaking. There are guided tours with experienced professionals if you're wanting to try it! The entire state park is divided into three units, including Piers Gorge Unit in the north, Quiver Falls Unit and Pemene Falls Unit in the south.
Drive time from Escanaba: Approximately 2 hours
Directions to Piers Gorge Falls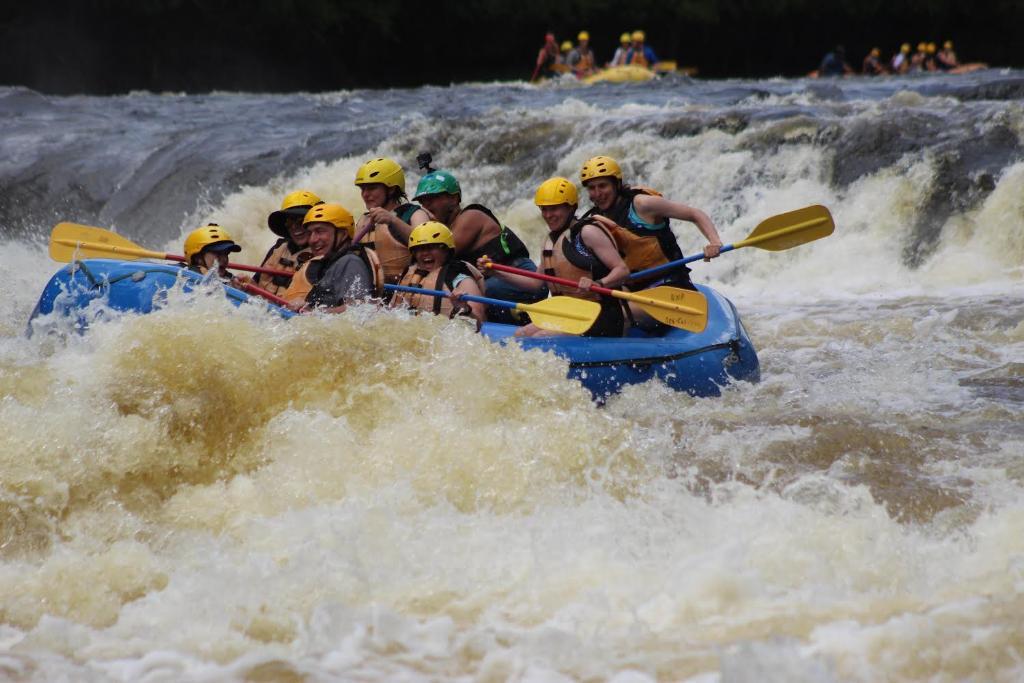 Canyon Falls 
Located in L'Anse Township, this impressive falls is easy to visit. It is located along US-41 which is one of the main routes through the U.P., meaning you can explore other areas on this day trip easily! The hike to the falls itself is about one mile long, but there are natural steps where you can climb to the top. A 15-foot vertical drop makes this a thrillseekers paradise for cliff jumping into the pools of water below.
Drive time from Escanaba: Approximately 2 hours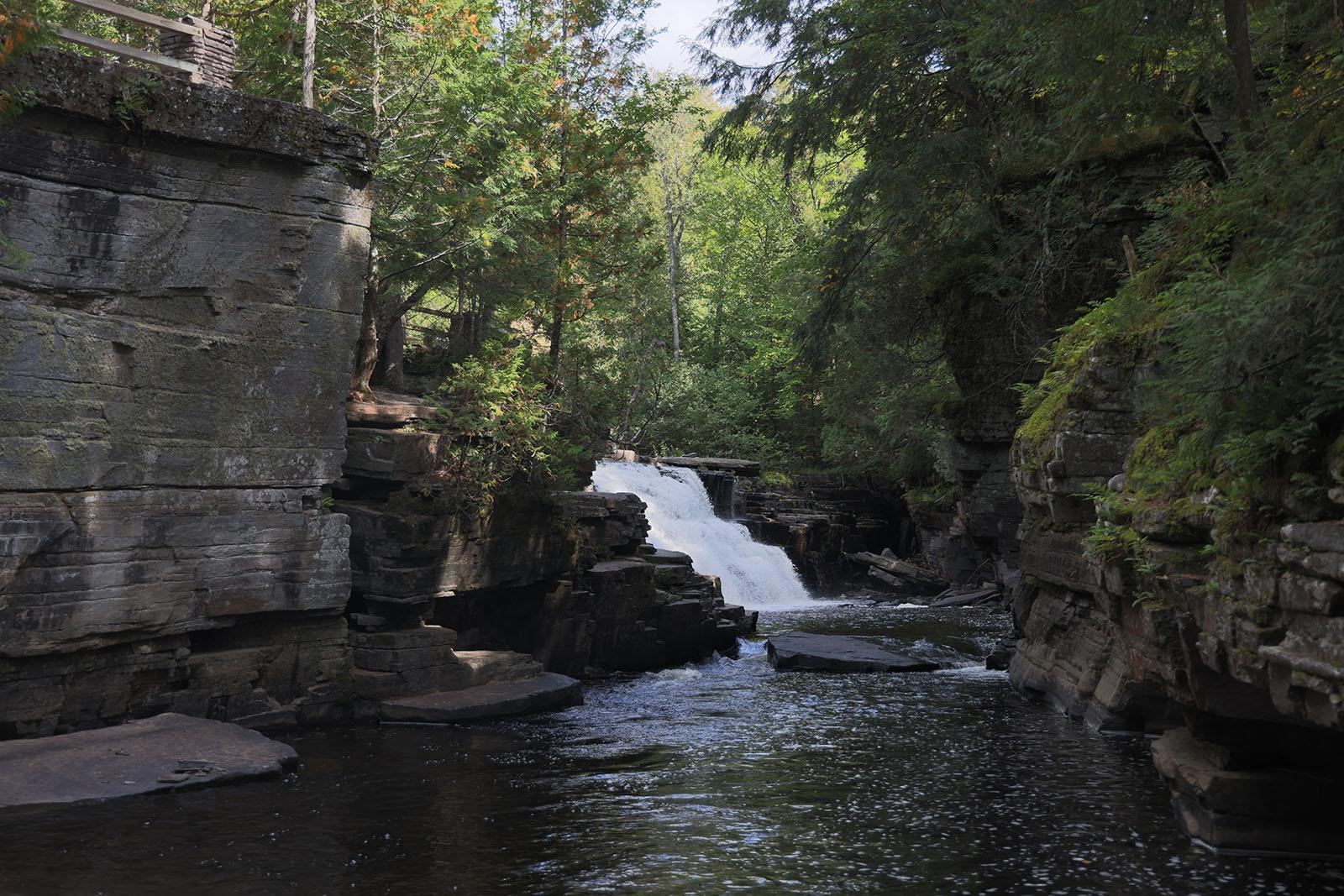 Photo Credit: Upper Peninsula Travel & Recreation Association
Pictured Rocks National Lakeshore waterfalls
Pictured Rocks is a great destination if you're looking for multiple waterfalls in one destination! We suggest stopping by the visitors center to get a map of the national lakeshore, and how they suggest hitting all the waterfalls.
Munising Falls
A favorite waterfall to visit is Munising Falls. In 15 minutes of walking, you'll feel the spray of the tumbling water dropping 50 feet over a sandstone cliff. 
Chapel Falls
The Chapel Falls Trail offers a 2.5-mile round-trip hike along an old roadbed, through an upland maple forest to this breathtaking 60-foot high waterfall. Pets are not allowed on this trail. After looking at the scenic Chapel Basin from two viewing platforms, continue on the trail to see Chapel Rock and Lake Superior.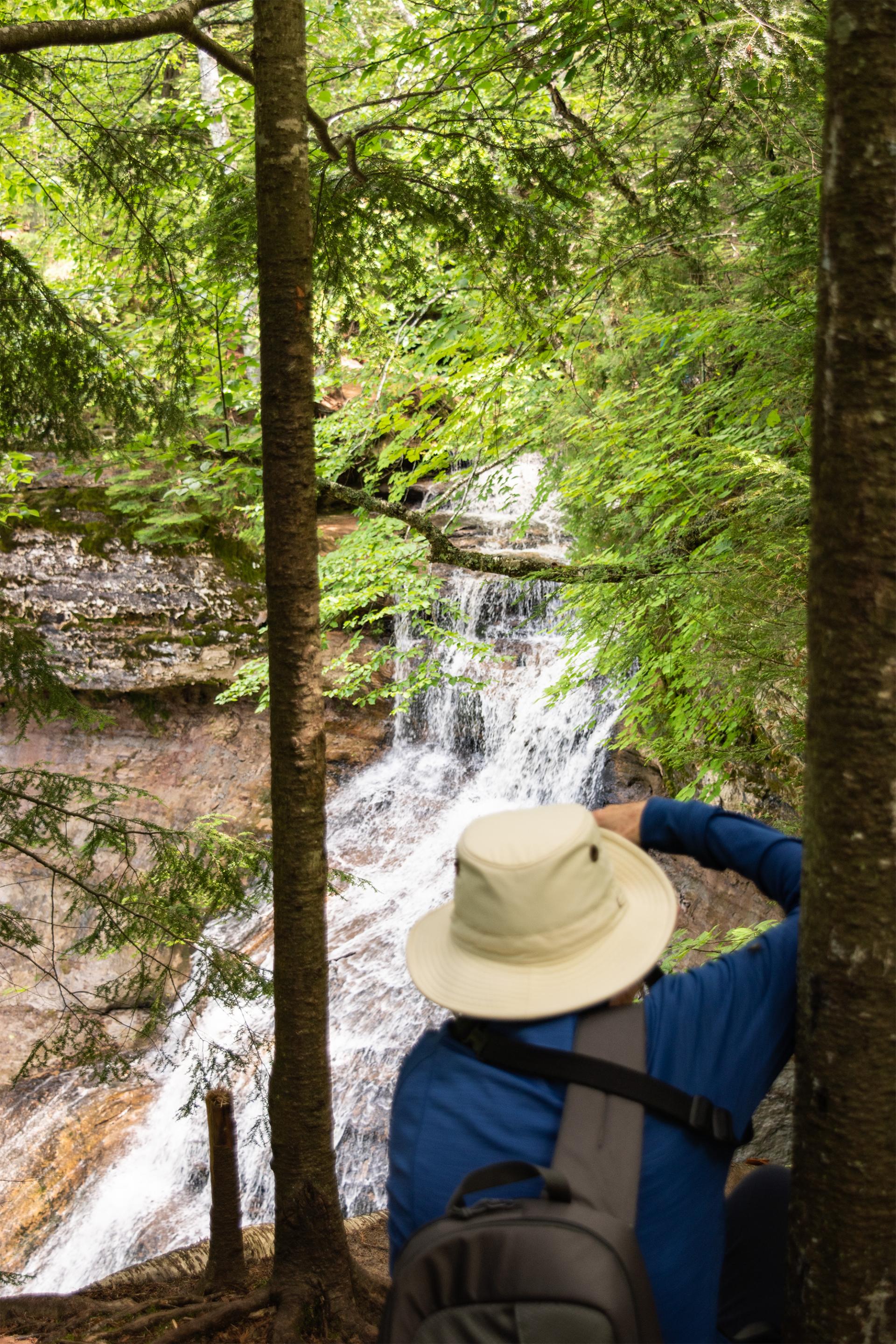 Bridalveil Falls
Named for its graceful descent over a hard, vertical sandstone cap onto softer sandstone at a 45-degree angle, this waterfall feeds in Lake Superior looking like a brides wedding veil. Although the waterfall is best viewed from the water, you can see it from a distance at the lower Miners Castle overlook or from the west end of Miners Beach. 
Bridalveil Falls is a seasonal waterfall fed by snowmelt and spring rains that can often slow to a trickle during dry summers. We suggest asking the visitors center about its activity before trying to see it. 
Other Pictured Rocks Waterfalls
There are five more waterfalls sprinkled throughout Pictured Rocks National Lakeshore. Read about them from the National Park Service and add them to your itinerary! They are: 
Miners Falls 

Eliot Falls

Mosquito Falls

Spray Falls 

Sable Falls
Drive time from Escanaba: Approximately 1 hour and 45 minutes
Directions to Pictured Rocks National Lakeshore
Tahquamenon Falls State Park
If you're looking for a fun day trip, pay a visit to Tahquamenon Falls State Park — about two and a half hours away from Escanaba. This state park is home to Michigan's largest waterfall (The Upper Falls) at 200 feet across and 50 feet down. Each second you're on the viewing platform, you're actually watching more than 50,000 gallons of water gush below you!
The Lower Falls are home to five smaller, but still worth seeing, waterfalls that cascade around a small island that you can visit via bridge or rowboat to hike! Dip your toes into the water and splash around on a hot day. 
While you're in the state park, enjoy hiking, fishing, souvenir shopping, ice cream and the Tahquamenon Falls Brewery. You're also likely to see some wildlife roaming about, enjoying the park, too. 
Drive time from Escanaba: Approximately 2.5 hours
Directions to Tahquamenon Falls State Park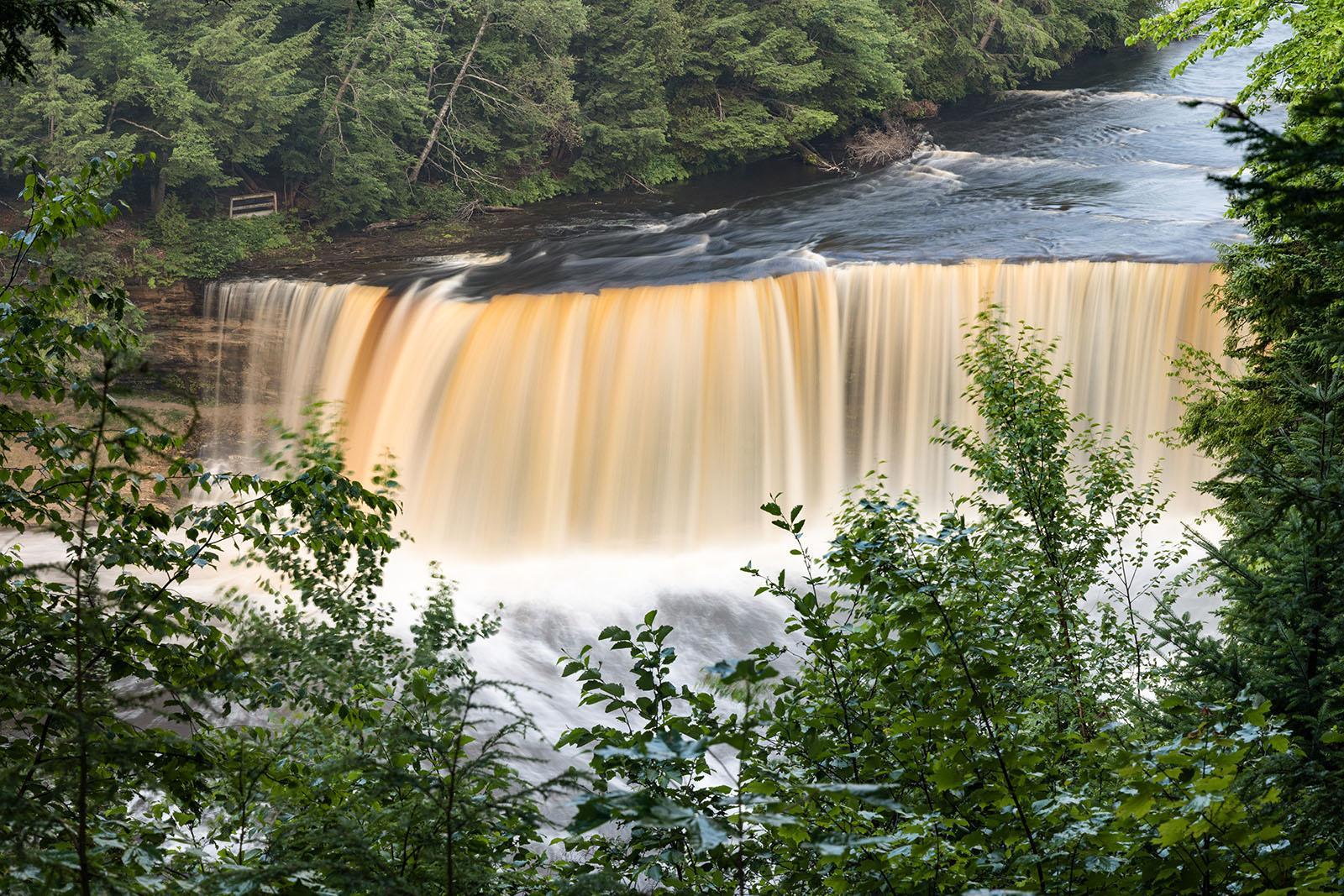 Photo Credit: Upper Peninsula Travel & Recreation Association
Summer activities in Escanaba
Check out these popular local attractions when you return back to the Bays de Noc for the day! From live music and unique food to stargazing and exploring history, there's something for everyone. 
Book your stay!
Book your Escanaba hotel so you can return and rest your head each night before the next day's adventure! You can also enhance your trip with events happening along your route or at your destination. Check out our calendar now.