Leigh's Garden Winery passes the cork to new owners
Leigh and Connie Schmidt opened Leigh's Garden Winery in 2008 in a century-old building with five wines to their name. Julie Lambert quickly became a valued customer, often visiting for girls' night out, hosting painting classes there and choosing the winery for date nights with her husband Tony Lambert. How are they different from any other customers? The couple is taking over ownership of the downtown Escanaba winery at 904 Ludington St. on Oct. 23.
We sat down with the couple to learn everything that led them to this career move, what it's like to take over ownership and what plans they have in store for the business. Here's what they had to say.  
How did you become the next owners of Leigh's Garden Winery? 
Tony: About five years ago, Julie was hired to be a server and, soon after, got promoted to tasting room manager. It was during this time that she fell in love with the Schmidt family, the century-old building and its complementing quaint ambiance and the wines. But the one thing that really made her love this place were the people that walked through the door. Whether they were locals or tourists, she recognized that the moment guests walked in for a wine tasting, they immediately escaped all of the pressures, stress and busyness that we all experience in life, and it was great to be a part of their escape.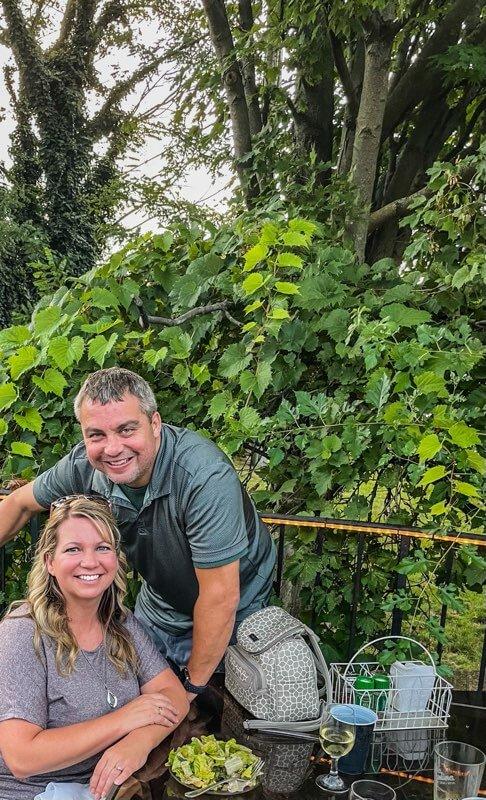 Can you share a bit about how you got started in winemaking and what you enjoy most about it?  
Julie: Actually, I was not a winemaker before April of this year! Knowing we were going to take this on, I obviously knew I had to learn a lot. So I jumped into making our Hiawatha Blue Blueberry wine. After that came the Red Hat Rhubarb and, just a few months later, here I am with 20 plus wines in tanks. It's been very eye-opening!
What have you learned about the winemaking process that you enjoy?
Julie: This is a hard one to answer being I am so new at this. I am finding out so many new things that are very interesting! But I never realized how much math, science and chemistry were involved in the whole process.
Tony: As co-owner of VanAire in Gladstone (where we employ over 75 people and engineer and manufacture products for the global market), I find that wine manufacturing is very similar.  Each business has suppliers, a purchasing team, designers, manufacturing, packaging, sales and, of course, customers that expect top-notch products and excellent customer service. Each business uses proven procedures and design standards to create a consistent product. Without the right team in place and without the standards in place, it would be difficult to provide a consistent, high-quality product.
Personally, what are your favorite wines for when you're enjoying some yourself?
Julie: I am more of a sweet wine drinker so my favorites are Rocco's Brianna and Frontenac Gris. I'm also a fan of our Red Hat Rhubarb, Cranberry, and I'm super excited about our new Raspberry Wine. This will be the first time Leigh's has made a Raspberry wine, and according to our in-process tests, this wine not only smells amazing but is also super flavorful. I also love our Amado sweet white and, of course, the Yooper Juice!
Tony: Burly Jack which is a dry red blend of Marechal Foch, Frontenac and Marquette grapes that is barrel-aged. Old Escanaba is one of the wines that was part of the original five that were released when we opened in 2008. It, too, is a dry red blend, but this is made with only Frontenac and Marechal Foch grapes. Nawadaha Falls is quickly becoming one of my favorites. It is not as dry as I typically prefer, but it is surprisingly smooth and what I now call a "perfect wine." It is well balanced and can be paired with any type of food or by itself.  It's good on hot days and it's good on cold wintery days.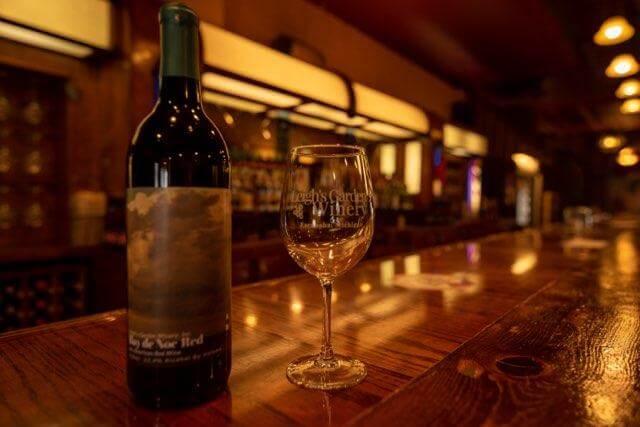 What unique offerings do you have at Leigh's? 
All of our wines start with cold climate grapes or local fruit. These grapes come from our partner vineyards in the U.P., downstate and Wisconsin. We do have red, white and rosé wines here, but you won't find a Cabernet, Merlot or Chardonnay. Instead, you will find Marquette, Frontenac, Brianna, Edelweiss and many other regional grapes.  
Most people are surprised to know that we make all our wines on site. We take whole clusters of grapes and process them into high-quality wine right downstairs in the cellar. Leigh's started with five wines but we now have 60 different recipes, and we make about 25 different wines every year. 
Also, our backroom is a great spot to host events! We have hosted birthday parties, bachelorette parties, weddings, reunions, art and craft classes, business meetings and more. This backroom also allows us to bring live music here. 
What traditions do you plan to continue from the Schmidt's ownership at Leigh's? 
Leigh Schmidt provided us with a great foundation to build on. We will continue to provide our community with a unique, quaint and beautiful place where people can come and sip on quality wine made with cold climate grapes and enjoy the company of friends and family.  
Do you have any new plans or traditions in mind for Leigh's? 
We are fans of live music, and we have plans in place to expand and improve our venue to host music events on at least a monthly basis. We hope to install a high-quality sound system and a stage where the artist can perform in a professional, yet intimate setting for the community.
Our long-term plans include expanding our wine production and offerings and also adding some small plate items that pair nicely with our wines. As with most entrepreneurs, we have many other goals in mind, and they all fall in line with our mission of providing a unique experience in our community. 
Will the Schmidts still be involved in any way?
Leigh and Connie have become family and they will always be part of our winery. In the short term, Leigh will continue to be our mentor and consultant on winemaking for the next year or so.
What are you most looking forward to as you take on ownership of Leigh's?
We have been married for 27 years, and have five children and two grandkids so we have already accomplished so many things that we are proud of, but this is a new venture for us. It's a chapter filled with excitement, anticipation, nervousness, success, learning opportunities; all of which can be overwhelming at times. But we look forward to working together as a team on this new business opportunity and using our skill sets to continue to carry out Leigh's vision of having our winery become a staple in downtown Escanaba. A place where locals and tourists can have great conversations and laugh a little in our quaint setting.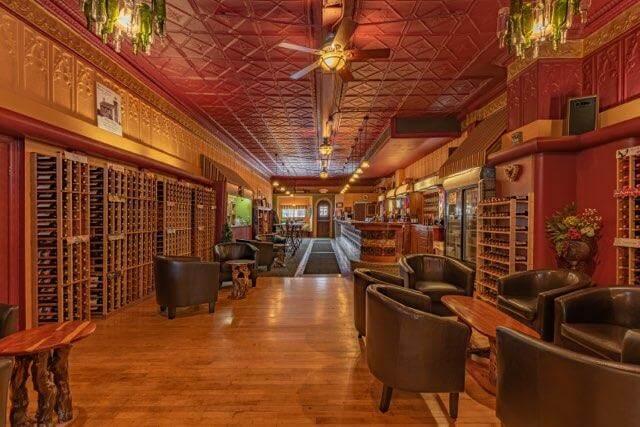 What are your hopes for the downtown Escanaba area? 
Our downtown area has a history of great, locally-owned businesses providing extremely friendly service and high-quality products to our local families along with the tourists that stay in town. We feel that continued downtown development is a key part of a strong community, and we are excited to now be a part of it.  
We see lots of progress happening already in developing the downtown area and we see the potential for much more. Downtown Escanaba is located within walking distance of the shores of Lake Michigan. We are centrally located between Marquette, Iron Mountain, Manistique and Menominee. Delta County, as a whole, has lots to offer. More shoreline than any other county in Michigan, great parks, beautiful campgrounds, awesome trails for any outdoor activity. We have word-class manufacturers, hospitals and educational institutions. With these wonderful assets, there is no reason why Escanaba's downtown can't thrive. We hope that our little business can help ensure that our downtown keeps moving forward towards a strong sustainable future.
Why do you encourage locals and tourists alike to visit your winery and tasting room?
We hope that anyone that walks through our doors immediately realizes that they are now part of the winery family. Our team will warmly welcome you and invite you to sample our wines.  You can belly up to the bar or sit down with your loved ones or even sit back and read a book.  Leigh's Garden Winery is our little sanctuary that allows everyone a little escape from the outside world.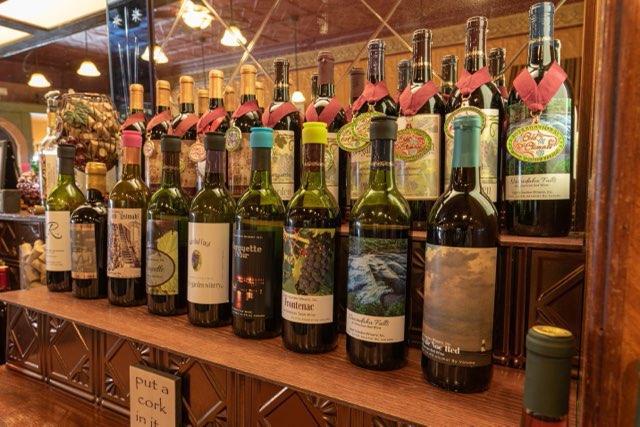 Visit Leigh's Garden Winery today and keep an eye on their Facebook page for announcements. Join us in raising a glass and toasting to the next chapter and many more!