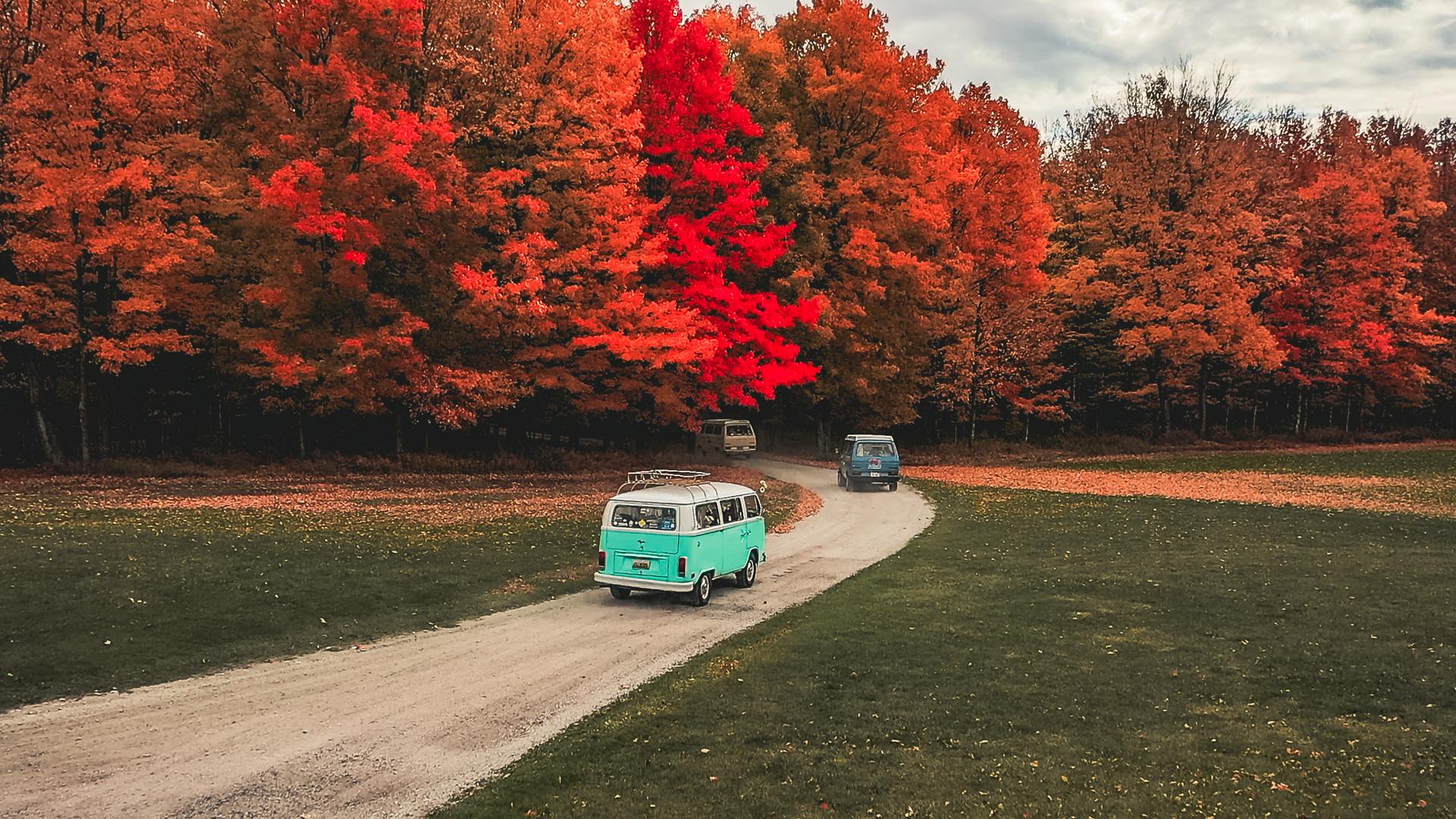 Exploring Delta County's Vibrant Autumn Fall
If the sight of the sun's gentle rays filtering through a dazzling canopy of red, green, orange, yellow, and brown leaves ignites your sense of wonder, then it's time to plan your visit to the Escanaba area. From now until mid-October, you'll be treated to a captivating display of fall foliage that has earned the Upper Peninsula a well-deserved #2 ranking as a Fall Foliage Destination by USA Today readers.It doesn't matter where you go around the Bays de Noc, you will see fall color that will stop you in your tracks to take in the view or shoot more photos.
A Tapestry of Color Across Bays de Noc
With the sun rising a bit later in the morning during this season, you have the perfect opportunity to savor a leisurely breakfast at one of the area's beloved restaurants like Drifters, Rosie's, or Jack's. It's the ideal start to a day filled with adventure and the promise of experiencing the rich tapestry of autumnal colors that nature has painted for us.
This fall tour will take you on a captivating journey through Delta County, offering a blend of scenic beauty, outdoor activities, and a delightful dinner stop. So, let's embark on this unforgettable day, beginning our tour in Rapid River and immersing ourselves in the breathtaking sights of fall in Delta County.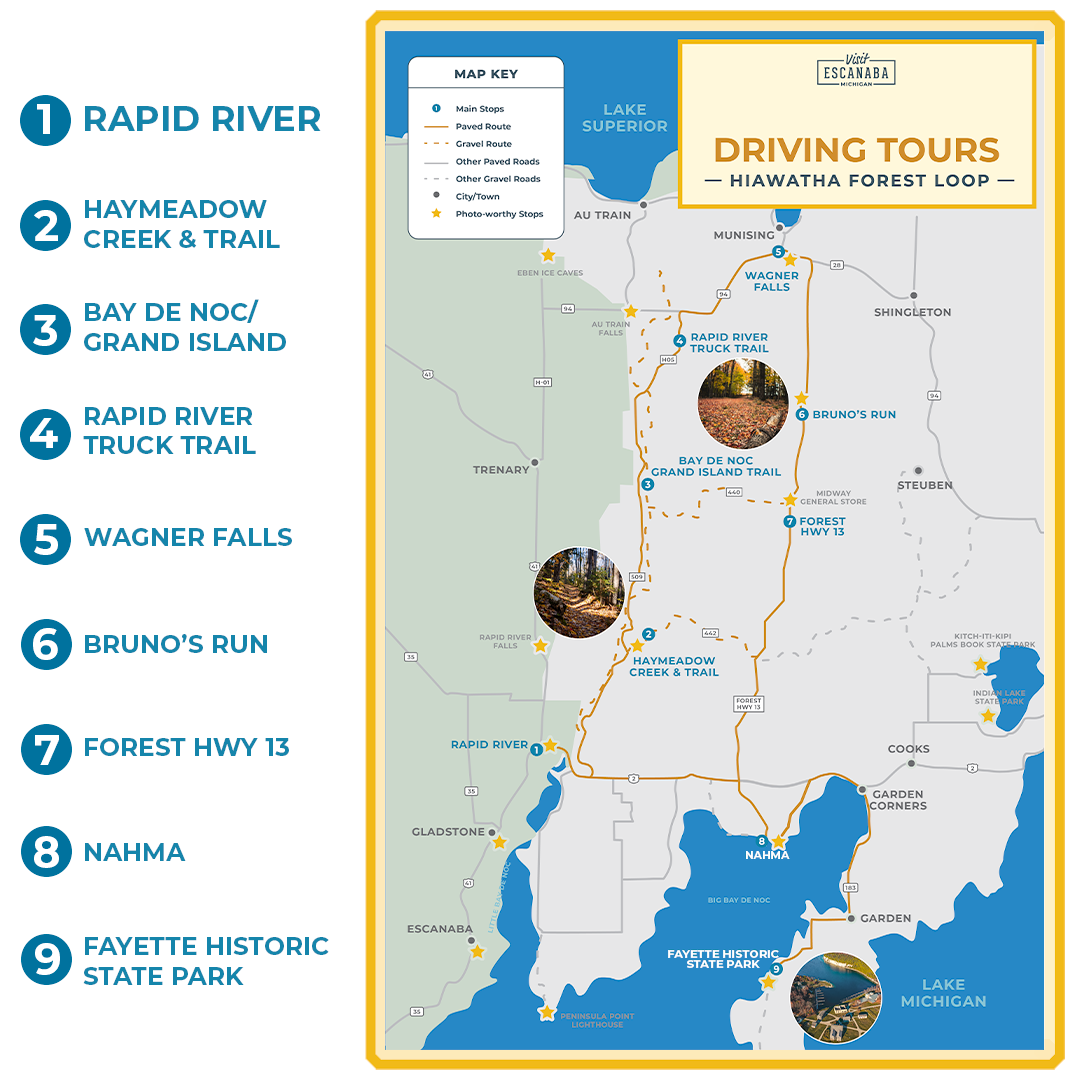 As you set out on this remarkable fall tour, the landscape unfolds like a vibrant tapestry as if painted by Mother Nature herself. Delta County boasts an impressive array of trees, each contributing its unique hues to the breathtaking autumn mosaic. Along the route, you'll be immersed in a world of colors that will leave you awe-inspired.
Maples in Their Majestic Glory:
The tour begins with the regal maples that grace the roadsides of Rapid River. Their fiery red and orange leaves create a striking contrast against the clear blue skies, providing a dramatic start to your journey. The rustling of leaves underfoot echoes the essence of fall.
Birch Trees: Nature's Silver
As you head north towards Haymeadow, the landscape transforms into a world of silver and gold. The paper birch trees, with their iconic white bark, shimmer like silver threads amidst the sea of green. These elegant trees cast a delicate charm over the surroundings, evoking a sense of serenity.
Canopy of Green: Haymeadow's Enchantment
Upon reaching Haymeadow, you'll be greeted by a lush canopy of green. The towering pines and evergreens stand in contrast to the changing foliage, their deep green boughs providing a sense of permanence amid the seasonal shift. The trail winds through this enchanting forest, offering a soothing retreat from the world's hustle and bustle.
Riverside Reverie: Bay de Noc's Tranquil Beauty
Continuing north to the Bay de Noc Grand Island Trail, you'll encounter the tranquil Whitefish River. This waterway meanders through a landscape adorned with jack pine, red pine, and aspen timber. The reflection of the trees in the clear waters creates a mirror-like effect, doubling the beauty that surrounds you. As you follow the trail, the river's presence accompanies you, lending a sense of calm to your journey.
Enchanted Forest: Rapid River Truck Trail
The Rapid River Truck Trail takes you on a journey through an enchanted forest. Tall hardwoods, including oaks and maples, stretch towards the sky, their leaves forming a kaleidoscope overhead. The rustling leaves and dappled sunlight create a mesmerizing atmosphere, inviting you to explore further.
Wagner Falls: Nature's Symphony
Your route leads you to Wagner Falls, a hidden gem in Delta County. Here, the landscape is adorned with towering hemlocks and pines, creating a serene backdrop to the waterfall's symphony. The cool mist from the cascading water and the rich aroma of the surrounding forest create a sensory experience you won't soon forget.
Bruno's Run: A Burst of Color
Heading south to Bruno's Run, you'll encounter a burst of fall color. The hardwoods that line the trail, including sugar maples and beech trees, offer a vibrant display of reds, oranges, and yellows. The trail's undulating terrain and meandering streams add to the sense of adventure.
Forest Highway 13: A Scenic Drive
Continuing south along Forest Highway 13, you'll be treated to a scenic drive through forests of oak, maple, and birch. The winding road offers panoramic views of the changing landscape, making it an ideal spot for a leisurely drive and frequent stops to appreciate the scenery.
Nahma's Serenity: Nature's Oasis
As you arrive in Nahma, you'll find yourself in a nature oasis. The town is nestled amidst the rich greenery of the forest, providing a tranquil setting to unwind and connect with the natural world. The shoreline offers glimpses of Big Bay de Noc, enhancing the sense of serenity.
Fayette: A Journey's End
Finally, your journey takes you around the peninsula to Fayette. Here, you'll discover the fascinating turn-of-the-century townsite overlooking Snail Shell Harbor. The historic townsite is surrounded by a forest of towering trees, including white pine and cedar, offering a glimpse into the past amidst the beauty of the present.
As you traverse this remarkable route, each tree and natural element you encounter contributes to the symphony of colors and textures that define Delta County's fall season. So, embark on this immersive journey and witness the magic of autumn in its full glory.
The best fall views are up close
While driving through the Escanaba area unveils the mesmerizing fall colors, stepping out of your vehicle and immersing yourself in the crisp autumn air is the ultimate way to experience this vibrant season. Nestled near the Bays de Noc, our region enjoys warm daytime temperatures and comfortably cool nights well into October. This creates the perfect backdrop for a range of outdoor adventures that beckon during this time of year:
Swing into Fall: With ten exceptional courses along the U.P.'s only Coastal Golf Trail, this is an opportune moment to indulge in a game of golf. Secure same-day tee times and tee off on fairways frequented by international players. The breathtaking scenery will be your constant companion, adding an extra layer of delight to your game.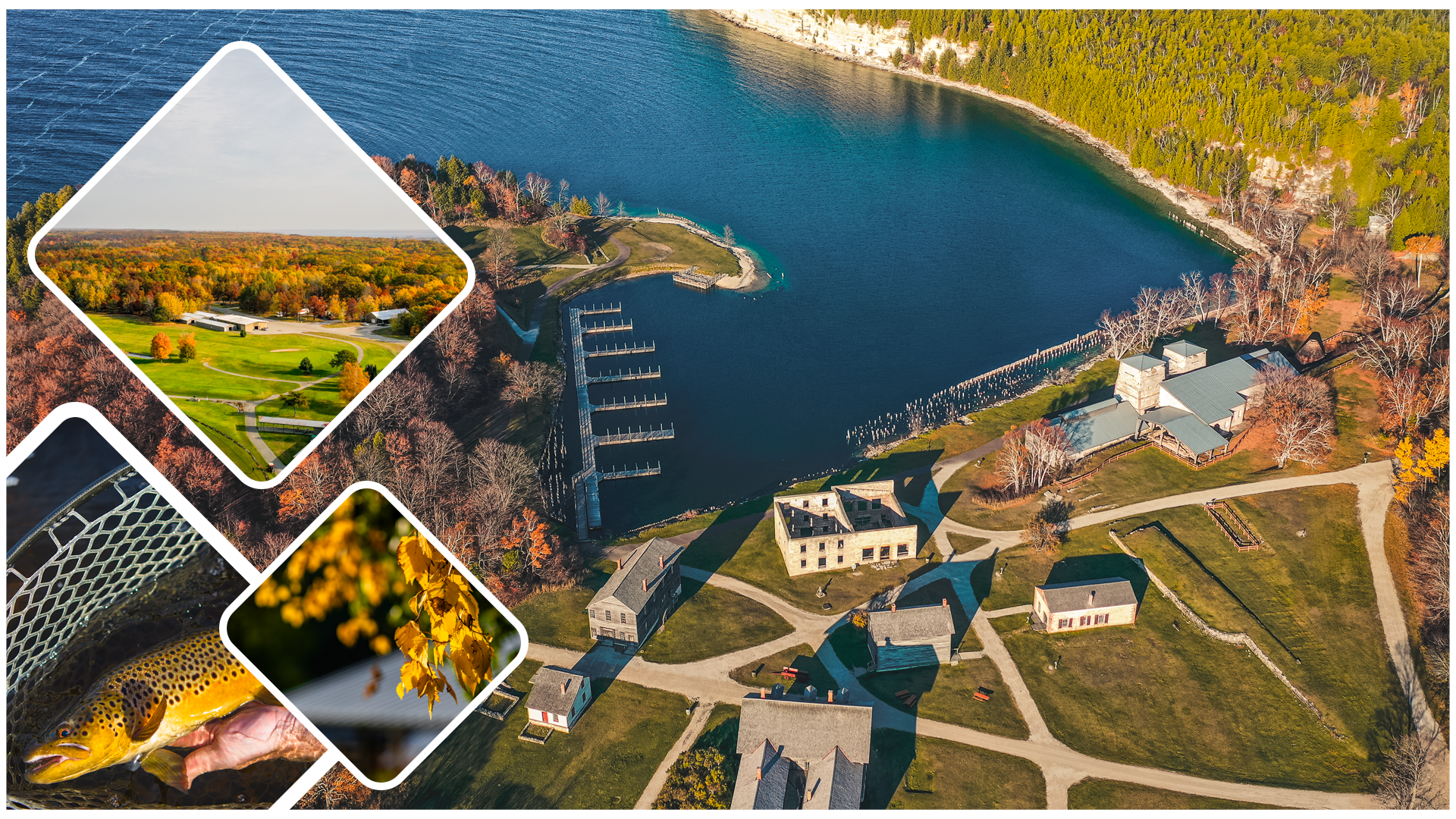 Traverse Scenic Trails: Lace up your hiking boots or hop on your bike and embark on an adventure along our picturesque trails. Whether you prefer a leisurely walk, an invigorating run, a scenic bike ride, or a horseback journey, our trails cater to all. Follow the gentle shoreline, conquer rolling hills, navigate steep slopes, and meander through lush woodlands and golden fields. It's an ideal escape, whether you seek personal solace or quality time with loved ones.
A Water's Edge Perspective: For a change of perspective, trade your road trips for aquatic escapades. Cruise, sail, or paddle your way through the serene waters of Snail Shell Harbor. As you glide along, the reflective surface mirrors the kaleidoscope of orange, yellow, and crimson hues. While you navigate, don't miss the opportunity to catch a glimpse of the historical Fayette State Historic Park, once a bustling iron-smelting boomtown.
Reel in Trophy Catches: Our meticulously managed waters have established the Bays de Noc as a premier destination for freshwater fishing enthusiasts. Sparkling streams, rivers, and inland lakes provide the ideal setting for landing impressive catches. Whether you're an avid angler or a novice, there are bragging rights waiting to be earned here.
Disc Golf Challenge: Test your skills on the disc golf courses scattered across the region, including North Bluff Disc Golf Course in Gladstone, one of the Midwest's largest. The best part? Many of these courses are budget-friendly, with three of them offering free play. Grab your discs and embrace the challenge amid the vibrant fall scenery.
Hunting Adventures: Delta County boasts a diverse habitat that beckons hunters with opportunities to pursue thrilling game species. From bears to birds, deer to waterfowl, our rich wildlife populations offer a fulfilling hunting experience without the need to venture to multiple U.P. destinations.
Paddle Through Scenic Beauty: Set out on a paddling adventure from sunrise to sunset. Whether you bring your kayak, canoe, or stand-up paddleboard or opt to rent one locally, you'll discover miles of pristine waters to explore. Traverse the expansive Big and Little Bays de Noc, navigate inland streams, meander along rivers, and embrace the tranquility of our lakes. It's a favorite fall pastime that promises picturesque moments at every turn.
Embrace the outdoors and make the most of this splendid season in the Escanaba area. Each activity invites you to immerse yourself in nature's fall symphony, creating cherished memories against a backdrop of autumn's vibrant canvas.
Fun (and ghostly) reasons to spend the weekend
Oct. 7th, Annual Fayette Fall Fest (campers only), 11 a.m.-2 p.m.
Fayette Historic State Park, Garden
Celebrate the 16th annual Fayette fall fest! Popular activities will return this year, and an agenda will be presented at registration. Past years have included a haunted trail walk, a hayride, campsite Halloween decorations, trick-or-treating and more family-fun activities!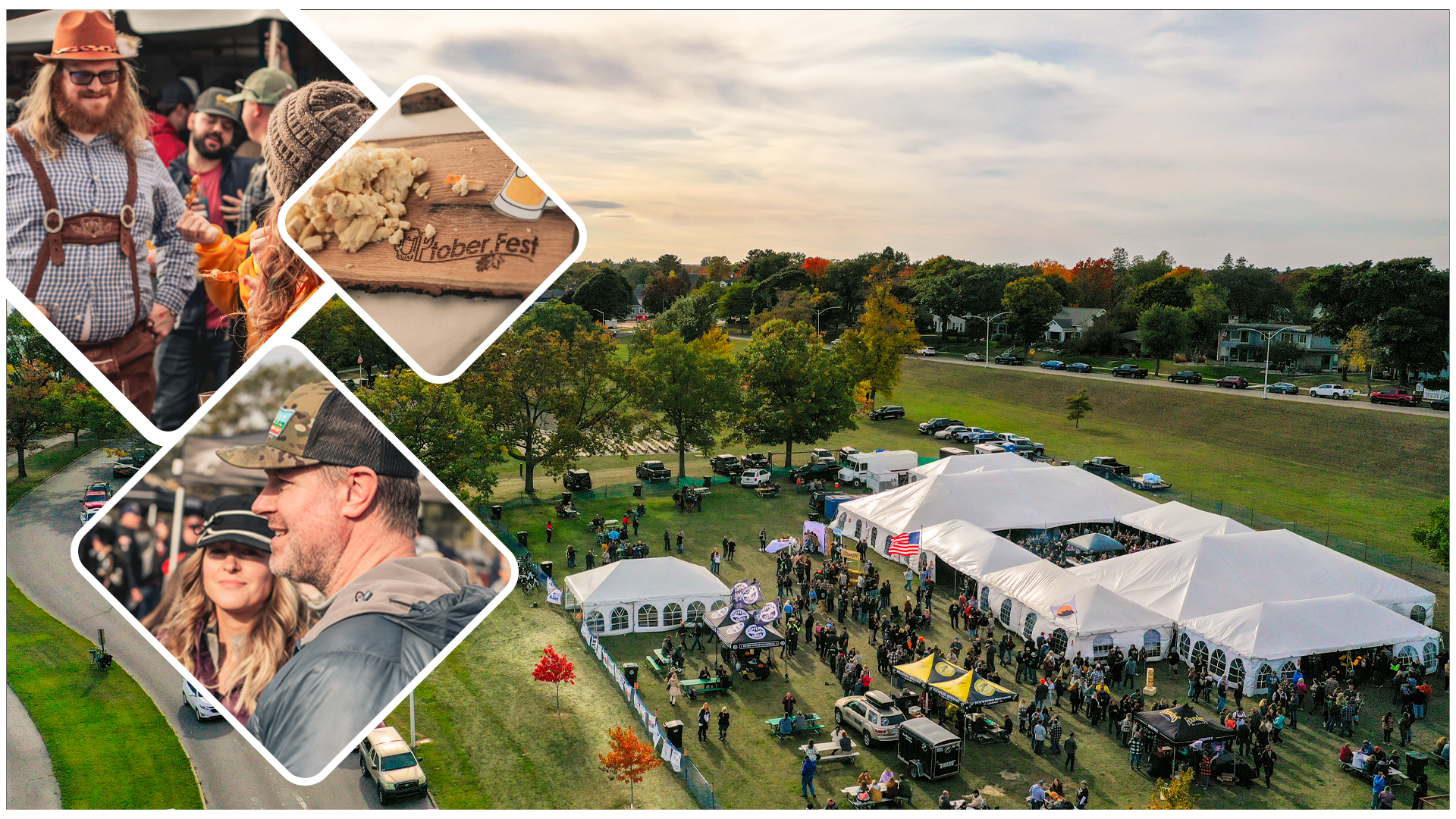 Oct. 14th, Annual UPtoberfest, 2-7 p.m.
Ludington Park, Escanaba
Join the festivities at the U.P.'s longest-running, largest beer and wine festival! This year, new vendors will be joining the list of local brewers and vintners. Watch fascinating brewing demonstrations, enjoy good company while playing games and snack on free hors d'oeuvres.