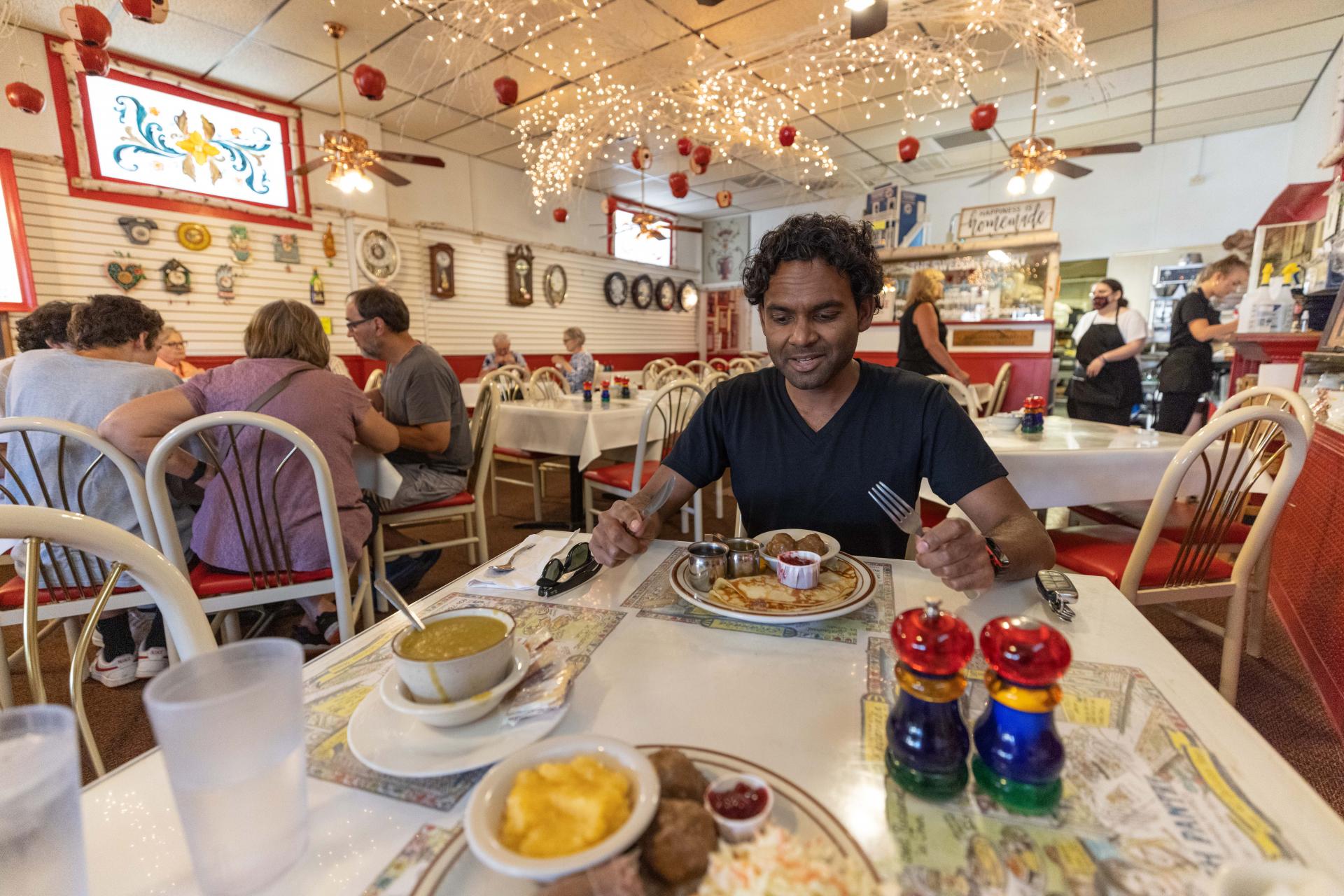 Start your day at the best breakfast places near Escanaba
With all the adventuring you will do in the Upper Peninsula, no day should start without breakfast. One way locals judge the quality of our breakfast places is by their frosting-slathered cinnamon rolls — the bigger the better! And while most of our places serve up traditional American fare, our chefs aren't afraid to give it a U.P. spin. So dip some Trenary Toast in a steaming cup of coffee or tea, bite into a flaky breakfast pasty, add lingonberries on top of your Swedish pancakes, or see how many vegetables, potatoes, meat and cheese we can stuff into a fluffy omelet with toasted homemade bread on the side. Mmmmmm.
Enjoy every forkful at friendly sit-down diners
You're on vacation. Relax. Enjoy a breakfast you never have time to fix at home. These diners will make this your favorite meal of the day!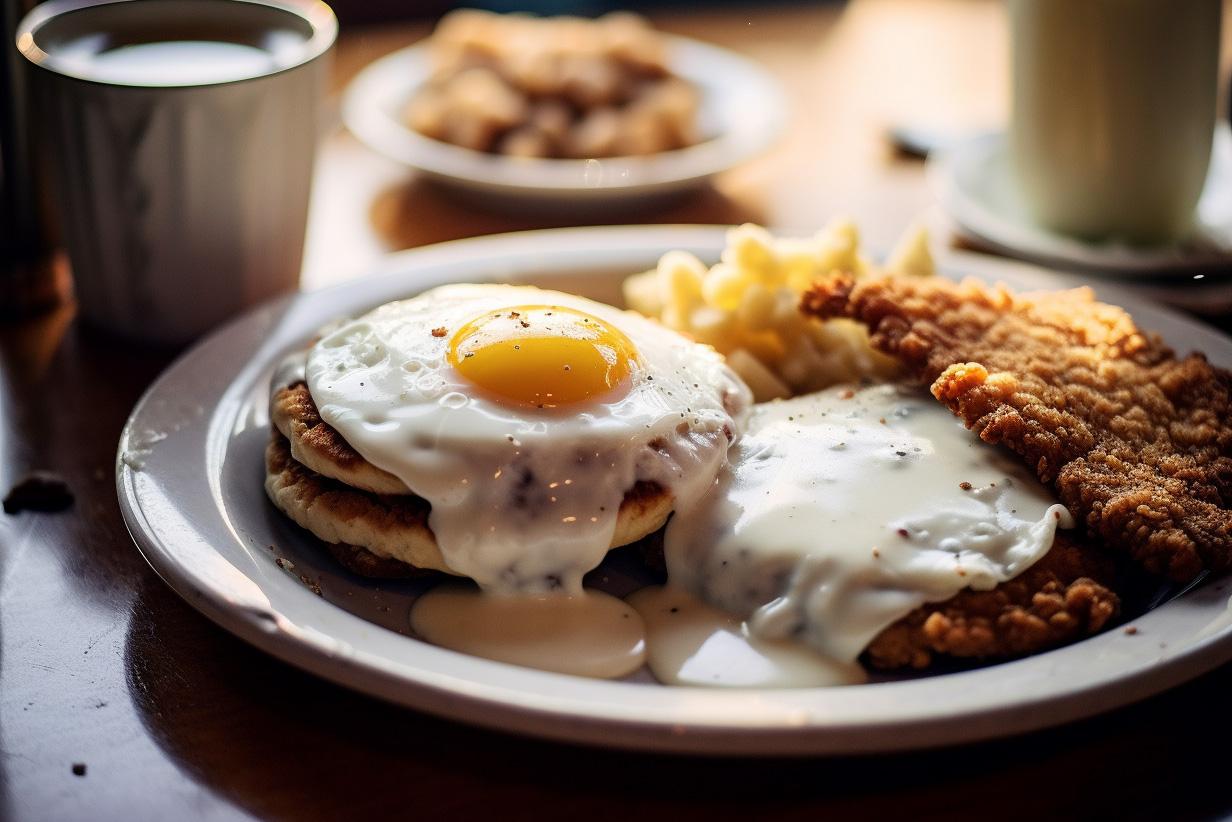 Andy's Downtown Diner, Escanaba | Wed.-Sunday, 8 a.m. to 2 p.m.
Brighten your morning with a variety of hearty omelets, egg platters, buttermilk pancakes, steel-cut oatmeal, corned beef hash and other breakfast favorites.
The Buck Inn, Wells | Saturday & Sunday, 8 a.m. to 2 p.m.
This breakfast-only/weekend-only destination is between Gladstone and Escanaba. It not only serves biscuits and gravy, pancakes, French toast, omelets, breakfast burritos and UP North Roast Premium Coffee — it's your place to order a mimosa, Bloody Mary or one of the 19 cold beers on tap, too.
The Dewdrop Family Restaurant, Gladstone | Daily, 8 a.m. to 9 p.m.
You can order breakfast all day. Choose from their signature, pillowy waffles to omelets, skillets, classic egg plates and griddle choices.
Drifter's Family Restaurant, Escanaba | Daily, 7 a.m. to 3 p.m.
Make this a stop as you search for the best cinnamon rolls around the Bays de Noc. Their extensive menu includes country-fried steak and eggs, waffles, pancakes, French toast and specialty omelets.
The Family Inn, Wells | Daily, 6 a.m. to 8 p.m.
Try the frosted cinnamon roll at this affordable, family-owned restaurant between Gladstone and Escanaba. Five different breakfast specials are offered Monday through Friday, 6 a.m. to 11 a.m. Whether you eat light or hearty, you'll find delicious choices including their talk-of-the-town Breakfast BLT.
Jack's, Rapid River | Daily, 7 a.m. to 9 p.m.
One bite and you will see why their decadent cinnamon rolls are famous in the U.P. and beyond! Come on Sunday, and add a pecan roll to your plate, too. Choose from skillets, "The Legend" country fried steak, omelets, northern eggs benedict or even a bowl of cream of wheat.
Rosy's Diner, Escanaba | Thursdays-Tuesdays, 6 a.m. to 1 p.m.
If you are hunting for a giant cinnamon roll, come to this salt-of-the-earth diner. Breakfast is served anytime, including skillets, breakfast sandwiches, omelets, traditional breakfast plates and pancake options.
Swedish Pantry, Escanaba | Daily, 8 a.m. to 5:30 p.m.
Walk through the doors and we dare you not to stay when you breathe in the sweet-and-savory aromas. You can do takeout from the bakery and head to nearby Ludington Park. Or stay for their homemade Swedish pancakes, potato pancakes with applesauce or sour cream, simple breakfasts and omelets.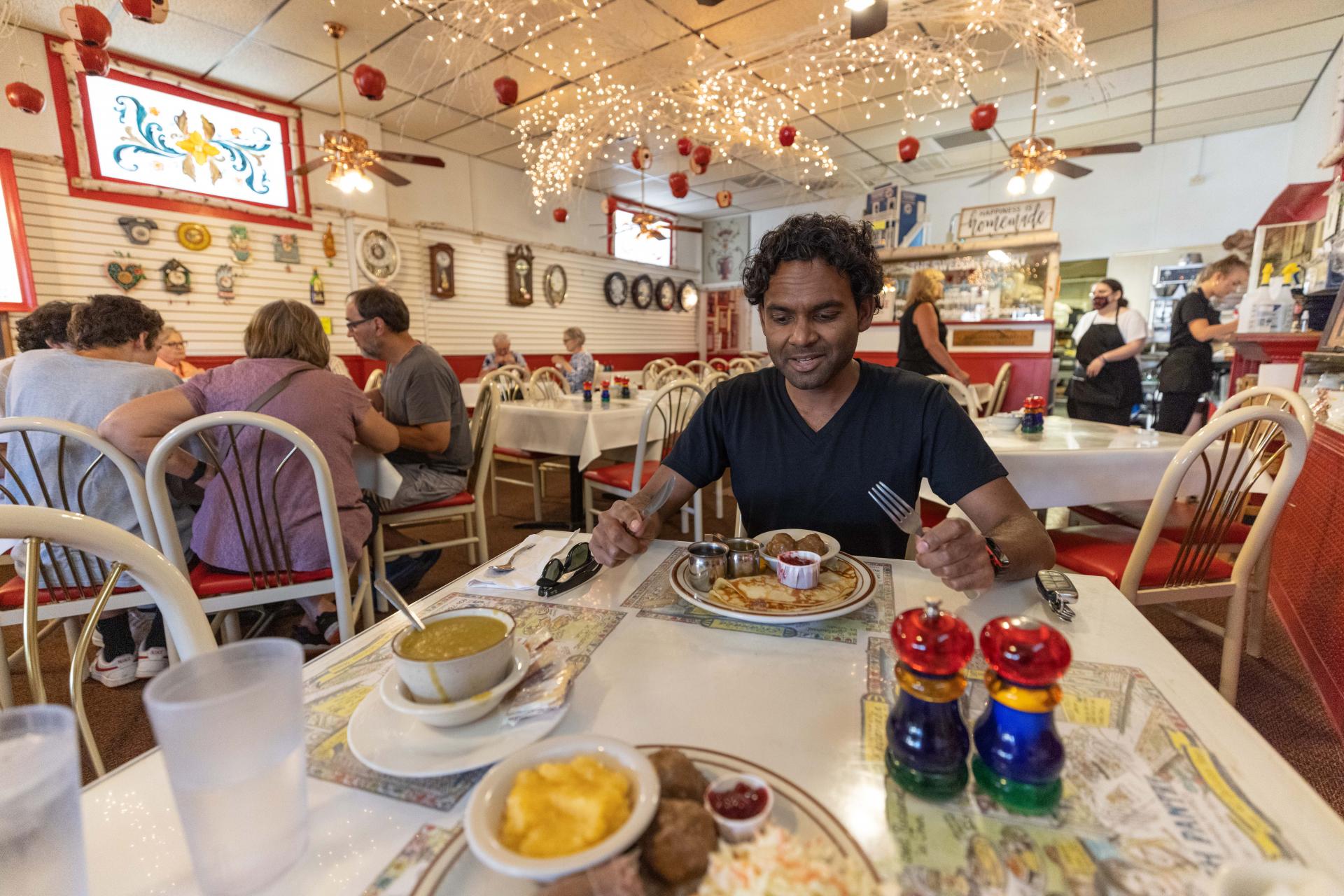 Don't skip breakfast. Grab-n-go from here.
Whether you are heading to the beach — or on a day trip to one of the U.P.'s most popular attractions — don't leave before grabbing your favorite morning beverage and breakfast. The places below specialize in flavorful, fresh-brewed coffee, easy-to-eat pastries, top-rated breakfast sandwiches and cheerful, friendly smiles.
Dobber's Pasties, Escanaba | Daily, 7 a.m. to 8 p.m.
This pasty shop has been serving arguably some of the best U.P. handheld pies since 1975. Start your day with a "Yooper Omelet" — a 9 oz. combination of scrambled eggs, potatoes, cheddar cheese, seasoned pork sausage, onions, salt and pepper. Local tip: add a mini-bottle of ketchup to your order.
Donut Connection, Escanaba | Daily, 5 a.m. to 8:30 p.m.
Sun's up, they're up serving a wide selection of fresh-made donuts and muffins. Many locals claim this is the BEST coffee around. Great stop for early-morning anglers.
Express Coffee Co., Escanaba | Monday-Friday, 6:30 a.m. to 5:30 p.m.; Saturday, 8 a.m. to 2 p.m. | Closed Sunday
Serving your favorite coffees, lattes, expresso, teas, slushies, lotus drinks and some of the best grab-n-go breakfast bagel and croissant sandwiches for miles around.
For the Love of Cupcakes, Escanaba | Tues-Fri, 11 a.m. to 4 p.m.
Who says cupcakes, cookies and tarts are for dessert only? You don't have to be an early bird to enjoy these late-morning sweets with a cup of coffee.
Gram's Pasties, Escanaba | Mon.-Fri., 9 a.m. to 6:30 p.m.; Sat., 10 a.m. to 5 p.m.; Sun., 11 a.m. to 3 p.m.
This breakfast stop boasts serving the best pasties in da U.P. Their breakfast pasty is a good fill-er-UPper to kick off for your road adventure.
Jo to Go, Escanaba | Mon.-Fri., 6:30 a.m. to 5:30 p.m.; Sat. & Sun., 7 a.m. to 4 p.m.
This is the area's drive-through-only coffee source. What's your rise-and-shine preference? Daily brews, lattes, expresso, cappuccino, chai, teas, mochas, iced coffee, slushies, lemonade, steamer, hot chocolate or hot cider are ready to greet your day. Add delicious breakfast bagel sandwiches, scones, bagels, muffins or a bowl of oatmeal (the barista knows daily flavors).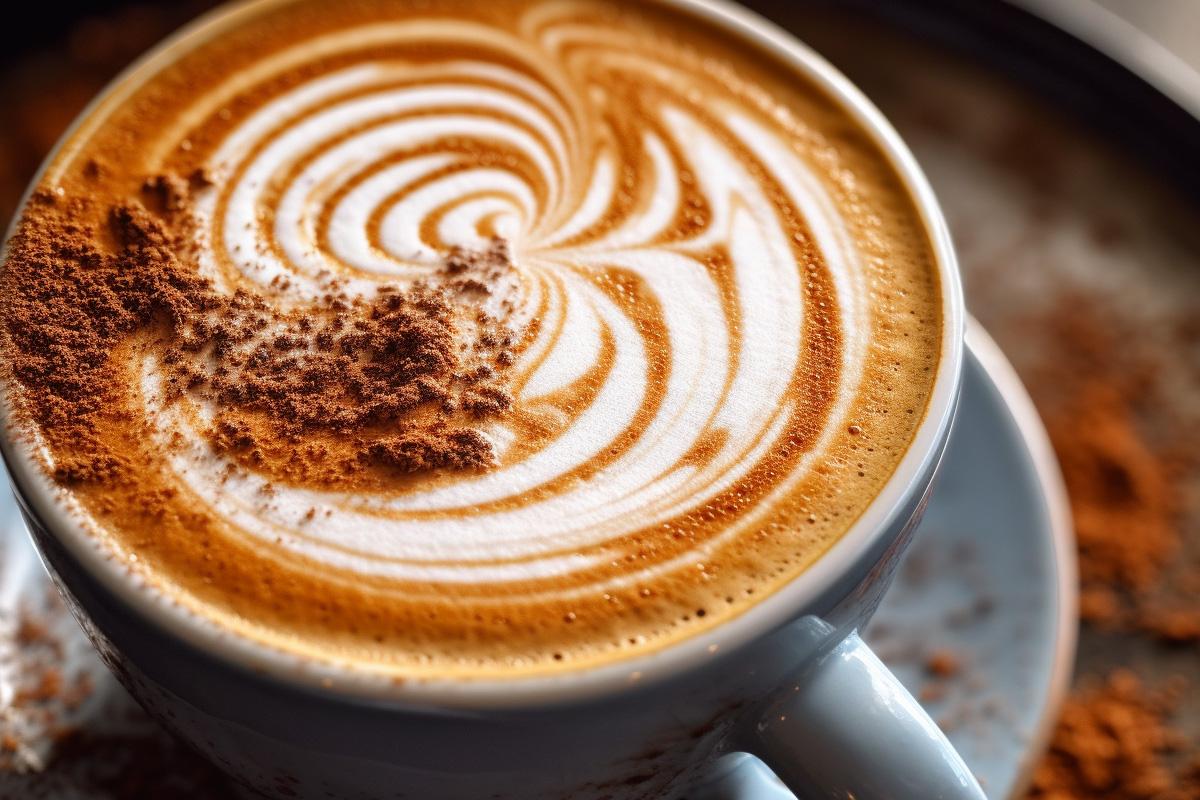 Wake up to breakfast in Escanaba!
Spend the night at one of our amenity-filled lodgings, then rise and shine to a delicious breakfast at a nearby diner or grab-n-go coffee shop. Tag us in your breakfast pics (especially those mouthwatering cinnamon rolls) with #visitescanaba so we can see why breakfast is the best meal of the day.