Winter Silent Sports
Trails blanketed with freshly fallen snow. The whisper of a breeze through tall pine trees. The rhythmic slap-slap of skis sliding along the track. This is the calming aura of winter when you play outside in the Escanaba area. For some tips on a winter visit, check out how Tia Derflinger spent her time.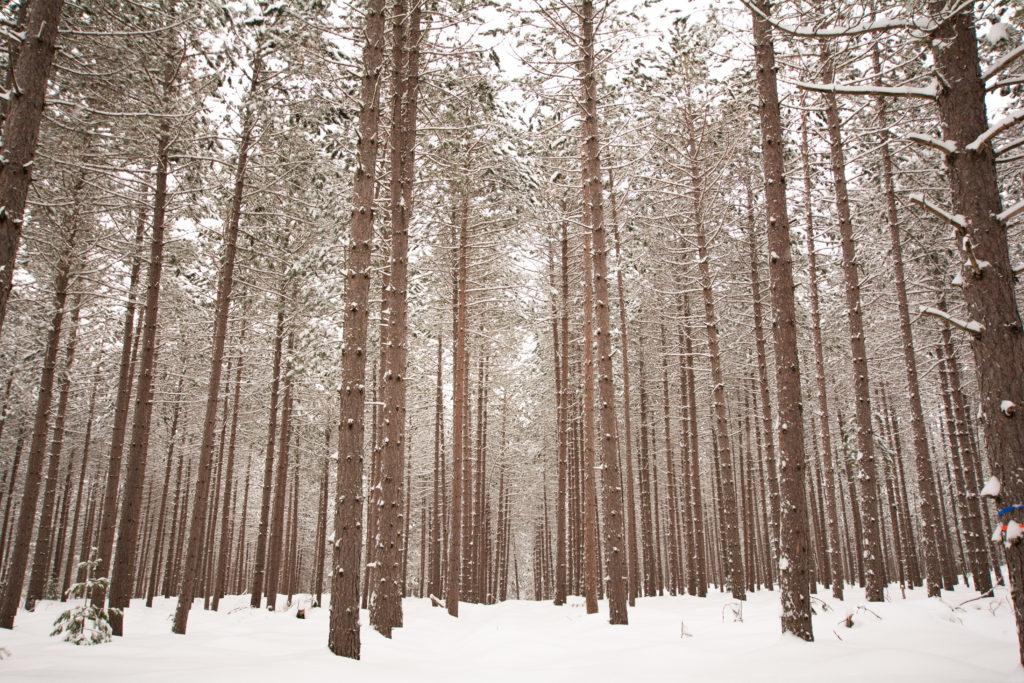 Photo: @midwestgirladventures
CROSS-COUNTRY SKIING, HIKING, AND SNOWSHOEING TRAILS
Our region offers trails for the beginner to the experienced silent sports enthusiast. All are located within a few minutes' drive of lodgings and places to eat, catch a brew or warm up by the fire. Trailhead parking lots are typically empty, and you will rarely come across others on the trail. Yet none are so isolated that you will feel uneasy venturing out on new routes.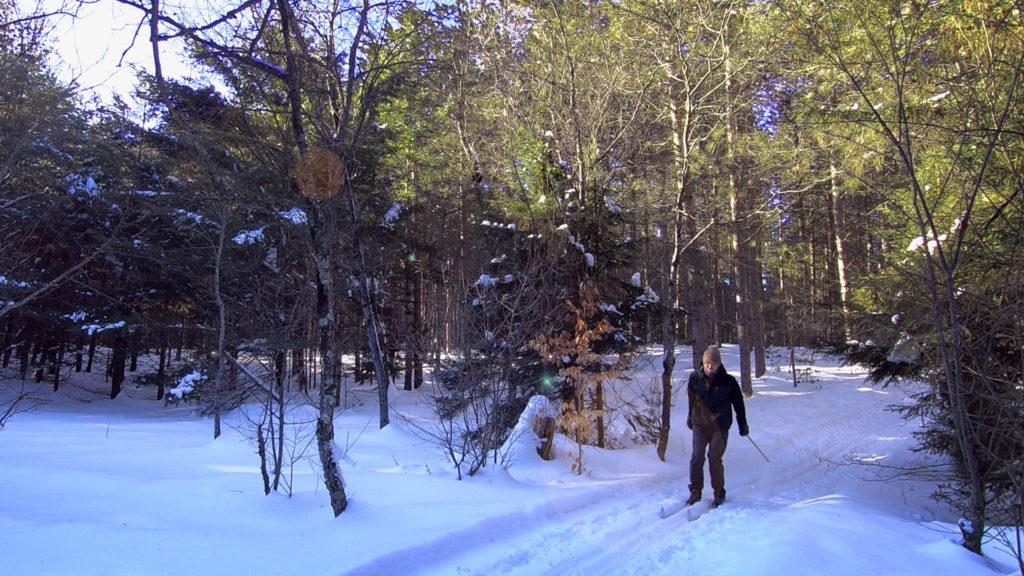 No trail permit needed.
The trails listed below are maintained by federal, state or local agencies and do not require a trail permit. However, we do post donation boxes at the trailhead if you can help defray the cost of trail maintenance.
TRAIL GUIDELINES
Everyone: Give the right-away to faster skiers, snowshoers and hikers. Pack out your garbage. Stop in safe places far enough off the trail not to interfere with oncoming people.
Cross-country skiers: If you fall, take time to fill in your dents along the tracks.
Snowshoers & Hikers: You are welcome to snowshoe and hike anywhere on federal, state and local land that is open to the public. If you are using trails groomed for cross-country skiing, please walk next to the ski tracks.
ENJOY THESE WINTER WONDERLAND TRAILS
Days River Trail, maintained by the Michigan Department of Natural Resources, is a local favorite. Located off U.S. 2 on Days River Road (approximately 3 miles south of Rapid River), this route offers several loops with trail lengths ranging from one to eight miles. It also provides a groomed skate skiing track. There are a few challenging hills along the longer routes. Snowshoeing is possible alongside some of the routes although many are narrow and you can easily damage the groomed ski tracks.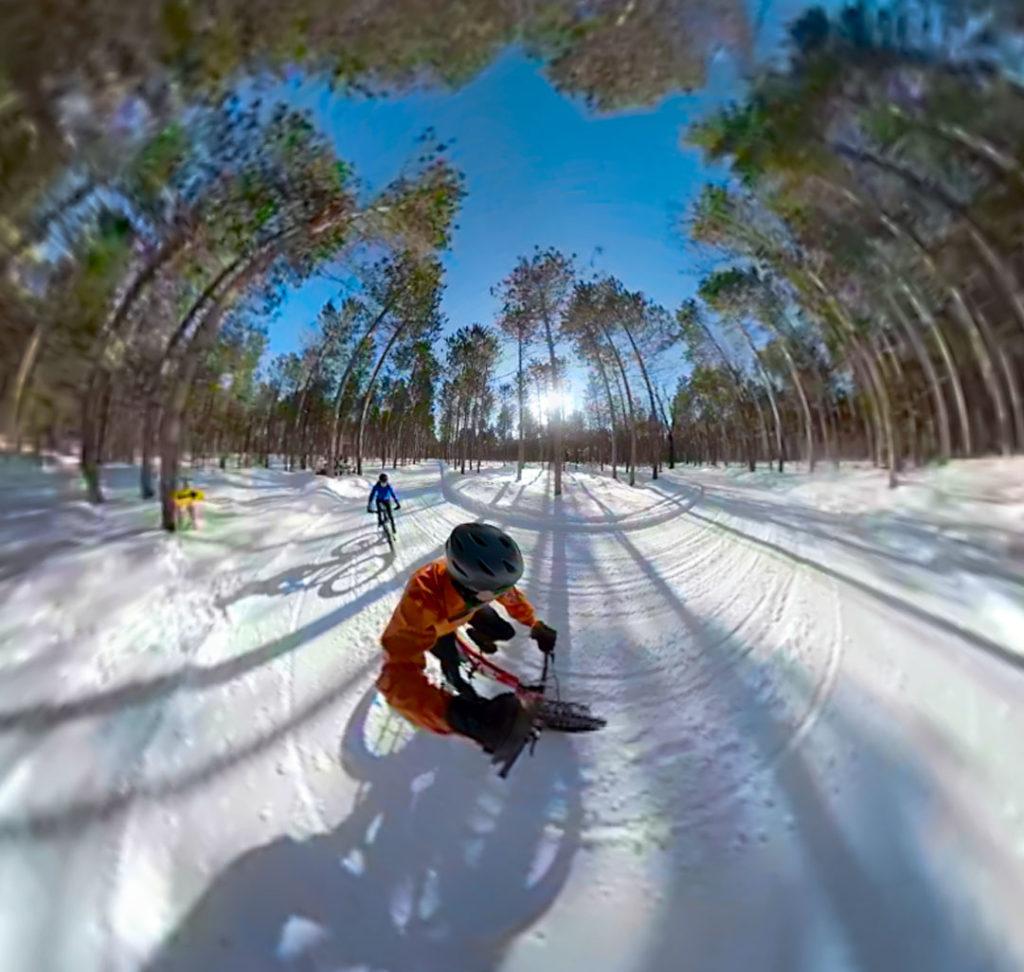 Escanaba West Side Recreation Area offers nearly 7 miles (6 loops) of groomed trails for skiing and snowshoeing. This gorgeous trail is located between US 2-41 and North 3oth Street in Escanaba. The trailhead at North 30th Street (off the Comfort Suites parking lot) has information about the trail. Skiers are also welcome to utilize the pathway in Ludington Park which loops around the outer perimeter. If you are looking for free snowshoe rentals and more information about the Escanaba trail system, call the Civic Center at (906)786-4141.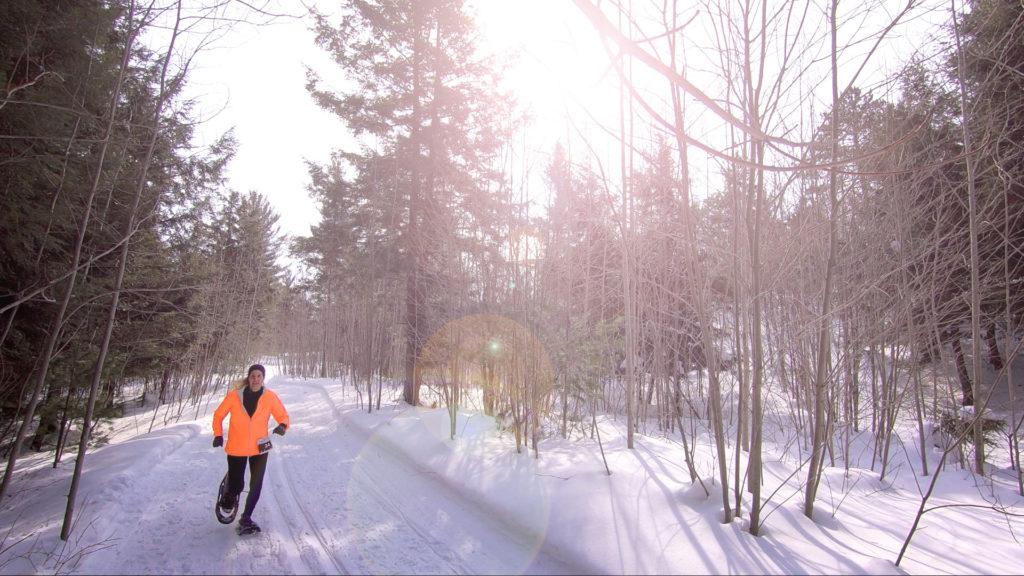 Escanaba to Hermansville Rail Trail starts near the U.P. State Fairgrounds in Escanaba and follows the former Soo Line Railroad line for 25 miles to Hermansville. It's heavily wooded and offers three scenic bridge overlooks.
Fayette Historic State Park is one of our area's most unique silent sports destinations. This park contains a historic townsite and is located on M-183 on the Garden Peninsula, 17 miles south of US 2. Snowshoes make it easy to maneuver around the historic buildings and kilns that were part of an iron-smelting operation. A five-mile cross-country ski trail is available, including a 1.5-mile trail along the bluff that gives breathtaking views of Lake Michigan and the white cliffs towering above Snail Harbor. An annual Recreation Passport or day pass is required to enter the park. On your return trip north on M-183, stop in Garden for a meal or hot cup of coffee or chocolate at one of the restaurants.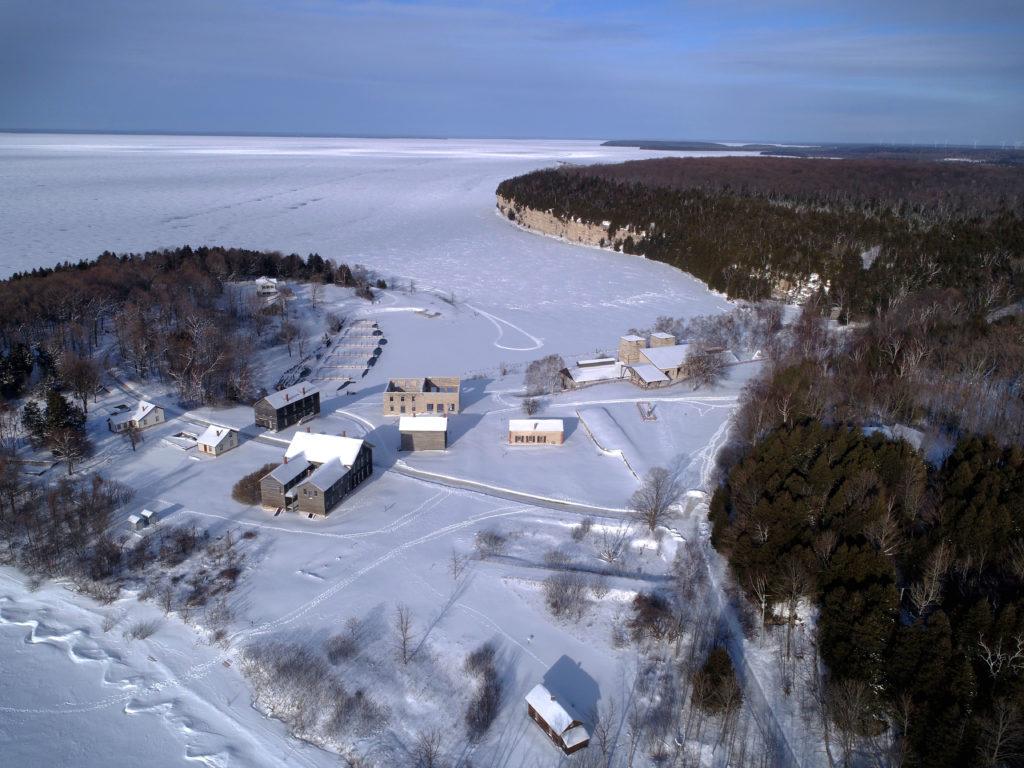 Bay de Noc Grand Island National Recreation Trail allows portions along its 40-miles for cross-country skiing and snowshoeing adventure! The trail parallels the White Fish River and extends from Rapid River to Ackerman Lake in Alger County. The southern access point is located off County Road 509, 2 miles east of the village of Rapid River.
Rapid River Ski Trail is considered one of the longest, most beautiful and challenging trails in the Upper Peninsula. It is part of the Hiawatha National Forest and is maintained by the U.S. Forest Service. You can access it on U.S. Hwy 41, 6 miles north of Rapid River. This site provides a handicapped accessible toilet.
Don't be deterred by the sign at the start of the 10-mile loop that warns that it is for the most experienced skiers. The remaining four loops offer some of the most scenic skiing in the area and are rated from beginner to intermediate level. Two ski skating loops are also available.
Snowshoeing is an option along these trails. Stay updated on trail conditions with the Rapid River ski report.
Please check here whether the trails are currently open.
FAT TIRE BIKING TRAILS
One of the best winter workouts is riding fat tire or snow bikes down wintry trails. And one of the most scenic places to get your adrenaline pumping is right here. All you need is a bike with wide tires (3.8 inches or wider). Drop the tire pressure and you'll float over the snow. Some describe this high-calorie burner (think 1,500 calories an hour) as a cross between riding a bike and a horse. A favorite place to ride is the Escanaba to Hermansville Rail Trail.
Where to get equipment
Whether you want to rent, replace or buy new equipment, these local shops are ready to help you. Visit them for your cross-country and downhill skiing, snowboarding, snowshoeing and fat tire biking needs. They are also great sources for trail advice:
Brampton Bike & Ski, Gladstone
Mr. Bike, Ski & Fitness, Escanaba
DOWNHILL SKIING, SNOWBOARDING, AND SNOW TUBING
John & Melissa Besse Sports Park in Gladstone is home to the Gladstone Ski Hill where you can downhill ski and snowboard Sunday, Monday, Thursday through Saturday plus go tubing on the weekends. The park and hill are located off of M-35 on North Bluff Drive.
Downhill Skiing & Snowboarding: Gladstone Ski Hill is a great place to learn how to ski or board as well as enjoy slopes with intermediate-level challenges. It has 3 rope tows and 1 wire tow plus snowmaking with power tilled grooming. The snowboard terrain park has a ½ pipe and lots of jumps. Daily rates: $12; lessons are available by reservation for $20/hour.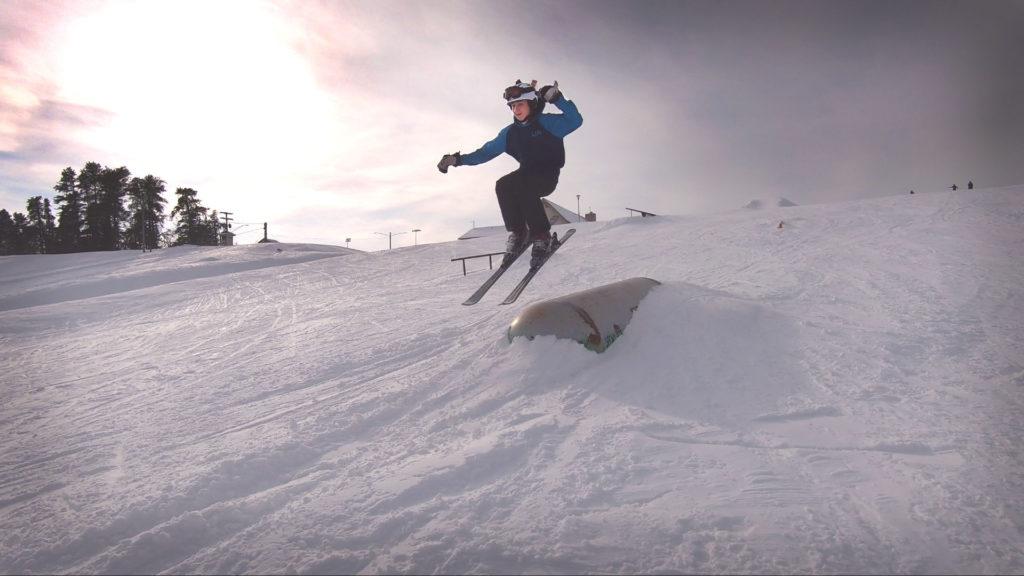 Snow Tubing: What a carefree, fun-filled way to spend time with family and friends! No amusement park ride matches the thrill of hurtling down our tube-only run on weekends. This is the only tubing hill in the U.P. with a return lift which means more time making runs and less time climbing. Rate: $10/per person for three hours, Saturday and Sunday only.
Tubing parties for youth and scouting groups, co-workers and organizations are also welcome before and after hours. Call 906-428-9130 to reserve your time and date.
Ski Chalet: Come in and warm up between runs. Concession stand serves a wide variety of food and beverages including homemade pizza, chicken and popcorn.
Ice Skating: Bring your skates to the park's beach house on Lakeshore Drive for free ice skating. The skating area is lighted, staffed and has a warming hut.
Where to get equipment
The Ski Chalet does not sell or rent equipment. However, these two local places can meet your needs:
Brampton Bike & Ski, Gladstone
Mr. Bike, Ski & Fitness, Escanaba
Keep current on Gladstone Ski Hill activities here