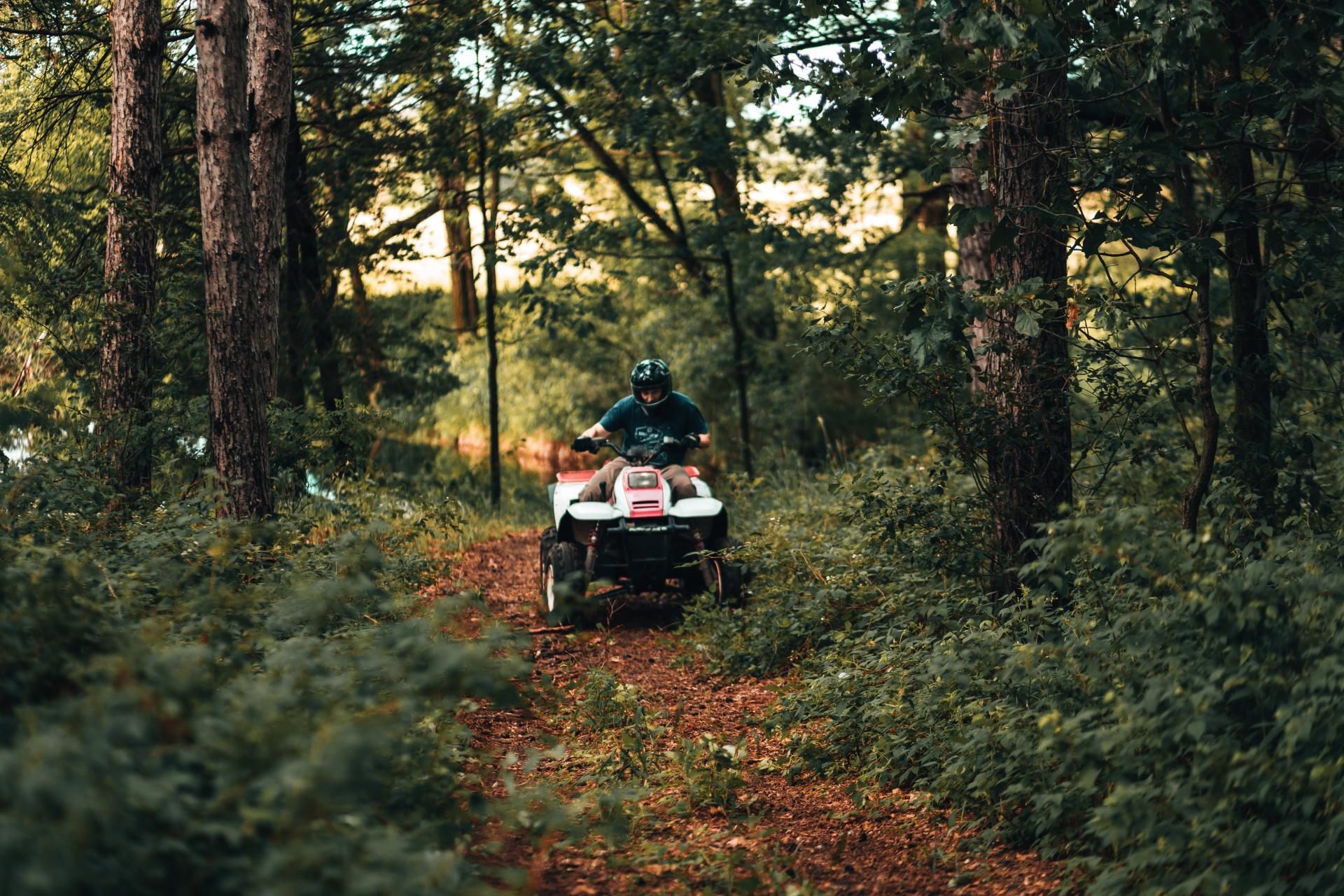 Discover the Best ATV Trails near Escanaba
Bring your ATV machine to the Escanaba area and prove what you .. and it's got. Our off-roading ATV and ORV  trails are your testing ground from spring snow-thaw to winter snowfall. Their wilderness terrains send you roaring on one open-throttle straightaway, hill climbing, water splashing, mud-slinging and scenery-wowing adventure after another. So, what are you waiting for? Rev your adrenaline machine engine and let it loose in Escanaba!    
Three things to know before you hit the trails
Purchase and carry a valid Michigan ORV license and permit
Michigan ORV licenses and permits are valid for one year from April 1 to March 31 of the following year. You need an ORV license to ride eligible county roads, state forest roads (open to ORV use), eligible national forest roads and the frozen surface of public waters.
An ORV permit is required when operating on state-designated ORV trails and scramble areas. 
Licenses and permits are not required to ride on private lands. 
Operators younger than 16 must complete an ORV safety course
ATV, ORV and UTV operators under the age of 16 must complete an approved ORV safety course and carry the certificate when riding on both public and private lands. When on the trails, these young people must always be under the supervision of an adult for their safety and the safety of others. 
Test Escanaba's thrilling trails for FREE twice a year 
Want to see why ATVers talk up our Escanaba-area trails? Find out on two FREE summer weekends when ORV licenses and permits are not needed whether or not you are a Michigan resident. Those weekends, you still have to follow the state's ORV rules and laws, but the mid-June and mid-August FREE weekends are a blast. 
Where to get ATVs/ORVs, parts, service and trail advice
Looking for parts, repair service or a new or pre-owned ATV/ORV while you are in the Escanaba area? These dealers are your go-tos. Not only do they pride themselves in carrying the freedom machines you love to ride and the parts that keep them running on our trails, but their staff love to ride, too. This means if you need off-road trail advice, these are your sources. 
Casey's Cycle & ATV Repair
816 18th St. N, Escanaba
906-359-4056
Cycle City, Inc.
6751 County 426 M.5 Road, Escanaba
906-786-5834 | Website
Race-Driven Powersports
1419 Ludington St., Escanaba
(906) 420-8009 | Website     
Ride-Again Salvage & Repair
6093 County 420 21st Road, Gladstone
906-420-8558          
Up and Running Powersports
1415 N Lincoln Road, Escanaba
906-555-7365 | Facebook
Best places to ride your ATV/ORV near Escanaba
You will find the terrain, adventure and closeness to nature you thrive on riding these six favorite trails near Escanaba and on these Department and Natural Resources designated ORV and motorcycle trails throughout the U.P.