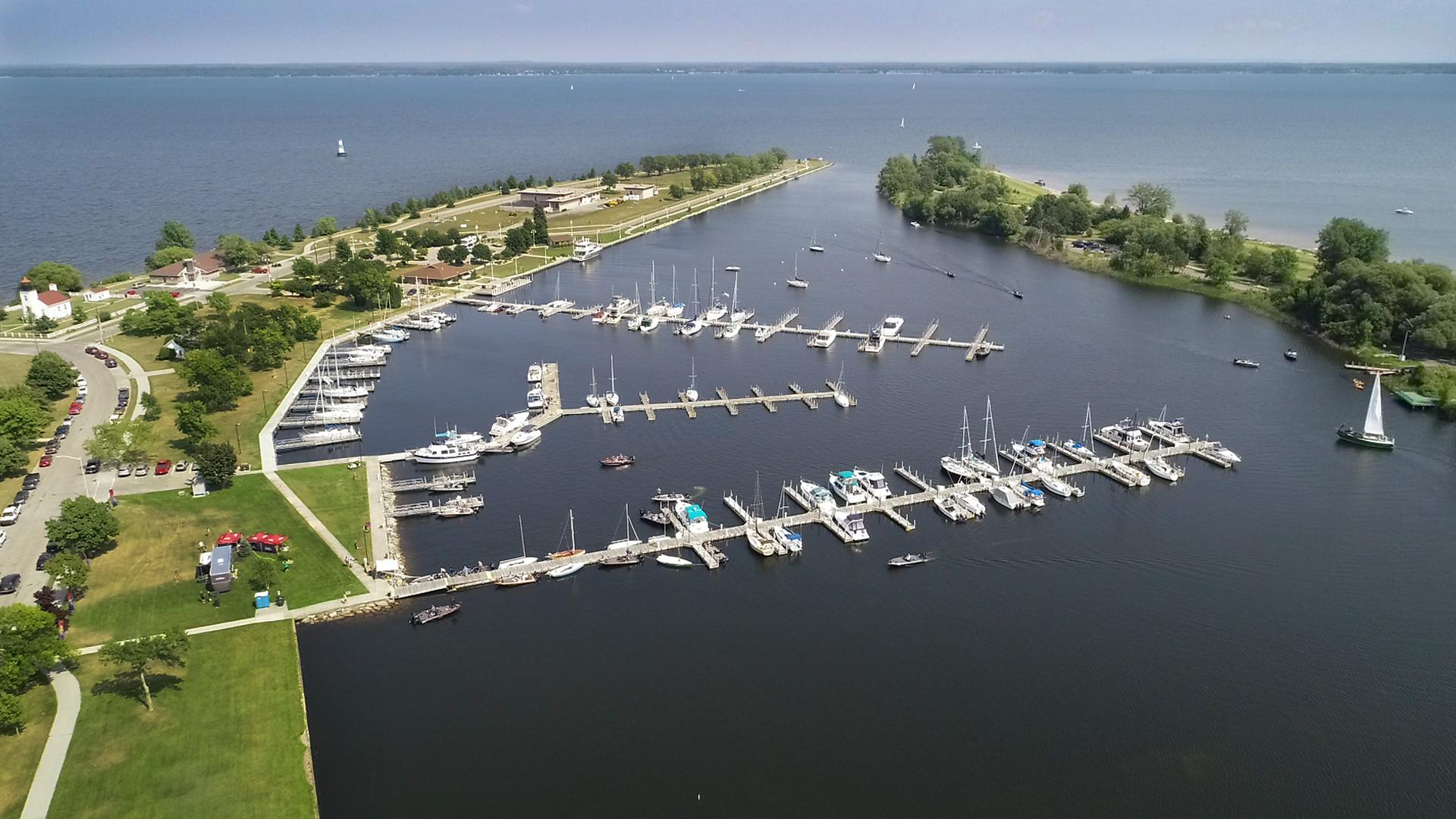 Bass Fishing
BASS FISHING
If there are one fish species that gets overlooked in the Bay de Noc area, it has to be the bass. Both largemouth and smallmouth bass exist in these waters. However, 90% of the population are smallmouth. Pound for pound, there's not much fish that fight harder than a massive smallie on the end of the line. Bass is not considered the best table fare, especially in waters that are chock full of tasty walleyes, so most of the bass fishing is catch and release. Because of this, there is an excellent population of bass in the bays that go untouched by most anglers. There is an early catch and release season at the beginning of May. The general open season starts the Saturday before Memorial Day every year. Chances are, you won't see too many boats plying the bays waters for bass; they just don't get the exposure that walleyes do. But that's a good thing for the few anglers targeting the high-flying, acrobatic, tackle-testing bronze-backs.
Where to Fish for Bass:
When the season starts, this species is often still spawning in area rivers, along rocky shorelines, and warmer bays. Some of the best areas on Little Bay to begin your fishing would be the West shoreline from Gladstone to the Terrace Bay Hotel. Here you will find shallow, gravelly areas, weed pockets, and reed beds. It's pretty much a smallmouth bass heaven. Another site that holds early-season smallies is the Escanaba River. Be careful when navigating the river; numerous logs and shallow regions exist. But, the rewards can be fantastic in the form of 2 to 4-pound smallies. Small spinnerbaits, shallow diving crankbaits, and lipless crankbaits all will work in the river. Another area that holds a ton of bass is the north end from Nelsons bay up into the Whitefish River. This area has shallow rocky areas, points, weed beds, and lots of woody coverage that bass love. This area produces fish all summer, with a fantastic early morning top-water bite in July and August. Once fall approaches, the bass start to congregate and school-up and begin to relocate to more sharp drop-offs throughout the bay. Lots of 5 to 6-pound smallies are caught during October and November by drifting red-tail chubs along with steep breaks or by pitching jigs tipped with minnows.
Over on Big Bay, there's almost too many good areas to list. Garden Bay always tosses out a ton of bass, as well as the Nahma area near the Sturgeon River. Two other good areas are the big and little hump in the center of the bay. These two rocky structures seem to get better in late summer and early fall. Casting shallow-diving crankbaits or tube jigs in crayfish colors or goby colors will catch fish that probably have never seen a bait before. The whole west shoreline from Ogontz Bay to Wilsey Bay holds smallies year-round. The water here is very clear, and the fish can be spooked in the shallow water. Long casts are a must, and it helps to use an electric motor to slowly maneuver in and around the many shallow bays. Look for shallow weed growth, deeper pockets, and dark bottomed areas, and you'll likely find smallies. On the Little Bay, fish congregate in the Fall and relate to steep break lines. Every Fall, someone gets a smallie over 7 pounds. while working these breaks. The east side of Big Bay, from the mouth of Garden Bay down to Fayette State Park, is a great place to look for a worthy wall mounted monster. Call the Garden Sport Shop for current conditions on Big Bay, and they'll point you in the right direction. If you've never tried the Bay de Noc area for bass, you're missing out on some awesome fishing. Good luck from all of us in the Bay de Noc area, we'll see you on the water!
LITTLE BAY DE NOC BOAT ACCESS:
RAPID RIVER:
Take me to Rapid River Boat Launch
GLADSTONE/KIPLING:
Take me to Gladstone Harbor Boat Launch
Take me to Kipling Boat Launch
ESCANABA:
Take me to Ludington Park Boat Launch
Take me to North Shore Boat Launch
FORD RIVER:
Take me to Ford River Boat Launch
BIG BAY DE NOC BOAT ACCESS:
GARDEN:
Before you head out on your adventure, check out the current weather.