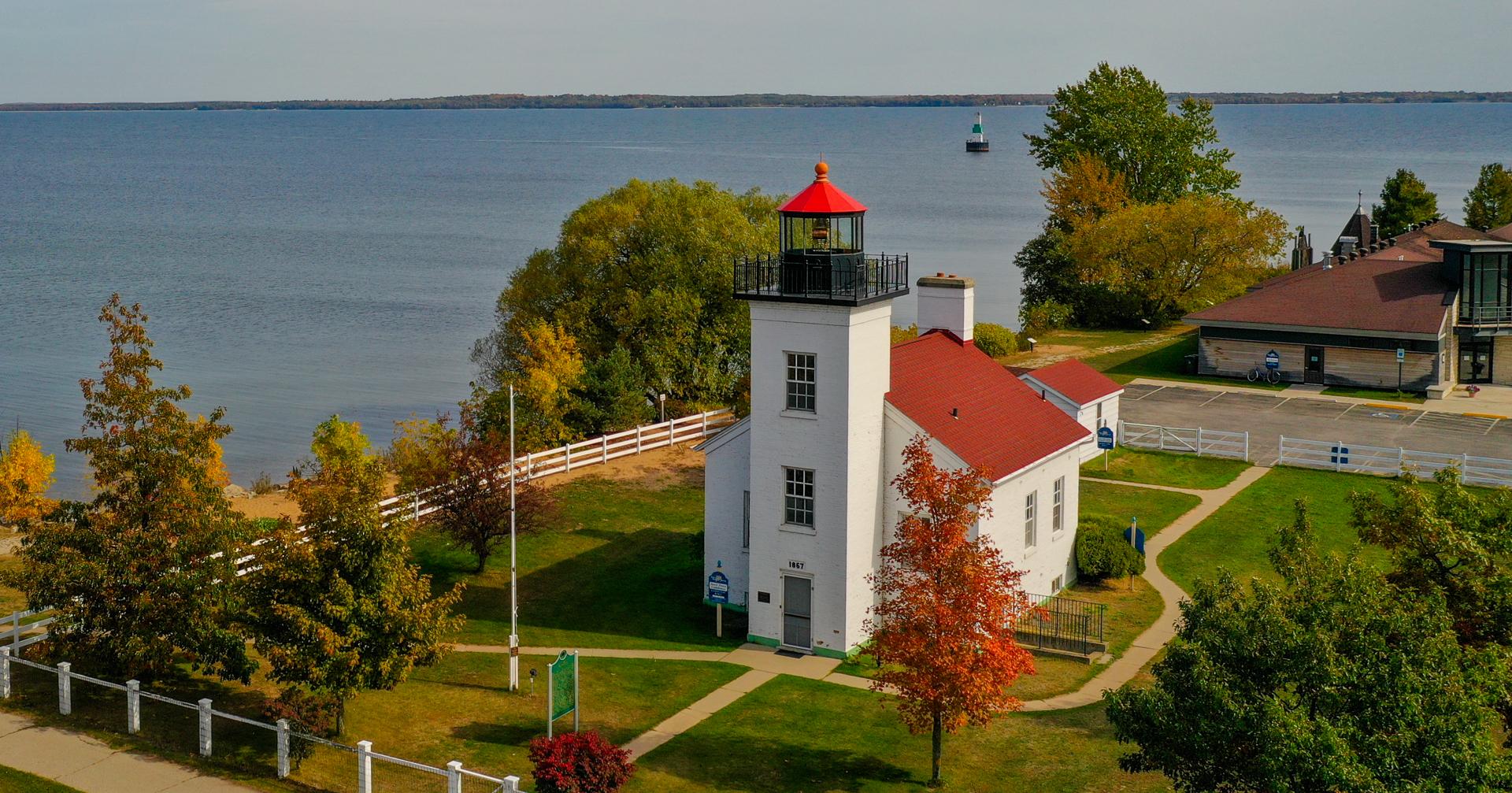 Lighthouses
LIGHT THE WAY
Discover Delta County's rich history and coastal charm through its enduring lighthouses. Standing strong on the Bays de Noc, Sand Point and Peninsula Point lighthouses have guided sailors to safety for generations. Explore the Gladstone Lighthouse (circa 2010), a functional navigation aid. Delve into maritime heritage, unique architecture, and the serene waterfront ambiance offered by these three beacons.
THE SAND POINT LIGHTHOUSE
Embark on a journey through time at Sand Point Lighthouse, where history unfolds against the backdrop of Escanaba's rapid growth after its 1863 inception. As a pivotal shipping port, Escanaba flourished, connecting to the Upper Peninsula's iron mines via the completed Peninsula Railroad in 1864. Iron ore docks flourished in the harbor, propelling iron shipments to Great Lakes steel mills, shaping Escanaba's prominent industry.
Take me to Sand Point Lighthouse!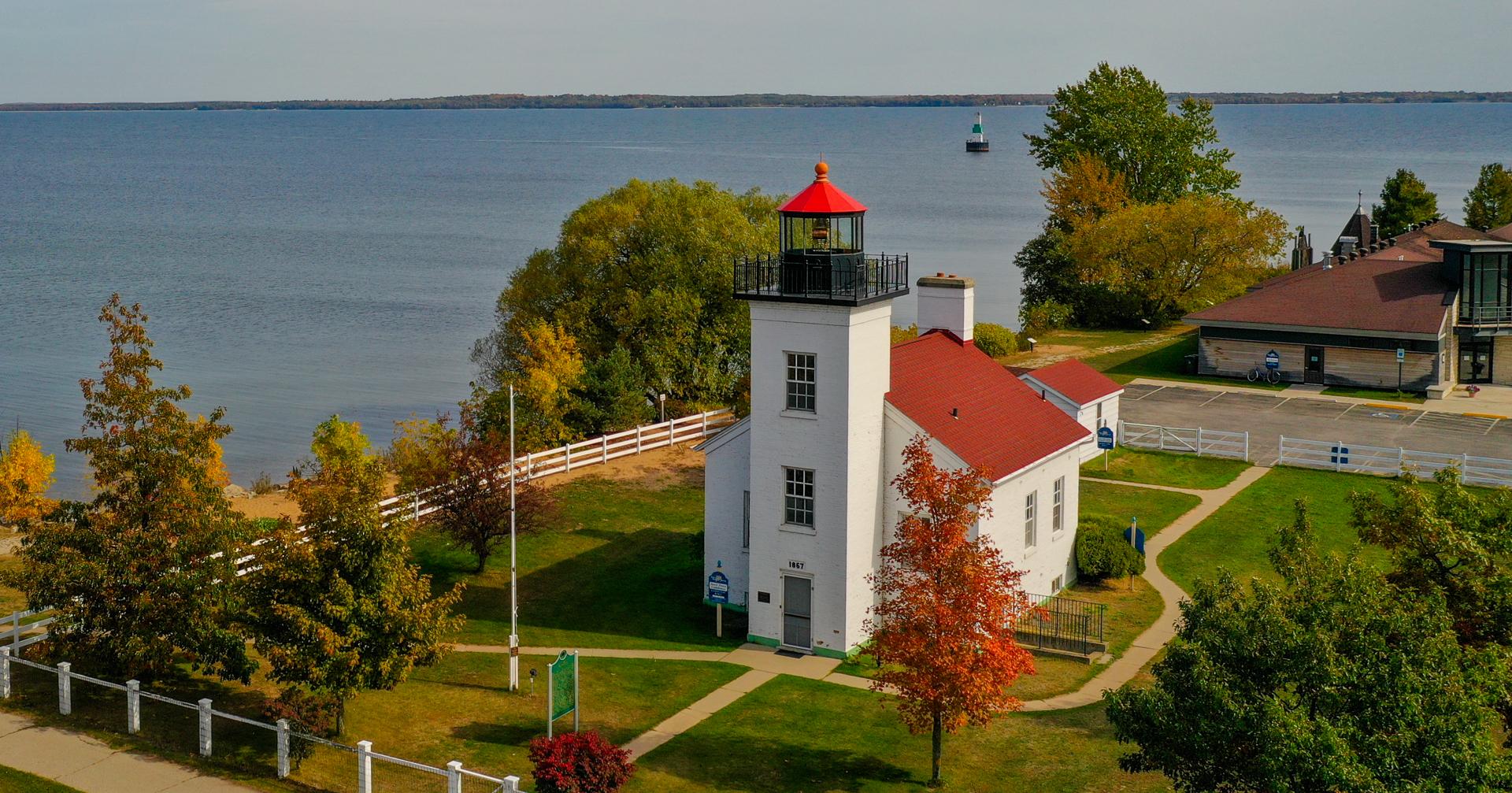 History
Amidst escalating shipping activity, the need for a guiding light became paramount. To ensure safe navigation and warn against treacherous sand shoals, the Sand Point Lighthouse emerged as a beacon of safety. Constructed with its tower facing land, the lighthouse, completed in 1868, continues to intrigue with its unique orientation—whether intentional or an engineering quirk remains a mystery.
Over the years, Sand Point Lighthouse witnessed transformation, from electrification in 1913 to Coast Guard occupancy in 1939. With its deactivation, the Coast Guard introduced alterations that changed its appearance remarkably. Transformed by the Delta County Historical Society in 1990, the lighthouse's restoration unveiled its original charm. Today, a visit offers a glimpse into history, allowing you to ascend the tower and relive the lightkeeper's era. A beacon on the National Register of Historical Places, Sand Point Lighthouse illuminates the past, captivating all who explore its enduring narrative.
Read more about the Sand Point Lighthouse at the Delta County Historical Society
PENINSULA POINT LIGHTHOUSE
Perched strategically on Michigan's Stonington Peninsula, the Peninsula Point Lighthouse played a pivotal role along shipping lanes connecting Escanaba and Gladstone. This beacon, operational from 1865 to 1934, stood as a vital guide for mariners navigating through hazardous shoals extending into Lake Michigan. With a dual purpose of marking a turning point and warding ships away from treacherous rocks and shallows, the lighthouse safeguarded vessels transporting goods like iron ore, fish, and lumber.
Initially envisioned in 1856, construction began after the Civil War in 1865. Serving as both a guardian and home, Peninsula Point Light witnessed a succession of keepers, including Captain James D. Armstrong from 1889 to 1931. In 1922, automation ushered in a new era, as an automatic acetylene light replaced the hand-operated oil lamp. The light's characteristic transitioned to a distinctive pattern of repeated flashes and eclipses.

In 1936, the light's chapter ended as Minneapolis Shoal Light Station took over its duties. Subsequently, the lighthouse found new purpose under the custodianship of the USDA-Forest Service. Though the house portion met a fiery fate in 1959, the tower endured, providing visitors access to its cast-iron lantern room via a spiral staircase. A testament to maritime history, the Peninsula Point Lighthouse stands as a symbol of navigation, perseverance, and community efforts to preserve its legacy.
Take me to Peninsula Point Lighthouse!
The rocky shoreline yields fossils estimated at 400-500 million years old. In the fall, thousands of monarch butterflies converge on the area to rest before their migration across Green Bay.
To reach the Peninsula Point Lighthouse and Picnic Area from Rapid River, go east on US-2 to the Stonington exit. Follow County Road 513 and Forest Road 2204 for 19 miles to the parking lot. The last mile of road is not recommended for recreational vehicles or trailers over 16 feet long or 8 feet high. A parking area for RVs is available at the beginning of the narrow, winding last mile of road.
Picnic Grounds
The USDA Forest Service operates the grounds as a picnic area, with tables and grills on the lawns surrounding the tower. Pit toilets are available, as well as drinking water.
Information courtesy of the USDA Forest Service
GLADSTONE LIGHTHOUSE
Visit the Gladstone Lighthouse at Van Cleve Park overlooking the Little Bay de Noc. It is the only active light in the Escanaba area and one of the newest lighthouses in the Upper Peninsula, even newer than Wawatam Lighthouse in St. Ignace (circa 1998).
Van Cleve Park is a four-season family destination. Year-round, check out the 2016 bronze sculpture, "The Captain and the Kid," by local artist Andy Sacksteder. It stands by the lighthouse. In the summer, the nearby Gladstone Beach with its shallow water, sandy shore and straw beach umbrellas is a popular place to relax. Other seasonal outdoor pastimes include outdoor music concerts, a skate park, volleyball court, fishing pier, baseball diamond, basketball court, boating, paddling, biking, picnicking and snowshoeing.
Take me to Gladstone Lighthouse!
History
The City erected the Gladstone Lighthouse in 2010 as part of a harbor improvement project, replacing a metal tower light. Olsen and Olsen Building Contractors of Manistique built the 30+ foot lighthouse. It has an automatic, electric-powered, FA-249 Marine lantern with a U.S. Coast Guard class "C" green-array light that guides boaters safely into the harbor.
Similar Activities