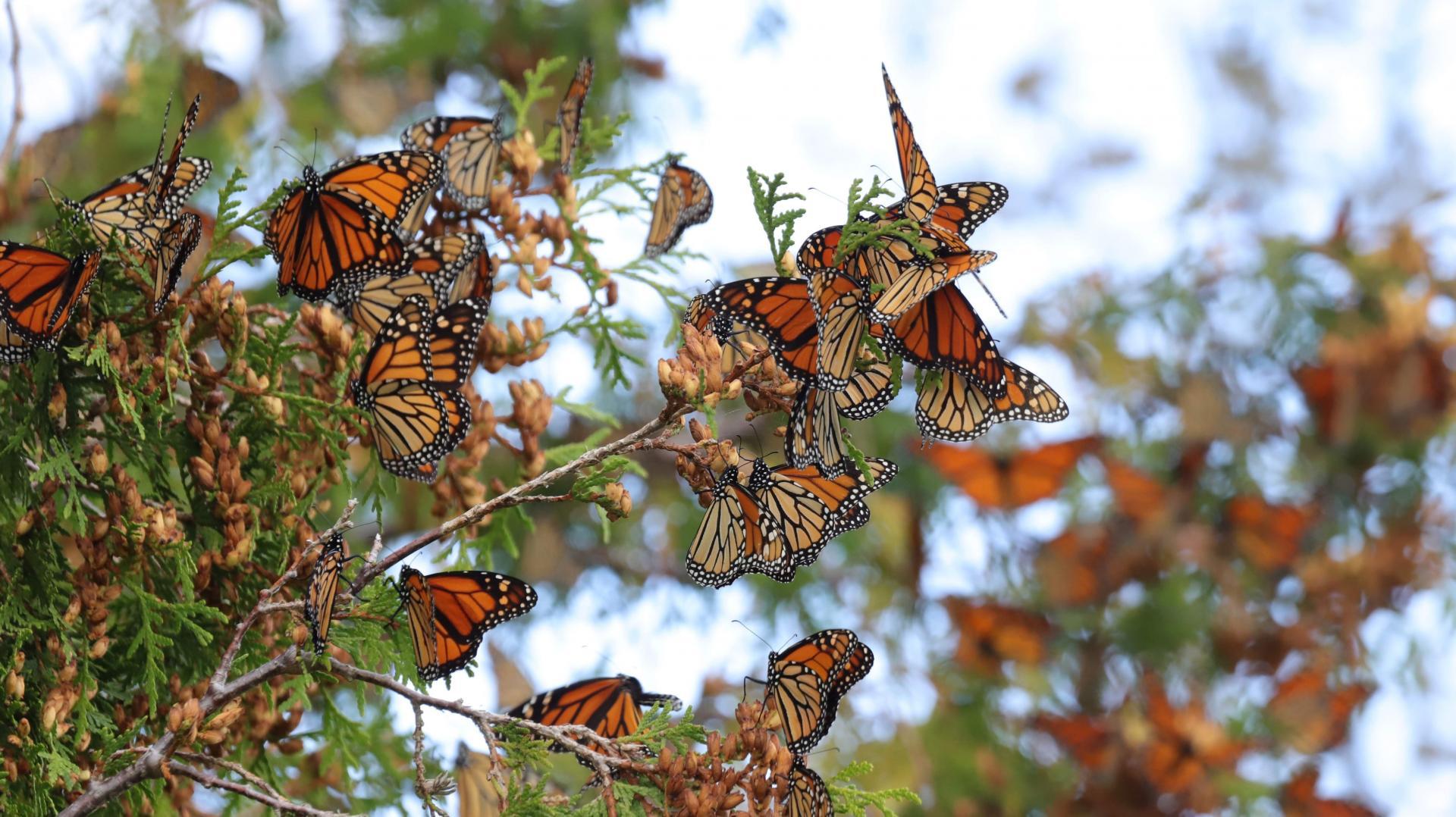 Monarch Butterfly Migration near Escanaba, Michigan
Monarch butterfly migration near Escanaba, Michigan
Delta County becomes Michigan's butterfly capital in late summer and early fall when thousands of stately monarch butterflies visit the county's unique geography. This is one of the few places in North America where you can be lucky enough to view monarchs migrating in large numbers like this. Check out our video below to see the monarch butterfly migration in action!
How far do monarch butterflies migrate?
Monarchs make an annual trip from Canada to Mexico through the United States, totaling over 3,000 miles of flight time. The trip usually happens in the fall, heading south to avoid cold winter weather.
If you think that flight sounds long for such a small pair of wings, that's because it is! The butterflies need to stop in several places along the way to recharge and rest on native plants and lay their eggs on milkweed.
The Stonington Peninsula, located in Michigan, is one of the places where these beautiful creatures stop during their migration.
When do butterflies come to Michigan?
Peak migration is between August and October each year.
Volunteers help naturalists at the U.S. Forest Service Rapid River/Manistique Ranger District office in Rapid River monitor each stage of the monarch's life, from when they pass through the area to lay their eggs – only on the milkweed pods – to when they mature and again migrate to wintering areas near El Rosario, Mexico. Volunteers monitor between May 1 and the end of September, counting the number of butterfly eggs and larvae in the spring.
The best month for activity is usually August, but a visit in September usually guarantees some migration as the Stonington Peninsula hardwoods begin their annual fall changeover.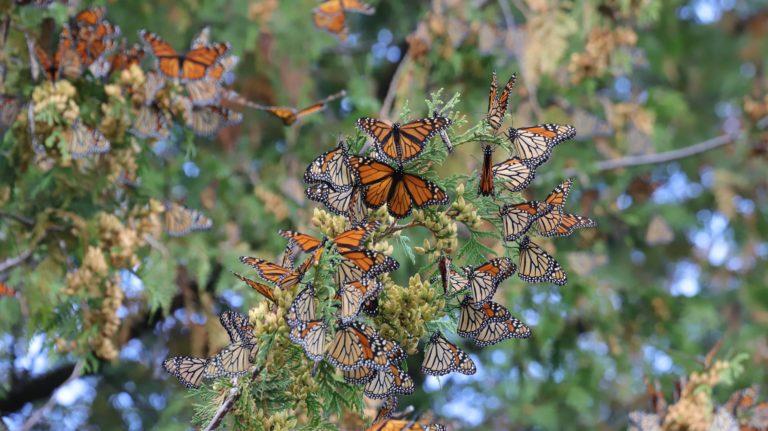 Where can I see the butterflies in Michigan?
The Stonington Peninsula, particularly the cedar trees and lands surrounding the Peninsula Point Lighthouse, becomes the stopping-off point for thousands of monarchs during peak migrating season. You can try to catch this phenomenon at the Forest Service Day Use Area at the end of this peninsula, which separates the Little and Big Bays de Noc. The best time to see thousands of monarchs in the trees is before dawn and before sunset. Catching them at the perfect time takes a bit of luck and likely several days of visits to the end of the peninsula when the conditions are just right, but the payoff is well worth the scenic drive to the shore of Lake Michigan. Researchers have studied the orange-and-black-winged insects and their flight patterns since 1993 to determine where they live in the area and how to protect this unique species.
The butterflies gather at the peninsula for their flights across Lake Michigan and Green Bay's open waters on their way south. During the evening, butterflies generally roost in the Peninsula Point's cedar trees for protection from the elements and from birds that are brave or foolish enough to take a chance at tackling the monarch's natural protection–a toxin they retain as a result of dining on milkweed. Monarchs become active as the sun warms them. They most often use the prevailing winds following a cool front to help them make the trek across open water to Wisconsin's Door Peninsula.
During their migration, monarchs rely on a variety of habitats for food and shelter. The Stonington Peninsula provides an ideal habitat for monarchs because it has a diverse range of plants that provide nectar and shelter.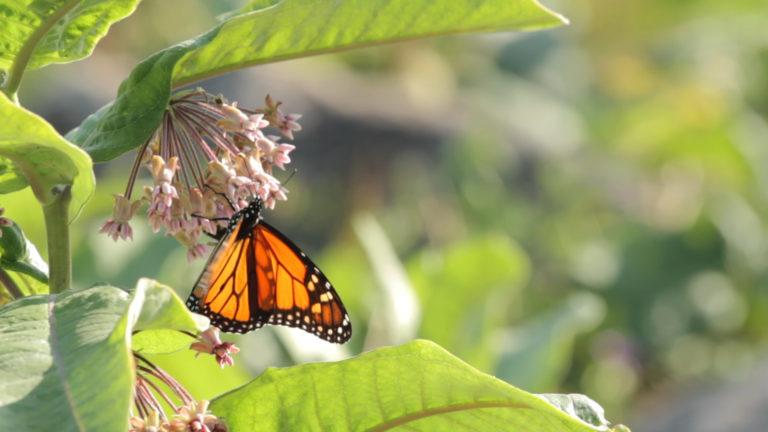 Why are monarch butterflies endangered?
Lately, the monarch population has come under tremendous stress. One of the main reasons monarch butterflies are endangered is due to habitat loss.
As more land is developed for human use, monarchs have fewer places to live and breed. Additionally, the use of pesticides and herbicides has destroyed many of the plants that monarchs rely on for food and much of the milkweed they would lay eggs on. Climate change that causes frosts in Mexico is another factor that has contributed to the decline in monarch butterfly populations. Changes in temperature and weather patterns can disrupt the timing of their life cycle, making it harder for them to survive.
Finally, logging in Mexico, where the monarchs spend their winters, has also contributed to their decline. The forests where they spend winters are being destroyed at an alarming rate, which threatens their survival.
How can you help monarch butterflies?
Help locally
You can volunteer for tagging efforts by calling (906) 474-6442 ext 140.
Tagging is done by placing an adhesive sticker the size of a pinkie fingernail on the wing. Usually, the recovery rate for tagged monarchs is less than 1 percent, but since tagging began in 1993, at least 21 monarchs from Peninsula Point have been found in Mexico.
Help at home
You can also use some of these tips at home to help preserve the population!
Plant milkweed for butterflies to lay their eggs on. The young caterpillars also eat this before they tuck into their cocoons. Planting milkweed means creating another habitat in the world for their species to thrive.
Avoid pesticide use. These are harmful to pollinators including monarch butterflies. Instead, look for natural pest control methods like companion planting or introducing beneficial insects to your plants.
Provide nectar sources. Plant a variety of nectar-rich flowers to provide monarchs the energy they need to migrate and reproduce.
Support other conservation efforts. Search for local efforts who are working to protect monarchs and volunteer your time. Or, find a bigger organization and consider donating.
These simple steps ensure the protection of monarchs for generations to come. And that means decades of opportunities to see them on their migration through Stonington Peninsula and in your own gardens at home!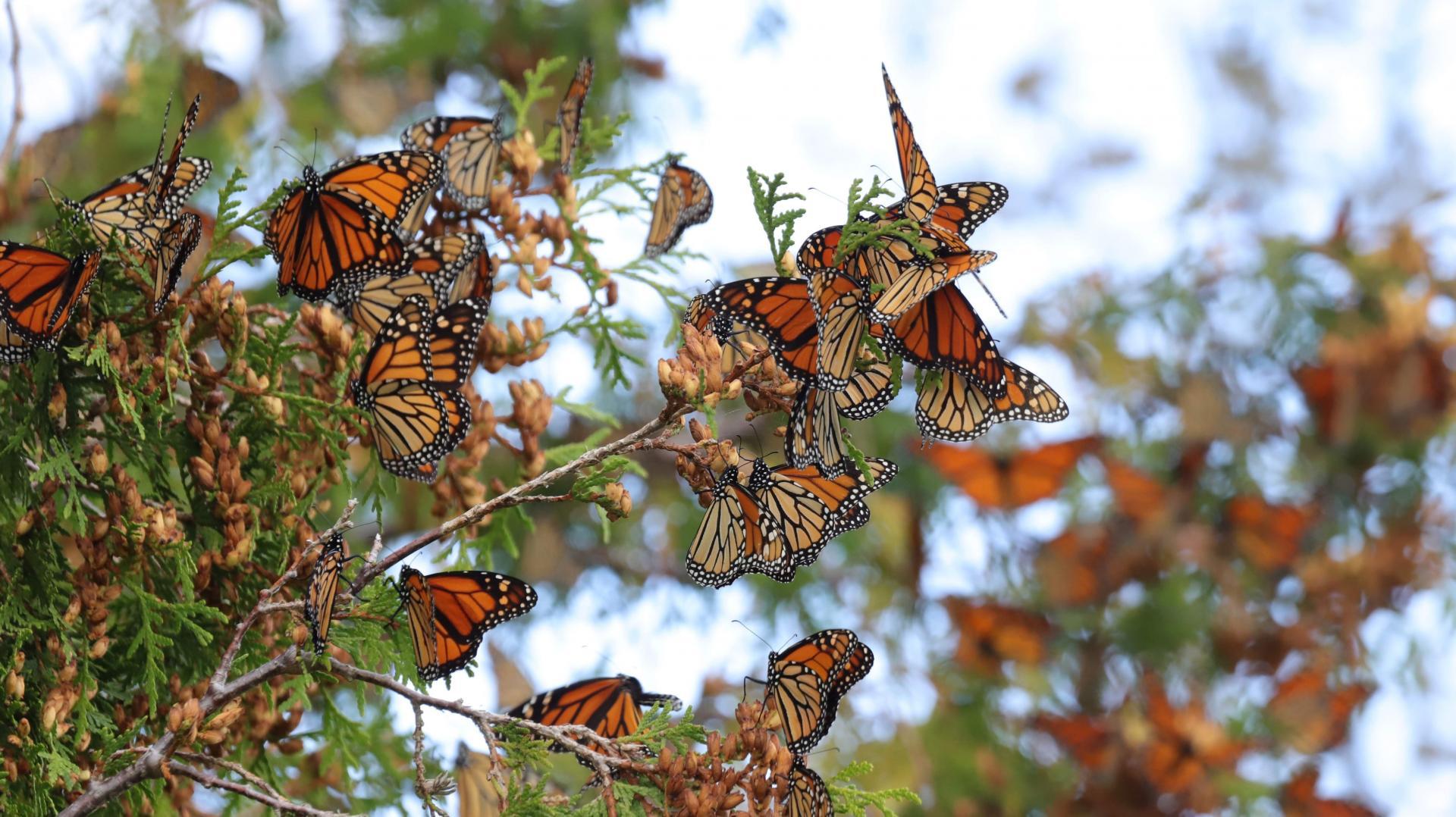 Monarch butterfly migration map
The journey to Mexico can take several generations of butterflies to actually complete. Monarchs only live between two and six weeks, except for the last generation born in overwintering sites. They live about 8 to 9 months.
The website Journey North has an interactive map that tracks the progress of the monarch migration each year. You can see where the butterflies are at any given time and even report your own sightings if you spot any monarchs in your area. It's a great way to learn more about these amazing creatures and follow their journey across the continent!
Similar Activities