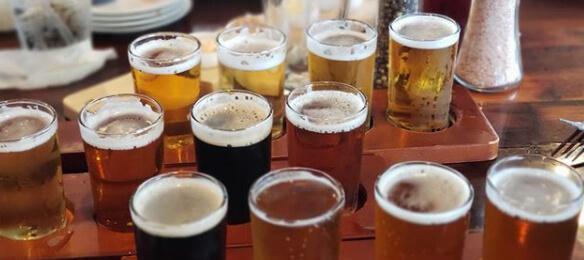 Breweries in Escanaba: We've got hops
The Bays de Noc brings their own distinct style to the table when it comes to craft brews. Come visit us on the Shores of Lake Michigan to enjoy a cold one. Stop by Larry Bell's U.P. Brewery to embrace the Yooper spirit. Sip on a seasonal brew inside one of Escanaba's many historic buildings. Whatever your preferred beer style, you're sure to find something you'll love at these breweries in Escanaba. 
Hereford & Hops Steakhouse
This may seem like your typical restaurant and brewpub located in an old building, but Hereford & Hops Steakhouse's story is much more than meets the eye. When they opened their doors in 1992, they were the Upper Peninsula's first brewpub and only Michigan's third! The restaurant was also the first grill-your-own steak joint in the state. 
Dedicated to fostering the tradition of the neighborhood pub, Hereford & Hops is a place where friends and family can meet, relax and escape the daily grind of life for a while. Located on the bottom floor of a 1914 historic Escanaba building, the microbrewery offers seven beers for you to try in addition to their seasonal creations. 
Transforming what was once a home for senior citizens into a fully functioning restaurant and brewery (and 32 apartments above) took quite a bit of effort. The owners' goal was to highlight the building's historical significance while creating an atmosphere inspired by British pubs. Keep an eye out for the coins still embedded in their floors today – they're dated 1914 and 1994, in tribute to the years when the original building, Delta Hotel, and Hereford & Hops opened. The building was also added to the U.S. Park Service's National Register of Historic Places in 1998.
Today, Hereford & Hops Steakhouse serves up great food and drinks with a delicious steak or "grill your own" feature, amazing Mongolian Grill and award-winning handcrafted brews. You can see the brewer at work creating their next masterpiece while you eat some house-smoked meat. Visit them during your next visit to downtown Escanaba! 
Upper Hand Brewery
Upper Hand Brewery is a sister-brewery to Bell's Brewery in Michigan's Lower Peninsula. Opened in 2013, it was a longtime dream of Bell's founder Larry Bell. This taproom fully embraces its U.P. heritage all the way down to its beer. Some of its popular beers include their Yooper Ale and Upper Peninsula Ale. 
With acres to roam, this is a great spot to stop with your dog and grab a pint in the taproom. You can only purchase their award winning beers in the Upper Peninsula, and you can't ship them, so stock up while you're in town! Make sure to stop by multiple times a year to catch one of their fun events and try their continually evolving experimental brews. From the up-north-themed taproom, you can sip on a seasonal beer while watching the brewers at work underneath towering metal vats. 
Think of every can of Upper Hand beer as a love letter to the U.P., brewed by a ragtag crew of hikers, bikers, campers, dog walkers, anglers, hunters and outdoor-loving Yoopers who live for getting lost in their own backyard — all 10 million acres of it. Per their website, for every iconic U.P. moment, they are your iconic U.P. beer.