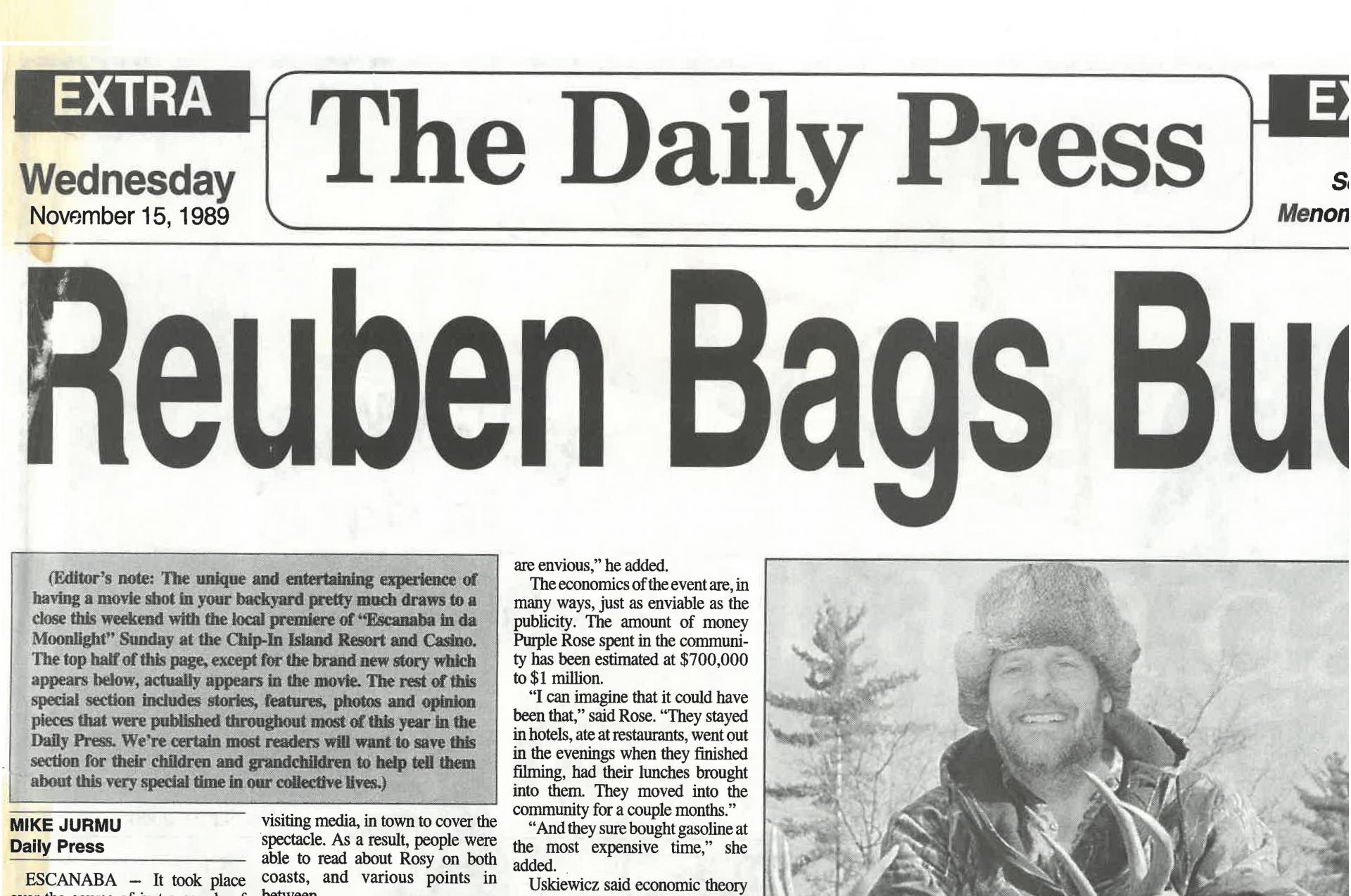 Humor - Da UP's Greatest Tradition
One of the Upper Peninsula's greatest qualities is it's self deprecating sense of humor. It's a tradition "north of da bridge" to laugh at ourselves. What makes us funny? Lets start with our unusual fashion choices (especially in winter). Our food and beverage consumption (and the occasional flatulent consequences). Our funny accent and strange cliches like "I tell ya, eh??!!" and "Holy Wah!!!!" will make anybody chuckle. Escanaba in da Moonlight, after all, is all about us laughing at ourselves, isn't it?
Here are a "greatest hits" of the funny side of Escanaba and the story behind the self deprecating and completely ridiculous humor of the U.P, captured in story and song.
Omo The Hobo
Wellman W Omohundro was born in 1917 near the shores of Big Bay de Noc, on the family homestead in Fayette. His childhood "nickname" become his stage name at the start of his career, making people laugh with his yooper humor in 48 states from the Catskills to California after his time serving in World War 1. Self described as "a free traveling crooner", his sense of humor was captured in over 150 singles and 5 full length LP's making him the most recorded Upper Peninsula musical artist of all time. He never missed a chance to write a song about the ironies of life.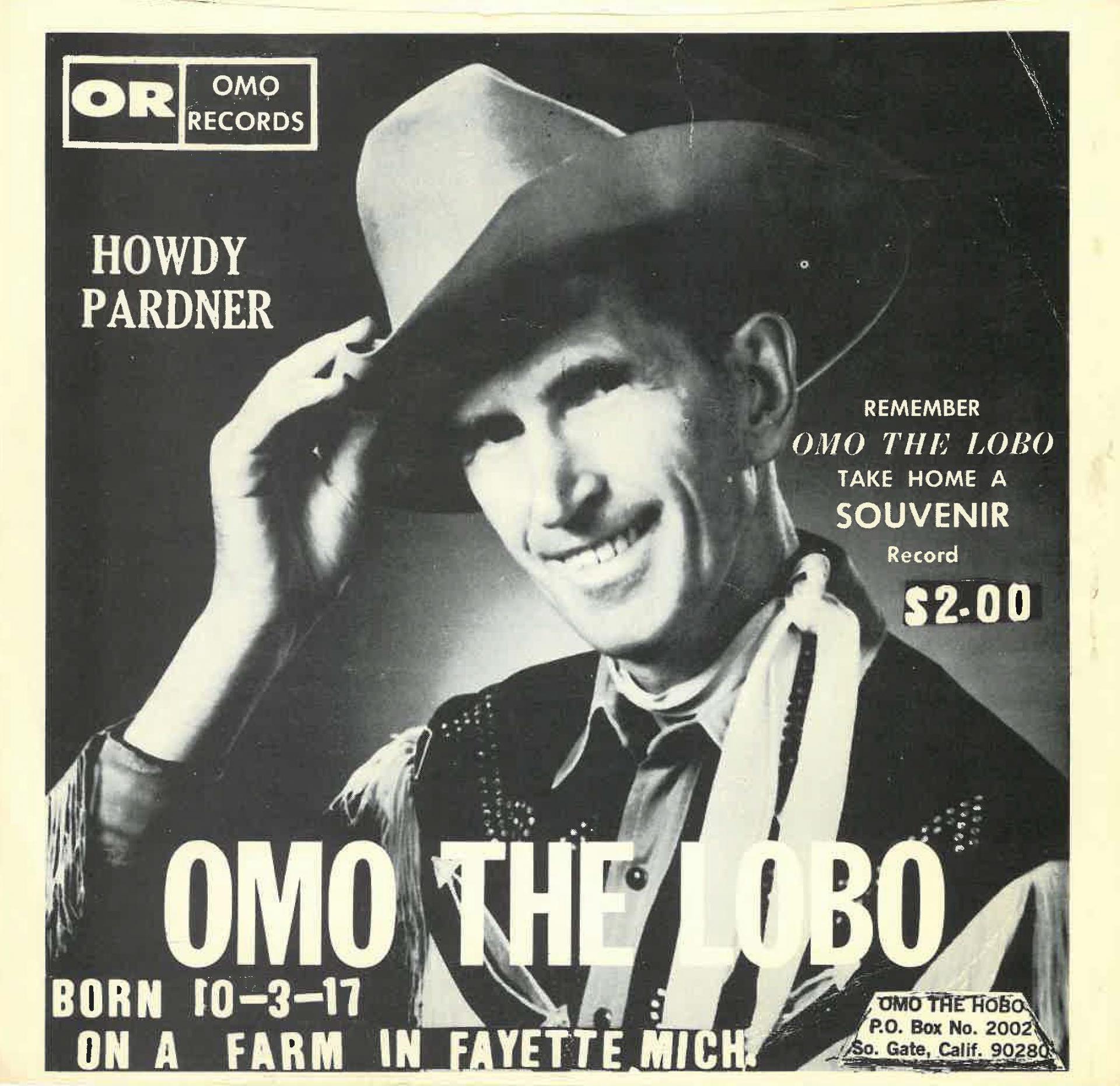 Steve Seymour in his 1999 book Rock And Roll Graffiti states, "[Omo] as a master of both double entendre and innuendo".
Many of his rare 45's are sought after by collectors, long after his passing in 1996. Quite a legacy for a kid who was born in a Ghost Town!
Da Yoopers
It could be said that Da Yoopers are The Beatles of The Upper Peninsula. Da Yoopers are da band dat changed it all, I TELL YA!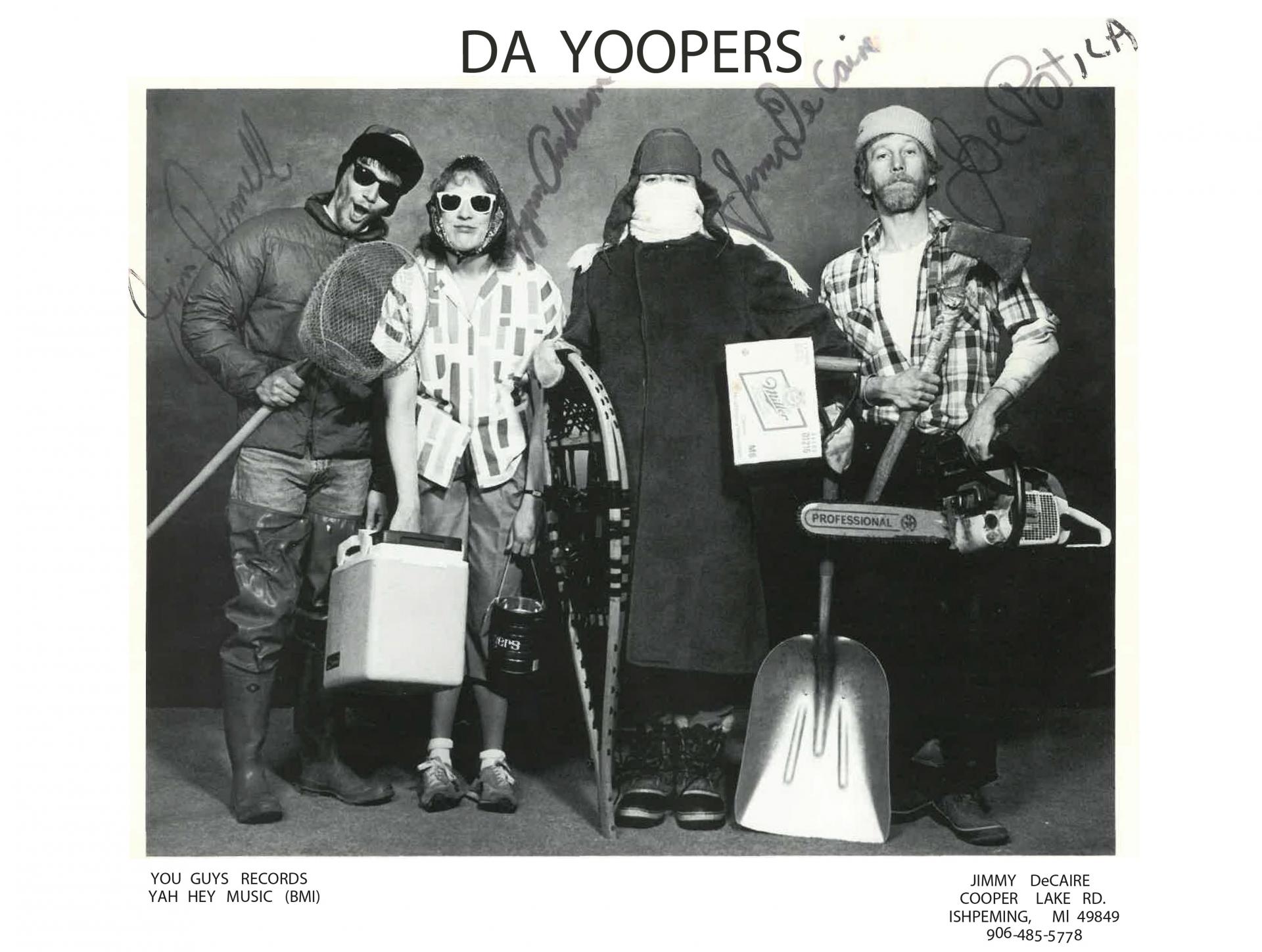 In the mid 1980's, there was talk of The Upper Peninsula seceding from the State Of Michigan to form its own state. Da Yoopers decided to capture the spirit of all that the Upper Peninsula IS, by forming a band with our sense of humor at the core of it. The lyrics of their songs celebrate the charm of The UP, playing on the word "da" instead of "the" to add the sound of da yooper accent to their name.
Their 1986 hit "The Second Week Of Deer Camp" captures the comradery of hunting camp life and remains the yearly theme of hunting season, all across the Northern United States. By normalizing the use of the word "da" instead of "the" together with the unofficial moniker of the UP (yoopers), it could be said that Da Yoopers were the egg to the chicken that became Escanaba in da Moonlight. The word "Yooper" was added to the Miriam Webster Dictionary in 2014, 28 years after Da Yoopers played their first gig.
Steve Seymour states in his bookRock And Roll Graffiti:
"[Da Yoopers] relied heavily on scatological references, not unlike the Jeff Daniels' movie 'Escanaba In Da Moonlight,' [Only a] few people took offense. To either. It appears we, here in Escanaba, are able to laugh at ourselves! Da Yoopers-and Jeff Daniels for that matter-are not trying to document life in the U.P., they are drawing humor FROM life in da U.P."
Da Yoopers opened up a new way of seeing The U.P. An inspirational call to embrace ourselves, here in the U.P., for who we really are, eh?
One can only wonder if Jeff Daniels himself witnessed one of Da Yoopers concerts….. and suddenly had divine inspiration?
Escanaba In da Moonlight
Shortly after his success with the smash hit "Dumb and Dumber", Jeff Daniels moved back to Michigan and chose a small town to be the focus of his first independent creative endeavor. His directorial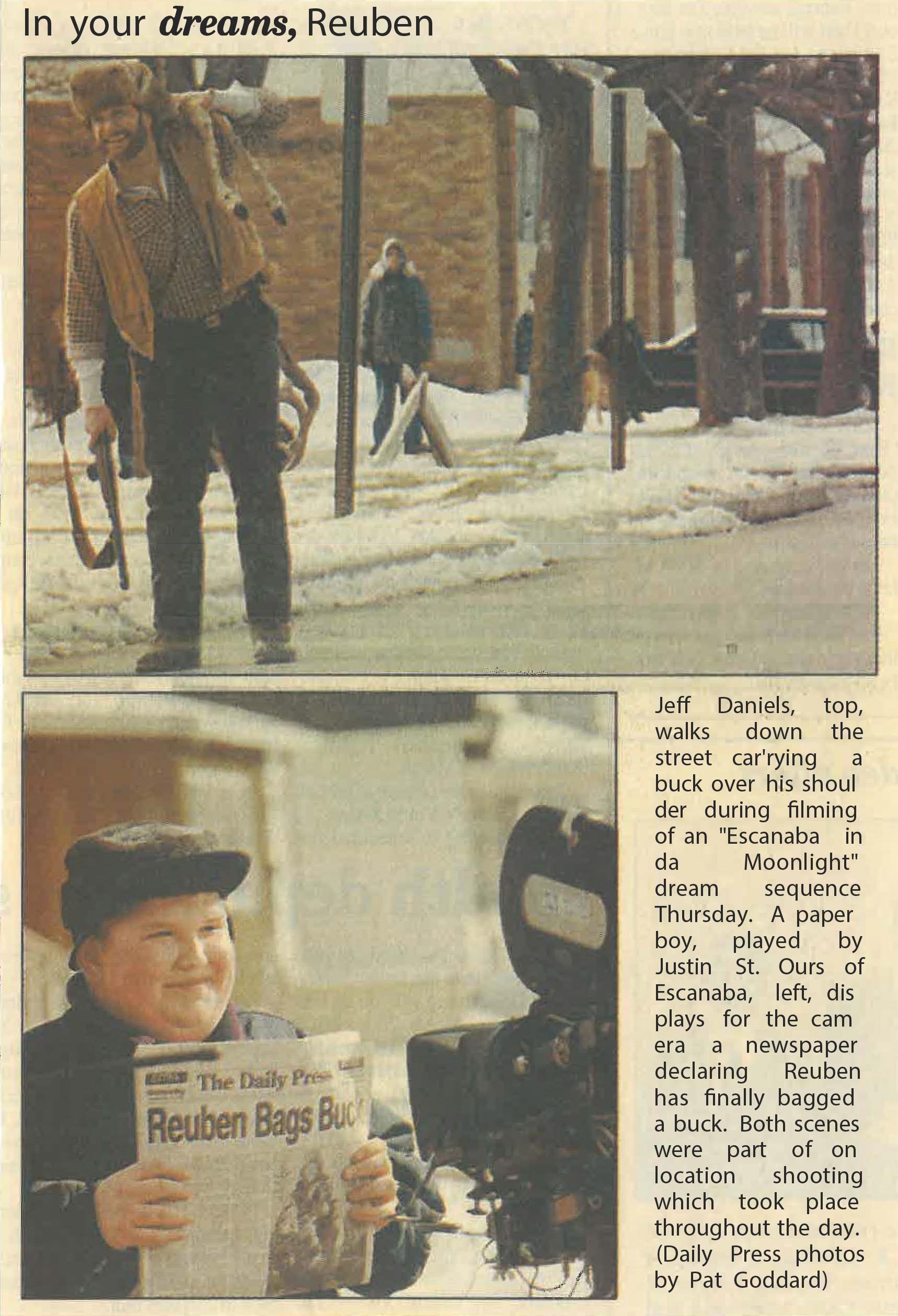 debut Escanaba In Da Moonlight is without a doubt, one of the biggest things that ever happened in Escanaba. This niche film about hunting camp humor in the 20 years since its release has become a cult classic.
Sites all around Delta County were used as the backdrop for the movie, with Daniels stating while filming that "Escanaba is the essence of what the real Upper Peninsula is all about. The perfect place to tell the story of Rueben Soady." The story that Jeff Daniels wrote has made people laugh around the world.
Drawing on the often ridiculous humor and language of the UP, "Escanaba in da Moonlight" tells the story of a Yooper…. who, even late 40's, could not seem to find success at camp no matter how valiant his efforts. Taunted even in his sleep by his life long burden. Escanaba in da Moonlight is the story of his eventual triumph of Rueben Soady! Since much of the movie "set" at a deer hunting camp, it is of course, the quintessential movie reference that captures the essence of what hunting camp is all about, from coast to coast.
Originally written as a play for Jeff Daniels Purple Rose theater to great success, the stage version of Escanaba in da Moonlight is longest-running play in Detroit theatrical history. "Moonlight", along with the other two stage shows "Escanaba In Love" and "Escanaba" from the Escanaba Trilogy, performed around on stages around the world by actors of all ages who have never been to the Upper Peninsula. One can only wonder what a Yooper accent would sound like in a foreign language. Humor apparently, crosses all boundaries. What does a yooper accent sound like in French?
Filmed 100% in Delta County, Escanaba in da Moonlight sets the benchmark for the humor and sarcasm of what it means to be "a Yooper". Without a doubt, the most famous thing about Escanaba.
bLo
A new Yooper artist emerged in November 2017 named bLo (pronounced BEE-low).
His debut single "You From The 906? (ya, u betcha)" offered a modern upgrade to Yooper music, merging a hip hop beat with tuba, accordion and "rapping" in his classic yooper accent. A modern call to "say yah to da U.P."
His lyrical topics include outhouses, pasty shops, hunting camps and smoked fish, "da bridge" (the Mackinac Bridge), and to those of us who now reside in cities, how difficult it can be to explain "da" Upper Peninsula to our friends in "da" city. His music video captures the finest moments of his epic road trips across his homeland (he's from Escanaba). He captures and celebrates what a November road trip adventure across "da UP" is all about: having a good time. Yah, u betcha!
When he sings "we raise our cans and shout it out, we're from da UP, eh!?", it captures the pride of "da yoop".