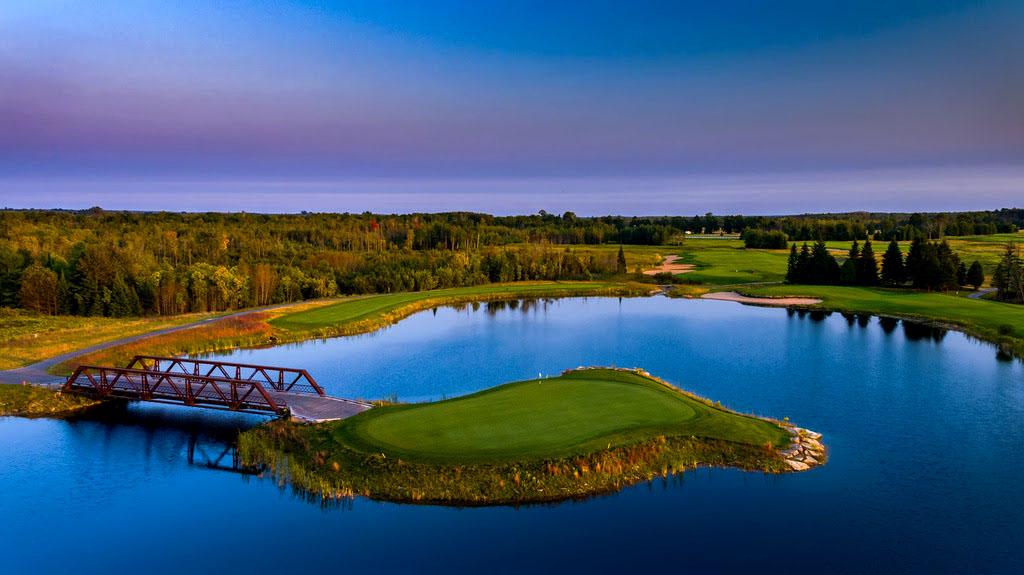 Take your fall color tour on some of the top-ranked links in Michigan.
Whether you are a scratch golfer or just learning to play the links, golfing in the Escanaba area is both exhilarating and relaxing. Sweetgrass Golf Club is in Michigan's top 20 based on Golfweek's and GOLF Magazine's rigorous reviews and several other area courses get high marks from U.P.-destination golfers.
What these rankings do not tell you, however, is that Escanaba-area courses are some of the best locations for fall beauty. Trees decked out in amber, scarlet and coppery-orange leaves line the fairways, deep blue waters and golden sands challenge your drives, and emerald greens test your putting skills hole after hole.
Play on multiple courses within minutes of each other
If you and your friends are looking for a fall outing, pick your dates and come play where champions make names for themselves and golfers of all ages chase balls for the pure fun of it. The tee times are easy to get (you can often call the same day) and the cart and green fees won't strain your wallet. With their proximity to each other, you can try multiple courses and still have time to enjoy the plethora of fall recreation, unique attractions and restaurants that make the Bays de Noc a favorite color tour destination.
Two scenic courses where champions are made
Sweetgrass Golf Club and Sage Run Golf Club are located at Island Resort & Casino, W. 399 US-2 & 41, Harris. Sweetgrass has been named one of Golfweek's best courses and pulled high Michigan rankings in GOLF Magazine and Golf Digest. Its dedication to nature is augmented by the rich history of the Hannahville Indian Community that owns and manages it. While Sweetgrass can be enjoyed by any level of golfer, this is on the LPGA Symetra Tour and is the United States qualifier for The Amundi Evian Championship in France.
Sage Run is designed 180 degrees in contrast to Sweetgrass. Its hardwoods make it a fall showcase. The scenery combined with long holes and short par fours give it a reputation for being a great course for golfers looking to up their game. Play it and you'll see why it was ranked among Golf Digest's America's Best New Courses.
Four must-swing-into courses with a view
Gladstone Golf Club, 6514 Days River 24.5 Road, Gladstone, is a championship course carved out of acres of state forest. The leaves are spectacular in the fall and every fairway is a feast for the eyes with the Days River meandering through the course. Local tip: if you play on Friday, stay for the fresh-catch fish fry.
Escanaba Country Club, 1800 11th Ave. South, Escanaba, is the oldest course in Delta County. The front nine are tree-lined and the back nine give you six holes with water challenges. The 18th hole is considered one of the most difficult finishing holes in the U.P. Once you find the green, you're going to muster all your skills to overcome the severe putting surface.
Highland Golf Club, 3011 US-2, Bark River, is one of the area's oldest courses and the first 18-hole course. Wide fairways make it a favorite for beginners; however, strategically placed bunkers and trees challenge even the low handicapper. The Highland repeatedly gets accolades as the "friendliest course around."
Nahma Golf Course, 8588 LL Road, Nahma, is the second-oldest course in Delta County and its centennial will be in 2022. This nine-hole par 36 course offers a chance to play on round, dish-shaped greens and be awed by the Big Bay de Noc views.
More excuses to play and stay along the Bays
Check out these six additional courses and match your game to their design. Just know that when you play golf here this fall, your biggest distraction will be the gorgeous scenery in every direction.