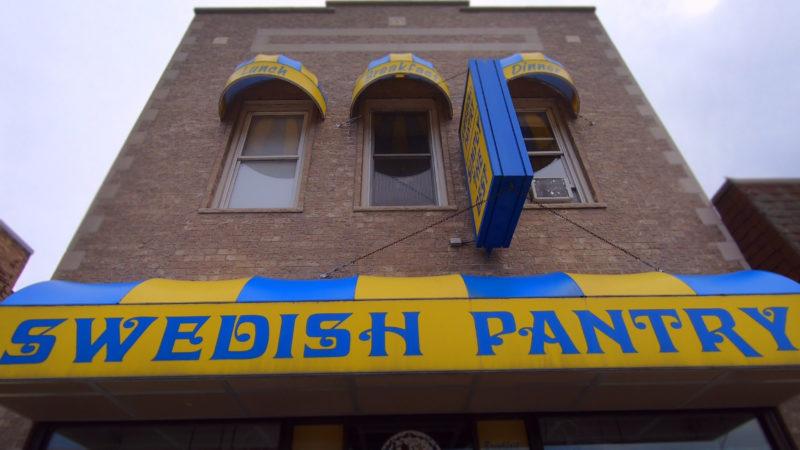 by: Baylie Bullington
One of the more eclectic restaurants in the Upper Peninsula resides in an old building in downtown Escanaba. Underneath its blue and yellow awnings reads "Best Food in Town." Little is known about this iconic location's original owners, but one conclusion can be made; they knew how to cook! We know this to be true because the Swedish Pantry has been whipping up these same original recipes for over 40 years.
Locals agree that this is the place you go when you need your fix of Swedish pancakes dressed with imported lingonberries and served with a side of Swedish meatballs. If you've never experienced a craving for these Swedish staples or even heard of lingonberries, I guarantee you will after giving this dish a taste. Take it from me, before moving to the Upper Peninsula, I had no regard for this breakfast platter, but now it's a regular part of my diet. It didn't take long for me to get acquainted with the beloved "Pasty" that originated from Cornish Miners and has strong roots in Yooper-culture. Often-times, the Swedish influence of the Upper Peninsula lives in the shadows of Cornish-traditions. But if you dig just a bit, you will find how the first Swedes left their mark on the Upper Peninsula.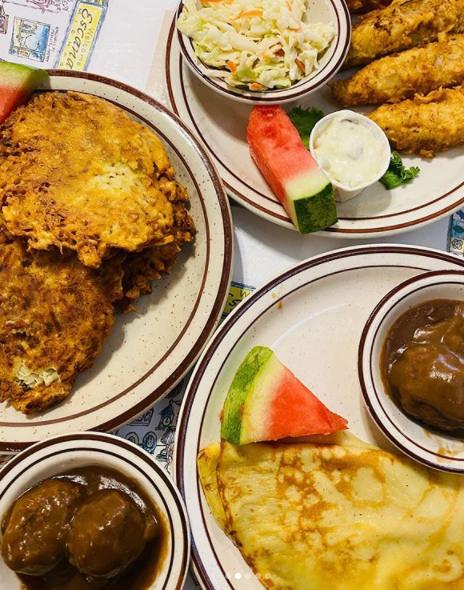 Picture of food from Swedish Pantry taken by @jessica_leeee  
Take a look into Delta County's past or a phone book for that matter, and between the last names and historical records, strong Swedish-ties are everywhere. I asked Charles Linquist, President of The Delta Historical Society, about where I would uncover more about these ties, "Well, probably the main thing would be churches that had a strong Swedish influence." I would like to note that I've had several conversations with Mr. Linquist, and he makes my job a lot easier. The man can recite any history related to Delta County off the top of his head. Linquist continued, "Do you know Bethany Lutheran Church? Well, that was originally called The Swedish Lutheran Church, and it was part of the town that was called Swede-town for at least a while".
It appears that this wasn't the only church in Delta County that had a Swedish congregation. According to Reverend Elise Low Edwardson of Central United Methodist, a popular Swedish reverend named Karl Hammer served at the church for 30 years. "Even members of the church today can remember services being completely held in Swedish," Edwardson said. While researching for this blog, I also found among the archives at the Delta Historical Society a postcard of a small Swedish-Finnish Baptist Church, which was the beginning of Grace Church in Gladstone. According to NMU Archives, churches were cultural institutions that provided social and religious support to Swedish immigrants. I imagine many Swedes appreciated these spaces as they navigated a new culture in rural surroundings.
Besides churches in the area, Swedes had other comforts reminding them of home. Newspapers written in the Swedish language covered topics happening in Sweden and current events in Michigan. NMU Archives indicate that Escanaba was one of at least seven functioning Swedish Newspapers in the Upper Peninsula. However, after World War 1, many Swedish Newspapers in U.P. declined partially because American-born citizens perceived these swede newspapers as pro-German due to their similar religious and language similarities.
Of course, Swedes were not the only immigrants making their way to the Upper Peninsula. Big Bill Bonifas, an immigrant from Luoxenberg, found his success in cutting timber. His wife put forth donations to an auditorium and gymnasium for St. Joseph Church, which is now the residence of The William Bonifas Arts Center. French Canadian ties are present at St. Annes Church, where according to Linquist, was built by immigrants of this descent, "Immigrants, they really helped build this city," Linquist said.
If there is anything that today's Yoopers have in common with the first immigrants making their way to the Upper Peninsula, it would be that they share the same hard-working spirit. According to Linquist, many immigrants probably made their way over the Atlantic for a predictable reason, "To find something better than what they had." If we know anything about Upper Peninsula history, there were plenty of opportunities to find work. Linquist pointed out that there were quite a lot of Swedish Lumberjacks and endless possibilities for fishing and mining.
 The Delta Historical Society has several archives related to the immigrant experience in Delta County and the Upper Peninsula. I would encourage visitors to browse through this museum. It's not every day that you get to see perfectly preserved artifacts like postcards and family pictures from the 1800s. These artifacts give a much more personal reflection of the immigrant experience in a land far from home.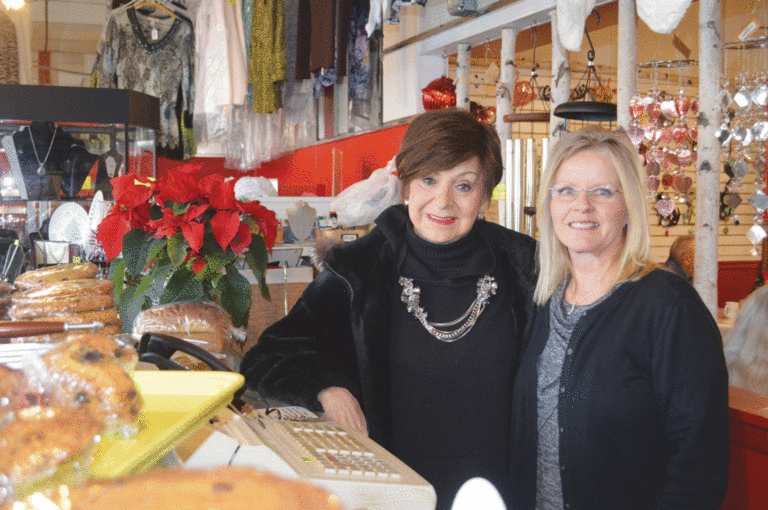 Picture of owner LaBranche and Daughter taken by Daily Press.  
If you prefer to learn about Swedish culture by the bite or need an excuse for a delicious meal, make your way over to the Swedish Pantry.  Speaking of hard-working spirit current owner of the Swedish Pantry, Phyliss LaBranche, has dedicated several years to providing excellent food true to its roots. If you don't have time to sit, they offer several delicious baked goods like their Swedish cardamon braids and Swedish rye bread to-go. You can also flip these crepe-like pancakes on your own skillet with their Swedish Pancake Mix. And you can't miss out on that Yooper hospitality. Here is a send-off note from LaBranche herself "We're off the beaten path but you'll love the experience, first-time customers get a free drink!"