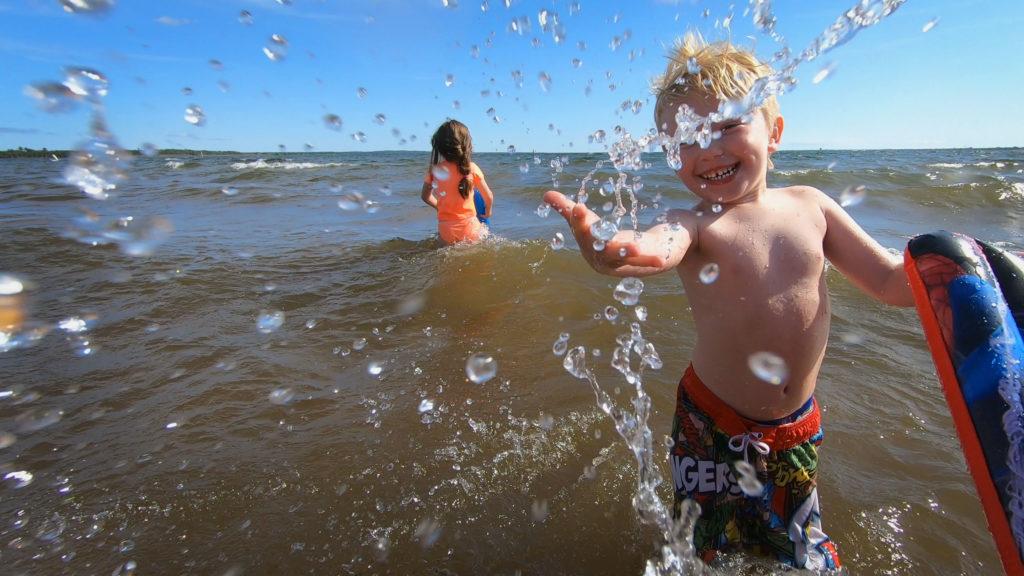 Splash, swim, paddle, picnic: It's beach time on the Bays!
Since Delta County boasts the most freshwater coastline in the Upper Peninsula, our go-to beaches are some of the most gorgeous destinations from sunrise to painted-sky sunset. Our land juts out into Lake Michigan, with soft sandy stretches mixed in with ruggedly beautiful limestone cliffs that curve around the Big and Little Bays de Noc. Here's where to jump in for hours of sun-and-sand time:
Like more action by the water? These beaches are for you.
Your island destination – Escanaba Municipal Beach – Bath House Road 
Yes! This spacious, soft-sand beach near downtown Escanaba is on Aronson Island. This is a favorite all-day destination for all ages with its public restrooms and bathhouse with showers. The park is open daily from noon to 7 p.m. with lifeguards on duty during that time. 
You can easily access this Island beach by car, bike or on foot from your boat slip at the island's municipal marina or the nearby boat launch parking lot. Bring your poles, tackle and bait to enjoy the ADA-accessible fishing pier, too! Adjacent to the Island is Ludington Park, a mile-long coastal play area that offers more ways to fill your day with its picnic areas, disk golf, Sand Point Lighthouse, sand volleyball courts, concerts and outdoor movies, just to name a few. 
Water slide, Hawaiian umbrellas – Gladstone Beach at Van Cleve Park – 1224 Lake Shore Dr.
A big plus for this spacious beach near downtown Gladstone is its shallow water for your kids to splash in and soft sand to build castles. The water slide is also popular with the youngins! All ages enjoy eating beach food under the palm-tree style Hawaiian umbrellas — buy drinks and snacks from the on-site concession stand or bring your own. There are public restrooms, showers and changing areas in the bathhouse. Connected to Van Cleve Park, you can visit Gladstone Lighthouse, ride bikes, paddleboard and kayak along the shore, fish off the pier, launch or park your boat here, too. 
Prefer a secluded, quiet getaway? We have beaches perfect for that as well. 
Your private getaway – Indian Point Beach - 10 minutes from Nahma, off Ee 25
When driving into Nahma on Ee 25, keep your eyes on the right-hand side for a turn-off that dips down a hill to a gravel parking area. Park by the boulders then hike along the trail and, within minutes, you'll be relaxing on a local secret stretch of sand (how much beach there is depends on the Bays' current water levels). There are no showers or changing facilities, but it's a good place to swim, spread out a picnic on a blanket or read a good book. 
Hidden gem – Portage Point Beach – 5 Minutes South of Escanaba on M-35
Keep your eye out for signs to turn off M-35 and wind your way back to the beach. Pack with the idea that you will be walking 10 minutes to the shore. You will love it when you arrive. There is a protected marsh near the parking lot, walking path and piers, but no changing or shower facilities. It's you, the sand and waves. A perfect place to de-stress. 
Uncrowded picnic/relax/sea kayak spot by the water – Sac Bay Beach – Tip of Garden Peninsula on 8th Road
Planning to spend time at Fayette Historic State Park in the Garden Peninsula? This is a nice post-park destination for a picnic or time in the water without any crowds. Located eight miles south of the state park on the southern tip of the peninsula (accessible from US-2 on M-183 S.), it has picnic tables, a place to swim and beautiful views of the cedar-lined coast as you walk the shore. It's a popular place to practice sea kayaking, too. 
Take that beach break you've been wanting this summer. We'll provide lots of sand, fresh water and memories to bring you back again. Visit our beaches page for more information.