Sayklly's Candies: The sweetest reason to come home for the holidays
Are you coming home for the holidays to see your parents, grandparents or friends who live in Escanaba or near the Bays de Noc? Or are you looking for a home away from home? Somewhere you can create the nostalgic, feel-good memories that abound here? There are welcome mats all around the Bays waiting for you to walk through our doors! One place that is especially eager to see you is Sayklly's Confectionery & Gifts.
Sayklly's candies have been delighting visitors and residents for over a century.
Buying Sayklly's candies has been a tradition for generations. It all began in 1906 when Joseph Sayklly, a young Lebanese immigrant, opened the shop on Ludington Street in Escanaba. The store carried a small line of groceries, including homemade candy and ice cream. Together with his wife, Mary, and their nine children, Joe built Sayklly's into a thriving local landmark.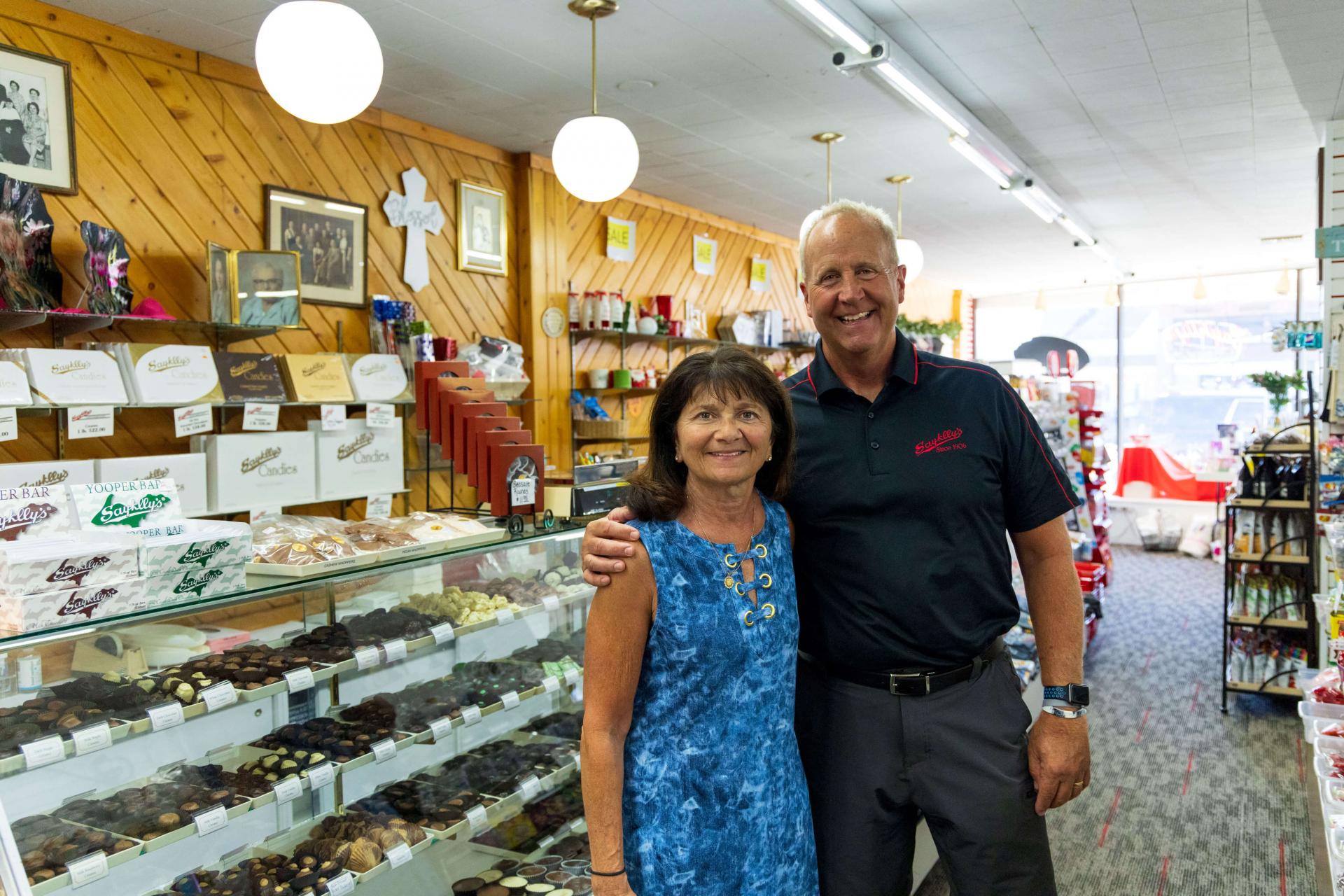 Today, Sayklly's Confectionery and Gifts is owned by Jim and Debbie Kirby. Debbie is the granddaughter of founders Mary and Joe. The family's tradition of making the best chocolates and candies in the U.P. continues with the fourth generation. Jim's and Debbie's children and nieces now work at the store, delighting everyone that leaves with bags of goodies, U.P. clothing and other gifts.
Sayklly's candy store is in the heart of downtown Escanaba
Sayklly's Confectionery & Gifts | 1304 Ludington St., Escanaba | Hours: Mon.-Fri., 10 a.m.-5 p.m.; Sat., 10 a.m.-4 p.m.; closed Sun.
Ask anyone who has ever heard of Escanaba where you should visit downtown, and they will say Sayklly's. If you came to this candy store as a child, you know the awe you felt the first time you saw hundreds of sugar-rush opportunities in the cases and on the shelves. This is a magical memory you will want to give to your children or grandchildren, too. Just look around Sayklly's. Everyone smiles from ear to ear while they are here!
What can you buy? As the video above shows, with 250 candy varieties, it's a challenge to narrow your choices.  Most loyal customers will laugh as they caution newcomers that it's hard to stop once you start choosing! Of course, Sayklly's candies make wonderful gifts, so you can justify a bigger purchase as long as there are treats for yourself in the bag, too. Your selection options include: 
Yooper Bars that were first created by Uncle Fred Sayklly more than half a century ago. Molded in the shape of Michigan's Upper Peninsula, these chocolate bars not only look like our home — they bring back sweet memories of the U.P. with every yummy bite! 
10 lb. candy bar. This is a chocoholic's dream made from premium dark, milk or white chocolate. It makes a welcomed corporate or office exchange gift.
Box of assorted chocolates: Caramel Pecan Snappies, Caramel Cashew Snappies, Cashew Clusters, Peanut Clusters, Pecan Clusters, Almond Clusters, Walnut Clusters, Brazil Clusters, Filbert Clusters, Raisin Clusters, Coconut Clusters, Crunchies, Chocolate Creams, Vanilla Creams, Maple Creams and Raspberry Creams homemade with secret, top-notch ingredients using family recipes. Or custom make your own assortment. 
Chocolate-covered cherries, potato chips and sandwich cookies will satisfy sweet or salty cravings.
Melt-in-your-mouth butter fudge made without any artificial preservatives. Choose from these timeless flavors: chocolate, chocolate walnut and maple nut. Buy an extra box because each slice disappears fast.
Peanut Brittle made from a recipe that dates back to 1906 when Joe Sayklly first started hand-stirring that buttery mixture in a copper kettle (it still is). Each piece of brittle is loaded with premium peanuts roasted right at our Escanaba Sayklly's Candies factory. Mmmm. 
Salt Water Taffy is the same delicious, chewy treat co-founder Mary Sayklly would hand-pull to perfection more than 100 years ago. Her nine kids taste-tested the recipe so your children will love choosing their favorites from the bag filled with anise, orange, cherry, mint, vanilla, chocolate, maple, grape and banana-flavored deliciousness.
Creamy, buttery caramels made with or without pecans. Sayklly's candymakers still hand-stir the premium ingredients in copper kettles just as they have for decades.
Assorted-sugar and salt-free chocolates and hard candies give you all the pleasure without the added calories. 
Old-fashioned vanilla cream swirls are one of Sayklly's longest-made candies. This is a hard taffy that you or your children will slap on the table or counter and then devour the pieces. 
That's just a sampling of all the wondrous treats you can enjoy! If you would rather give the people on your holiday list their own choices, you can with Sayklly's gift cards. Can you think of a better gift to find in your stocking than the promise of candies to come?
Bring smiles to your family and friends in the military service or in places throughout the U.S. and world.
In addition to the gifts you purchase while you are at the store, you can arrange to have your Sayklly's candy selection shipped throughout the world. Sayklly's takes extra care to make sure your gift arrives in perfect condition. This is a heartwarming present to send to anyone who loves the U.P., especially our country's servicemen and servicewomen.

Book your holiday shopping trip to Escanaba and Sayklly's today. 
Making the Bays de Noc area your home for the holidays will fill your heart with some of your happiest memories — and at the top of your merriest moments will be the time you spend at Sayklly's Confectionery & Gifts. While you are in Escanaba and the surrounding communities, you will find lots of other stores to finish up your holiday shopping. Make arrangements today to stay at some of the friendliest lodgings in the U.P.