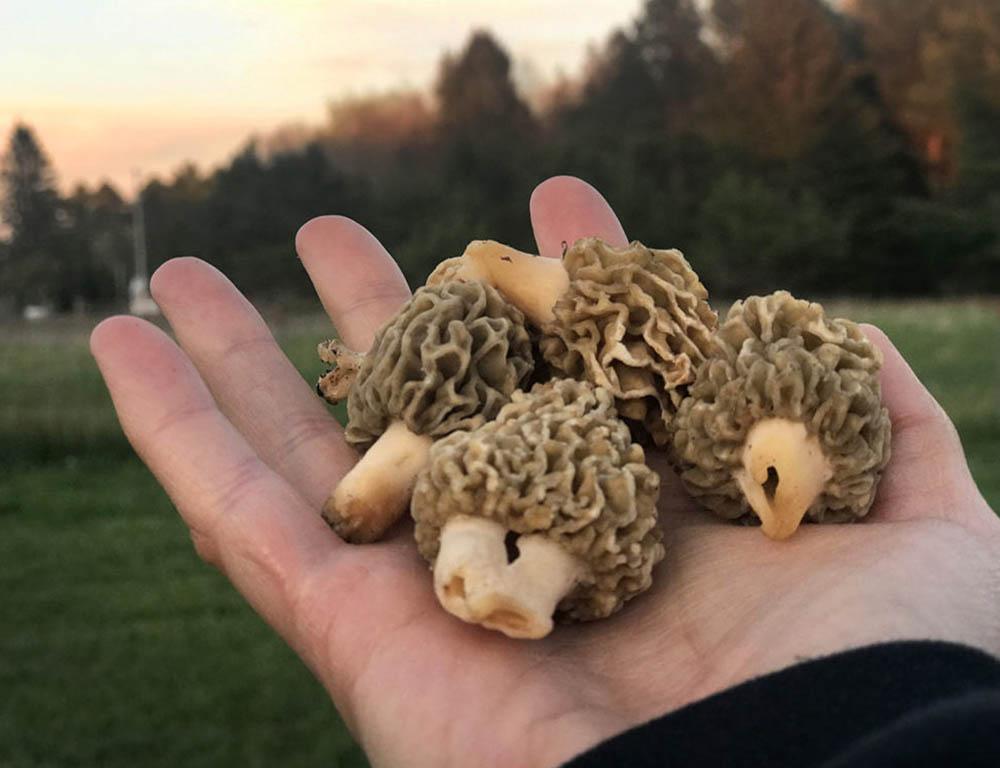 Tips for a successful morel mushroom hunt in the Escanaba area
May is morel month in Michigan. It is the perfect time for a relaxing walk in the woods to search for these elusive and delicious springtime treats. The Escanaba area is the perfect place to start the morel mushroom season in the Upper Peninsula due to the fact that warm weather tends to arrive earlier in the Bays compared to the rest of the UP.
Morels can be both hard to find and seemingly growing just about anywhere. They can be found in forests, orchards, along the sides of roads and even in landscaping wood chips and mulch. Year to year it can be hard to predict where morels will grow, a successful region one year may not produce the next. That being said, with some knowledge and practice, you can start to discover the secrets to a successful mushroom hunt.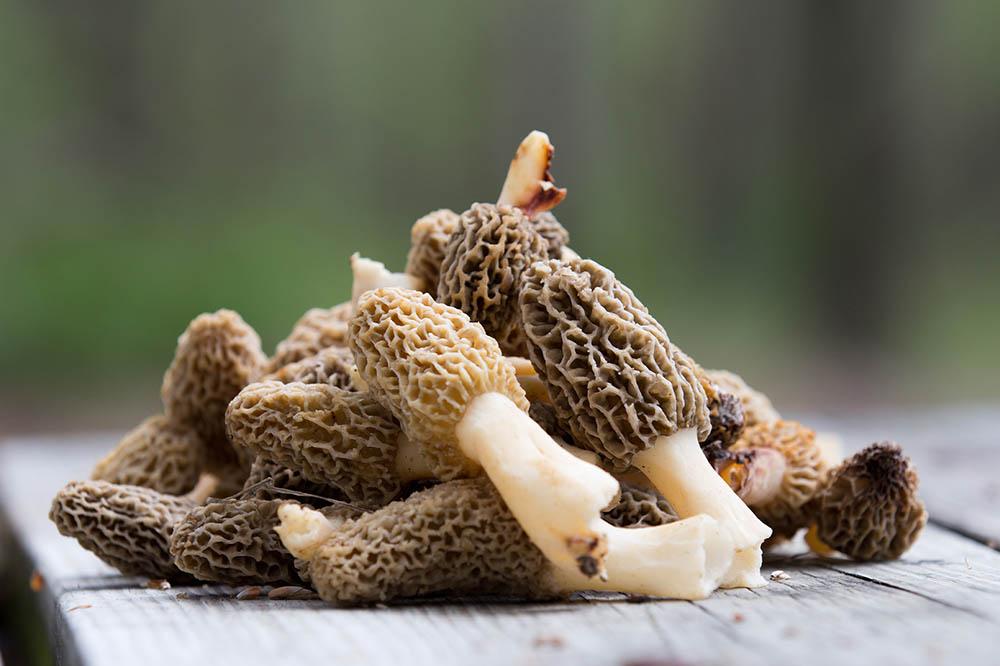 Why is morel mushroom hunting so popular?
The popularity of morel mushroom hunting has to do with their rarity, short seasonality and the fact that they are difficult to farm. They are prized by chefs around the world for their meaty texture and unique earthy flavor. However, you do not need to be a trained chef to enjoy them. Simply sautée them with a little butter and you have a delectable meal. Even people who do not normally like mushrooms often enjoy morels. Because morel mushrooms are hard to farm, they tend to sell for upwards of $25 a pound at local stores and markets. As a result, if you are interested in these seasonal treats, the best way to get them is to find them yourself.
The right time and place to find morel mushrooms
Temperature is critical for morels to grow. The day time temperature needs to be in the 60s with nights in the 40s or higher. Morels like other fungi grow best in warm soil. As a result, the first morels to emerge tend to appear on the sides of hills that face the sun.
Being able to identify the types of trees that grow in an area is important for selecting potential locations. There are a lot of differing opinions about the best type of trees, but overall elm, apple, ash and poplar are generally good choices to consider searching near. Dead and dying trees along with areas with disturbed ground such as logged, burned or previously flooded can be very productive. This is due to the mycorrhizal relationship these mushrooms have with some tree species. In response to losing a food source when a tree dies, the fungus root produces morel mushrooms in order to create spores to reproduce and disperse.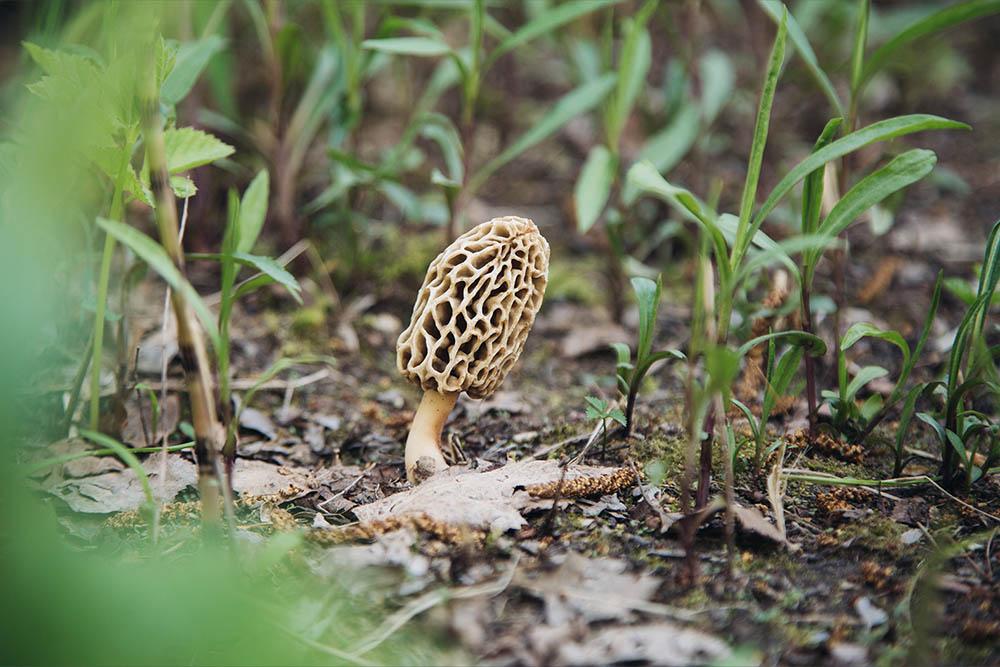 Only pick true morels
If you are new to foraging for mushrooms, we highly recommend going with someone experienced with identification. There are a variety of lookalike mushrooms that are poisonous. If you are headed out on your own, consider studying and bringing a mushroom identification guide book. True morels, the ones that are safe to eat, have a hollow stem and cap; they may be black, gray or whitish-yellow in color. The cap of the mushroom has a pitted pattern and the edge of the cap is joined to the stem. False morels which can look very similar to true morels are poisonous. One of the easiest ways to identify a false morel is when it is cut. Unlike a true morel, the stem is not hollow. Additionally, the caps have a brain-like or wrinkled appearance and the cap is joined at the top of the stem; think of a parasol.
Advice for a fun and safe morel mushroom hunt
Wear comfortable boots — close-toed shoes are also good but boots are preferred to help protect your lower legs from brush or thorns and additionally, will keep your feet dry if the ground is muddy or if you need to cross a small stream.
Be prepared to walk a lot because it may take time to find a productive location. Don't give up early because you may not find any or only an occasional one until you come upon a bunch of them.
Train your eyes. It may take awhile before you get used to knowing what to look for. With practice, you will start to see them easier. It is not uncommon when starting to walk past mushrooms without noticing them. If you are hunting with others, ask them to show you the mushrooms they find before they pick them so that you can start to see them for yourself.
If you find one stop, and look for more. Morels tend to grow in groups, maybe not right next to each other but in the vicinity. We recommend taking the time to thoroughly search an area of about 10-20 feet around you when finding one. One can lead to another and another and another and then a bunch.
Cut or pinch off a morel from its stem and do your best to avoid damaging the underlying roots.
Carry the morels you find in a mesh bag. This will help them dry naturally and avoid condensation. It may also help to allow them to disperse their spores.
Bring a compass, map and GPS and to help safely navigate in the woods.
Pack a first aid kit, drink, snacks, tick/mosquito spray and a phone.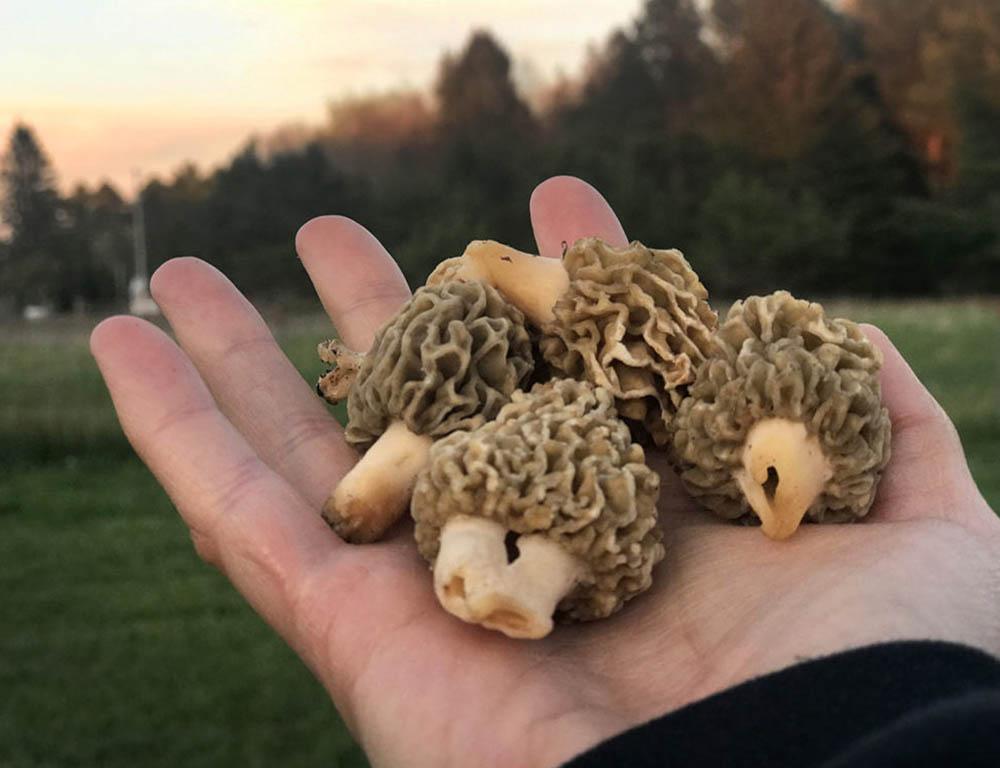 Storage and preparation of morels
It is important to thoroughly clean mushrooms before storing or cooking them. Cut them open lengthwise, remove any insects or slugs and wash them in clean water. Morels are best fresh but if you are fortunate enough to find a lot of them, they can be dried with a food dehydrator. After drying, put them in a sealed container and freeze them if you will not be consuming them in the near future. Dried mushrooms can be rehydrated using water or your perfect stock and prepared as you would with fresh morels. Morels are wonderful cooked with other spring favorites like trout, fiddlehead ferns, ramps and asparagus. There are a wealth of recipes with morels as the main focus of a dish such as sautéed, tempura fried, stuffed or as the main flavor in risotto or soup. They are also a popular addition to sauces.
Plan your stay in the Escanaba area
We recommend planning a long weekend or even a week to enjoy mushroom hunting and to experience everything that the Escanaba area has to offer. Check out the events page to learn about all of our upcoming concerts, sporting events, and family friendly activities. If you do not find any morels on your trip, don't worry. You can likely purchase some at a local farmers market or enjoy them at one of our fine dining restaurants.
As always, we love seeing photos of your adventures, so please tag use in your social posts #visitescanaba.