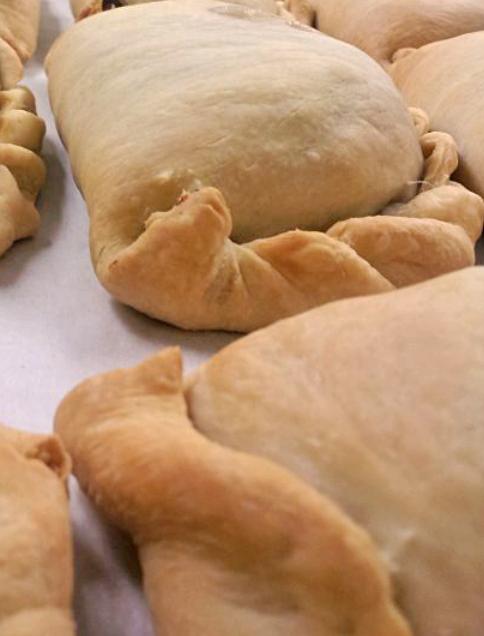 How to be a Yooper for the Day in the Escanaba Area
by: Baylie Bullington
Welcome to the Upper Peninsula! You've made it over the bridge, and now you're in Yooper territory. If you're not from Michigan, you might be wondering, "what is a yooper?" To begin, yoopers are the awesome people who live above the Mackinac Bridge in the beautiful Upper Peninsula. A yooper is right at home in the forests, rivers, and surrounding great lakes as a cowboy is to the West's great plains. The term "Yooper" is used so much regionally that it is an official word in Merriam-Webster's Dictionary. One of the most notable characteristics you will find in your common yooper is a distinct dialect that often uses the term "eh" at the end of a sentence. To put it plainly, yoopers are great!  And if you'd like to spend the day as a yooper, here's how it's done in Escanaba:
Eat a pasty:
The pasty is a regional food that is much beloved by Yoopers. This food was initially brought over from Cornwall, England, to the Upper Peninsula. Legend says that the wives of cornish miners would make their husbands pasties, and they would warm them up by placing them on the end of their shovel and hovering it over a fire. It turns out break-rooms back in the day weren't extremely accommodating. You can grab these yooper staples at Dobber's and Gram's. They offer traditional homemade pasties and new flavors!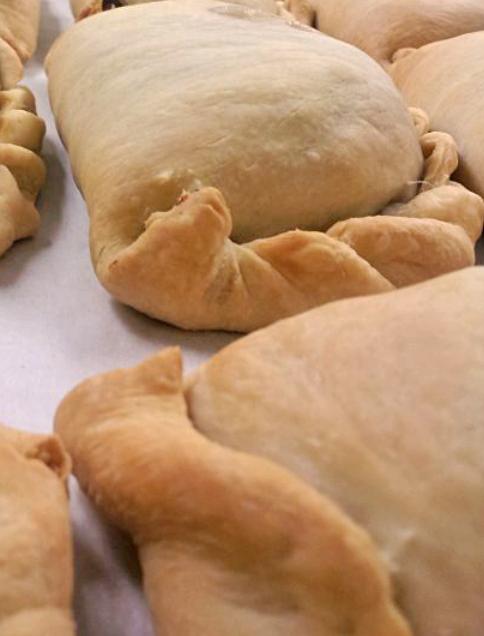 Picture: Dobber's Pasties
Insider Info: Pasties weren't originally eaten with condiments, but nowadays it is often paired with ketchup or gravy. The story goes that if you're a yooper, you eat your Pasty with ketchup, and if you're a troll (from under the Mackinaw Bridge), you prefer your pasty with gravy. Which one are you?
Directions to Dobber's Pasties!
Visit Fayette Historic State Park:
Here's the deal, Yoopers are known for being hard-working people; it's a part of their DNA. I'm not suggesting you go out and break a sweat during your visit here,  but you can learn all about what a hard day's work looked like for the people of this 1800's industrial town. At Fayette Historic State Park, you can stroll through this well-preserved iron smelting town and get a sense of what life was like for these 19th-century yoopers. Plus the views of Snail Shell Harbor do not disappoint.
Insider Info: You can reach Fayette Historic State Park by boat and reserve a boat slip. Fayette also has a campground just steps away from the townsite.
Directions to Fayette Historic State Park!
Hunt and Fish:
Deer camp is a tradition in the Upper Peninsula, so much so that Yoopers typically get the first day of deer season off, and when it comes to fishing, it's a year-round affair. And your chances of landing a buck or snagging a giant fish couldn't be better in the Escanaba area. Check out the bottom of our fishing page for a list of fishing guides that will guarantee you Yooper-approved fish.
Insider Info: Little Bay de Noc's claim to fame is the Walleye Capital of the world. The word "Escanaba" was derived from a similar word and translates to" land of the red buck" in Ojibwe. The Ojibwe people gave it this name for its bountiful hunting grounds.
Visit Webster Marbles Museum:
As you might have guessed, yoopers love spending their time outdoors, and there's no better way to learn about this fascination than the Webster Marbles: Inventing the Outdoors  Museum in Escanaba. This museum follows the life of inventor Webster Marble whose inventions transformed the outdoors into a place of recreation.
Insider Info: Famous names like Teddy Rosevelt and Charles Lindbergh depended on Marble's inventions.
Directions to Webster Marbles Museum! 
Get a Yooper Flannel:
No yooper is complete without a flannel! It is the main attire associated with a yooper, and luckily there are a couple of different places you can snag your flannel from in Escanaba. "North Coast Apparel" offers a yooper favorite– the buffalo plaid flannel.  At "Positively," you can also find an assortment of buffalo plaid items from flannels to purses as well as Yooper souvenirs.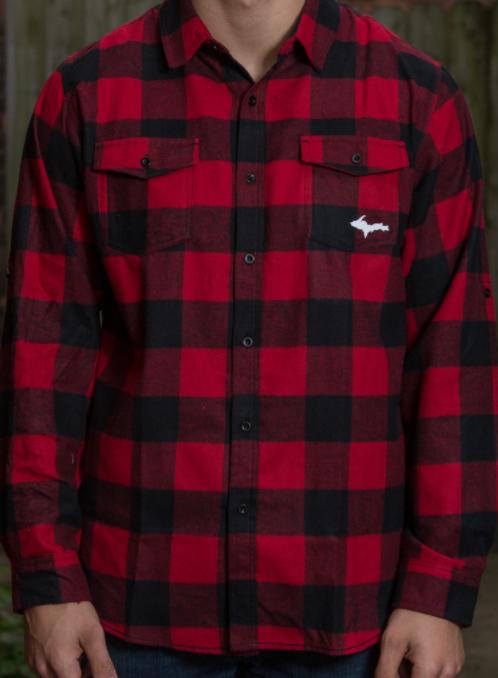 Picture: North Coast Apparel
Insider Info: Not a huge fan of the traditional buffalo plaid flannel? "Upcycled Hippie," located in the Ludington Lofts, makes one of a kind flannels from multiple pieces of fabric for a unique look!
Visit Sand Point Lighthouse:
Not all of yooper history is rooted in the land but on the water. Explore the rooms of this fully restored lighthouse that helped bring ships safely to shore. At the Sand Point Lighthouse in Escanaba, you can learn about the faithful keepers, such as one of the first woman lighthouse keepers, Mary Terry.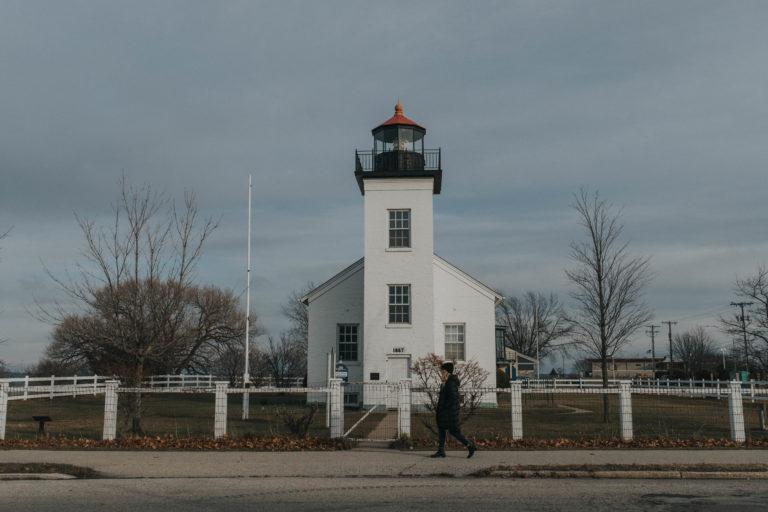 Picture: Selective Potential Blog
Insider Info: Escanaba was once a booming port city with many ships carrying lumber and iron ore out to market. The Edmund Fitzgerald once made a stop at Escanaba due to an unexpected death on board.
Directions to Sand Point Lighthouse!
Sip on a Yooper Ale:
Upper Hand Brewery in Escanaba offers many U.P. inspired beers such as the Yooper Ale. Beer is definitely part of this area's history. Upper Hand Brewery has made a tribute to this history by releasing their prohibition-era style beer, "The Delta Series," which is inspired by the historical Delta Brewing Company.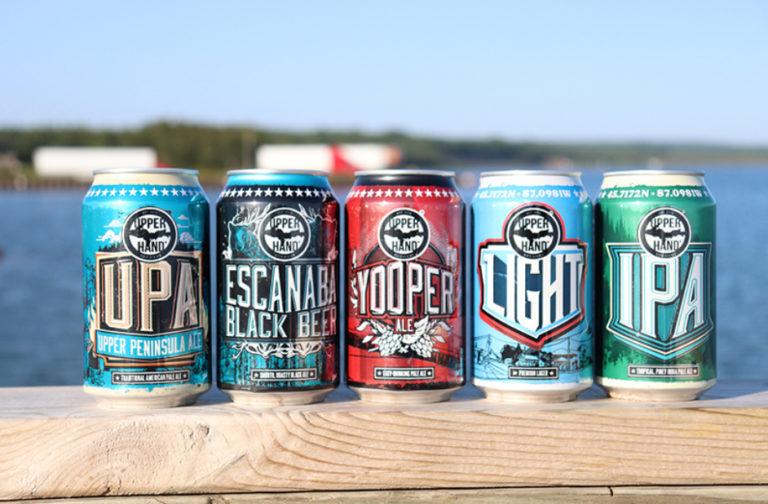 Picture: Upper Hand Brewery
Insider Info: Upper Hand Brewery is owned by Larry Bell, who also owns another Michigan-favorite, "Bells Brewery".
Directions to Upper Hand Brewery!
We hope to see you by the bay enjoying the yooper lifestyle. Remember to share your visit by tagging #visitescanaba for a chance to be featured on our Instagram.