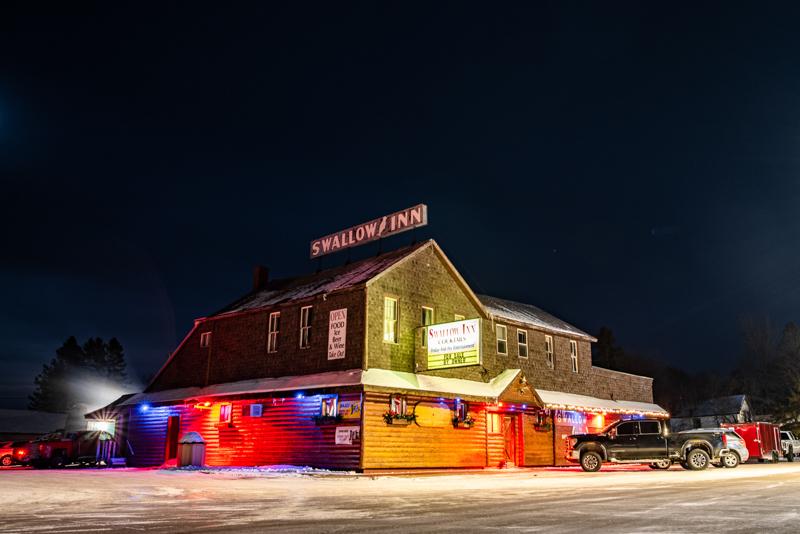 The Greatest Movie Of All Time? Escanaba In Da Moonlight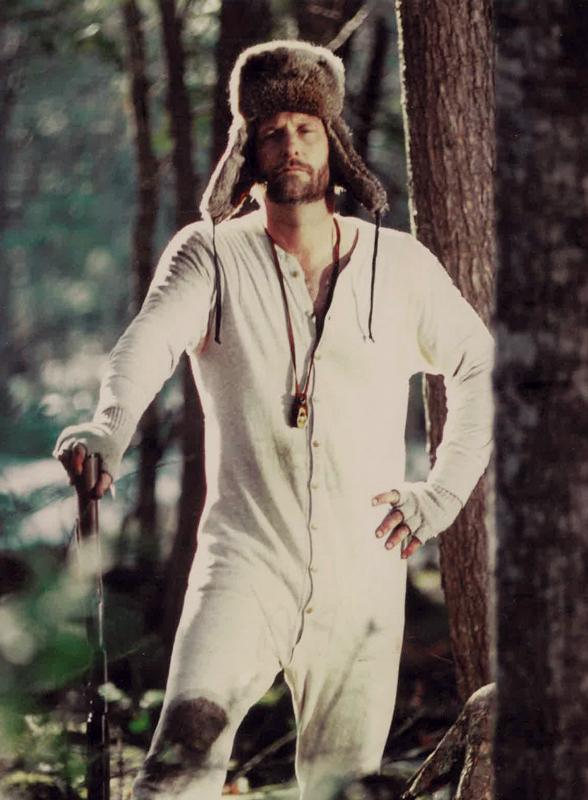 The 2001 feature film Escanaba In Da Moonlight is considered by many in the Upper Peninsula as the best movie ever! While that is an arguable topic, what is for certain is Escanaba In Da Moonlight is one of the biggest things that ever happened in Escanaba. It's not every day that Jeff Daniels, one of the worlds most famous actors, writes a script about your hometown and then shows up with a cast and film crew to make it come to life for all the world to see!
Why did he choose Escanaba? Because this unique and beautiful town's timeless November traditions capture the essence of what the real Upper Peninsula is all about. Escanaba is the perfect place to tell the story of Rueben Soady.
Visiting the many locations used to film this cult classic are like stepping back in time into a story loved by many. Filmed 100% in Delta County, Escanaba in da Moonlight captures the humor and sarcasm of what it means to be "a Yooper".
Rosy's Diner: Downtown Escanaba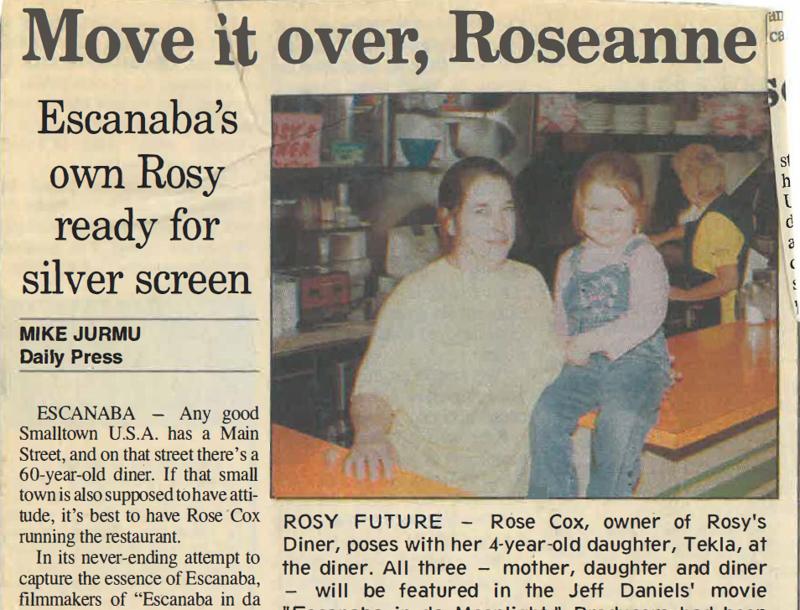 Across America local diners are always the place to get a feel for what a town is really about, making Rosy's the natural location to film a movie about Escanaba. With a 1960's style lunch counter just a few feet from where your food is prepared, Rosy's Escanaba's oldest diner and a happy place for all, always full of conversation and great food year round in heart of downtown Escanaba. Timeless, in every way.
Notable Scene:
The diner's spunky namesake, Rosy, makes a cameo appearance, seen directly behind Jeff Daniels, as Rueben Soady drives out of downtown Escanaba, on his way to deer camp determined to finally bag the buck that has always eluded him.
Escanaba Athletic Field: Escanaba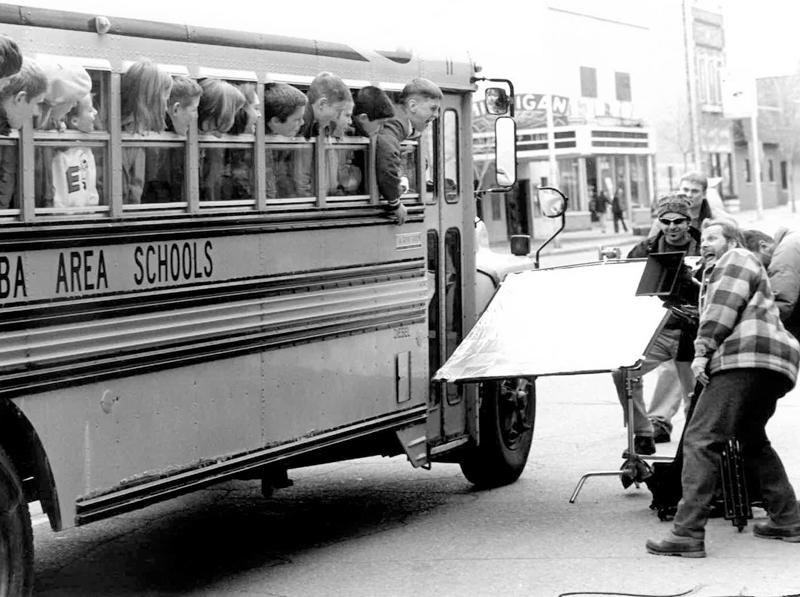 Originally built in the 1930's, the Escanaba Athletic Field is a local landmark. With "E-S-K-Y" painted into the pine benches, this 100 year old structure is the most visible site from the airplane when flying in to Delta County Airport, serving unofficially as the "City Limits In The Sky". It's larger than life design was perfect for Hollywood.
The "hallucination" scene was the largest in the movie, requiring nearly 1,000 Escanaban's. They happily bundled up in zero-degree temperatures to provide the "extras" needed for this iconic scene. Their job? To stand in the bleachers "taunting" Daniels' character for not bagging a buck, a November nightmare for every "Yoopers"!
The Swallow Inn | Downtown Rapid River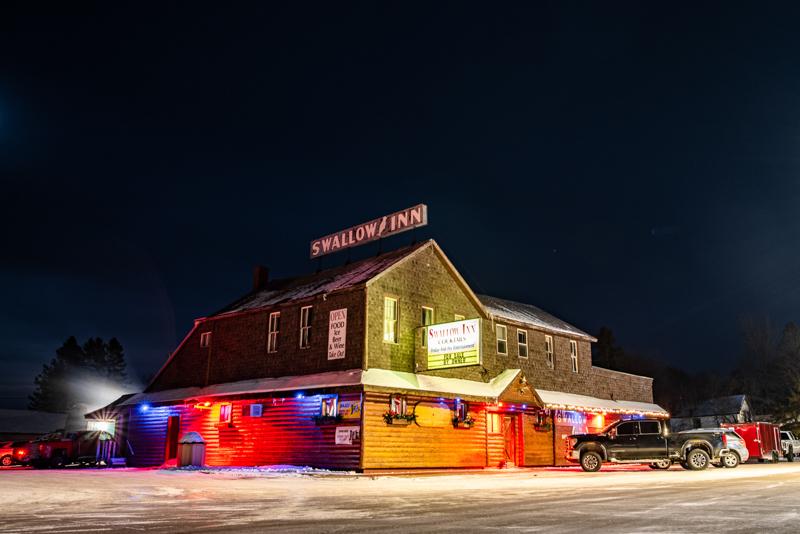 November "bar life" in the many watering holes across the north country in November are the center of life - when you aren't at deer camp. Full of lively local vernacular and bragging of success in "da woods", The Swallow Inn offered to Jeff Daniels the classic UP bar that encapsulates "the Yooper spirit". Located in downtown Rapid River, The Swallow Inn is a simple bar with great food, local brews and favorite comfort foods.
In the movie, the inside of this landmark created the "Porcelain Bus": the bar where Reuben Soady's brother Remnar won a case of Leinenkugel's from a promiscuous dancing game with toilet paper and a long doll rod, one of the movie's greatest scenes, requiring three LOCAL bartenders and several resident yoopers as extras.
The Swallow Inn is a perfect stop on your Escanaba in da Moonlight adventure, full of nostalgia and great food!
https://www.dailypress.net/news/local-news/2018/01/swallow-inn-origins-in-rapid-river-date-back-to-1890s/
Critical Movie Location: The Story Of The SECRET Soady Deer Camp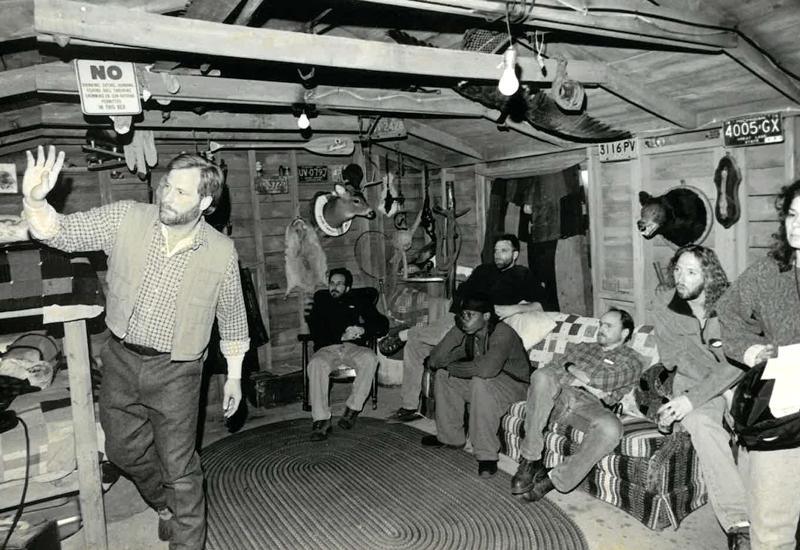 Jeff Daniels wanted the film to be as authentic as possible. Since the many hunting camps across the UP are family owned, he needed to find a family that was willing to share THEIR traditions to tell the story. He found the perfect partner with the Bittner family, who proudly offered their private hunting cottage just outside of Rapid River to be used as the most important location in the movie: the place where Reuben Soady could finally bag his buck!
All exterior scenes that created the Soady deer camp were shot at this private family camp, far off into the Hiawatha National Forest, with the interior "camp" scenes filmed on a soundstage built in Escanaba. A crew of 55 cameramen, set builders and technicians used this simple family hunting camp as their blank canvas. Over 20 years after the the films first debut the Bittners still have people from many places hoping to find the most famous deer camp in the Upper Peninsula... a location that remains a family secret to this day.
ADDITIONAL ESCANABA IN DA MOONLIGHT FACTS AND TRIVIA
-Escanaba in da Moonlight's original debut was in 1995 at Jeff Daniels groundbreaking Purple Rose Theatre in Chelsea, Michigan, to rave reviews and sold out audiences. It went on to have a long and successful run at The Gem Theatre in Detroit, becoming the longest running play in Detroit live theatre history!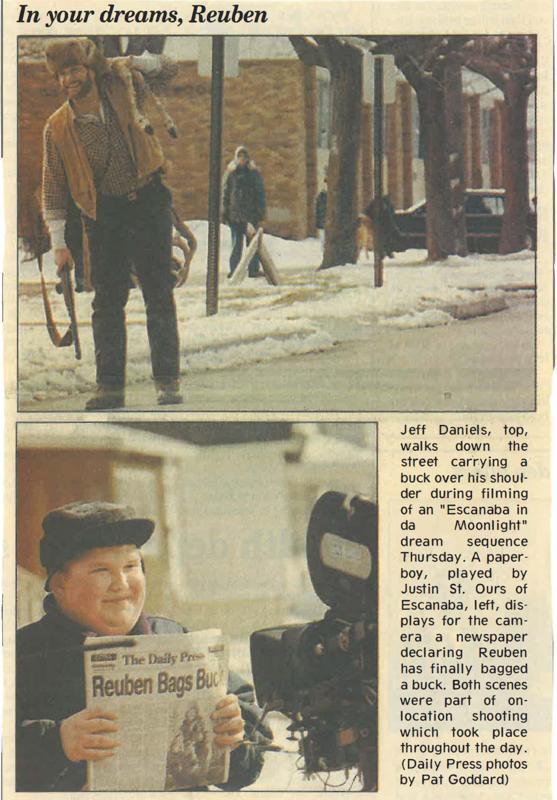 -Escanaba in da Moonlight is only one script of a three part TRILOGY on Escanaba: Escanaba In Love (set in 1944) and Escanaba (set in 1922) are the two "pre-quil" stage scripts written by Jeff Daniels after the huge success of "in da moonlight". These THREE shows are running on stages all over the United States! 
-Each of the main characters from the film, including Remnar Soady, Albert Soady and Jimmer Negamanee from Menominee….. were fellow actors at The Purple Rose Theatre in Chelsea, Michigan.
-Daniels was charmed by one of Escanaba's Culinary Masterpieces: Dobbers Pasties. After his time in Escanaba, Daniels had them shipped to his Chelsea theatre to be enjoyed by the stage cast and crew of the show. You cant do a show about the U.P without pasty's!
-Because no one in Hollywood wanted to fund a movie set in a Michigan deer camp, Jeff Daniels raised $1.5 million from people in Michigan. Many of the investors were people who saw Escanaba in da Moonlight performed as a play at Daniels' The Purple Rose Theatre or at the Gem Theatre in Detroit, where it once held the record as the longest-running play in Detroit history.
-Escanaba in da Moonlight premiered for a sell-out crowd on October 22, 2000, at Detroit's historic Fox Theatre.