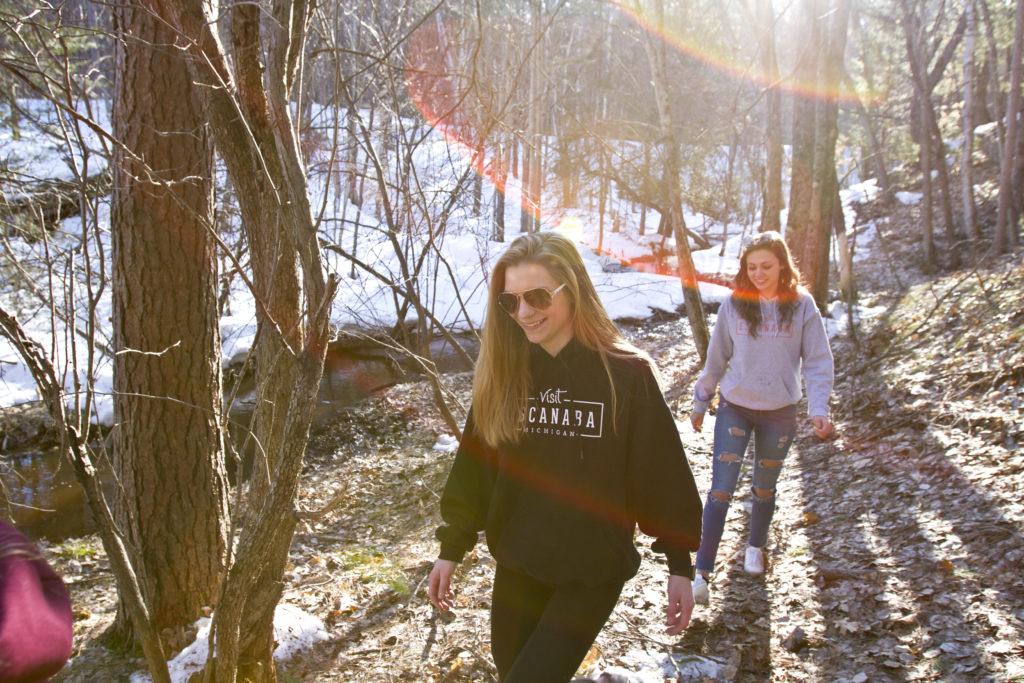 Experience Life Outdoors In Escanaba, Michigan
Escanaba is a great place to take the whole family hiking. With a fine selection of great backpacking trails and dozens of short day trails, there's no shortage of exciting routes to follow as you explore the Great Outdoors.
If you plan to hike the Bay de Noc—Grand Island National Recreation Trail, you'll be walking 40 miles. And if you're camping at Haymeadow Creek Campground or at the trailhead, you'll have to carry camping gear.
Your long hike will be much more pleasant if you're not carrying a heavy weight on your back, so pack lightly for your hiking adventure.
WRITE 4 LISTS
Stop and think about what you really need to take. I recommend you make 4 lists:
Clothing
Equipment
Toiletries, and
Important documents
Clothing
Choose weather appropriate clothes, but only take what you really need. You might think taking a fresh shirt for each day is a great idea, but the sweat running down your back from carrying them all will negate your efforts.
Check the weather forecast and local conditions before making your list. There's no point in preparing for snow if there's a heatwave. But if it is going to snow, pack a hat and gloves as well as a thick coat.
Note that Escanaba is popular with hunters during the hunting season, fall or early winter depending upon the game. If you're likely to stray from the beaten trail, you might like to take hi-vis jackets for yourself and your kids…just in case.
Equipment
Take along camping gear that's lightweight and suitable for the conditions in Delta County. One of the reasons Escanaba is so popular is the wildlife, including bears, so don't forget to include a bear canister and consider taking some bear spray.
You definitely need a good quality camera for the beautiful woodlands and wildlife, especially if you visit in fall. The Upper Peninsula was voted #1 Fall Foliage Destination by USA Today readers.
You probably won't get great reception in the wilderness, but you won't want to forget your cell phone.
Toiletries
You won't be able to buy soap in the middle of the Hiawatha National Forest, so write down everything you'll need on this list. If you're hiking with children, don't forget wet wipes.
If you've got a baby on your back, you'll need to ensure you have sufficient diapers for your journey and disposable plastic bags to carry away used ones. And remember feminine hygiene products.
The most important item to list and remember is any medication your family members regularly take. If one of you has serious allergies, ensure you take along an Epipen.
Important Documents
Don't forget any documents you might need, such as the rental agreement on your vacation rental home and your credit cards and ID.
ASSEMBLING IT ALL TOGETHER
Now that you've got your 4 lists, grab everything that's essential to the success of your hike and lay it out on a large table or clean, flat surface. That way you can see better to arrange these items in your backpack.
Empty out your backpack and examine the space available. Think about where each of those items you laid out could go.
Most backpacks have rings at the top and bottom for fastening camping gear or awkward objects. Ensure they are firmly attached, and you have the necessary straps for any attachments.
As you pack the items one-by-one into your backpack, cross them off your lists. In that way, you won't pack two of the same item and you won't miss anything important.
ORDER OF PACKING.
To make things as comfortable as possible for you while hiking, there's an order and method when packing.
Heavy items first
You need to arrange heavy items close to the frame and distribute them in such a way that you'll be balanced while hiking. Pack the heavy things first and at the bottom of your rucksack. Heavy items will include your bear canister, any gas you're carrying, and your portable gas burner.
Frequently used items
Anything you need to get out regularly should go on top to save rearranging your backpack each time you take out a baby wipe or a snack.
If you've got an Epipen or First Aid Pack, you should keep these near the top because you'll be in a hurry if you need them.
If you're carrying bear spray, you'd probably be best off using a holster to carry it at your waist.
Keen photographers would be best hanging their camera from a neck strap. In that way, when an elk appears, you won't have to make lots of sudden movements before you aim and snap.
Bulky items
Rolled up tents, sleeping bags, and ground mats can be strapped to those rings on the outside of your backpack.
ENJOY THE GREAT OUTDOORS IN ESCANABA!
As soon as you've crossed everything off your 4 lists, and your backpack is securely fastened, you're ready to hit the Bay de Noc—Grand Island National Recreation Trail.
Wherever you go hiking, this same method can be used to ensure you pack lightly. If you prepare well, hiking is great fun for all the family. Have a great time!