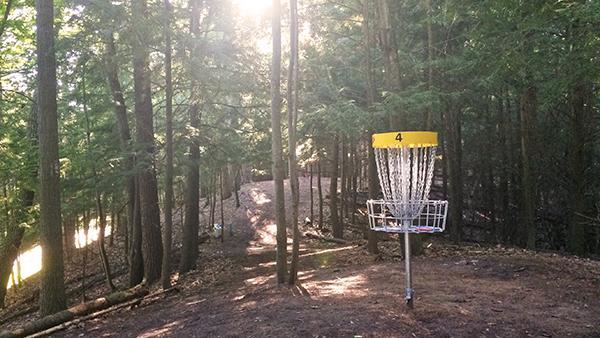 Disc Golf: Crashing chains on the Bay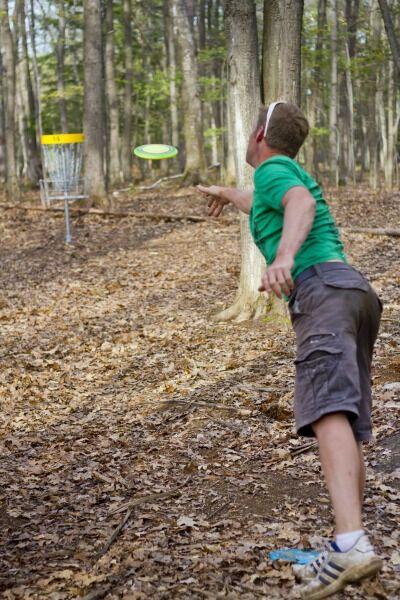 One of the newer additions to the outdoor sports scene, disc golf, is soaring in the Upper Peninsula. You'll find courses from Sault Ste. Marie to Silver City. But here in the Bays de Noc area, we're rattling dem chains to be the premier destination for beginners to seasoned pro disc tossers. We talked with Rick Elrod, co-owner of MISH Watersports and secretary of the Noc Bay Flyers Disc Golf Club to share with you his take on the sport.
Q: Disc golf is relatively new. How is it played?
Rick: It is similar to regular golf. Instead of hitting a ball into a hole, you rip a Frisbee®-like disc down a fairway toward a pole draped with a chain basket. The object is to complete the course by tossing your disc into each basket with the fewest number of throws. Each hole has at least one tee area and its share of challenges from disc-ricocheting, tree-lined fairways to steep hills and water hazards. There's no cruising around in a cart – this is a walk-the-course workout.
Q. Who should try it?
Rick: Everyone. Young kids to senior citizens, men and women. As long as you don't have any major physical issues with your throwing arm, you can play. I love this sport because it's:
Accessible. Most courses are free and open to the public.

Inexpensive. You can get used discs for as little as $10. A new disc will only cost you $15 to $25. The only additional equipment you might want is a disc carrying bag and a towel to dry your hands.

Casual, but competitive. You dress for the weather. Practice getting better. And play to win.

Good outdoor exercise. I love getting out, walking in the woods and playing along the Bay. Our winters are mild in Delta County, not as much snow as some parts of the U.P., so you can usually play year-round.
PLAY ON ONE OF THE LARGEST COURSES IN THE MIDWEST!
New! North Bluff Disc Golf Course, 900 North Bluff Drive, Gladstone. Designed by world champion Eric McCabe (2010), this course is destined for exciting tournament action. Located along the bluff it offers spectacular views of Little Bay de Noc. You can be one of the first to play this 27-hole course featuring two concrete tee pads and two baskets per hole for 108 playing variations. It's designed to be fun for amateurs and championship-level players alike. No fee.
HONE SKILLS ON THREE MORE COURSES
John D. Besse Park: 8th Avenue South and 30th Street, Escanaba. 9 holes. Perfect for beginners to advance-level disc golfers to fine-tune their putting skills. No fee.
Ludington Park, Lakeshore Drive, Escanaba. Designed by Joe Harris, this scenic, 9-hole course follows the Little Bay de Noc shoreline. Grass tee pads. No fee.
Pioneer Trail Park, fronted by US-2, US-41 & M-35, Gladstone. Designed by Tim Kopacz (Watch It Bend). 27 holes with heavily wooded, moderately hilly terrain (includes three holes on the island). Gravel tee pads: red for beginner fun; blue for advanced skills. $3/day.
RICK'S TIPS FOR BEGINNERS
Start out with one disc. Most disc golfers will have at least three discs in their bag: a driver, mid-range and putter. When you're starting out, get just one disc. Choose one that's lighter weight; heavier discs require more skill to control. Discs are rated overstable, stable and understable. You'll want to start with understable (rated less than 0). It will give you a further throw before curving.
As you wind up to throw, plant your feet and hold the disc at shoulder height rather than waist height. Keep your arm in a straight line as you pull it across your chest.
Wear good fitting footwear. You'll do a lot of walking and you don't want to slip.
Bring a towel. You'll want to keep your hand dry for better control of each throw.
Have fun! You'll chase more off-course discs at the beginning, but you'll get a feel for your disc with practice. Enjoy being outdoors!
RICK'S FAVORITE HOLES
Ludington Park: Hole #6. You throw over the water to the park's man-made island.
North Bluff Disc Golf Course: Four of the holes are on the ski hill. One, #25, you throw down the hill. The view of the Bay is great.
Pioneer Trail Park: Hole #13. You can see the basket straight ahead but it's actually a tight turn shot and it's tough not to hit a tree.