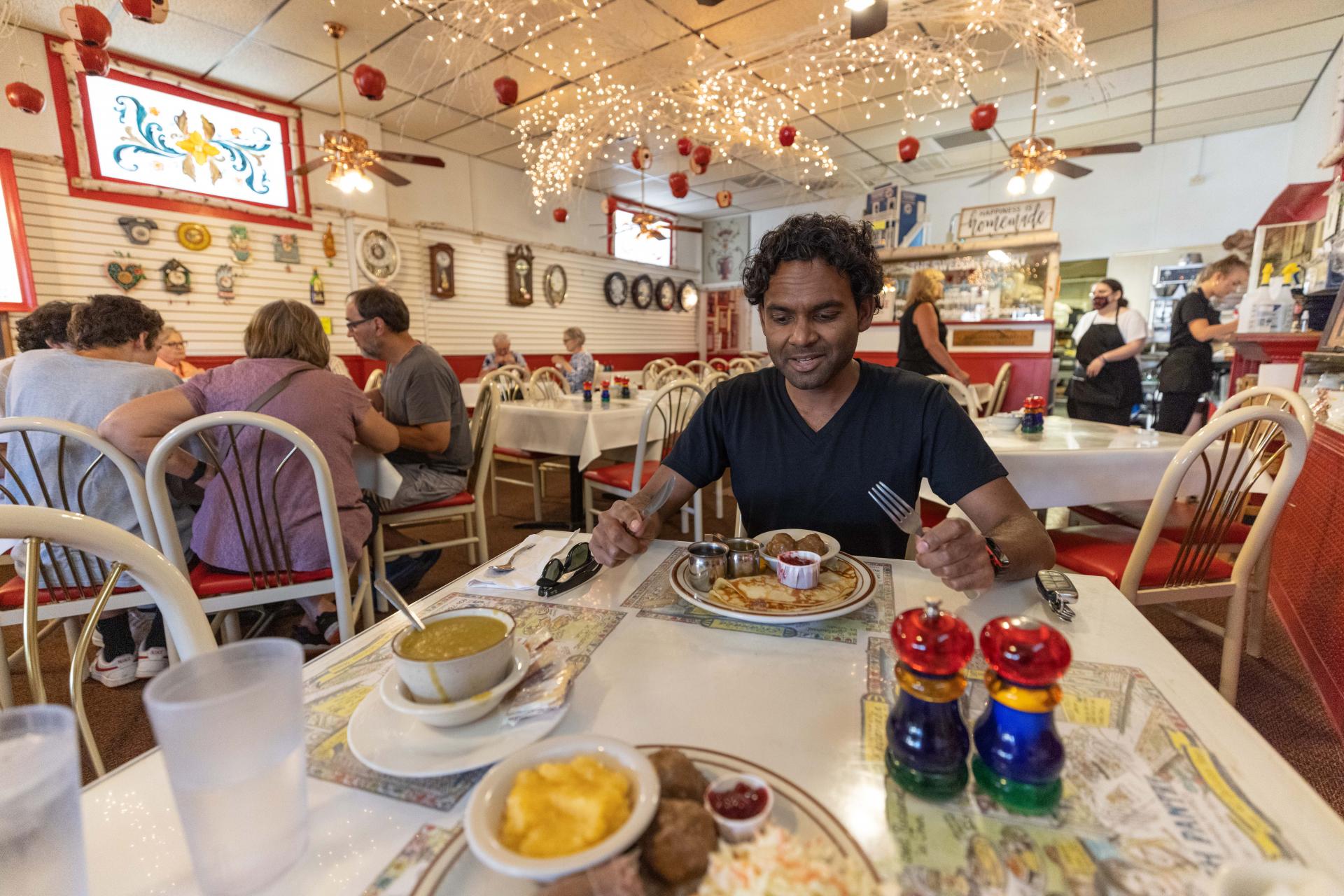 Come hungry for simply the best home-cooked Swedish and American dishes
The Swedish Pantry, located at 819 Ludington St. in Escanaba's historic downtown, knows a secret many restaurants miss. Crack open the front door and we dare you to walk away. The aroma of fresh-baked cardamom bread frosted with or without almonds, yeasty white loaves, lemon poppy seed and carrot muffins, Hershey's chocolate and oatmeal cookies, and so much more will lure you inside like the flute of the Pied Piper. You can't help but take a deeper whiff as you enter the bakery.
You can grab-and-go, but we suggest asking for a table instead
The Swedish Pantry Bakery is certainly a delicious option if you plan to picnic along the Little Bay de Noc in Ludington Park located at the end of the street. This is also one of the best fast food options if you want something to eat in the car on your way to Pictured Rocks, Kitch-iti-kipi (the Big Spring) or Fayette Historic State Park.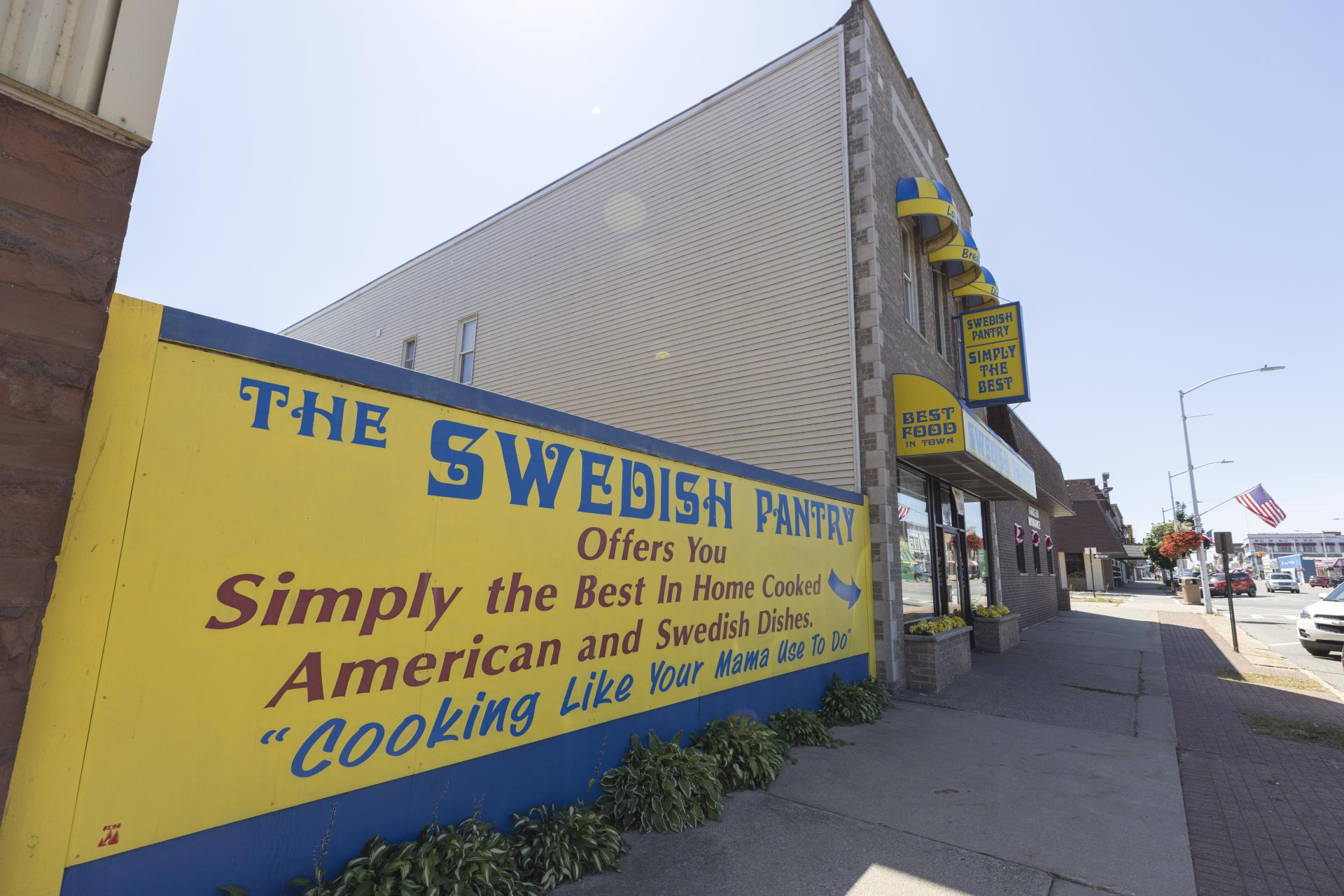 Seven days a week, you will find a selection of made-today bread, big-as-your-hand cinnamon rolls, muffins and cookies — plus amazing, melt-in-your-mouth homemade caramels. Believe us, nothing goes better with a to-go cup of hot coffee or tea than a slice of fresh-baked cardamom bread. This is takeout food on a whole new level.
But if you're not in a rush, ask for a table in the cozy dining room and stay for breakfast — served anytime — lunch or dinner. Then, make your bakery purchases on the way out the door.
Four other dining secrets that keep you coming back
Not many restaurants make their meals from scratch. The Swedish Pantry does this because it knows the secret to serving the best food is to make it homemade from fresh ingredients. You'll spear your fork into Swedish pancakes hot off the griddle. Top them with imported lingonberries. Or cover them with strawberries or spiced peaches and a dollop of whipped cream or good ol' butter and warm syrup. The thick slices of homemade bread get rave reviews when served as French toast topped with caramel sauce. Or choose a fluffy omelet made with your favorite vegetables, cheeses and meats. Even morning is a great time for their Swedish meatballs.
Lunch choices will leave you hemming-and-hawing over which of the sandwiches or soups to get that day. If you're hungry enough for a mid-day dinner, then choose from Kottbullar, Kroppkakor, Patatiskorv, roast pork, meatloaf, country roast beef served with real mashed potatoes or so much more. This is a place you slow down, enjoy each mouthful and catch up on the lives of the people around your table.
This brings us to the next secret that makes travelers wish they lived closer — the homemade desserts. Swedish rice-raisin pudding served with cream, cardamom bread pudding, a baked apple dumpling or the decadent baked fudge pudding a la mode. And yes, there are even more sweet choices!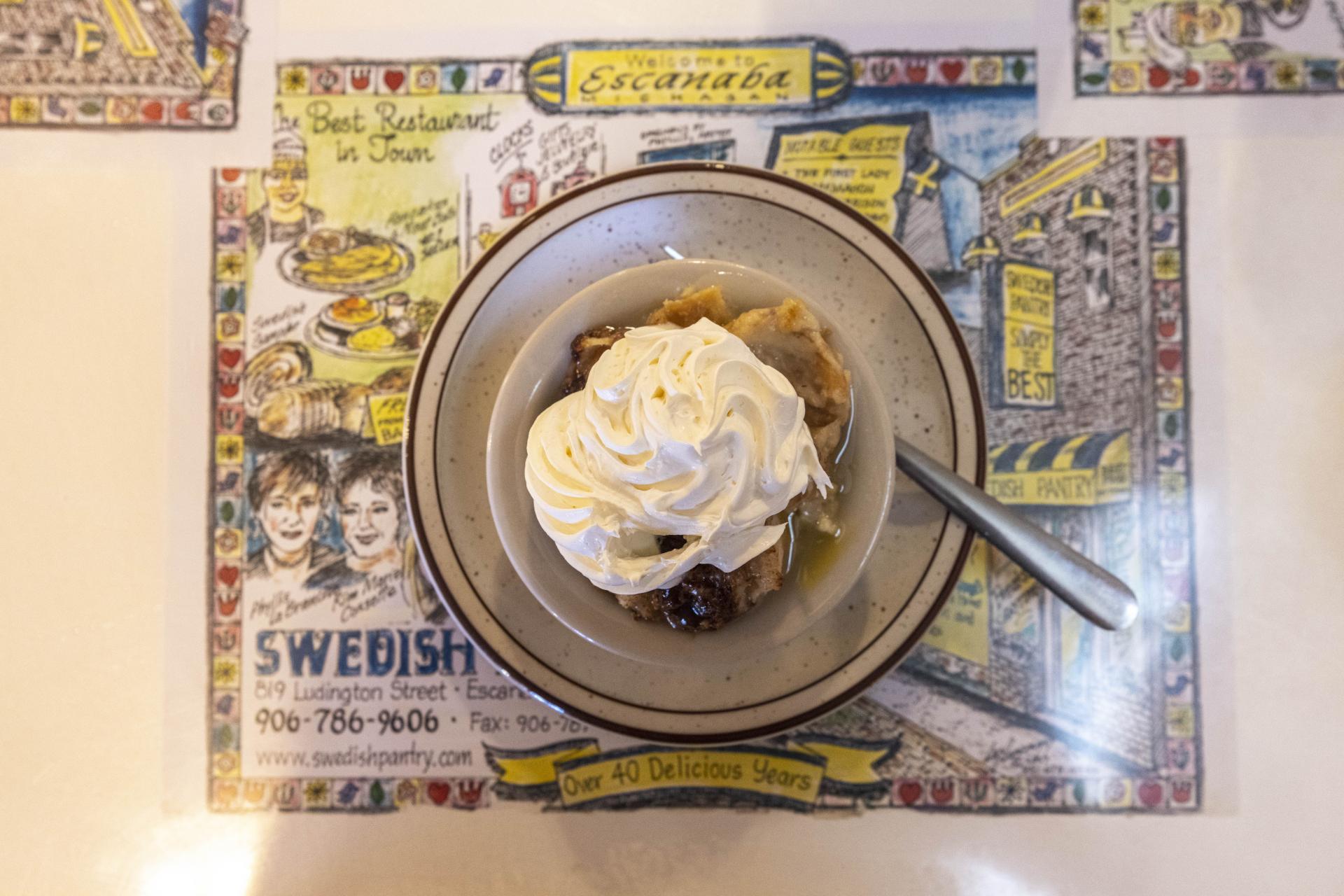 Then there's the eye-candy secret. Swedish Pantry knows the value of filling their walls and shelves with musical and decorative clocks, figurines and seasonal art. Take a moment to walk around and see all the treasures you can purchase to bring you or others joy when you return home.
Finally, there's Swedish Pantry's secret sauce of making sure their staff takes good care of their customers. They share plenty of bright smiles, check to see how you are doing, keep your mugs filled with steaming coffee and give well wishes when you leave. You'll have a warm feeling that their staff is glad you stopped in and that they look forward to seeing you again.
Plan your visit, Sunday through Saturday, 8 a.m. to 3 p.m. Look for the yellow and blue awnings as you drive up Ludington St. — and walk inside hungry!