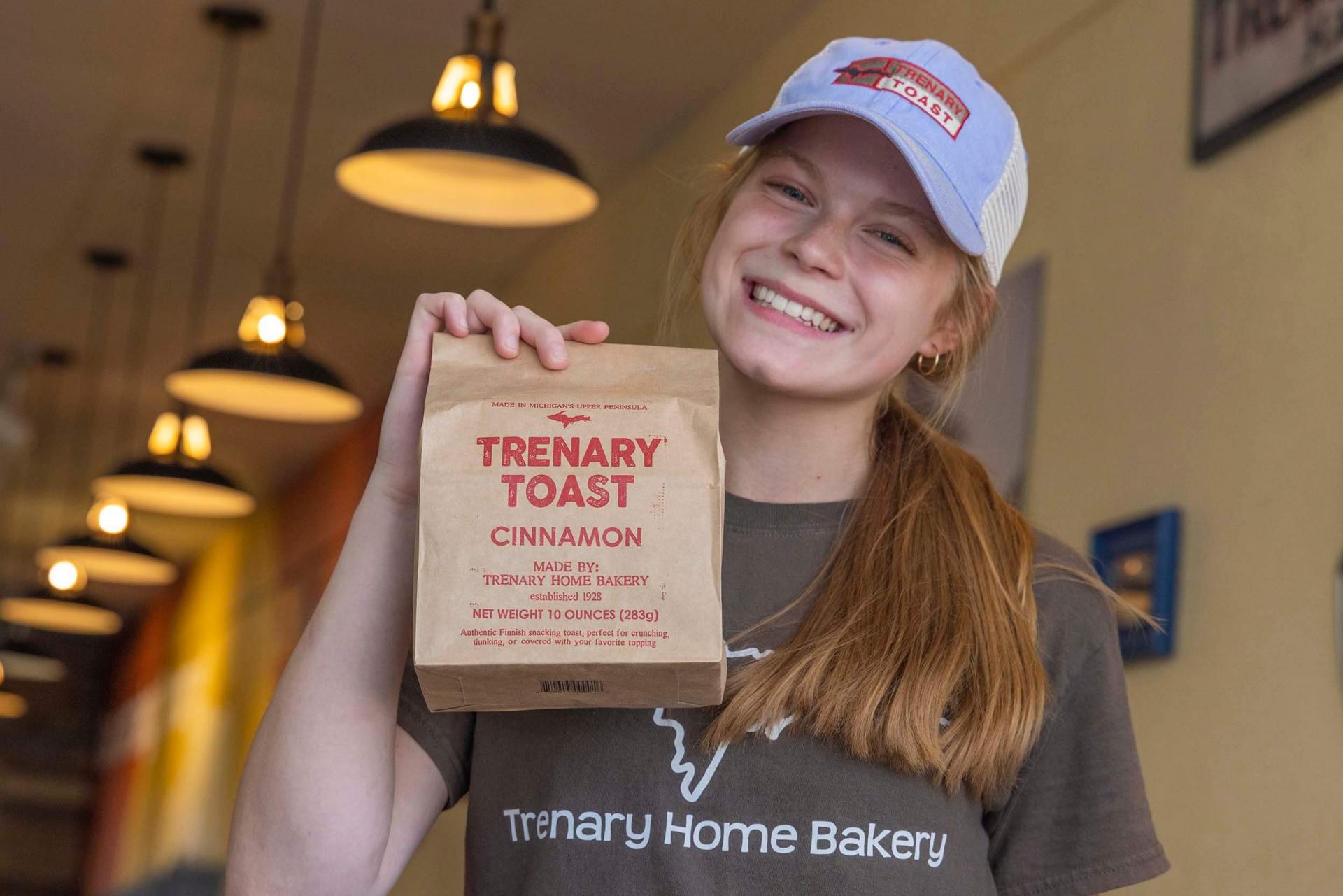 Bring home a bag of the U.P.'s iconic treat, Trenary Toast
Most people start their mornings with a cup of coffee, but in Michigan's Upper Peninsula, they add a special touch. Something crunchy, yet soft. Sweet and filling. It's cinnamon, but also chocolate chip, tart cherry sugar, cardamom and sometimes even plain. Oh, and it also has a shelf life of 365 days! Any guesses? We're talking about Trenary Toast, an authentic, Finnish dunking toast that has become a staple in the U.P. 
Trenary Home Bakery: Three families, one legacy
The story starts in 1928, when Jorma Syrannen opened Trenary Home Bakery. He and his family ran the bakery until 1950, when the Halliens, their children and extended family took over. Together, they expanded the business over 50 years and three generations. In 2019, the bakery was sold to the current owners, Brianna Wynsma and Marco Dossena. 
"Marco and I graduated from NMU in 2015 and badly wanted to stay and start our careers in Marquette," Brianna said. "Sadly, this did not quite pan out as we'd like, and we moved to Chicago and joined start-up companies where we worked intimately with business ownership." 
Three years later, the couple's hearts were set on returning to Marquette. And they felt ready for the challenge of owning a business themselves. 
"We met the previous owner of the bakery who was quietly exploring the option of selling, and we jumped on it!"
Trenary Toast: The tasty tradition
So where did this treat come from? It was created to cater to the Finnish community that settled in the small logging town of Trenary almost a century ago. Later it caught on and became a Yooper favorite, Brianna said. 
"Trenary Toast is a treat that many people grew up eating around the table with family, and it has a special place in the heart of many Yoopers because of the fond memories that were created while dunking and crunching with relatives." 
And not much has changed about the recipe or techniques over the business' history — the same goes for other products made by the bakery, too. 
"There is certainly a less-is-more philosophy that is inherent in the original recipes the Syrannen family created, and we still honor that today," Brianna said. "Our most popular product, Cinnamon Trenary Toast, contains only seven simple ingredients with no preservatives or artificial ingredients. We rely on a team of 20-25 employees in Trenary who produce and pack all of our products by hand, using techniques passed down from the generations that worked in the bakery before them."
While maintaining the same tradition, the couple has enhanced the Trenary Toast name by adding new flavors. 
"In 2020, we added seasonal flavors of Trenary Toast, which has proven to be very popular," Brianna said. "In the summertime, we offer a Tart Cherry Sugar variety of Trenary Toast, and in the winter months, we offer Chocolate Chip Trenary Toast. We have also created Raisin Swirl Bread, which is delicious toasted with a bit of butter. With that being said, the original Cinnamon Trenary Toast is by far our top seller and fan favorite!"
Take home Trenary Toast and other goodies, too!
Today, the bakery — which is still located at E-2918 M-67, Trenary, MI — offers plenty more than just Trenary Toast, too. 
"A fan favorite, besides the toast, is absolutely our soft and gooey Cinnamon Rolls," Brianna said. "At the Trenary Toast Cafe (Marquette), we serve both small and large cinnamon rolls and even have a Cinnamon Roll Sandwich, which is a good combination of sweet and salty. We also have a full breakfast and lunch menu, and every item features one of our homemade breads or toast." 
Regardless of what you purchase, it is all produced and packaged in the U.P.! Most of the ingredients are sourced locally and regionally, too.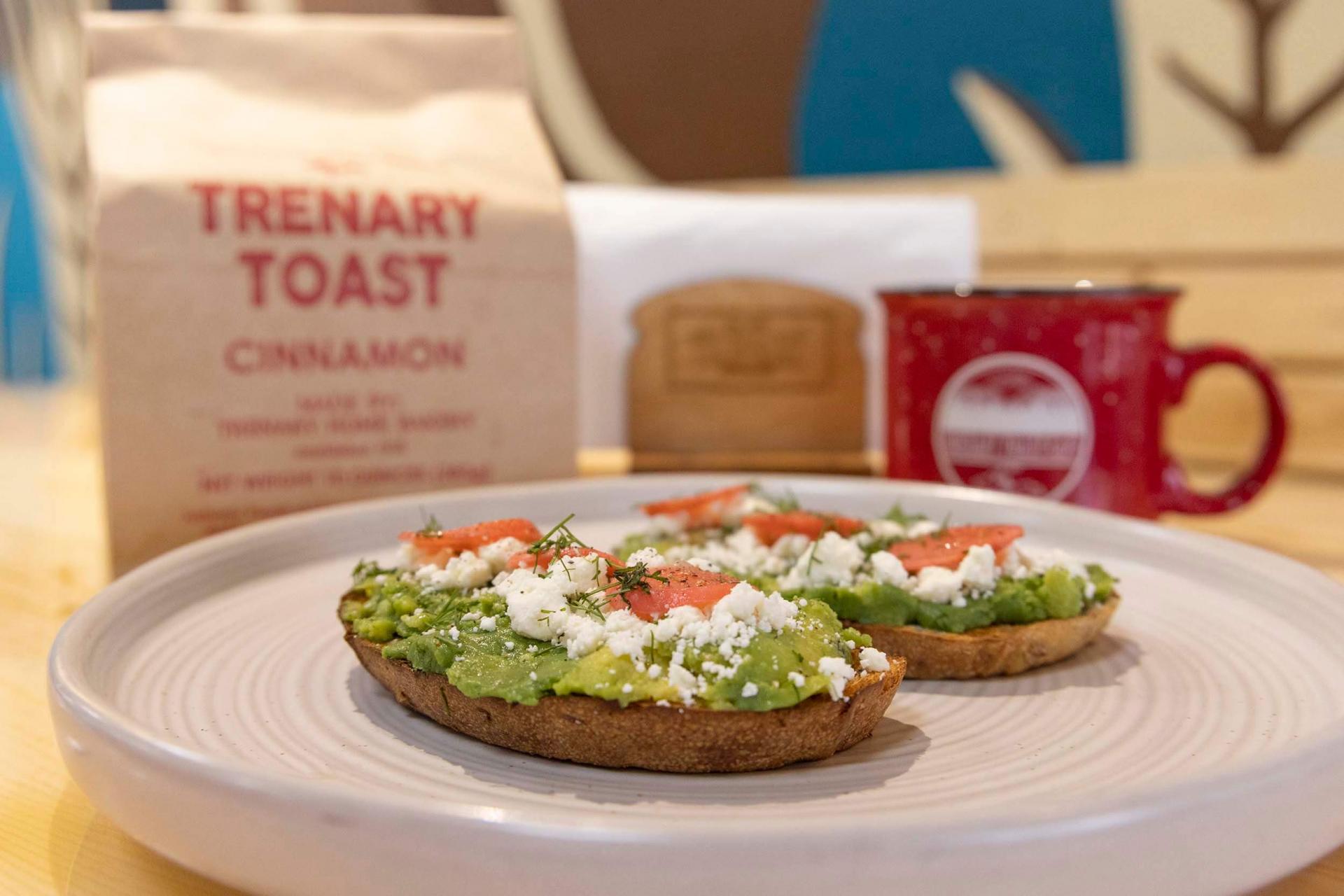 Photo Credits to Upper Peninsula Travel and Recreation Association
Expanding the Trenary Toast tradition
When Brianna and Marco purchased the bakery, their priority was to preserve the long-standing history of the business and its products. Their work ethic is to keep what everyone loves as they love it, and expand new product lines that help them capture different markets.
Trenary Toast Cafe, 153 W. Washington St., Suite C, Marquette, gives customers an opportunity to learn about the history of the bakery, try their products via the cafe menu and buy packaged bread and Trenary Toast. 
Moving forward, the cafe will focus largely on the Finnish heritage of the bakery. Many menu items will be inspired by Scandinavian culture, Brianna said. 
"We are bringing old bakery equipment, photos and tools to display on the walls and even commissioned a local artist to paint a mural paying homage to the bakery's hometown."
Whether you're swinging through Trenary or Marquette, shopping online for a taste of the U.P. or want to branch out and try something new, we recommend doing it the tasty, dunking, crunching way at Trenary Home Bakery and Trenary Toast Cafe. 
"There is something unique about taking a moment to talk over a freshly brewed pot of coffee and a bag of Trenary Toast —  and that experience is something that we want a broader audience to experience and enjoy."